Windows 10 is the latest instalment in the Windows franchise with tonnes of new and great features at hand like Game DVR. We can't deny that Microsoft has started looking after their PC platform gamers. They have introduced tools which are very useful to gamers and also game developers. But the most important thing that helps a gamer and a game developer is the DirectX. Most of the people have heard the name but don't know its application. So let's see what it is all about and how you can install it on your PC.
What is DirectX ?
DirectX is a collection of API or Application Programming Interfaces, developed by Microsoft for processing graphical computations like multimedia and games. Gamers don't have identical PCs, they get components from a pool of manufacturers in the market. So Microsoft addressed this issue and came up with DirectX libraries. Game developers use these to develop games which are compatible with every hardware irrespective of the manufacturer. Although, DirectX is not the only player in the competition. Some new competitors for Microsoft's DirectX are the Vulcan Runtime Libraries.
How To Check The Installed Version of DirectX
Earlier DirectX has its own separate application which was available at Microsoft's website. Everytime you install a game, you come across a screen for installing or updating DirectX on your system. However, this was the case prior to the Windows 8 release. Now, Microsoft has included DirectX as a part of Windows Operating System. So, if you install a fresh Windows on your system. Installation of DirectX takes place automatically. Now all you have to do is check which version is currently present on your system.
Open Run dialogue by pressing Windows Key + R. Then type dxdiag and hit OK.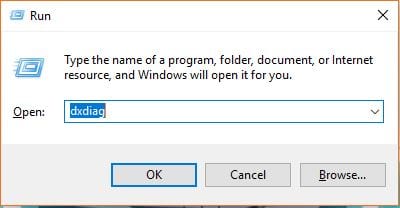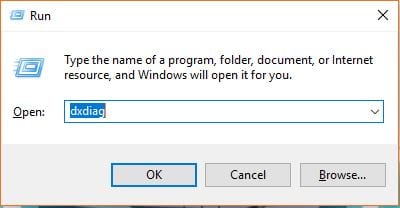 It will open the DirectX Diagnostic Tool in a few seconds. Go to System Tab and look for DirectX Version.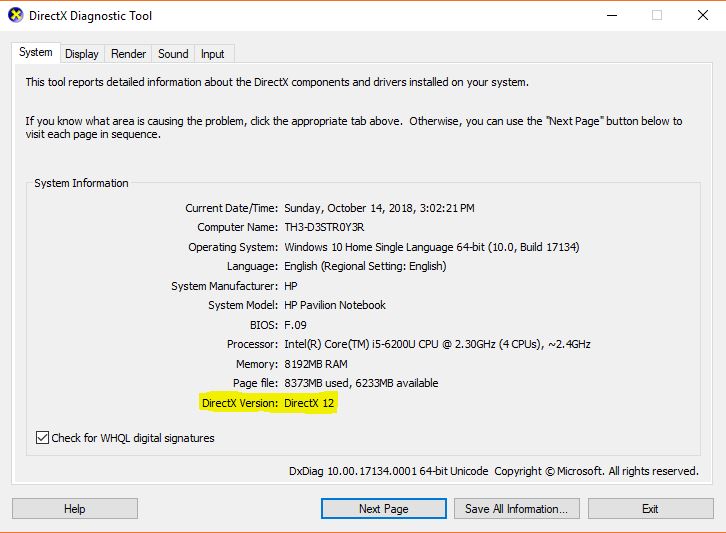 How To Update ?
For users using Windows 10 PC, the version for DirectX should be DirectX 12. If not then you might not have the latest Windows updates installed. DirectX update is delivered through the Windows Update along with other critical updates. To fix this go to Settings > Update and Recovery > Windows Update and click Check for Updates.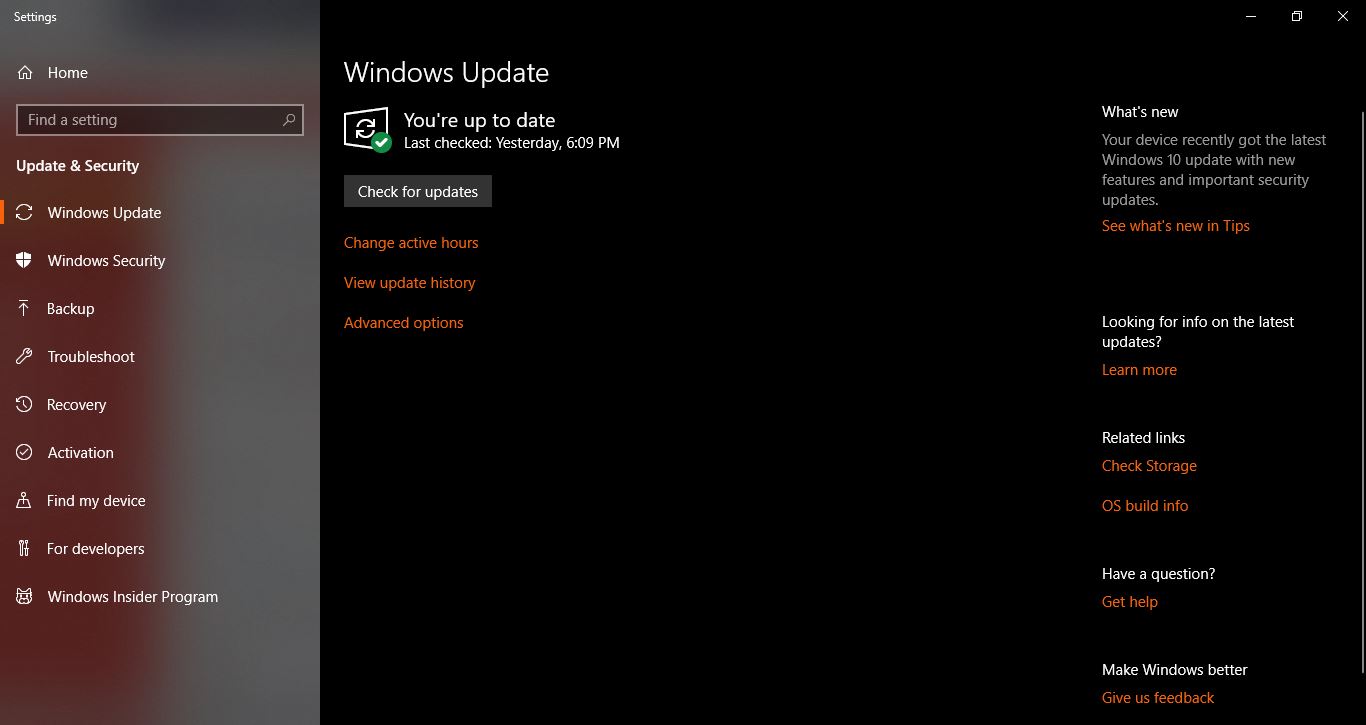 Update your PC to the latest update and check the version of the DirectX again through the DirectX Diagnostic Tool. The latest version of DirectX is not compatible with all the versions of Windows. So we need to get the latest version according to the version of Windows installed.
If you are using Windows 8.1 then you have to update your DirectX in a similar manner as done in the case of Windows 10. Windows 8.1 comes with DirectX 11.2 pre-installed, which is the latest version for Windows 8.
Windows 7 has DirectX 11.1 as their latest version. But to install version 11.1 on your Windows 7 you must update to Windows 7 Service Pack 1. The update can be downloaded automatically with the help of Windows Update. If you are facing trouble with Windows Update you can also download it manually. You need to install the Windows Update KB2670838.
The versions older than Windows 7 i.e, Windows Vista and Windows XP do not get support for DirectX service from Microsoft anymore. This is because since they are much older versions, therefore the gamers must not be playing recently released games on them. Anyway, the latest DirectX version for Windows Vista is DirectX 11.0 which requires Service Pack 2.
If you are still using the good old Windows XP then you are cut-off from support a long time ago. Windows XP still has only DirectX 9.0c as the latest version for DirectX. It can be downloaded from Microsoft's Website.
More Than One DirectX Version Installed ?
It is not only about the latest Windows and the latest Version of DirectX. Some of you might also have seen more than one version installed on your machine. There is a very critical reason for this. Games are in development for a long period of time. The development of every game takes place on a different version of DirectX. So to run that game, the machine should be having the prerequisite software. This comes under System Requirements, it can be found on the developer's website. Thus everytime you install a game, a unique version of DirectX is also installed along with it.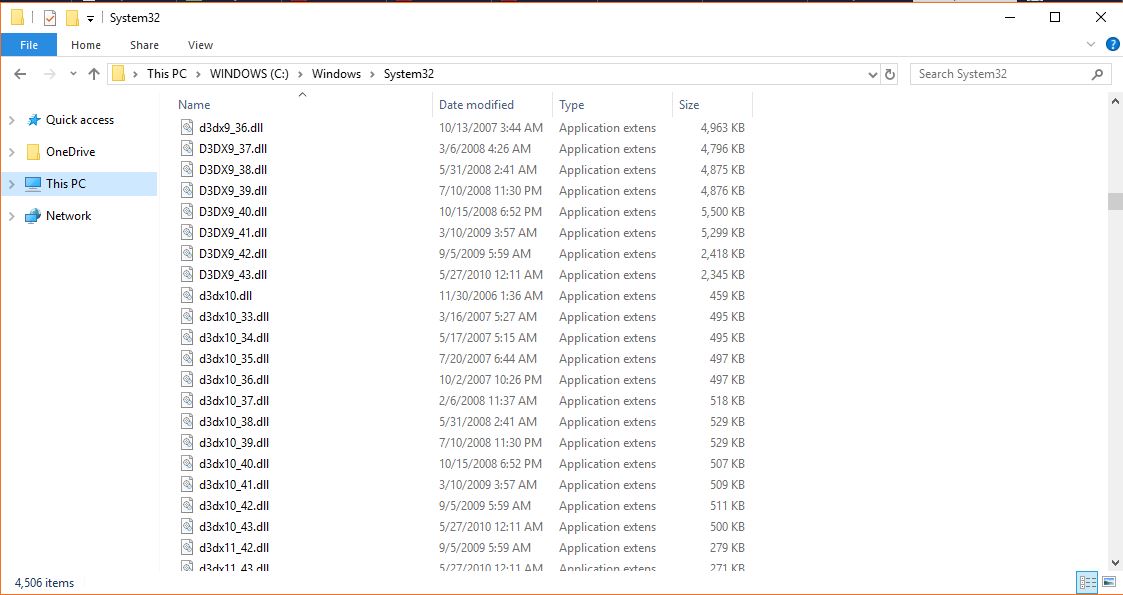 Can I Uninstall DirectX ?
Microsoft has not provided its users to uninstall DirectX directly and officially. If you think that you can remove it by going to the uninstall program in the control panel or from the apps panel in the settings then you are wrong. And to be honest there is not a single reason for uninstalling it. It's not a program that takes up too much of your hard disk space and also it's critical. It handles all the multimedia and graphical work for windows. Thus it is an essential core part of the Windows Operating System.
And if you are concerned about the different versions that you just found out, don't worry its totally fine. They don't take up much space which you believe they would. They were all installed for a reason. And its good to have them for the future. If you are installing a game that requires a version that is already present on your system, then you save your installation time.
If you try to delete a particular file from the directory, I would not advise you to do something like that at all. The directory/folder in which these files reside is a very critical directory. System32 contains most of the Windows Operating System files. If you try deleting files from there, it might result in abnormal behavior of some applications. Your operating system might lose some of its graphical features and might also stop working. If you are facing some difficulties with a particular version, try reinstalling the game for which it is required.
You Have The Knowledge Now
We have covered all the basics that are required to understand what is DirectX and why is required in your machine. How you can check which version you have and which version you can have. These graphics tool libraries are the reason why Windows have emerged as the one and only platform for PC gaming. It has become a common program for Windows users across the globe. If you play games or run any graphical related program, you will be using DirectX and there is nothing you have to do to manage it.
Also Read : How To Install Hyper-V On A Windows 10 Machine