You can sign a PDF document using your phone, tablet, or any other computer, and then email it to someone. However, some organizations still do not accept documents via email and may require documents to be faxed instead.
No, you cannot use your smartphone's phone connection as a fax machine or dial-up modem. Instead, you will need to use an app or a third-party service that handles faxing, similar to how you would send a fax from your PC. With the right application, you can scan documents and send them to any person or organization that has a fax.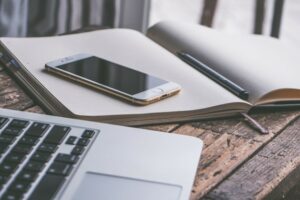 Best Ways to Send a Fax from Your Phone
1. FAX from iPhone
The Fax App allows you to complete tasks in just 5 minutes. It provides an array of beneficial features, making it a noteworthy tool deserving of your consideration. Among other things, you can resend via online fax any documents that you have previously received or scanned. The application allows you to scan documents in high resolution, and this applies to all types of documents. With fax from iPhone, you can simply and quickly send a fax to both another owner of the online service and users with a landline fax. Just try this and compare it to the experience of a landline fax. You will definitely notice a difference in the amount of effort you expend, especially if you use this technology often. The application supports importing files in PDF, JPEG, or PNG formats, allows you to monitor the history of sending and receiving, and also supports electronic signatures.
2. CamScanner
You can use this app to scan, sync, edit, and share various documents like receipts, contracts, invoices, and whiteboard discussions across all mobile devices. CamScanner utilizes smart cropping and auto-enhancing features to enhance the quality of the scanned images.
If you prefer the quality provided by a physical scanner, you can try the ION® Air Copy Wireless Scanner. This portable scanner offers high-resolution scanning, allowing you to scan business cards, photos, and other documents directly to your device within seconds. The accompanying Air Copy app provides a real-time preview of the scan. After saving the images, you can use CamScanner to send faxes from your phone.
3. RingCentral Fax
If you frequently send sensitive faxes or need a fax service for your company, consider choosing RingCentral Fax. It is a leading choice with excellent security features, multiple-user support, and dedicated fax lines. With a user-friendly mobile app, you can conveniently manage faxes or opt for email-based faxing. The service also offers integrations with popular platforms like Outlook, Google Drive, Dropbox, and Box, along with the option to obtain a toll-free number. Furthermore, RingCentral Fax provides robust security features tailored for businesses or individuals transmitting confidential information.
4. Files Anywhere
Files Anywhere strives to fulfill its namesake by enabling users to store, share, sync, and fax documents from anywhere. Similar to popular cloud storage platforms like Evernote and Dropbox, this application empowers you to store files and access them across web-enabled devices. Additionally, it provides the convenience of sending and receiving faxes directly from your smartphone.
The app boasts a user-friendly interface that allows you to seamlessly fax various file types, including PDFs, Excel spreadsheets, photos, and more, to both domestic and international fax numbers. Simply select a file from your phone, upload it to Files Anywhere, and choose to fax it from your remote files. Similar to traditional fax machines, you will need to provide recipient information, and send contact details, dial a number, and press "Fax". To add a touch of familiarity, Files Anywhere even includes a traditional cover sheet. Additionally, you can opt to receive email confirmation of a successful fax transmission.
5. FaxZero
Using FaxZero is a breeze. Simply visit the website, and provide your contact details and the recipient's name and fax number. Attach your desired document (Microsoft Word or PDF) and include a cover page if necessary. After typing the displayed confirmation code, send your fax.
You will receive a confirmation message via email from FaxZero, including a URL to access the fax. Your recipient will also receive the fax, and you will receive an email to confirm its delivery. FaxZero is free if you send three pages at a time, limit your daily faxes to five, and don't mind the FaxZero ad on the cover page. For $2.09 per page, you can send up to 25 pages without a cover page ad.
Final Words
In fact, neither iPhone nor Android supports faxing by default. However, there are a sufficient number of applications that offer faxing and related functions. FAX from iPhone seemed to us the most practical and reliable option, but other options are worthy of attention. You can make your own comparison and choose your personal flagship.