Getting tired of spam and phishing email? Or even subscribed to those email by mistake and want to get out of it. Don't worry you can get rid of it. There are multiple options to get out of these unwanted emails and one such simple way is to block them. Yes, you can block those name or emails from your account. This is one case where you can block the email. Other case is where you might have blocked the emails earlier and now you want to unblock them so you can do that as well. Thanks to the feature of Gmail which gives you the freedom to Block and Unblock any emails. We will show you how you can Block and Unblock an Email Address in Gmail.
We all know that how important is an Email when it comes to contacting any person/company. Mostly, email is being used for formal/official contact. So, why there is a need to block the email ID?  There are a number of reasons to block the emails such as getting threating emails, companies get your emails address and send you emails which is of no use. The main problems with those unwanted emails are that they pile up your inboxes which makes it difficult to find out the emails which are important. Now with the advancement of technology, you can get an email containing viruses which adversely affect your system performance.
Block and Unblock an Email Address in Gmail
Before starting we want to give you some important tips regarding your Gmail account. One thing you always keep in mind that don't give your email address unnecessarily because many online sites might be selling your email addresses. And if you are getting serious threats or anyone is harassing you via emails then you can directly contact your Gmail Support.
Block an Email Address in Gmail
At first, we will see that how you can block any email address on your Gmail account.
Step 1: Firstly, login to your Gmail account.
Step 2: After login to the account find out the person/company which you want to block from receiving the email. For example, we are blocking GitHub you can see in the image shown below.


Step 3: Now, click on the email to open it. When email opens up click on the drop-down menu which is located on the right side of the email. If you find it difficult to spot it see in the image with a red box.


Step 4: When you click on the drop-down menu you will see the option of Block "Sender Name". Just click on that.

Step 5: Now, a pop-up will appear on the screen with the name and email which needs to be blocked. Just click on Block.


Finally, the email you have blocked will be marked as spam and now the emails from that sender will come in the spam folder. This means that particular Email ID won't be able to send emails to your inbox folder. But, you can access those emails if want from the spam folder.
Also Read: How to Install Google Assistant on Android Without Rooting
UnBlock an Email Address in Gmail
There are situations where you have blocked any person and then realized that you made a mistake by doing so. Now, what to do to Unblock it? Don't worry Gmail has the feature to Unblock the Email ID you just need to follow few simple steps shown below to Unblock any email.
Step 1: Firstly, sign in to your Gmail account. Then head towards the gear icon which is on the right side click on it. And now a drop-down menu will appear with a number of options just click on the Settings option.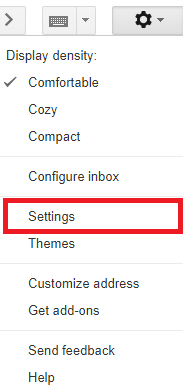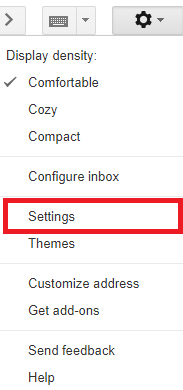 Step 2: After you click on the settings a new window will appear in front of your screen. You need to find out "Filters and Blocked Addresses" and click on it.


Step 3: When you click on Filters and Blocked Addresses a list of blocked email addresses will be displayed. See here we have blocked GitHub earlier is displaying in the list. Similarly, you have your own list. Just tick mark the id's which you want to unblock and click on Unblock selected addresses.


All done you can unblock any of the blocked Email ID following the above steps.
Note: The process to Block and Unblock an Email Address in Gmail is same for both Web and Mobile. So, just follow the same steps on your handheld devices.
Conclusion:
So, you might have understood the situations where you need to block the email id. We have discussed very simple steps to Block and Unblock an Email Address in Gmail. If you find any difficulty following the steps then do comment in the comment section.