Troll War Over Candies
Tesla and SpaceX CEO Elon Musk has recently shared his plan of setting up a candy company and says is 'super super serious'. But renowned investor Warren Buffer CEO of Berkshire Hathaway, which in turn owns Bay Area-based See's Candies, advised Tesla founder to stay away from candies, this started a Troll war between these two billionaires.
I am super super serious

— Elon Musk (@elonmusk) May 5, 2018
Musk is "starting a candy company & it's going to be amazing," he said in a Twitter post on Saturday. He was pushing back after Buffett and his business partner Charlie Munger said the Tesla Inc. founder was wrong to believe "moats are lame," as Musk said in a conference call earlier this week. Buffett has long advised investors to look for companies that have a "moat" or enough of a buffer around them to maintain a competitive advantage over industry peers in terms of brand strength and business model.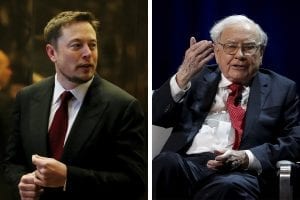 Buffer further added that "Elon may turn things upside down in some areas. I don't think he'd want to take us on in candy," at 2018 annual shareholder meeting held on Saturday. Additionally, he did agree that certain industries the pace of moat destruction has accelerated in recent year, but believes companies can still protect their competitive advantages. "Something like Geico, technology has not really brought down the cost that much for its competitors," he said.
Berkshire Hathaway's New Rival Cryptocandy
Charlie Munger business partner of Buffet at Berkshire Hathaway also mocked Musk for his statement on moats, "Elon says a conventional moat is quaint, and that's true of a puddle of water. And he says that the best moat would be to have a big competitive position, and that is also right," Munger said. Responding to this Elon Musk firstly posted a YouTube clip from the movie Trolls. Later in the evening, Musk referenced Buffett directly, tweeting that he was "going to build a moat and fill it with candy" in order to lure Berkshire Hathaway into investing in his confectionery venture. Tesla founder named the company Cryptocandy, as stated in his tweet.
Cryptocandy

— Elon Musk (@elonmusk) May 5, 2018