As the audience is continuously increasing for streamers, the need for good game recording software is increasing. Though you might want to record your game for different reasons the requirements remain the same. There are a lot of premium game recording software available which will obviously come for a price, but we also have free game recorders. They might just serve your purpose but if you want additional features you can consider buying one. Before selecting the best game recorder, you need to lay out your requirements. Stack up your needs from a game recording software and then move forward to choose one. One might want to just stream games online on platforms like Twitch or YouTube while the other just wants to record for fun.
Requirements vary from person to person. But before you the game recording software, you should check that the game recorder is able to record at high resolution with above average frame rates. This ensures that the footage you record doesn't have stutters and has vivid colours which do justice to at least the game. Furthermore, the game recorder should be able to record for a considerable amount of time. Obviously, you don't want your screen recorder to open a prompt for buying premium version only after a few seconds of video. Moreover, the screen recorder shouldn't be applying any watermarks over what is supposed to be your video content. Game screen recorders provide different features and in the end, it all boils down to your needs.
Moreover, running a game recording software with your game will have a hit on the performance. The hit varies largely depending on the hardware of your machine and the algorithms your screen recorder is using underneath. If you are running a decent hardware than you might not even feel the performance gap. Everything should run smoothly without affecting much of the performance. While machines running on older hardware might experience some stutter and a few hiccups here and there. So let's start our list of best game recorders.
Note: The below game recorders do not follow the usual ranking structure. You can choose the best which best fits your requirements.
1. Nvidia Shadowplay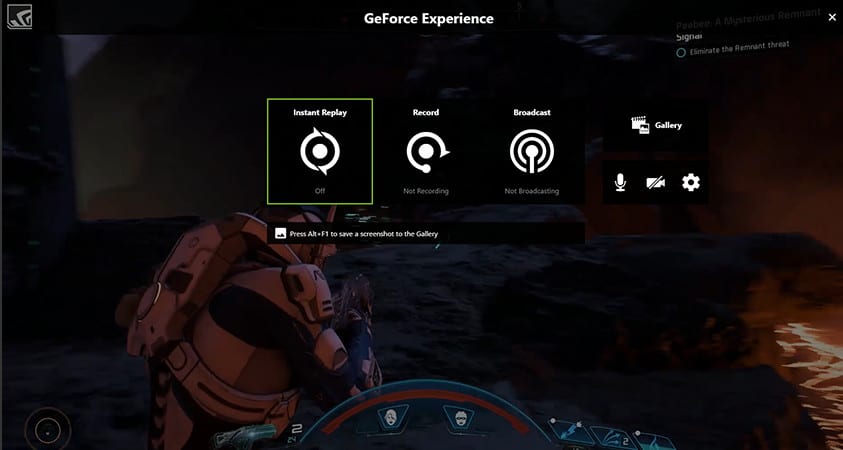 This game recorder is free if you have GeForce graphics card installed on your machine. It has its own drivers and the complete set of software is free for Nvidia GeForce users. Though Shadowplay comes along with the GeForce application, if that is not the case for you, it can be installed separately. The software has some neat tricks in its bag which can help you during the process of recording your game. Shadowplay can temporarily store your gaming footage in the cache which allows you to later retrieve a gaming moment you missed to record. The feature allows saving the last 30 seconds of your gaming footage. The action named Shadow Time can be triggered via a simple key combination on the keyboard. Moreover, it can also send your recorded gameplay straight to Facebook or YouTube. Don't worry, the option to record manual is also there.
Coming to the streaming part the Shadowplay can stream games to most of the platforms out there starting from Twitch to YouTube. One can also add audio to the video using any microphone. Furthermore, the software supports 4K screenshots which is a must-have feature in today's gaming world. Though modern games like God of war and some other titles let you take a screenshot right from the game itself also providing a ton of customization options. Shadowplay can also record in 4K so video quality is no limitation here, though your hard drive might have some size issues.
Compatibility: Windows Vista, 7, 8, 8.1 and 10
Pricing: Free
2. OBS studio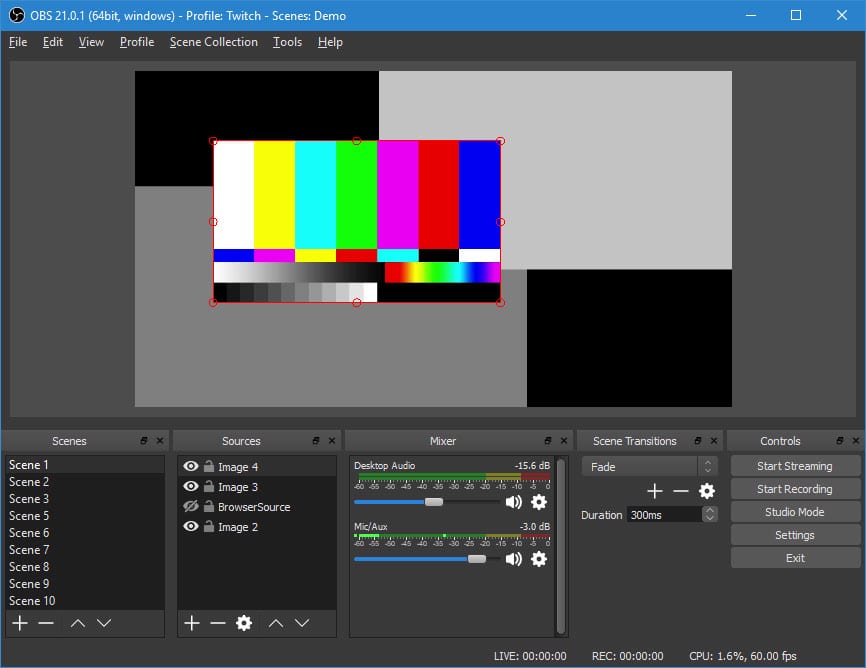 OBS studio sets an example of how game recorders should be. The best part about the software is that it is open source. Anyone can contribute to the product, help with some performance tweaks and solve some problems. This creates a community which supports and updates the product continuously while being regular. Moreover, there are no restrictions on the features of the software. You can use all the features of the product without even worrying to spend a penny. OBS studio can record your gaming sessions without any problems with additional support if recording media files and other connected media devices.
The software can stream your video on the fly directly to YouTube, Twitch and many other streaming services. Furthermore, OBS can be customized to be able to record your game as soon as you launch it.
Compatibility: Windows Vista, 7, 8, 8.1 and 10, Mac Os X
Pricing: Free
3. Flashback Express
Flashback Express provides an easy way to record games with added capabilities of a video editor too. The recorder is not as feature rich as Shadowplay but it provides an easy way to record games. The process to start your recording with the recorder is a no-brainer, you can just tap on start and we shall be pretty good to go. Flashback provides a decent frame rate with decent video quality. Moreover, the software also throws in a video editor which can be launched right away after you have finished recording. Of course, if you like to do heavy customizations to your video, you would never use it. But it can help with light customizations to your video. The software lets you edit your gaming footage with options like Crop, trim and perform some other basic tweaks to make your video look somewhat better.
Coming to the cons, the software can sometimes struggle with hardware accelerated graphics. If you notice some inconsistency in the recorded footage you can try tweaking some graphics settings.
Compatibility: Windows Vista, 7, 8, 8.1 and 10
Pricing: Free with limited features, Premium Version also available from $29
4. Ezvid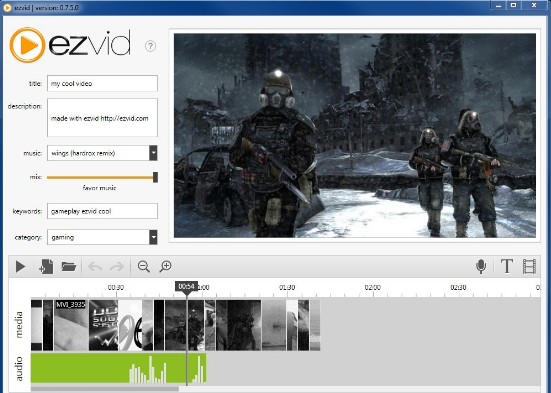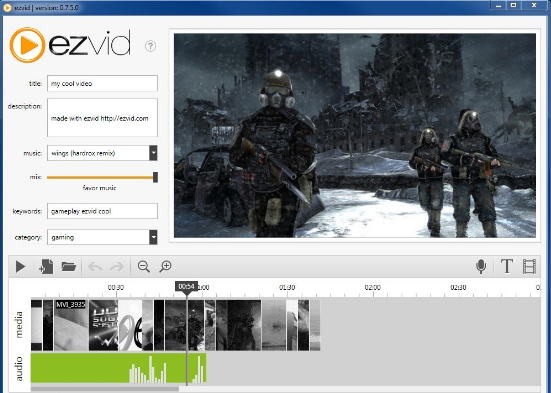 Ezvid is a great screen recorder but it has its limitations. The software can record your gaming footage but the biggest drawback is that it can only be uploaded to YouTube. The software doesn't allow you to store recorded video on your local storage. The platform has ads on the front page and those should not be much of a problem as the software is anyways free and full of features. While you cannot save your gaming footage on your local storage you can always upload to YouTube privately and them download them again. But why would you do that? We don't actually have an answer for that. Ezvid also limits in terms of how your record your footage. In order to be able to record your gaming footage, you need to run your game in windowed mode.
It allows you to record up to 45 minutes of gameplay which seems reasonable and good for normal usages. The software doesn't even add watermarks to your video which is an added advantage.
Compatibility: Windows Vista, 7, 8, 8.1 and 10
Pricing: Free
5. Fraps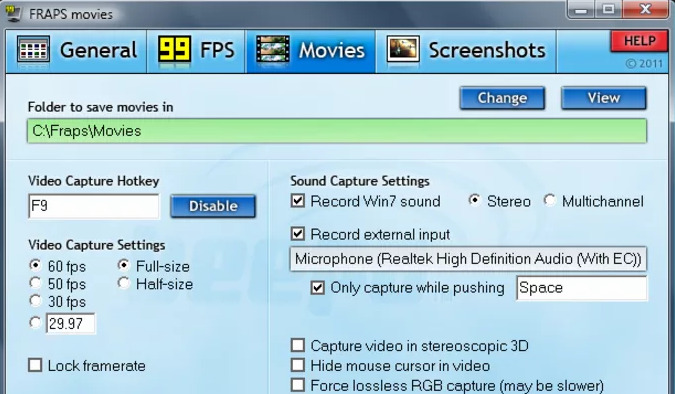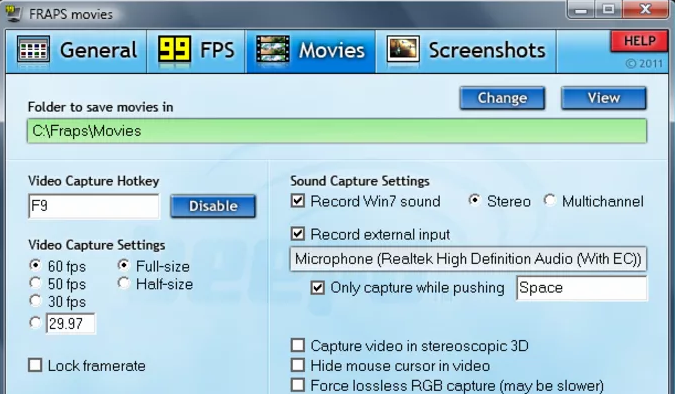 Fraps has been famous for a couple of decades now. The software is pretty good at what it is meant to do. However, the free version of the platform is pretty much limited. The program is very well optimized for gamers and it can even tell you the frame rate at which your game is being recorded. It is a nice little feature to have but the free version restricts the recording length to just 30 seconds. Moreover, the video recorder has a watermark above it which is basically the developer's URL.
While the premium version of the software costs 27 pounds it is not much bad of a deal if you consider the features it has to offer. You can load up the free version to try out Fraps and later download the full version of the software.
Compatibility: Windows Vista, 7, 8, 8.1 and 10, Mac Os X
Pricing: Free, Premium version starting at $37
6. D3DGear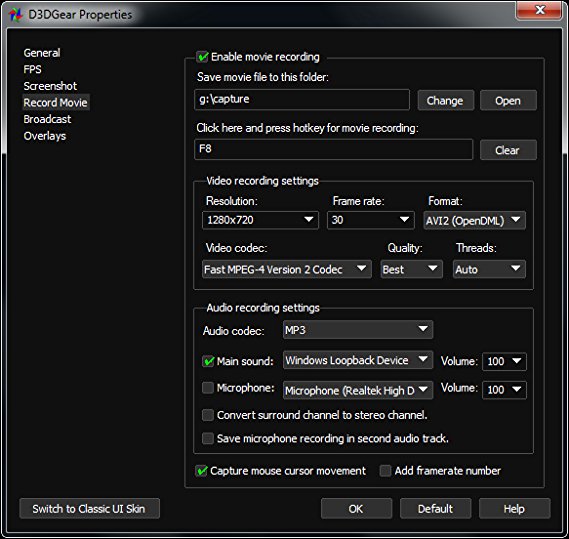 D3DGear falls into the lightweight category of game recorders and is very simple to use. The software doesn't even demand much of a setup and it doesn't come in your way while you are gaming. The software being lightweight doesn't hinder the performance of the game you are playing. Because of course, you don't want to miss a frame while being in the middle of an intense fighting session with your enemies. When it comes to recording the software can be triggered by a hotkey and same can be done for stopping it.
The software has its capabilities of compressing the video before it is being written on the hard drive. Furthermore, streaming services are an added advantage. The software can stream your gaming footage on the fly, over streaming platforms like Twitch, YouTube etc.
Compatibility: Windows Vista, 7, 8, 8.1 and 10, Mac Os X
Pricing:  Free Trial for 15 days, Full version starts at $34.95
7. Action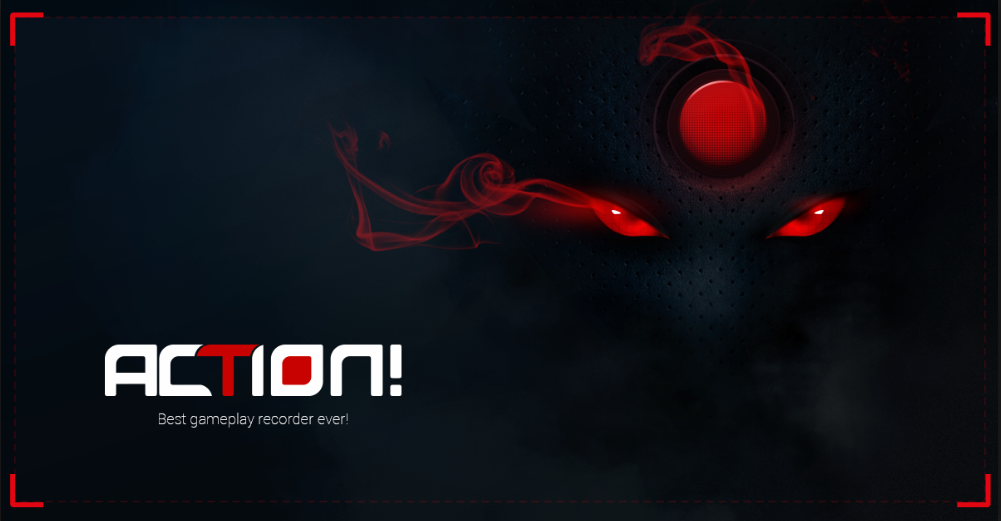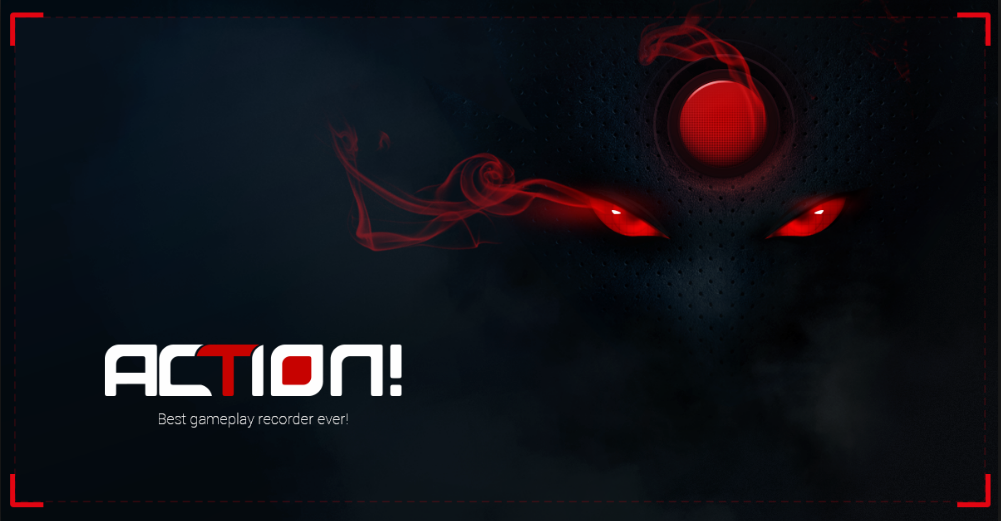 This is one of the paid software on our list. Though considering the features the recorder has to offer it seems like a nominal price. Action has a ton of features which you would expect as you are paying your hard earned money to the developers. Action delivers on what it claims to be. It can record super high-quality video with built-in 4K support and high frame rates. This is a software we would recommend if you are a professional who streams their gaming sessions. The feature to add your voice to your recorded gameplay also makes its way here which is must if you are streaming on YouTube or Twitch. The software can save videos on your local storage which can be shared to any platform you like.
One added functionality of Action is that it enables you to control your PC from your Android device. Recordings can further be controlled using the app. Action also supports recording gameplay which you might have missed. You can go back and get your last 20 minutes of gameplay using the Time-Shift feature. One last feature worth mentioning is that you can also edit videos on the go with some basic but neat features.
Compatibility: Windows Vista, 7, 8, 8.1 and 10
Pricing: Free trial version, Afterwards $29.95 for Home use and $49.95 for commercial use
8. XSplit Gamecaster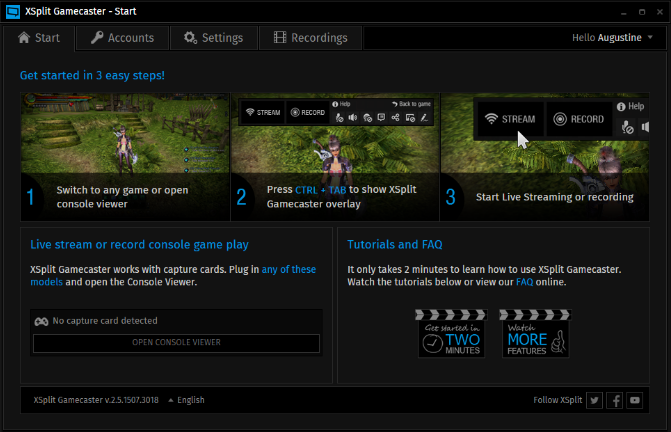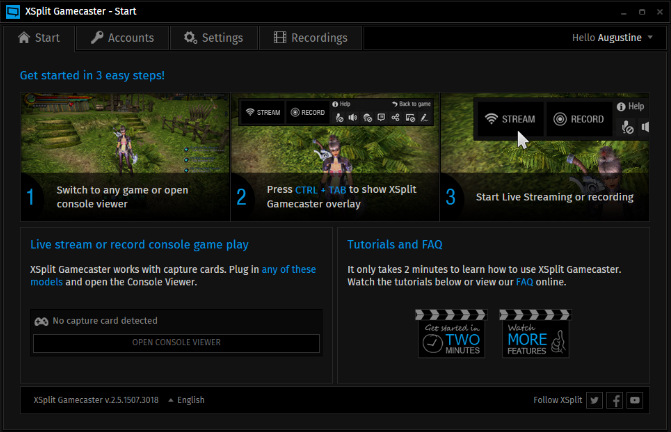 This one you can consider for its streaming powers. Although the software could both record and stream it just streams so much better. XSplit allows you to record decent quality gameplay with GPU support which pushes your GPU instead of putting more pressure on the CPU. Streaming can be done through the software with features such as picture in picture mode, custom watermarks and much more. The built-in video editor is another bonus feature we love. Though it would suffice for your heavy customizations, it can do all the basic stuff with ease.
Compatibility: Windows Vista, 7, 8, 8.1 and 10
Pricing: Free with limited features, Personal subscription for $4.95/month and Premium subscription for $8.95/month.
9. Windows 10 Game bar


How can we forget the built-in game recorder for windows? The software is flat simple and can be fired up right from the game. Obviously, it wouldn't allow you the freedom to do much with it but it surely gets the task done. To open up Game bar while you are playing a game on your Windows PC just press Windows + G. This would open a bar where you can click to start recording your gameplay. The video recording settings can be tweaked to Standard and High. It also supports background recording which can record your game running in the game for about 30 seconds. It majorly serves as a backup if you accidentally switch to some other window while playing your game.
Compatibility: Windows 10
Pricing: Free
It's comes pre-installed with Windows.
Also Read: Windows 10 Game Mode: What is it and how to activate it
10. Dxtory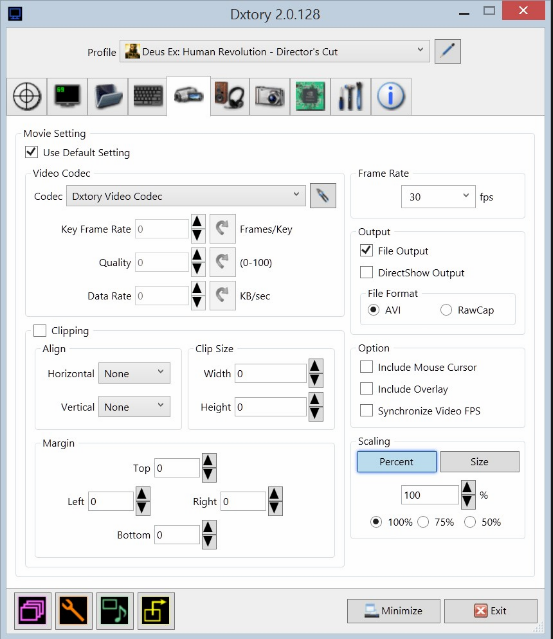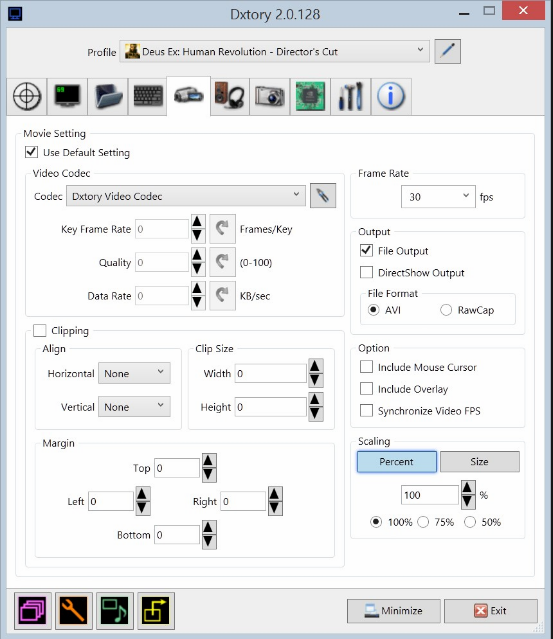 Dxtory is light and doesn't mess up your gaming experience. The software is light on the system with some blazing good features. The interface has been designed for quick and simple interaction without much of a hassle. It follows a lossless (not exactly as some of the data is always lost) video recording algorithm to get your videos at the highest quality. Furthermore, it can record two audios at a time, one being from the game and other from your microphone. The software also allows you to separate the audios after being recorded basically because the software knows the source of each sound.
The free version of Dxtory offers all the features with one shortcoming. It puts a watermark on your videos. If you can ignore that you can follow up the following link to get it up and running.
Compatibility: Windows Vista, 7, 8, 8.1 and 10
Pricing: Free with Limited features, Premium version starts at $32
Bonus: Bandicam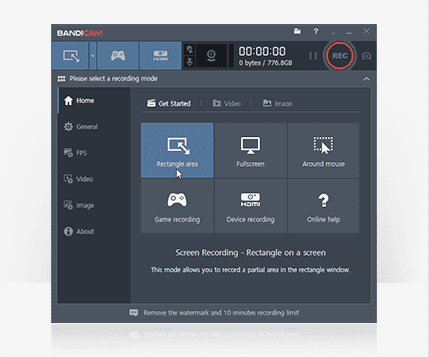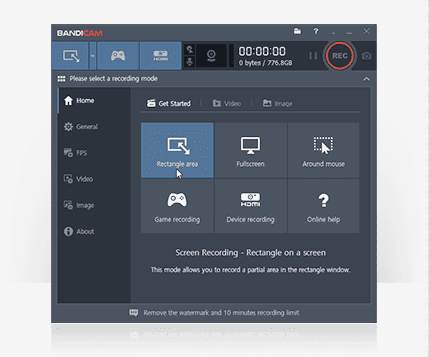 So we have one more bonus for you and that is Bandicam. It is a lightweight game recording software with neat features coupled with it. Bandicam can compress your videos without giving up on the video quality and provides decent performance while recording games, all thanks to its lightweight package. It lets you record in ultrahigh definition 4K with a maximum frame rate up to 120 fps. Bandicam allows capturing of screenshots in various formats among which BMP, PNG and JPEG are worth mentioning. The software claims to work without any latency while you are in game recording mode. It can show you the live count of frame rate and works well with games that use DirectX, OpenGL or Vulkan. Game recording mode delivers a better looking video when compared to the screen recording mode. Furthermore, it allows you to record two sounds simultaneously one being from your computer coupled with your audio via microphone. This can be achieved using "Two-Source Mixing" option.
Compatibility: Windows XP, Vista, 7/8/10 (Support for 32/64-bit)
Pricing: Free
This is the list from our side. Hope it helps you to decide the best game screen recorder for you. If you like the article share it with your friends and don't forget to share your comments about the post.