The little camera tethered with your PC is not just for occasional video chats or conference calls. Nowadays, there are some really good webcams that can do wonders if you are into content creation. Well, that is just one part though. Whatever reason you might need your webcam for, you can increase its productivity by pairing it with some niche webcam software. The best webcam software will boil down to your needs and features you would like your webcam to support. There are a lot of webcam software available on the web but we have chosen the best ones keeping in mind their popularity, support, user experience and features they offer. The list contains both free and paid options. Free versions are good for supporting normal tasks but if you are into some kind of professional stuff and require extra features premium versions are the way to go. So let's get started with our list of 10 Best Webcam software.
1. Cyberlink YouCam 7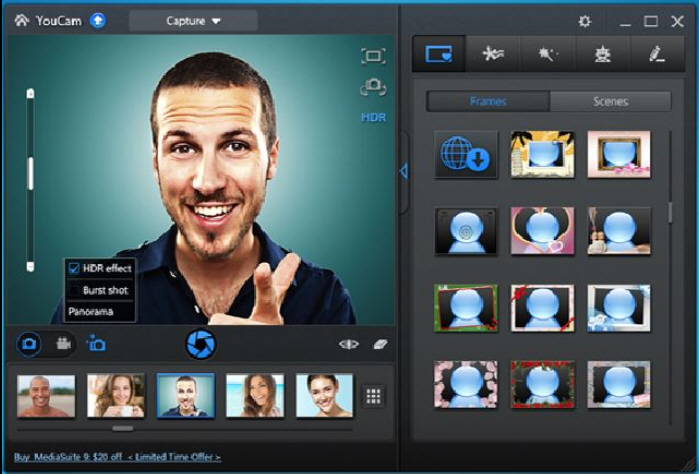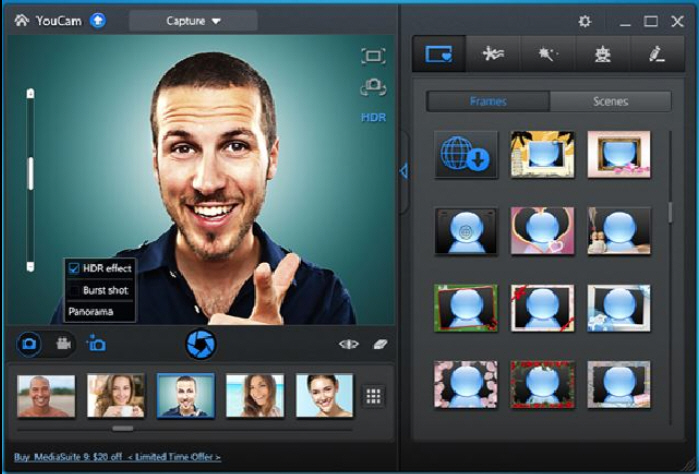 The very best apps when it comes to having a lot of features and amazing performance. Though YouCam 7 by Cyberlink isn't free, it comes with a trial version which lets you try all features for up to 30 days. After that, if you would like to continue with the premium version you have to pay a basic fee of $34.95 to purchase the software. However, if you decide not to move forward with the premium version you will always have the basic features of the software free.
YouCam gives a lot of creative freedom to content creators who use their webcams for creating video content for YouTube or other platforms. The app offers a clean UI which can be easily interacted with. It lets you add a ton of effects to your videos in real time with an added advantage of pretty solid video editor. The software will let you record your videos in various formats like AVI, WMV etc. with the resolution being bumped up to Full HD. Images can also be saved in different formats which gives you the flexibility of controlling your image size and quality. YouCam enables you to have live animations, AR stickers and what not which just increases the scale of interaction through your video. On top of all this, YouCam can be synced with Skype, Yahoo Messenger, AOL IM etc. We recommend taking the premium version of YouCam for your machine if you are a content creator who likes to shoot with their webcam a lot.
Compatible with: Windows 10,8,7, Vista SP2, MacOS X
Pricing: Free 30-day trial, paid version starting at $34.95
2. ManyCam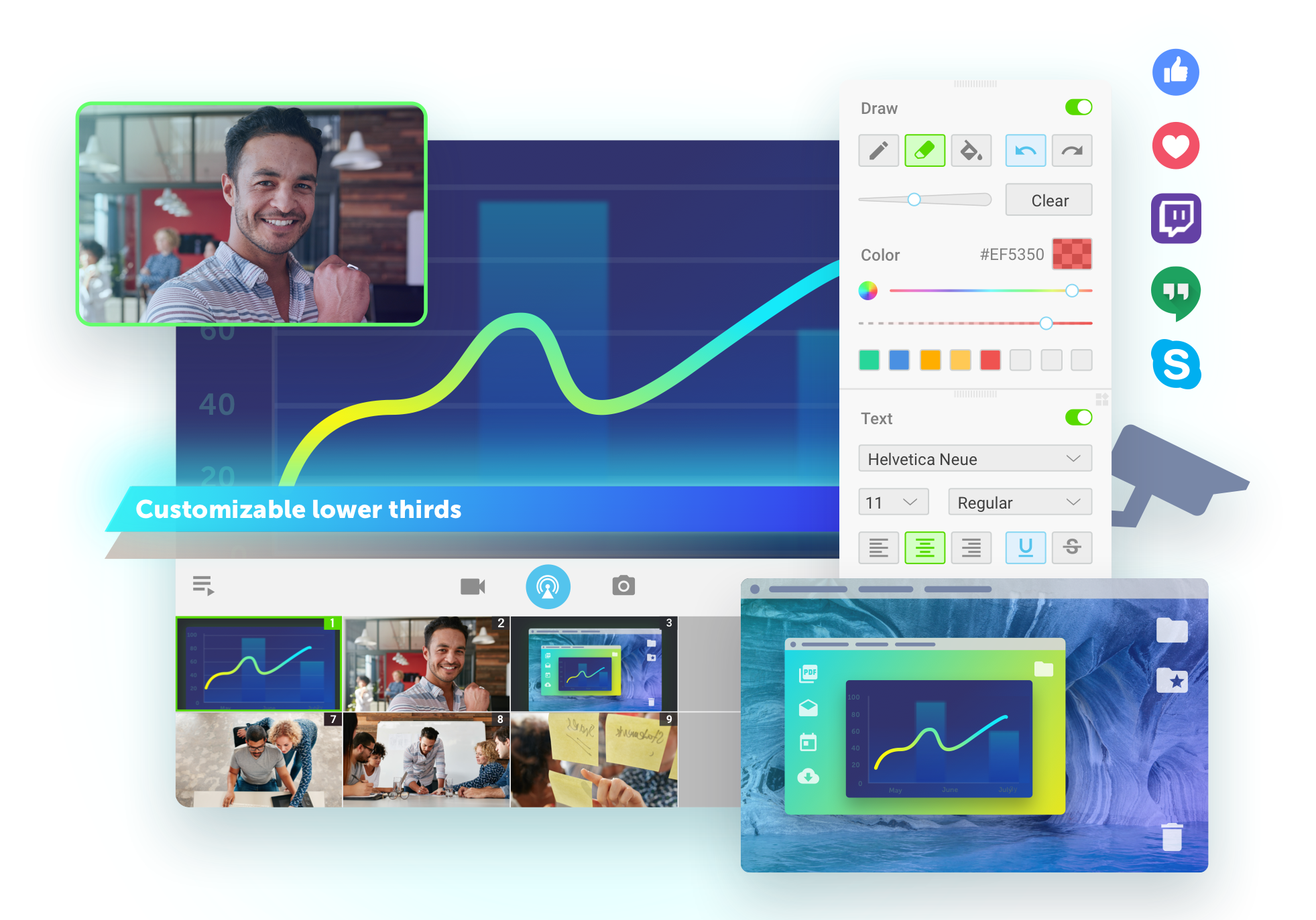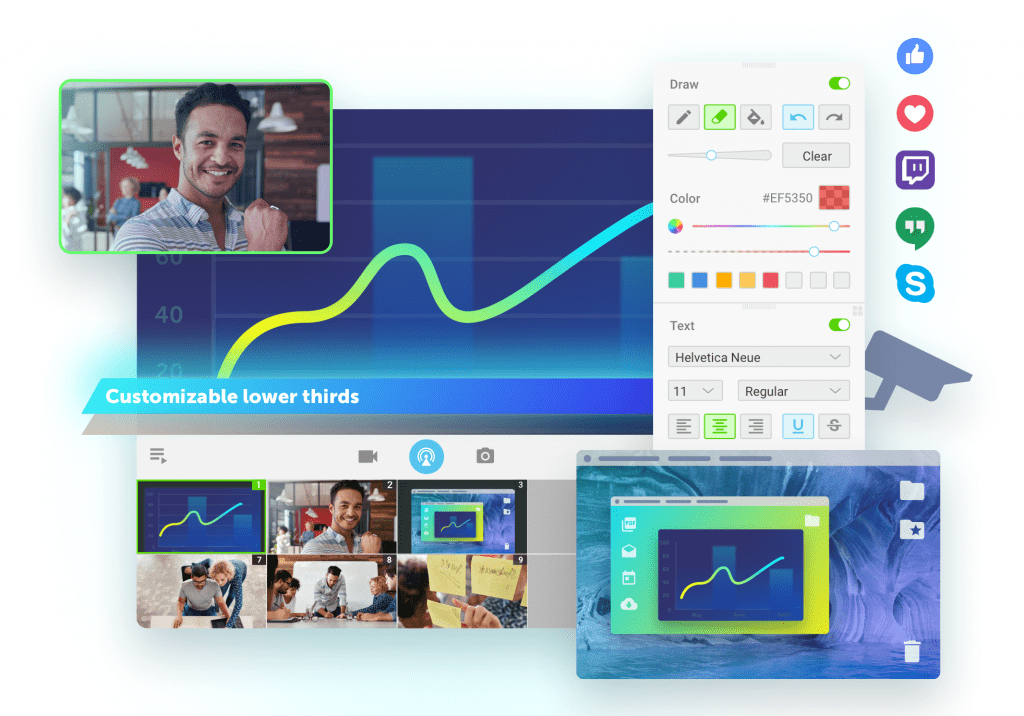 This app features live effects while you are doing something with your webcam. ManyCam can add some beauty to the original video output from your webcam. It supports adding effects while video calling and has a full-blown video editor built in. It provides a host of features like emoticons, changing backgrounds, beautification effects etc. The app has also offer smooth integration with YouTube. ManyCam will let you record your videos in various formats ranging from MP4 to MKV. You can pretty much set the settings for your video. ManyCam offers you to record video at different resolutions all the way up to Full HD.
If you are a geek who likes to control much of the settings for your video ManyCam has one more feature in for you. It lets you control the audio Bitrate which can be set between 96-192 kbps. It will also let you live stream your video to various platforms and serves as a good to have an option for such kind of stuff.
Compatible with: Windows 10,8,7, MacOS X 10.9 and above
Pricing: Free, paid version starting at $24
3. Debut Video Capture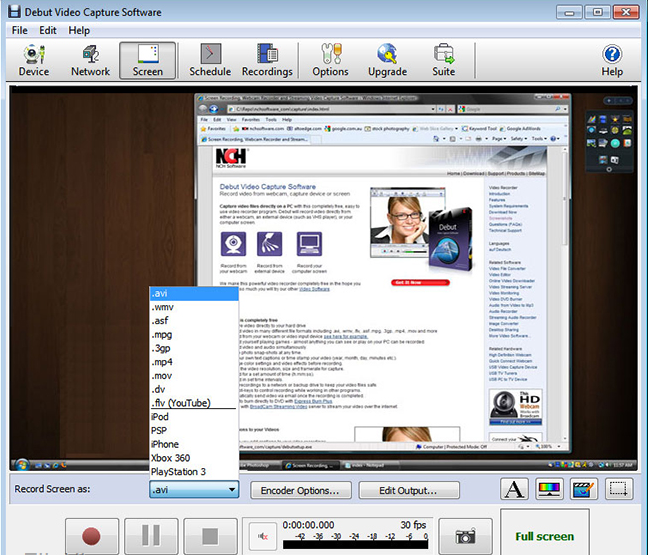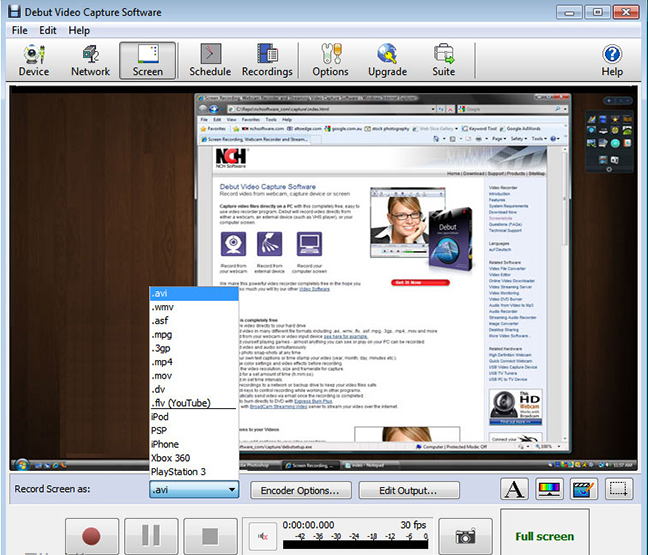 This app might seem a little complex if you are coming from an easy to use webcam software. Debut Video capture has some more functionalities baked into it rather than just being served as a good webcam software. The app enables you to record your screen and even combine your webcam with it to use it as an overlay. The UI is pretty basic but is interactive and easy to use. It also comes packed with some basic Video Editing features. Debut will let you record videos in formats with AVI, MKV, WMV being among the best. You can also customize the format your images will be saved if you wish to capture your screen. One downside where Debut lacks behind is the frame rate. All the videos are recorded at a fixed frame rate of 30fps. Though it is not much of a bummer, the ability to choose the frame rate would have been a nice addition.
The software isn't free and the home edition of Debut Video Capture will cost you about $30 which might not be a big amount depending on how much and what for you will use the software.
Compatible with: Windows 10, 8, 7, Vista SP2, XP, MacOS X 10.5 and above
Pricing: Free, Paid version starts at $30
4. Webcam Toy


Webcam Toy is a web app that can be easily accessed from your normal web browser. Great isn't it? The app allows you to add some nice effects to your pictures and videos while not hindering much of your resources on the machine. The service is free and pretty light with its best part being no install required. You can use Webcam toy for some quick snaps and videos. Webcam Toy offers five presets from which you can choose any which suites you better. The service can moreover post images directly to your social media platform if you would like to.
The USP of Webcam Toy is its pretty and minimalistic User Interface.
Compatible with: Web
Pricing: Free
5. IP camera Viewer
Oh, so you have an extra webcam and want to use it for surveillance and stuff? Don't worry IP camera viewer has got you covered. The software allows you to connect all your surveillance cameras and track movements through them all at one place. The app enables its users to monitor and survey your workplace or Home for unusual activities. This app provides a simple user interface with support of multiple cameras being connected at once. It can be used to monitor the whole network of surveillance cameras. It can support over 1800 different camera models and users can customize video properties for each camera separately. Moreover, the software can record video in resolutions ranging from 360p to 720p.
Furthermore, the software provides extra features to improve the video quality of the produced images by adjusting the video settings. It enables you to customize frame rate of the video along with the resolution. Some basic properties like brightness, contrast etc. can also set up accordingly. It supports live video from 4 cameras at a time which is useful for a small setup.
Compatible with: Windows 10,8,7, Vista, XP
Pricing: Free
6. Logitech Webcam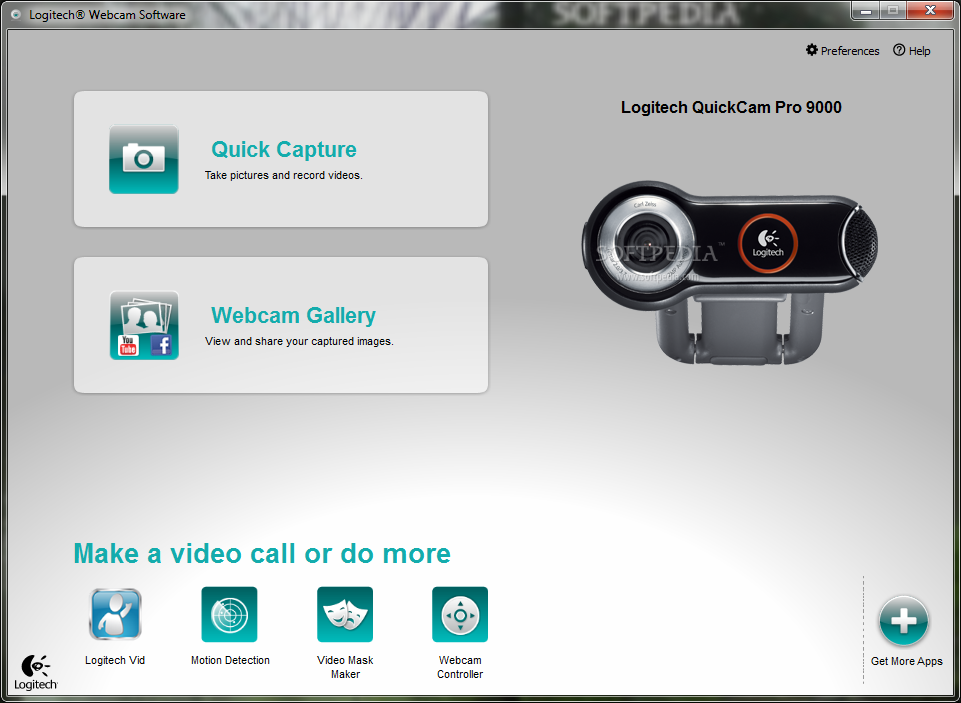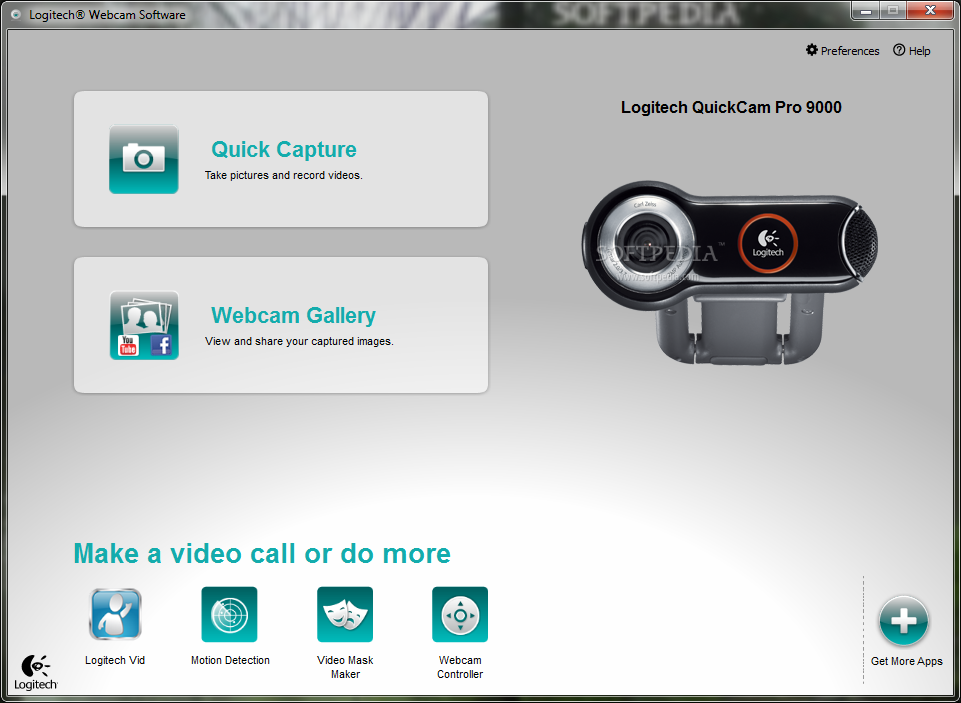 This is the most downloaded webcam software on the internet and is certainly one of the best. Logitech has been a pioneer in developing webcams. The better you understand the hardware the better you can utilize its powers through software. The company which knows how the hardware of a webcam works can certainly make the most of all the data about it. Logitech makes no mistake here. This app basically serves as a utility to make your Logitech webcam work correctly. But you can capture pretty good quality images and videos right from the app. It also provides other features like adjusting camera sensitivity and motion detection.
It can also serve as a surveillance software as it allows you to switch into surveillance mode to view the feeds from the cameras connected to your machine either remotely or through the wire. The software is free with the only limitation being it can only be used with Logitech Webcams.
Compatible with: Windows 10, 8, 7, Vista SP2, MacOS
Pricing: Free
7. Yawcam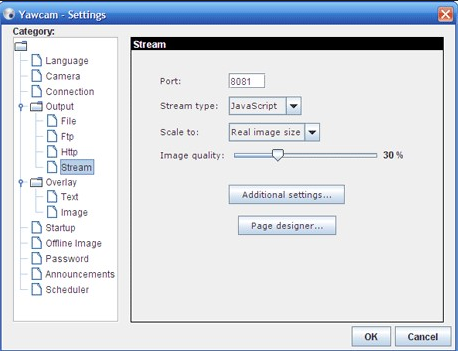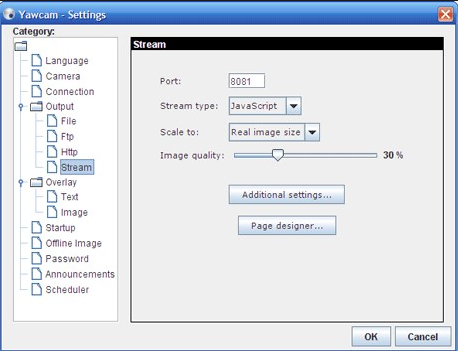 The software presents everything with a very clean approach. Though Yawcam lacks the ability to add effects to your photos and videos, it definitely provides you with the most wanted camera features. This app has some other features up its sleeve like the image to movie converters, adding text to your video or image and just like the Logitech Webcam a motion detection feature. This feature can detect if any motion has been going on while you were away for some important work. This is a pretty neat feature and works well. The software also has the ability to notify its user by issuing an email warning about any activity that has taken place behind your back.
Yawcam can capture images in various formats like JPG, GIF and PNG. The software offers you to tweak the settings a bit but not using specific values of colour, contrast etc. It handles all of it internally with allowing you to move and set the image quality with an image slider. Yawcam has pretty neat features built in which can serve all your basic needs from a webcam software.
Compatible with: Windows 10, 8, 7, Vista, XP, 2000
Pricing: Free
8. Photo Booth Pro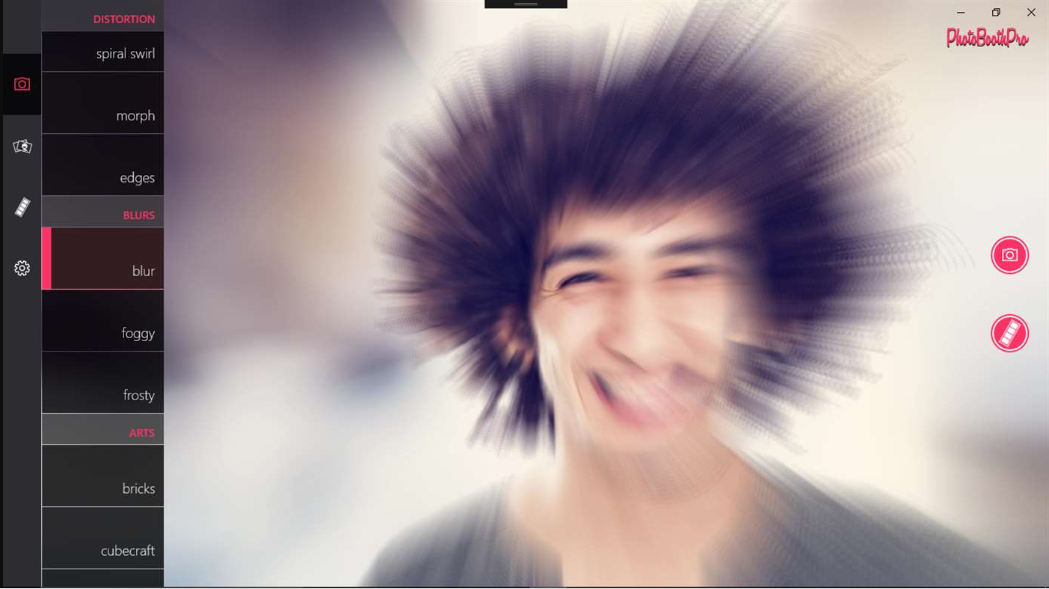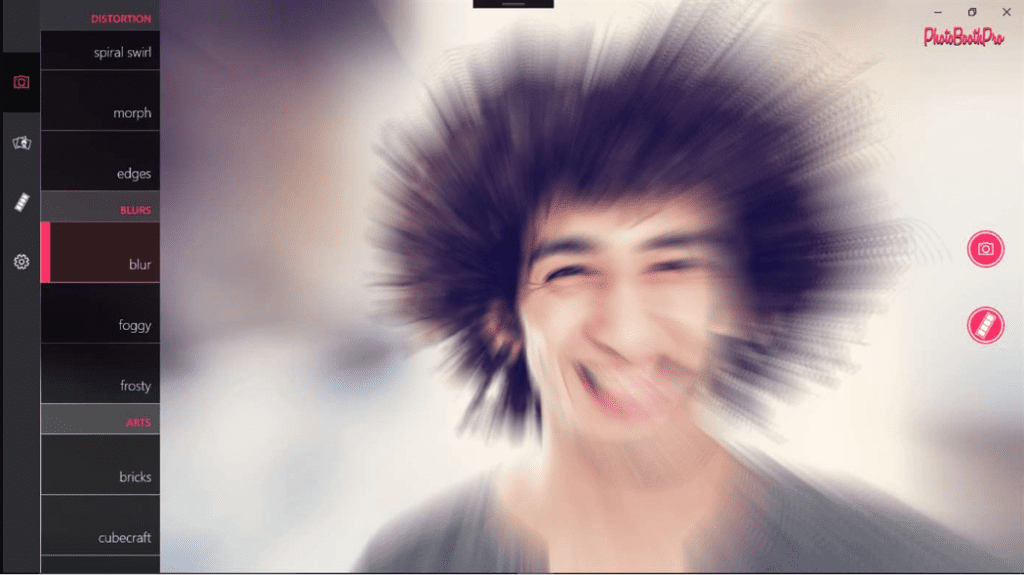 Photo Booth Pro has pretty loaded up software and provides all the features under one hood. It provides snappy performance with quick capturing time and high load up speed. The software also allows you to add several fancy effects to your photos in real time like blur effects, distortion lenses etc. Photo Booth Pro can provide you with a host of options to tweak your photos. It has also had a very cool feature called the photo strip which lets you take four different pictures with different effects. The software also lets you edit the image afterwards if you want to change the layout and stuff.
This app restricts the images to be saved in JPG only. It has a built-in option to upload your photos straight to OneDrive if you don't want to lose them so easily or for maybe some other reasons. Also, Photo Booth Pro has been nicely integrated with Facebook and Twitter which allows you to share photos to your social media networks directly. The videos, on the other hand, are recorded in MP4 with the flexibility of choosing the aspect ratios between 16:9 or 4:3. Furthermore, it doesn't offer any tweaks to the resolution and frame rate with both being fixed at 640*360 and 30 frames per second respectively.
Compatible with: Windows 10
Pricing: Free
9. Windows Camera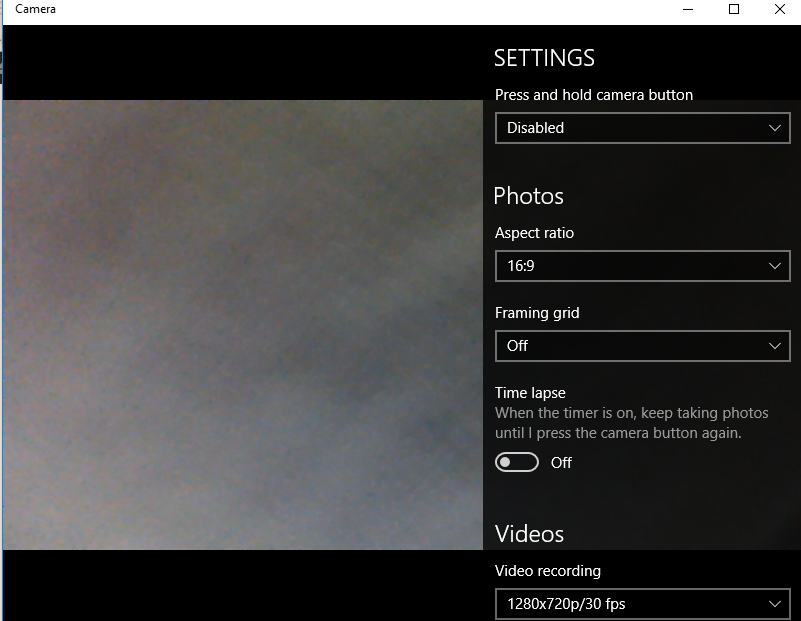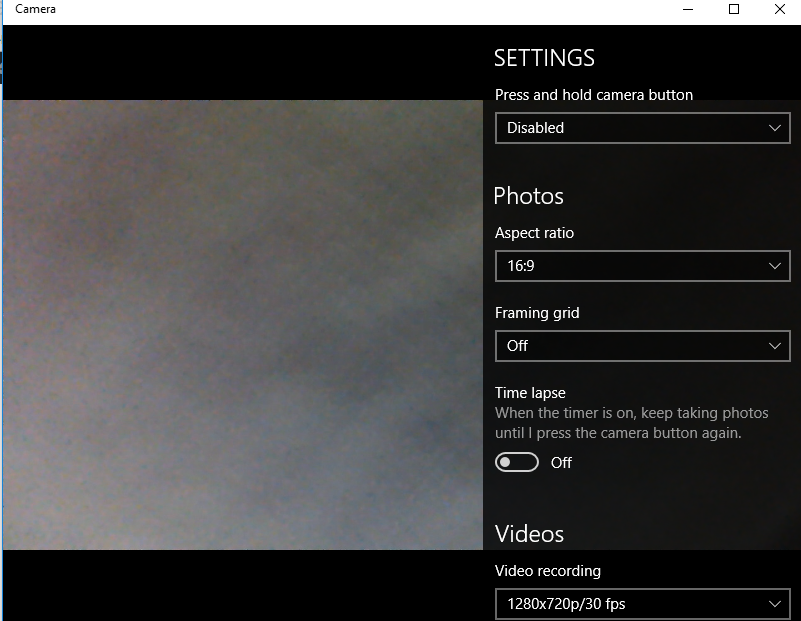 Windows camera doesn't pack with itself those neat effects and editing powers like other webcam software on the list. But it pretty much gets the job done with a simple yet effective approach. As with the windows 10, the software follows the minimalist design with only the important and core options on the main screen. The software comes installed with the Windows package and you don't need to install it from anywhere else. This Windows app can capture photos in two aspect ratios on being 16:9 and the other being 4:3. It also provides the grid feature to perfectly align yourself in the frame namely Crosshairs and Golden Ratio with some others. The frame rate of videos has been kept fixed here as Windows is a generic software and is meant to be run on a wide range of computer with different specifications. That said, it offers a frame rate of 30 frames per second with resolutions ranging from 360p to Full HD. The app also provides a neat time-lapse mode. Furthermore, you can capture burst shots which can prove handy a bunch of times.
Compatible with: Windows 10, 8
Pricing: Free
10. Splitcam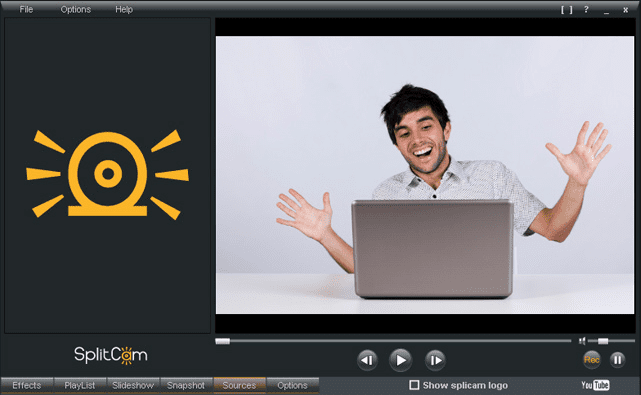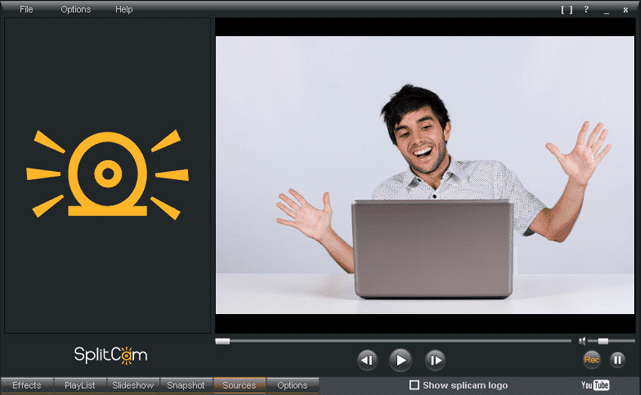 Well, here we have another competitor on the list. The software is a bit different as it allows you to share your webcam with multiple different IM clients at the same time. Moreover, it can also lay down some cool and unusual effects to your photos and videos. This software lets you apply many effects at once and create your own creative combinations. You can even zoom in the middle of video chat and then zoom back to normal which is a nice additional touch. The software works with all the social media services out there like Facebook, Skype, Yahoo, YouTube and more. The software has a neat little effect which lets you replace your head with a 3D object, which we think has been neatly implemented.
Compatible with: Windows 10, 8, 7, Vista, XP
Pricing: Free
Also Read: How to fix camera lens scratches on your old smartphone
Those were the best webcam software from our side available on the web right now. We hope you have found one which suits your basic needs. If you like our top picks or think we missed out on some other pretty cool webcam software, do let us know in the comments. Also, to find perfect webcams and gadgets for your home, check out Gearhungry. Help us to share this article with someone who might be interested in making their webcam more productive and efficient.