With the growth of digital marketplaces, you can purchase games and software right away with only a few taps. You don't really need an round circular disc to run your game or software nowadays. You can download games right away from the web. But what about activating them? You need some kind of authentication measure that verifies you have the required license to use that software. In the software world, this particular measure is referred to as 'key'. If you have ever purchased a game or a software online, you would probably know that a key is included in the package. This key sets up the authentication for you and you can enjoy using your purchased game or software. But how do you get the key? Well, SCDKey has got this part covered for you.
Though there are a host of digital marketplaces available on the web where you would find pretty attractive deals, they are not reliable enough. This basically reflects a hit or miss situation. You might get what you were promised at the time of your purchase but that is often not the case. The most important aspect of digital marketplaces is trust between the seller and their consumers. If this aspect is missing you should probably restrict yourself no matter how heck of a deal it maybe.
What is SCDKey?
SCDKey is a reliable digital marketplace which offers pretty attractive deals and discounts across its wide range of games and software. The collection on the website is vast and the content is updated with new games added every day. The best part of the platform is the flexibility it provides for purchasing game keys. You can literally be anywhere in the world but you could still buy your favorite game online from SCDKey, all you need is internet access.
When you are making a purchase on the website, it asks for your email address. This email address is then used to deliver the key to you. This makes the whole process flexible and super fast. Generally, SCDKey sends your purchased game key in about 10-30 minutes. Furthermore, they have the live chat feature for support which can be a little cranky at times but does the job. So if you have any concerns, shoot them out in the live chat. They will certainly take care of your issue. Moreover, currently, the website has support for 16 different languages so language should not be a downside here.
Why SCDKey?
Well, now you know what SCDKey is and you must be having the "Why SCDKey" dilemma in your mind? Don't worry we are here to answer all your questions right away.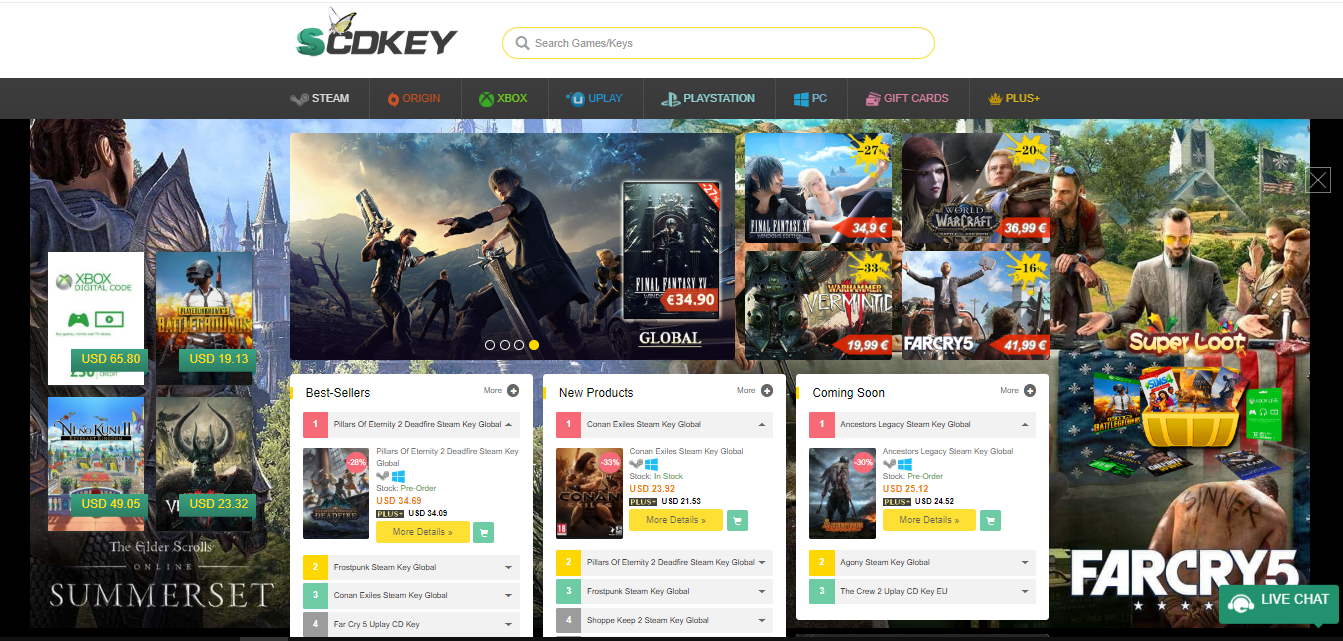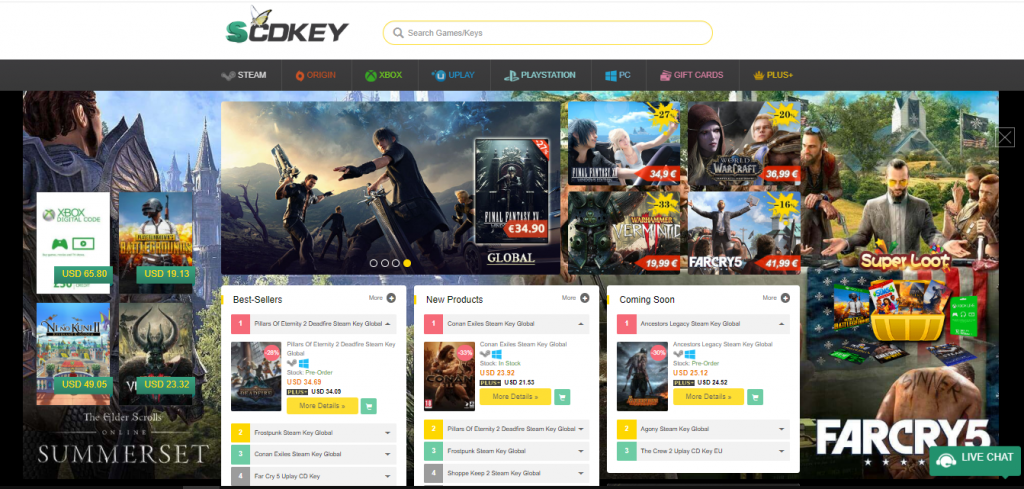 Starting off with the user interface when you first visit the website, you might find the interface a bit cluttered. But when you spend some 5-10 minutes on the website you start to feel the interactive side to it. The interface is pretty interactive and sorts out the options for you. The top bar provides you with the option to choose your gaming platform. Click on it and your games list will be sorted on the basis of your platform.
A user interface combines a lot of bits and puts it all together to give you a great user experience. There is no denying the fact that the user interface is quite clumsy but the experience it offers isn't bad at all. Hovering over every game image gives you two options to add it to your cart or add to the collection. This is very intuitive and increases the efficiency when you are placing an order. Overall the experience of ordering your game or software key is pretty straightforward and easy.
Support for Multiple Platforms


The website supports all the major gaming platforms including PlayStation, Xbox, Steam, Origin, UPlay and much more. SCDKey also provides membership cards for all the above-mentioned platforms which are a great added bonus. Mostly these membership cards are not on discounts but the website offers these at great attractive prices. So if you need your Xbox Live Gold subscription next, consider checking the website before you get down somewhere else. Furthermore, the collection of games on the website under each category of gaming platform is quite vast. This increases the probability of getting your key from the website at cheap prices. New keys are added for different games at regular intervals which makes the database of games on the website strong.
The super fast delivery of keys
As the whole process takes place online it is super fast. You get what you opted for in not more than 30 minutes. This is pretty quick provided you don't have to wait for any physical packages to arrive. During the purchase, the website takes your email id and uses the same for delivery serial keys. As the whole process is online you might worry that you might not get the key. This is quite a possibility on other websites but SCDKey has been pretty consistent with its deliveries.
A Vast Collection of Games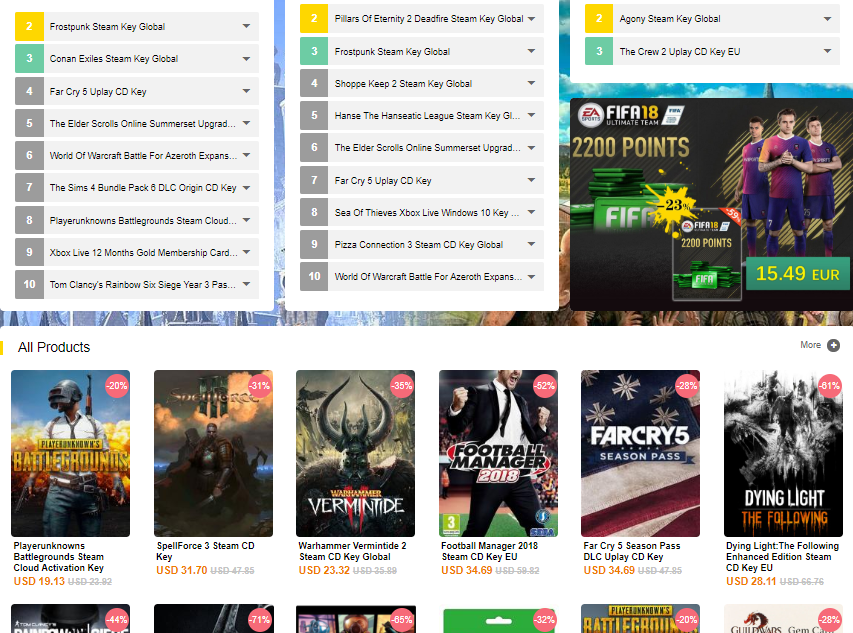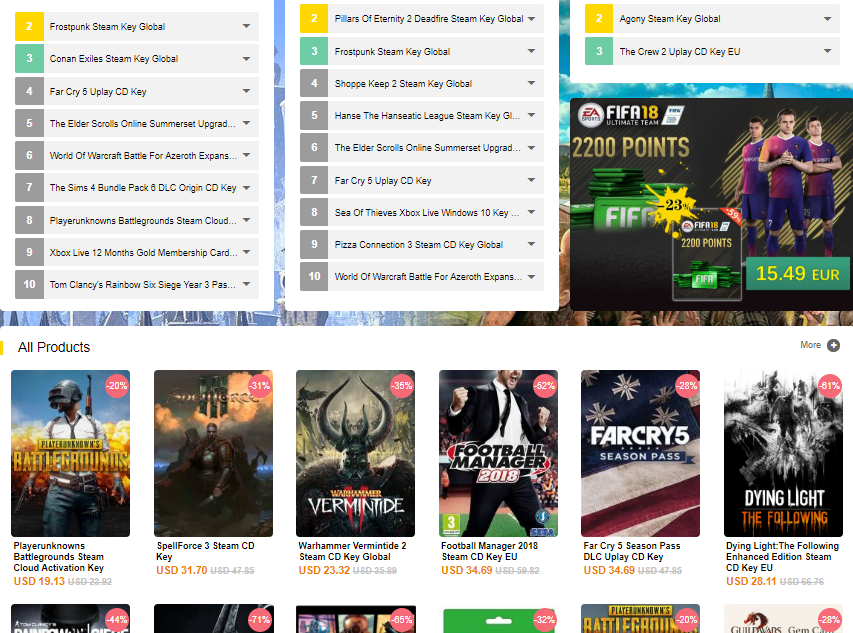 The collection of games on this website is huge. You get various famous titles under each category you select. The website features titles which have been recently launched like the Far Cry 5 which launched pretty recently. Furthermore, it has a combination of all old and new games which make it a pretty balanced website. So if you are in search of keys for older games like Elder Scrolls 5 you wouldn't be disappointed. You can even pre-order games which have not been released yet. All these deals are darn cheap and wouldn't hurt your wallet.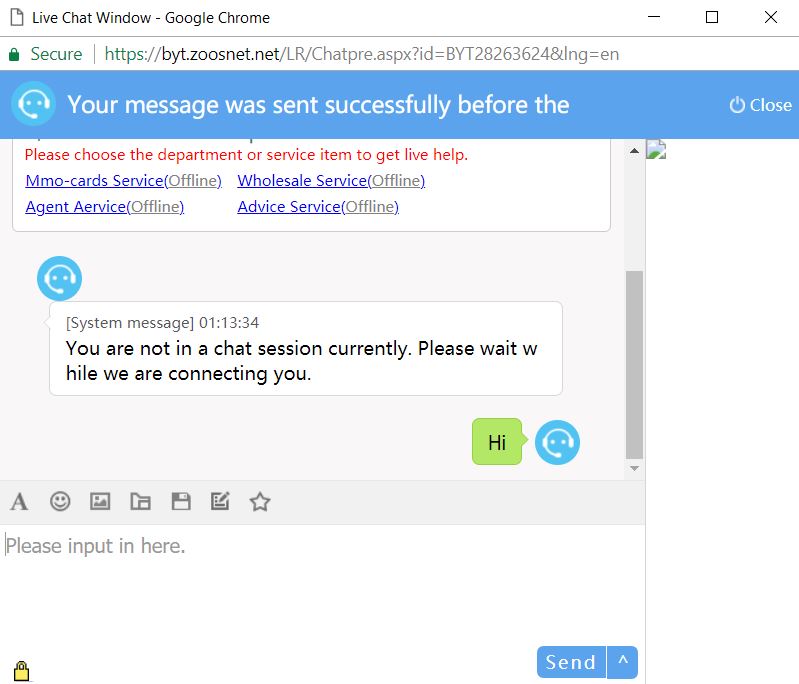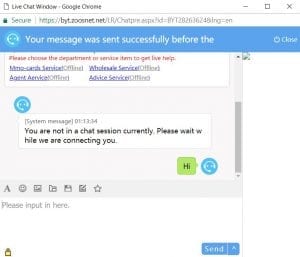 This is a nice little option provided on the website. You can chat in real time with the sales representative or simply chat with the bot to get answers to your basic questions. You can get support about your recent orders and even initiate a refund for your purchase if you are not satisfied. The feature is quite assistive and the support can rather be a bit frustrating at time but at the end it gets your job done.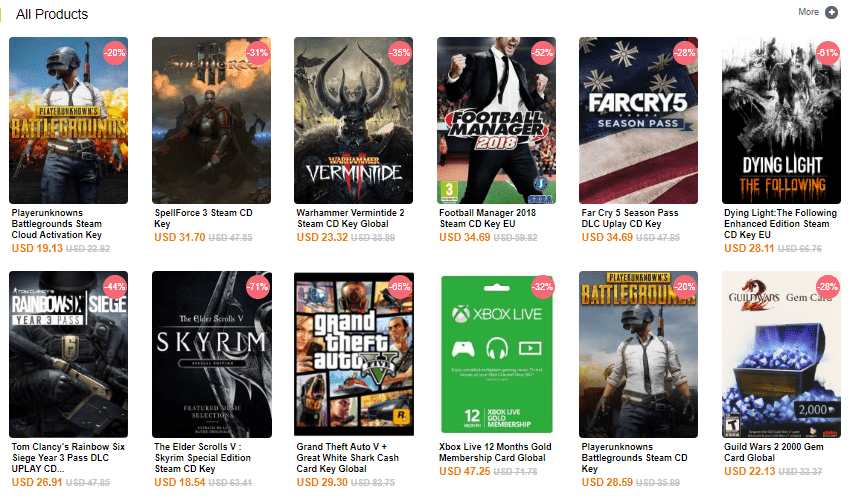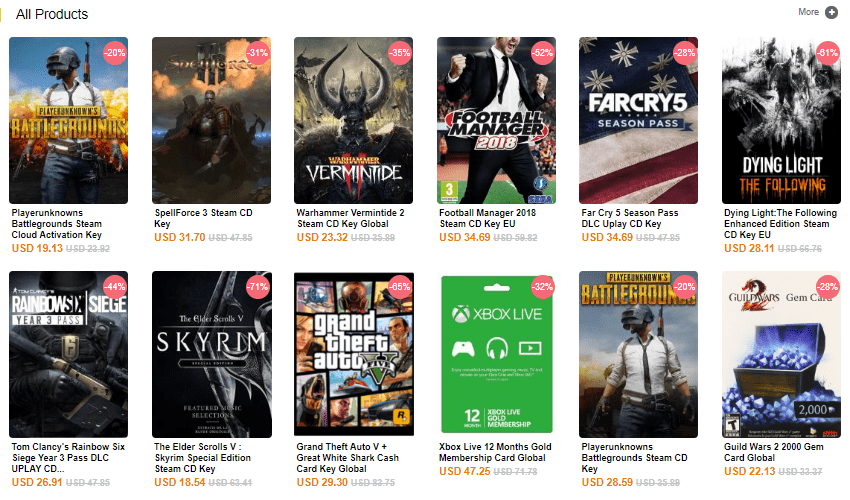 Last but not the least, how can we forget about the awesome discounts on the website. SCDKey offers great discounts on every game available on the website. You can get discounts up to 70 to 80 percent which is one heck of a deal. The reliability of the website coupled with the discounts up for grabs on the latest games makes it a heaven for gamers. Moreover, the deals on membership cards for platforms like Xbox makes it a steal.
Do Check our article on Best Game Recording Software!
Recommended Deal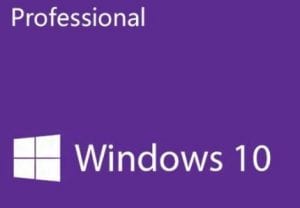 Offer Price: $55.63 $14.00 and save 72%
Our Verdict
Nothing is perfect when it comes to the software world. There is always need for customizations and changes. Same is the case with SCDKey. The website isn't perfect with a few glitches here and there. This is expected as any website matures over time. But it does best what it is meant to do. It gives you serial keys at great discounts with in time delivery. The website is a one-stop solution for all your gaming needs irrespective of the platform you are gaming on. The website has a lot to offer in each category. Its light on your pocket and can deliver numerous fun and adventure filled days while you enjoy the beauty of the virtual world. Furthermore, the game is not only limited to Games but it also has software serial keys on discount.
Finally, we think that SCDKey is an amazing platform where you can buy your favourite games legally at great prices without the fear of losing money. The reliability, flexibility and super fast delivery of keys make it a stand out from the competition. Keeping aside some of the downsides, the website can save you lots of cash and the features like live support make the foundation even stronger.