YouTube has finally announced that it will launch its short-video service — YouTube Shorts — in the United States in March. The Google-owned video streaming platform is all set to launch Shorts beta in the US. As per the company's official blog, Neal Mohan, Chief Product Officer of YouTube, announced a bunch of new features that, he said, YouTube will get in the coming months. One of these includes giving more creators access to YouTube Shorts in the United States.
YouTube debuted Shorts back in September 2020 in India after the Indian government banned TikTok in the country. The tech giant had started working on it back in April 2020. Not just YouTube, Facebook-owned Instagram also released its short-video service called Reels to take the opportunity of TikTok ban. Currently, YouTube Shorts is in its beta stage in India and the tech giant wants to launch it in the US now. As per the company, Shorts' usage has tripled since December, and it gets more than 3.5 billion daily views globally.
YouTube Also Announced New Monetization Features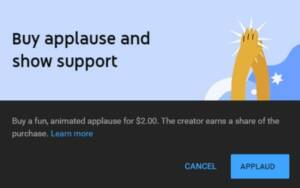 In the official blog, Neal also announced new monetization features to keep the users glued to its short-video platform. One of the new monetization features is "applause," a feature similar to YouTube's super chat. Applause is a one-time-buy clapping animation that appears on top of the video. Each time a user purchases applause, the creator will get a share of the revenue. However, the company didn't reveal when it'll make this feature available to the creators.
Another feature that YouTube is testing in its beta version is a new integrated shopping experience. The video-streaming giant is working on this feature already and may roll it out by the end of this year. This new feature would allow viewers to buy products they like from Creators they trust. This integrated shopping feature currently allows YouTubers to sell products falling under beauty and electronic categories. The new integrated shopping would allow products from more categories.
Furthermore, YouTube is also working to expand its "chapters" feature. It will automatically add specific timestamps to the relevant videos requiring chapters. Currently, creators add the timestamps manually.