Ever came across a situation when you are too busy but need to reply to WhatsApp Messages? Ever wondered if there is an app which helps you Auto-reply WhatsApp Messages? Well, we have a solution for you.
Almost all the Android Phones have an option to send automated reply messages to missed calls and text messages. However, we don't have any such option for Whatsapp. You may often have come across a situation when you are too busy to immediately reply to a message. However, there are some social/professional messages that need at least some text to be sent back to the person for acknowledgment and respect. Well, in those situations an app called Can't Talk (Beta) – Auto-reply to everything!!! comes to the rescue.
Can't Talk Lets you Auto-reply WhatsApp Messages.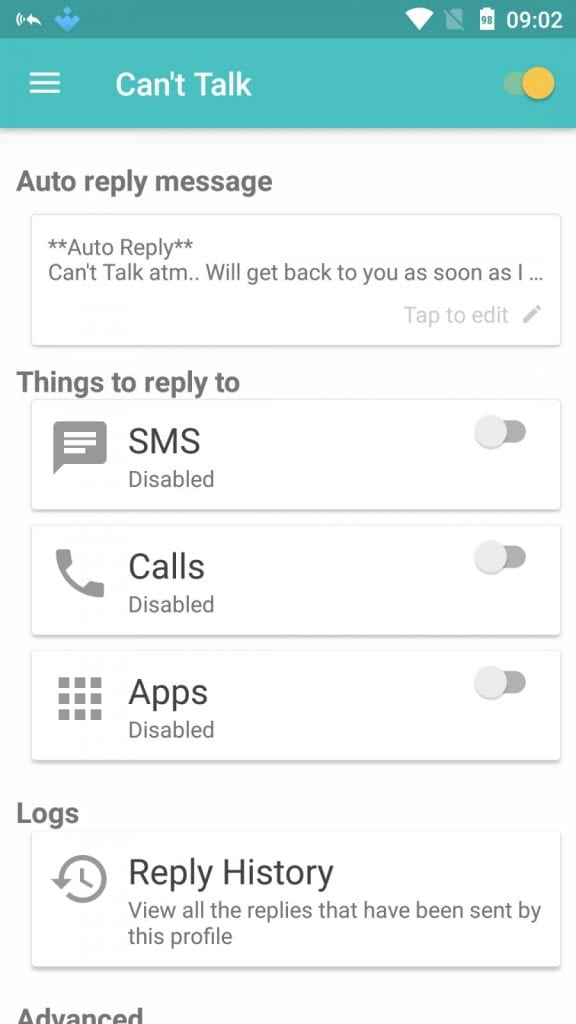 This app comes from a member of XDA Developers which helps to set automatic reply messages to everything. You can set custom messages, choose a list of apps you want to use it with and set auto-reply ON. That's it!!! This app will now respond to every message you receive automatically. Interesting thing is that this app even works with WhatsApp Group Messages. You also have an option to set the time for how long the app should wait before sending the automated reply. By, default this timer is set to 15 minutes. When someone pings you, this app will wait for 15 minutes and after that send an automated reply. Can't Talk also works with Telegram and Slack.
Download  Can't Talk (Beta) – Auto-reply to everything!!!
Can't Talk(Beta)- Auto-reply to everything !! is initially free for 2 weeks. After the trial period, you can avail the service for USD 1.30 annually or you can pay USD 2.30 for the lifetime plan. It's surprising WhatsApp has not introduced this feature yet, but we expect that we would get this feature integrated within the app. This app can be a Life-saver for users who are running a business or received too many WhatsApp Messages. This App is available in Beta Version and you can download it from Google Play Store. We can expect added new features with the app when it comes after the stable release.
Pros:
Auto-reply WhatsApp Messages
Option to set reply frequency
Set Custom Reply messages
No Root required
Cons:
Still in Beta Stage with some Bugs
The trial period is for 2 weeks. After that, you need to pay for the service.
Sometimes, it doesn't work. You need to restart the app and then it works.
Click here to download this app from Google Play Store and send automated reply Messages.
You may Also Like: How to Change Default DNS to Google DNS for faster Internet