Samsung is known for innovation. And, it has proved that in the smartphone department. And the recent Samsung Galaxy S9 and S9 Plus have been phenomenal smartphones. Also, not to forget the much appreciated Samsung Galaxy Note 9. With such devices, it is evident that Samsung's R & D department is hard at work in developing new technologies. One such technology is Remote Access on Samsung Smart TVs.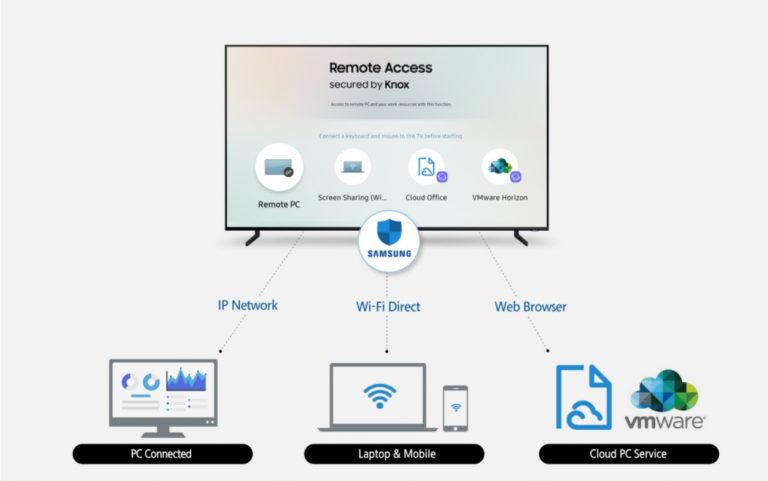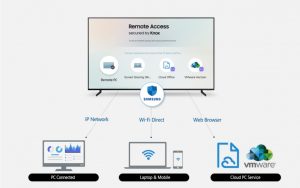 Remote Access:
Samsung, in partnership with VMware, has developed a Remote Access service which allows users to control connected smartphones, tablets, and PCs via their Smart TVs. This solution provides a wide variety of benefits. First, it allows people to access the same content on a larger screen. Secondly, people can access their content from anywhere around the world. This feature will also allow people to connect their keyboard and mouse in order to control the content on the screen. This also includes games and web browsing.
The only issue one might face with this new feature is network lag. Lag is referred to the delay in registering the action after the moment the action has been performed. In the case of network connections, lag generally results in delayed response displayed on the screen. This is the main reason why screen mirroring is not mainstream yet. However, as far as security is concerned, Samsung has integrated its own Knox security technology which is a proprietary technology of Samsung. It is regularly provided with firmware updates which allows for continuous protection.
Overall, this is a pretty nifty feature but only time will tell how useful it is. If Samsung is able to do something about the lag, then Remote Access would turn out to a more than decent addition in the Samsung ecosystem.