Bitcoin is all the hype now. However, no matter how much more hype it generates, it still remains a fact that it is almost impossible to mine anymore by solo miners sitting at home. If you want to learn more about Bitcoin and cryptocurrency, you can read our article on cryptocurrency where we explain about cryptocurrency in detail.
Mining is the process where a mathematical function is broken down using a computer to generate cryptocurrency. But, it is not as simple as just owning a computer and start mining. There are a ton of things to consider before you decide to start mining. Which coin to mine? How much would you be able to mine on your rig with your current hardware? What would be the profitability?
You can choose to google search all those questions above or you could follow the step-by-step guide below in order to easily start mining the most profitable cryptocurrency for you.
What are we using to mine?
To let you easily start mining, we are going to introduce you to Minergate. It is a mining pool where people pool up their resources to mine various cryptocurrencies. Have a look at their website: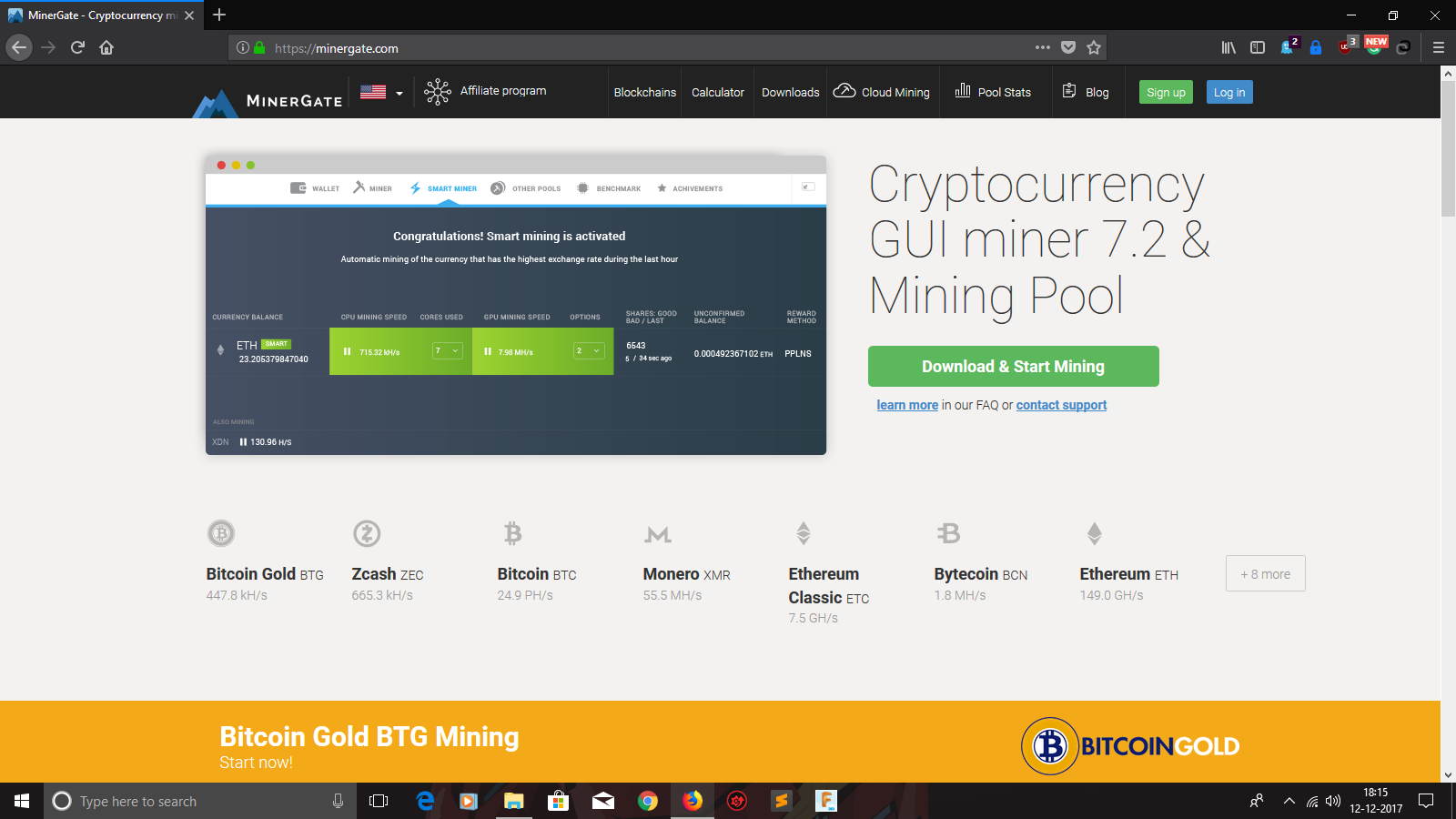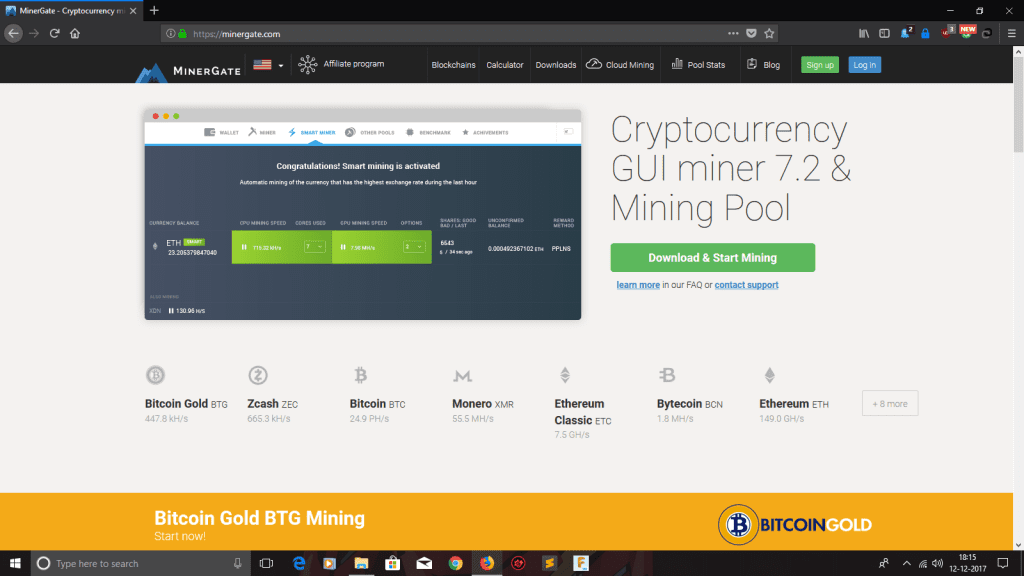 Now, don't get confused. Mining process involves a lot of intricacies like selecting the closest server, determining the correct port, etc. However, with the software from Minergate, you can forget about all those and start mining as soon as you install the software from their website.
Minergate GUI Miner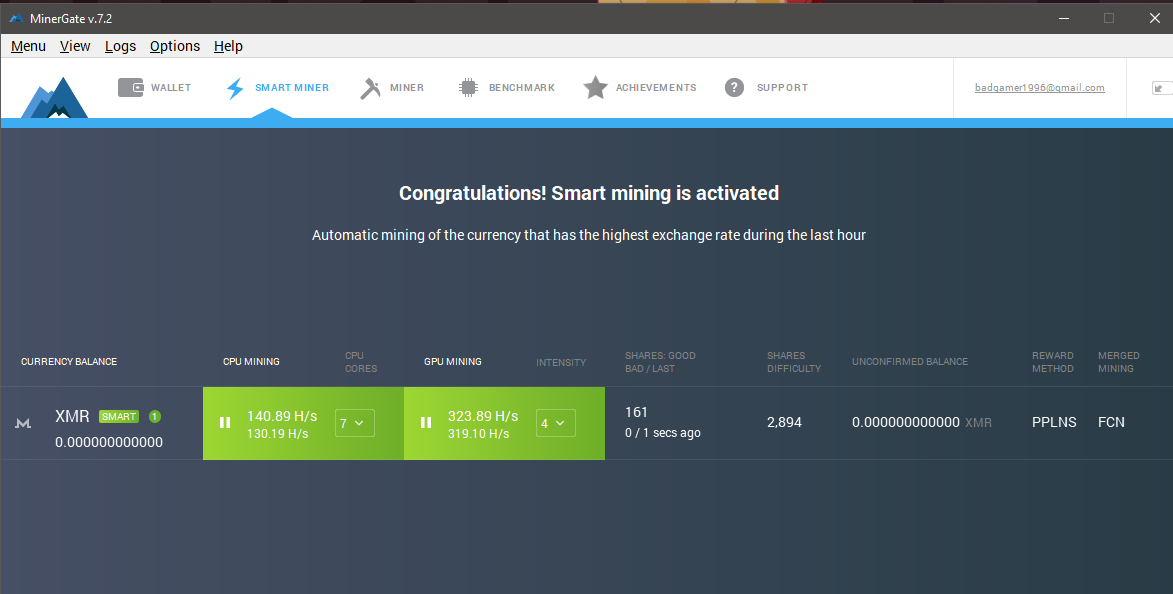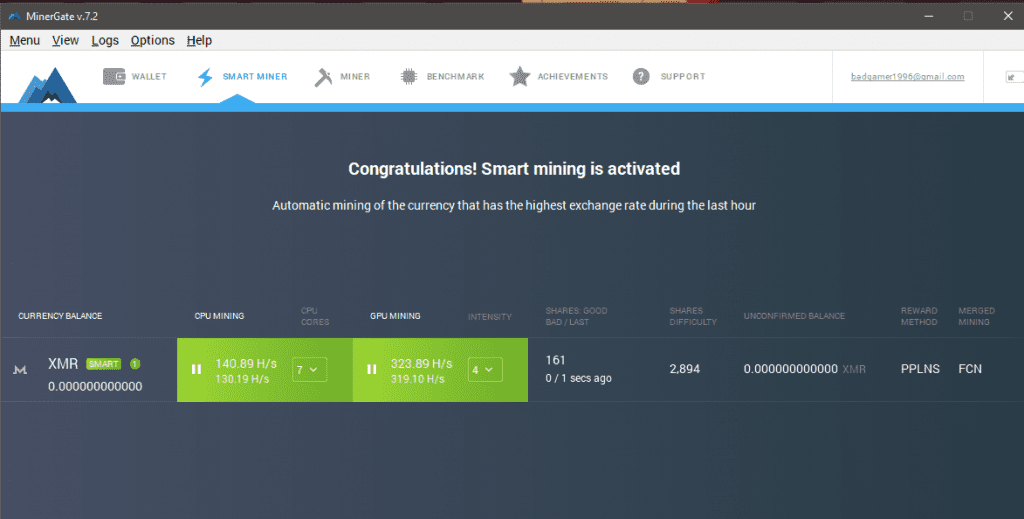 The software from Minergate takes care of all the minor details like the selection of server, port, etc. Also, one of the best things about the software is something called Smart mining. This option allows you to mine the currently most profitable cryptocurrency. You may be wondering how that is possible. But, that is made possible by the fact that you can use the same software to mine more than 10 cryptocurrencies.
Let us show you the installation process. After that, we can clear out any further confusion.
Installation
1. Click on Download & Start Mining button on the website to download the setup file of the mining software. It is around 11MB in size and thus should not take much time to download.


2. Once the download is complete, open the file to start the installation process.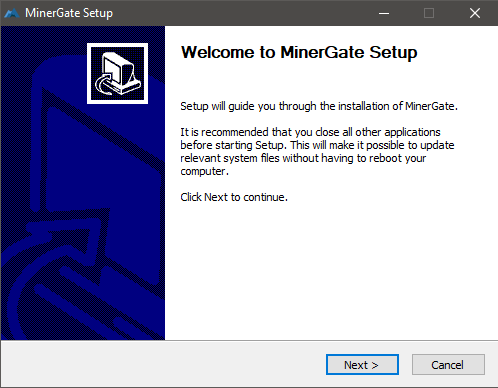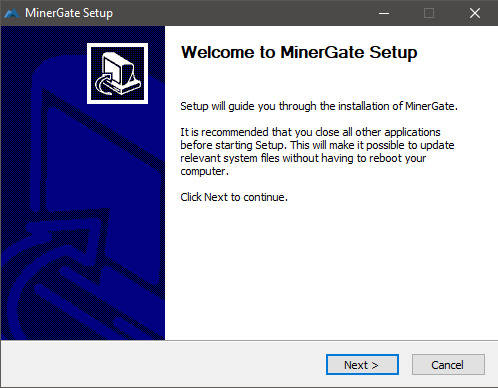 3. Click on Next to continue with the installation. When you are to choose from the options for path settings, check the Add MinerGate to the system PATH for all users option and continue with the installation.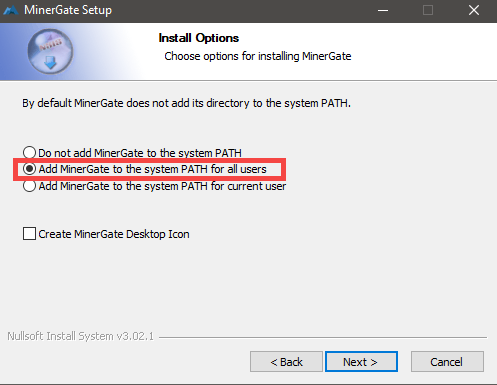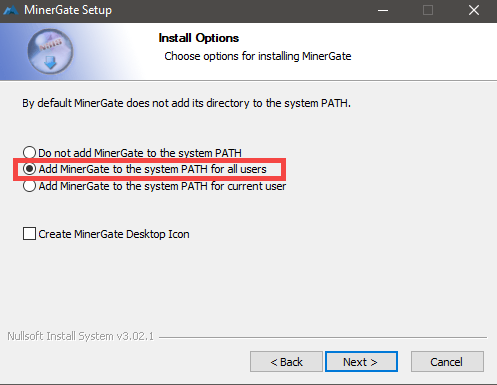 4. Wait for some time to let the installation complete. After that, click on Finish to finish your installation and start the mining software.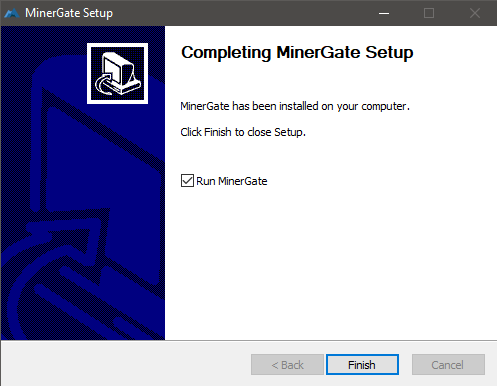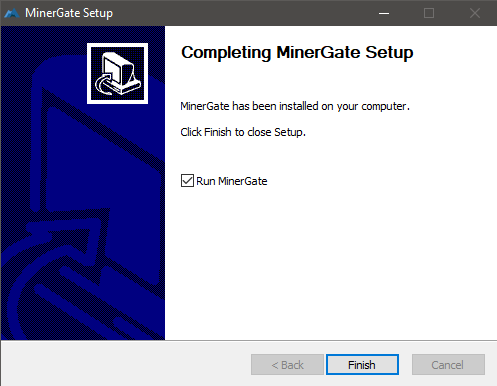 5. This is how it will look once the MinerGate starts.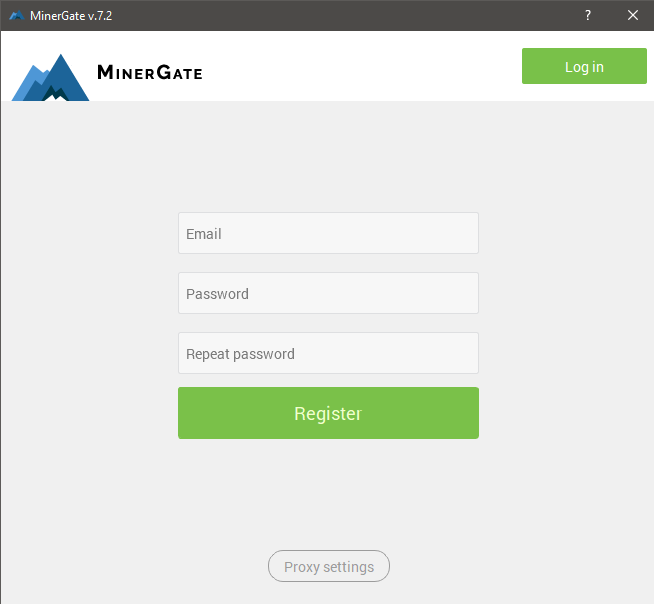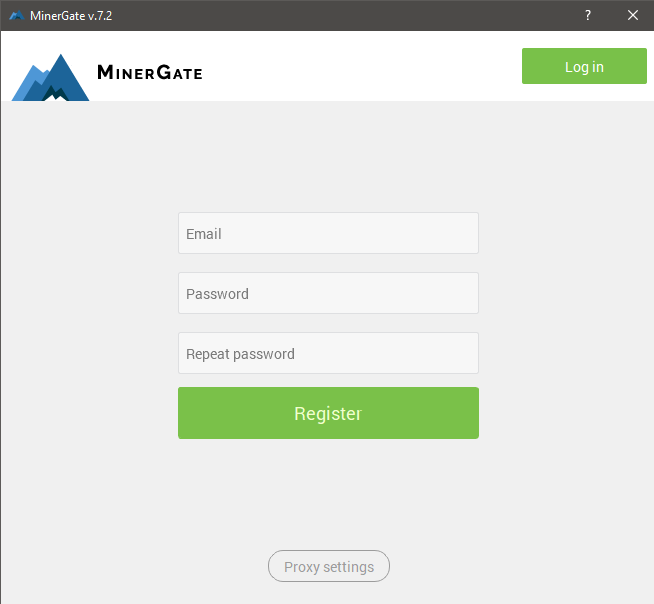 You will have to register using your email address. After that, you can use the same to access your account and mine cryptocurrency.
Mining
Mining with Minergate is one of the easiest processes. Let us walk you though the process.
1. Start by entering your email address and password and click Log in. Once you are logged in, you are going to see something like this.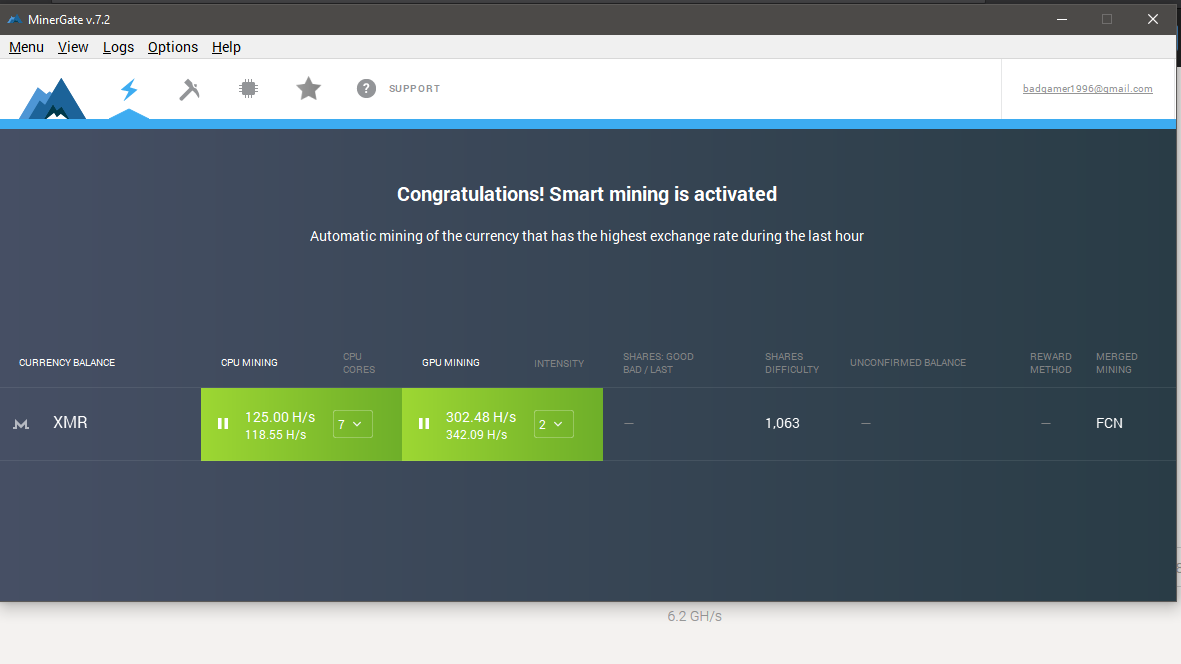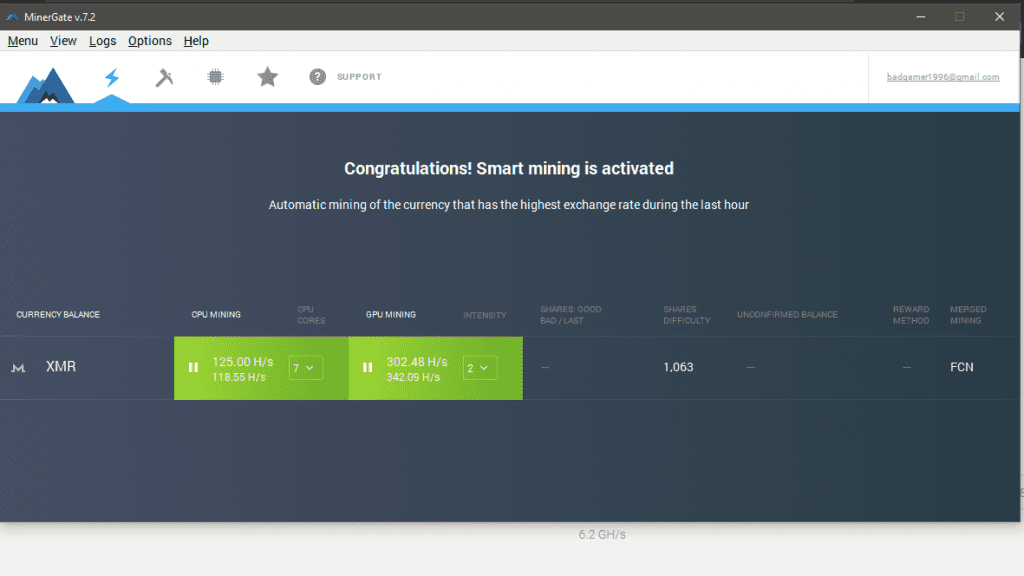 As you can see, CPU mining and GPU mining are active and are shown in green color. This tab is the smart mining tab which lets you mine the most profitable cryptocurrency at the moment.
2. If you want to manually mine any other cryptocurrency, you can do so by using the tab next to it, which is the miner tab.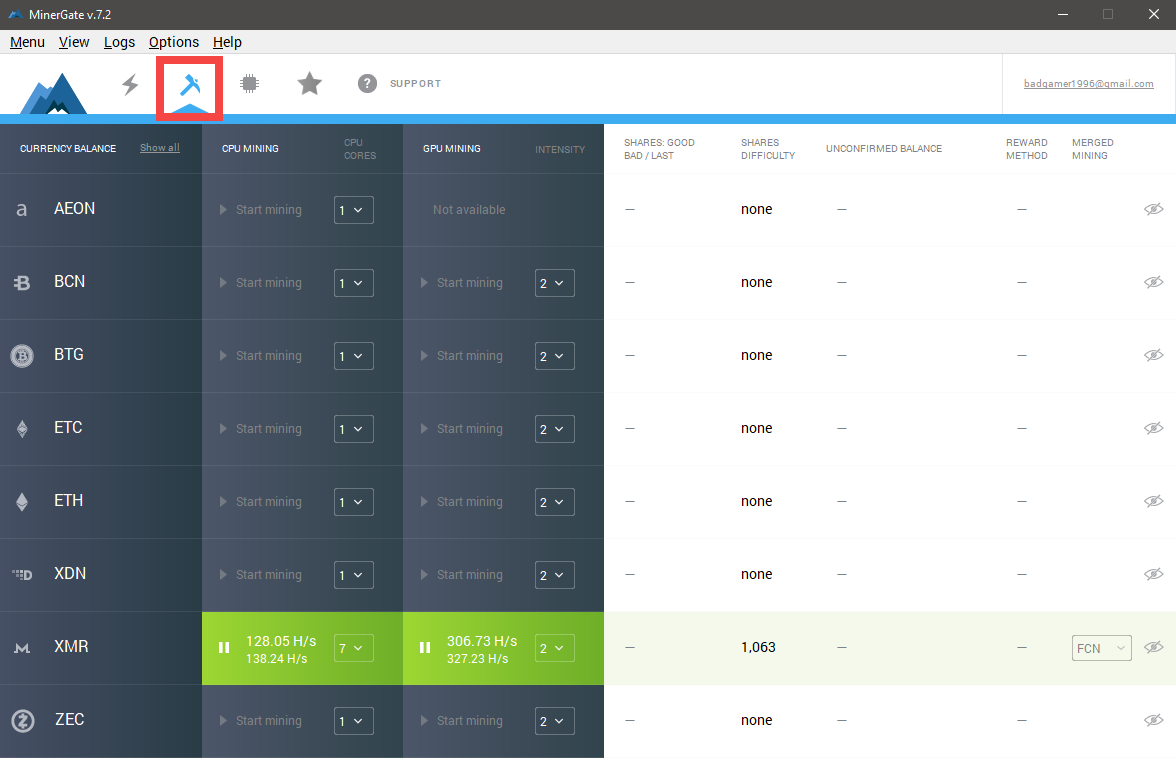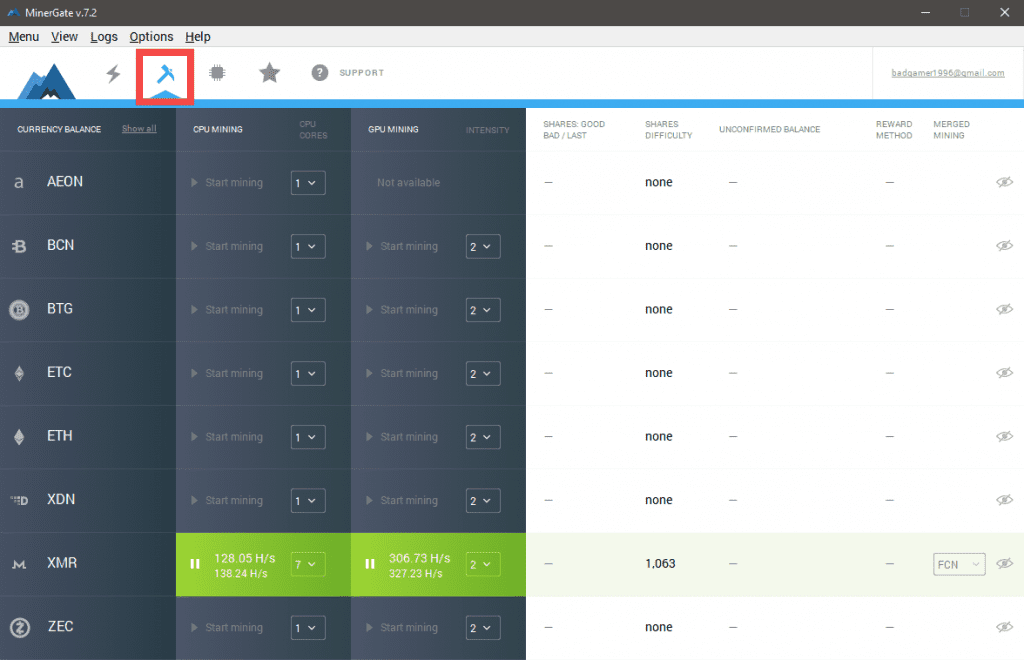 As visible, the current cryptocurrency being mined is Monero (XMR) and is green in colour indicating active mining.
3. You can change the number of cores used to mine for both the CPU and the GPU. This is done by using the drop-down boxes just beside the hash numbers.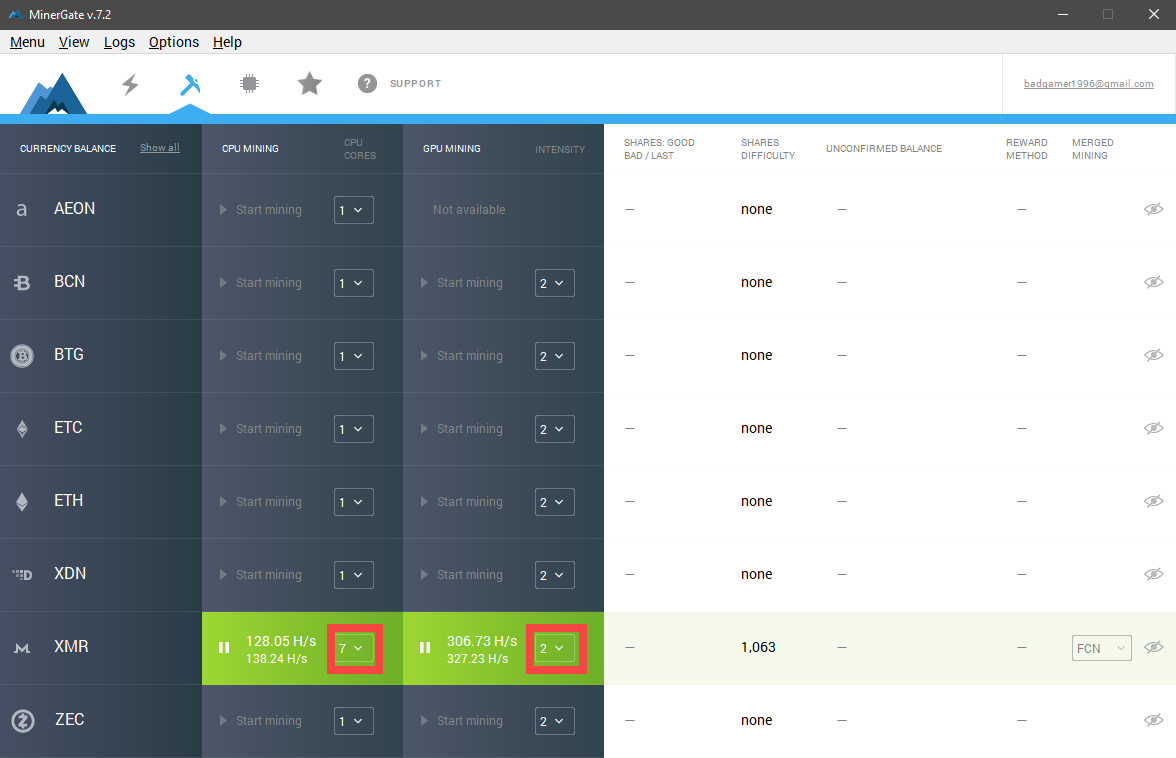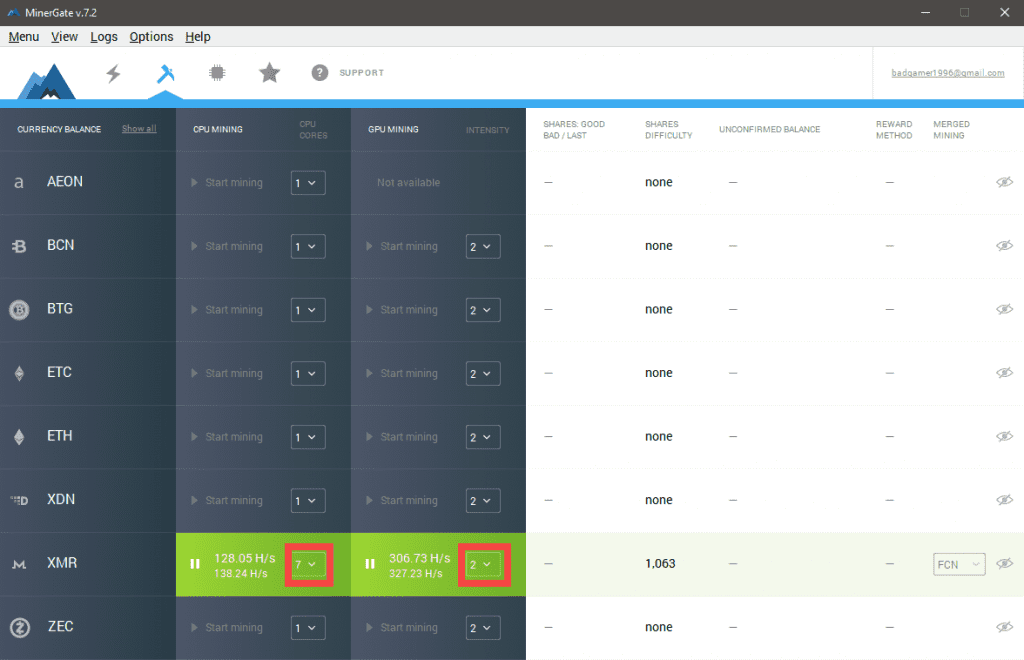 The speed of your mining will depend upon the resources allocated. It is necessary to find the optimum number of cores of both CPU and GPU in order to maximize the hash values. This will, in turn, maximize the number of coins you can mine.
Benchmarking
Another great thing about this GUI software from Minergate is that you can benchmark your system to determine the best coin to mine at that time. This is done with the help of benchmark tab. Click on Start Benchmark button to benchmark your system.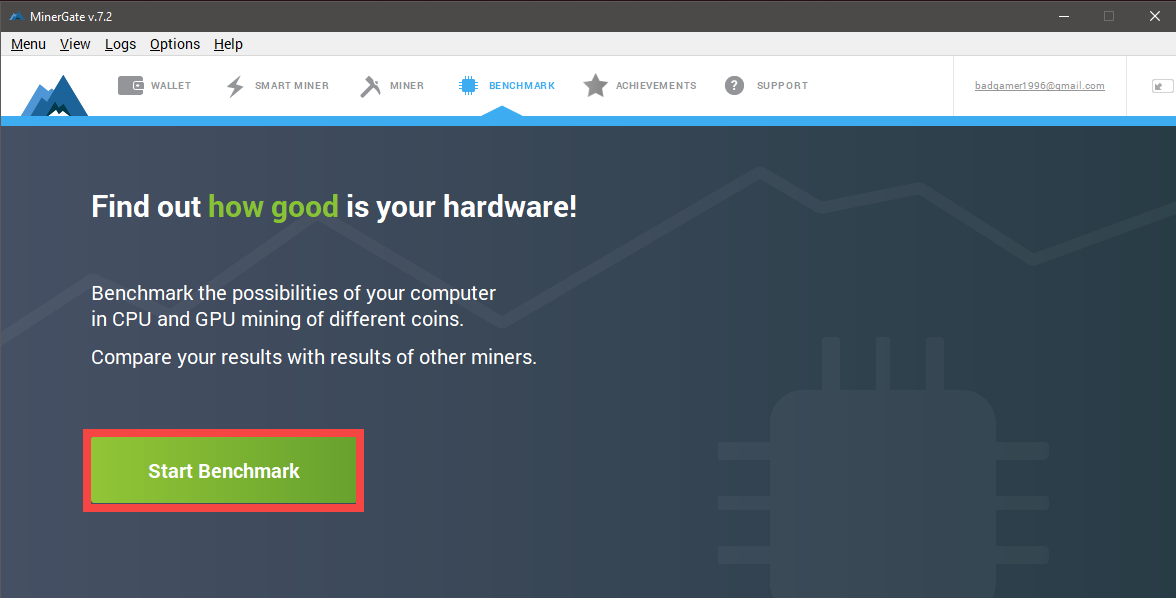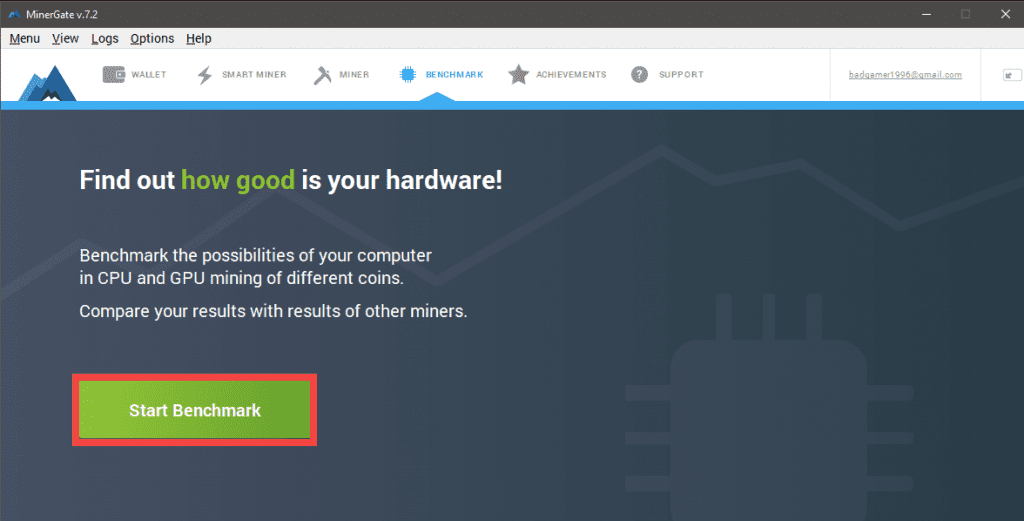 The benchmarking process will go on and you will see something like the image below.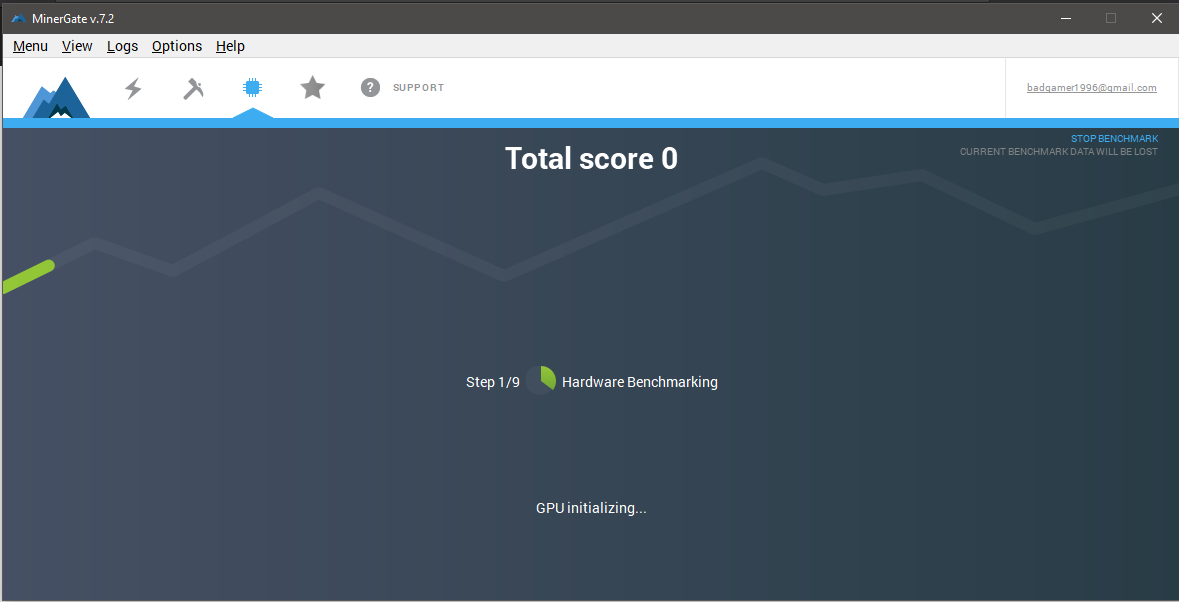 It will take some time for the benchmark tests to complete. Once benchmark tests are complete, you will see your score and also an approximation of how much profit you can make in a year.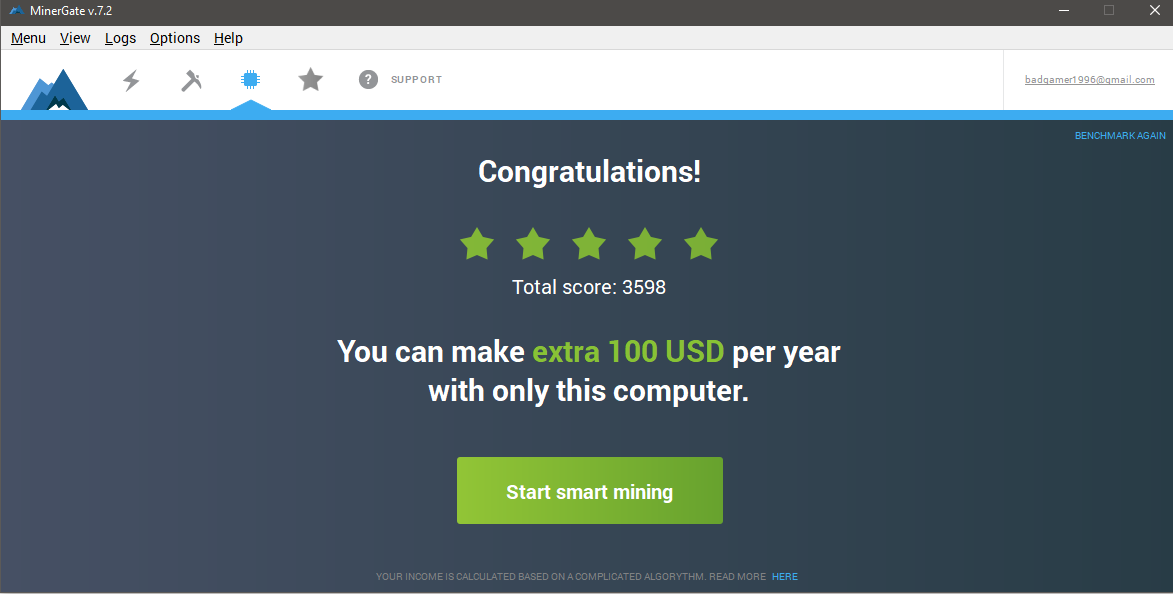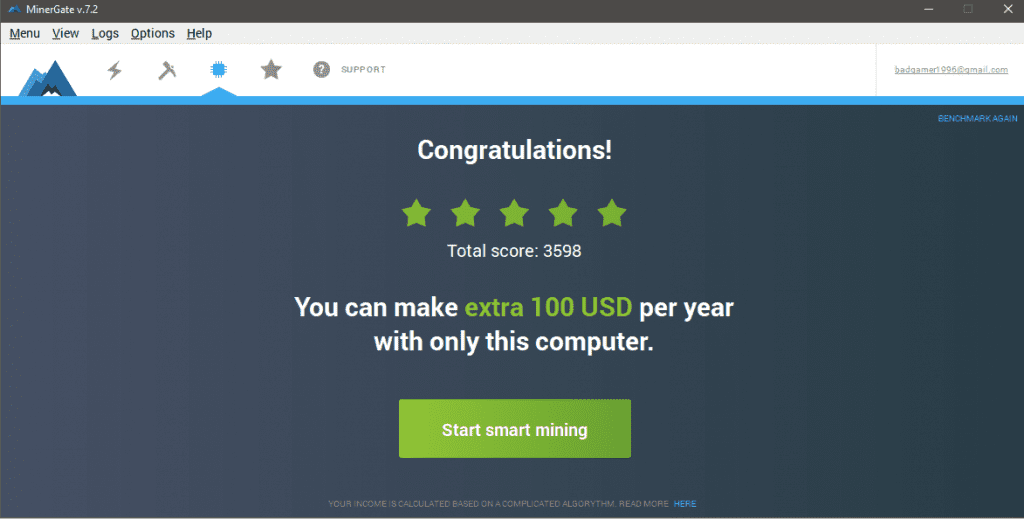 Withdrawal
Once you start mining and have some coins in your wallet, you can withdraw your funds from the wallet tab. Click on the withdraw button to withdraw your coins by filling up the address in the blank.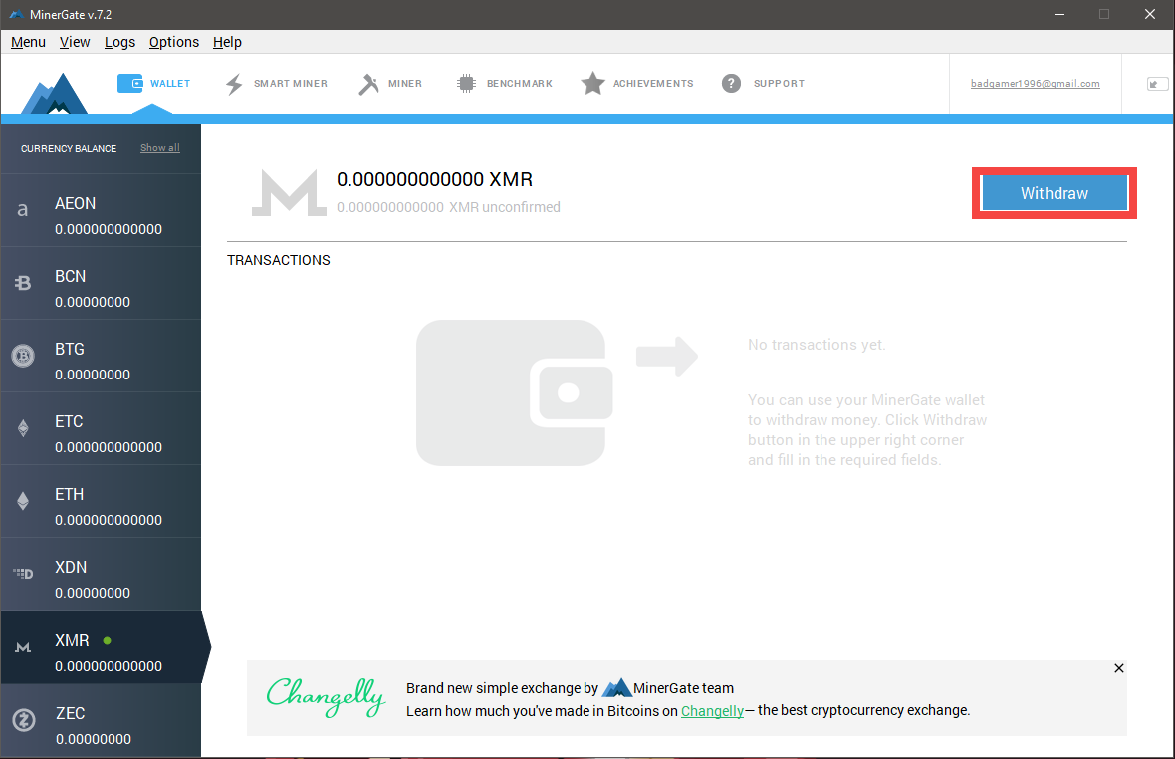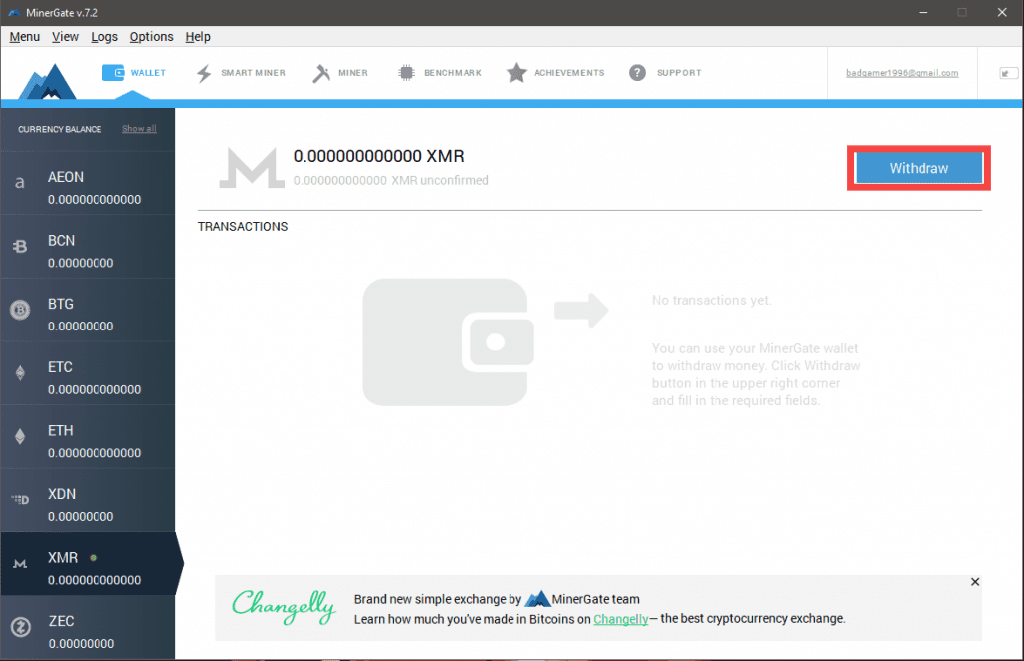 However, one thing to keep in mind is that there is a small processing fee in case you decide to mine in a pool. In minergate, it is 1% of your rewards.
Advantages
You can mine multiple coins at the same time using GUI miner from Minergate. Although, this will reduce your hash speed, it allows for mining multiple currencies at the same time.
You can easily determine the number of resources to allocate without using complex codes.
There is a reward system akin to a game in Minergate software. It rewards you with badges for completing certain milestones. This works as a motivating factor and allows one to continue mining even when one is not able to obtain short-term gains.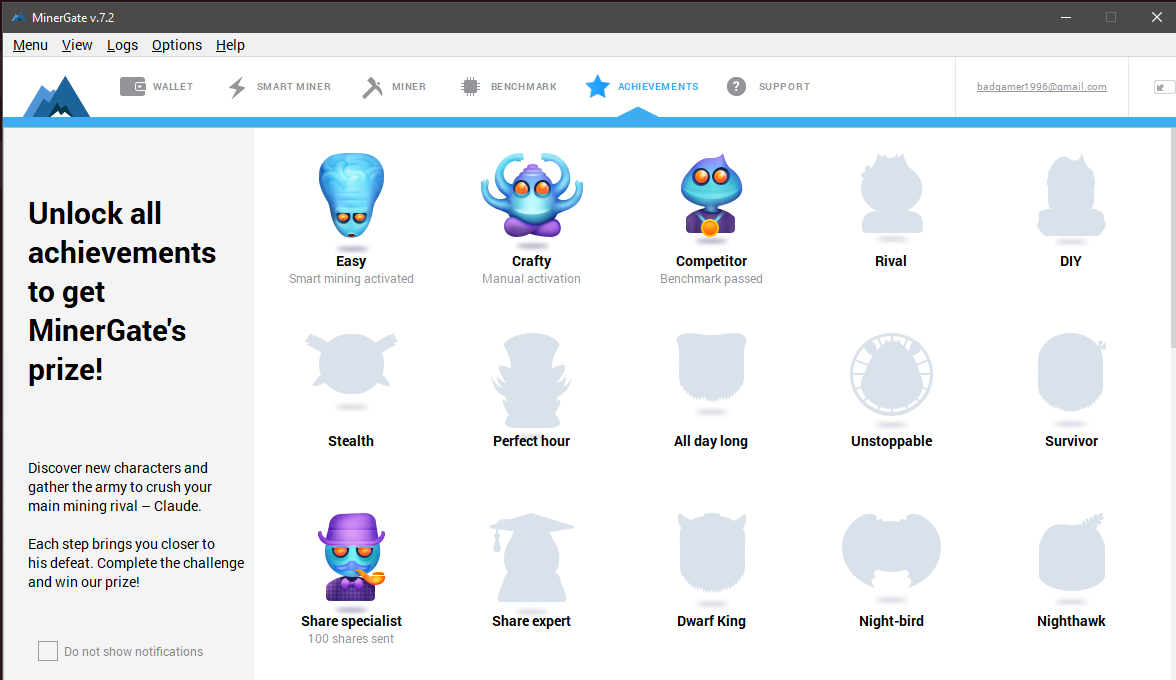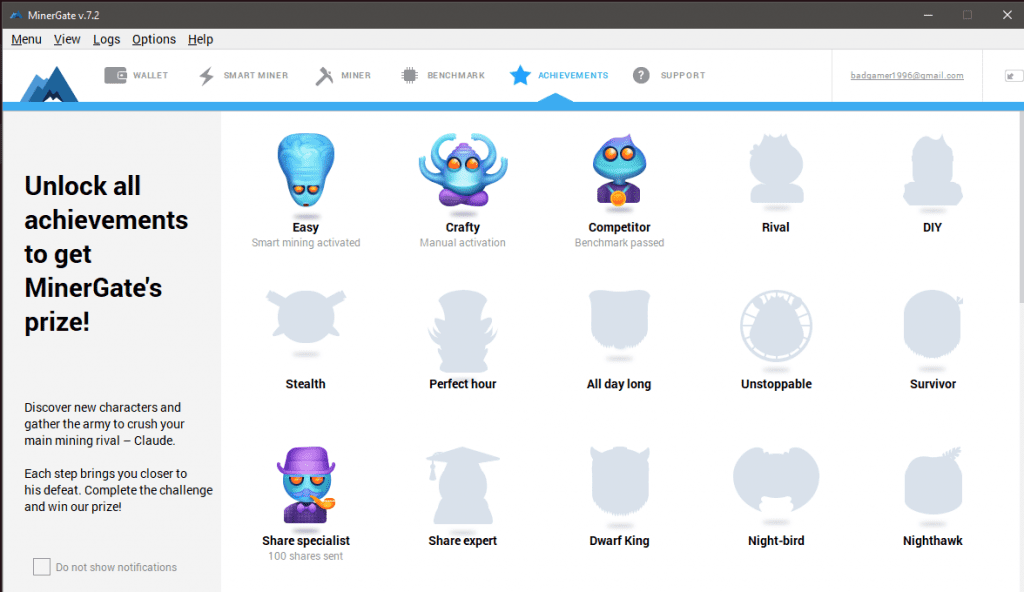 Disadvantages
This is not the disadvantage of only Minergate's mining software, but, of every mining software as a whole. Mining uses up a lot of resources. When one is mining on a computer, it is difficult to do any other task on that system.

Resouce Utilisation

The image above shows resource utilization as we mine using Minergate on a desktop computer. With 7 cores active of the available 8 cores for CPU mining, the CPU utilization is 99% which is clearly visible in the graph. Thus, it will be almost impossible to do any other task without seeing any drop in performance.
Verdict
Cryptocurrency mining is something which is only highly profitable if significant investment is made on the dedicated hardware. However, if there is a system near you which doesn't have any specific purpose then it doesn't hurt to mine using it. The only thing to keep in mind is that mining in such a way will only be profitable if there is overall profit after deducing recurring costs like those of electricity.
Also read: What is Cryptocurrency? Everything you need to know