Gmail Right-Click Menu Gets new Options
Gmail is the go-to e-mail service for almost everyone in this world of the Internet. And now guess what, Google has brought in a lot of new features to make the user experience of Gmail better. One of the most noteworthy changes is the addition of some useful options in Gmail right-click menu.
What are the new changes?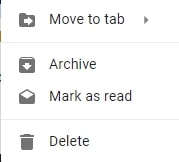 Right now Gmail users only get the options to reply, delete in the right-click menu. With the latest addition, there are a lot more options on the menu. These options will let the users interact with the mail more easily. This will include replying, forwarding, adding a label, searching for mails opening multiple windows or moving an email.
When are these features coming and how to enable them?
The official blog post from Google states that this feature will be initially rolled out for the G-Suite users. It is likely that this feature will reach the end users around February 25. This feature will be ON by default. So the users won't need to mess up with the Gmail settings to turn on this feature.
Other Updates: Spam Filter
Recently it came to the spotlight that the machine learning based spam filtering system of Gmail was updated. This update ensured that the spam filters work in an efficient manner for large scale data. Developers are using TensorFlow for this ML and AI-based spam filter. While the rule-based filters are capable of blocking obvious spam, machine learning looks for new patterns which reveal that whether an email is trusted or spam.
In another recent update of Gmail we got several editing shortcuts in the compose mail box and also got the feature of downloading the emails. Now, these new updates in Gmail are ensuring that Gmail becomes a self-sufficient email service before the discontinuation of the Inbox by Gmail app.