According to previous reports by Facebook, the number of users affected by the Cambridge Analytica was 50 million. But in another report by Facebook last week the number has increased to 87 million. Facebook is going through a lot of problems these days and it's trying to tackle them one by one. With around 87 million users data improperly obtained by Cambridge Analytica, Facebook promised that it will soon be informing users if their data has been accessed or not. Today, Facebook is finally starting to roll out these messages in the news feed. According to Facebook users will be receiving the notification which can be viewed at the top of their news feed.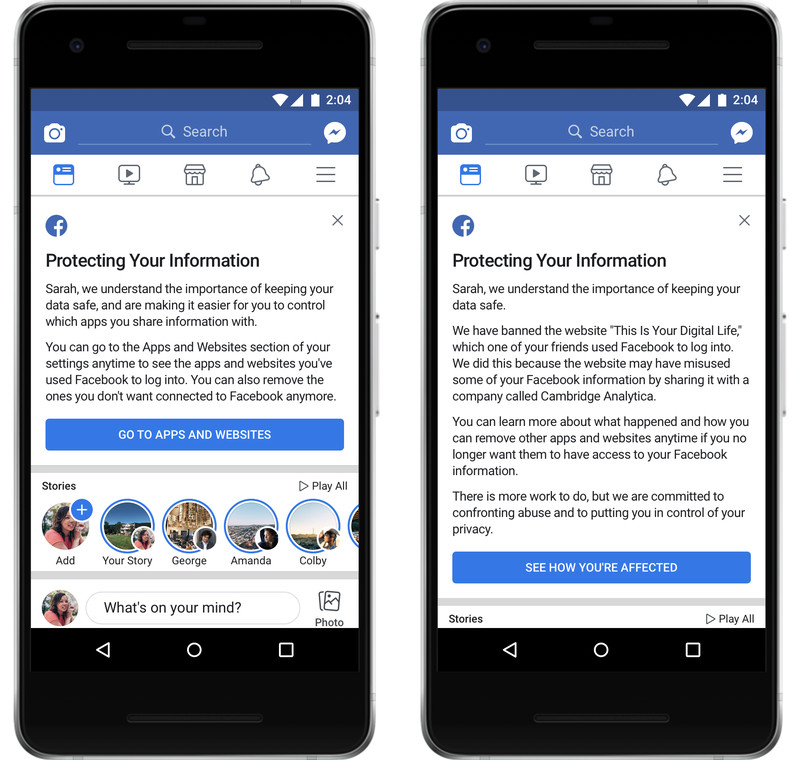 According to Facebook if some user's data was accessed by the political firm Cambridge Analytica, they will get a note telling so. Otherwise, you will see a notification to manage your apps linked to your account. Facebook says every user will be seeing one of these notifications.
In the message which lets users know if their information was shared with Cambridge Analytica, Facebook confirms that it has banned "This is Your Digital Life" website. Facebook also assures that they are committed to providing a better experience to users. Facebook is probably working on more complex measures to give users control of their privacy.
The company has already suspended AggregateIQ and CubeYou as speculations were made that the companies were involved with Cambridge Analytica's parent company SCL. As Facebook's investigation continues we expect more revelations from the company.
Facebook has already changed its data management practices and also rewritten policies to provide a better sense of understanding. Facebook is now looking to implement some big platform enhancements to prevent such kind of scandals in the future. The company is on the look for suspicious activity from developers to fully audit them.
Mark Zuckerberg, Facebook's CEO will testify before Congress later this week to answer questions about how Facebook intends to use and protect user data.
You can check if you were affected here.