Photographs – the evergreen mirror of our ecstatic lives!
They act as a portal that transmits us into our past of glorious days. These may be some big-time events such as marriages or engagement ceremonies or can be something as small as a mere photo shoot out on your deck on a fine Sunday morning. Hence it goes without saying that you don't want to miss out on these most cherishable memories; just because you invested in the lens that was of degraded standards. The brand name Sony brings along with itself the much-needed depth and trust; which gives it an extra edge over other brands of the same domain. 
But with an array of devices coming from Sony, buyers often find themselves in a fix as to which is the best lens for their use. Ever since its inception, photography has spread its legs far and wide. There have been various sub-branches that have emerged out of this one mainline stream. Depending upon the type of photography a person does, his need for a specific type of lens arises. Photographers today look into the minute details of the product before investing in it. Different photographers have different requirements, and Sony caters to each one of them separately. 
Hence, in this article, we bring you the Best Sony a6000 Lenses along with the specific details of these lenses, which will make your task of choosing the most optimum lens for your camera easier for you.
Why Should You Trust Us
In our research for the best products, Team Agatton firstly explores each and every product in extreme detail, next we read 100+ reviews and finally reach out to some of the top professional reviewers working today for their personal opinions over the product in concern. We also interact with professionals who use the reviewed product in their daily lives.
Combining our many years of experience in research & testing tech hardware and software… you can be sure that if our team likes something, it's pretty damn fantastic and you ought to give it a shot!
Editor's Best Picks
[amazon table="11481″]
Standard Zooms in Sony a6000 Lenses
A standard zoom lens is the handiest multi-tool in the hands of a photographer. It can capture landscapes, architecture, groups, and even a telephoto to get closer to a distant object or to make a portrait. Suppose you are in the middle of an event or wedding and are unable to switch the lenses regularly; these standard zooms will come to your rescue. For a full-frame camera, the standard zoom range lies between the range of 24 to 70 mm in focal length. Whereas for crop camera, the standard zoom lens is somewhere around 17 to 50mm. The standard zoom lenses offered by Sony for its A6000 models are:
1. Sony E 16-55 mm f/2.8 G lens
These lenses have been dexterously designed, indicating that Sony has shown special care and attention to its APS-C range. The focal range of these lenses suits a huge range of applications. Also, the constant f/2.8 aperture adds to the versatility of the product in various shooting scenarios. This lens will no doubt enable you to get high-quality images that are rich in detail, no matter what the surroundings might be. It is commissioned to provide high-grade lens options; which include a wide, constant maximum aperture of f/2.8 throughout the range. It has been designed with the central aim of helping those who use cameras from Sony's APS-C streak; which encloses the A6000, A6100, A6300, and A6600.
These are so designed to assist those who want to eliminate the use of heavy and bulky lenses; which are specifically designed for use with full-frame cameras. Even though this lens is light in weight, it has a solid built and is sturdy in its girth. On the front element, you will find a fluorine coating that is there to help repel grease and moisture. Moreover, it also makes the task of cleaning the lens a lot easier. Owing to these points, it has made it into the Best Sony a6000 Lenses list.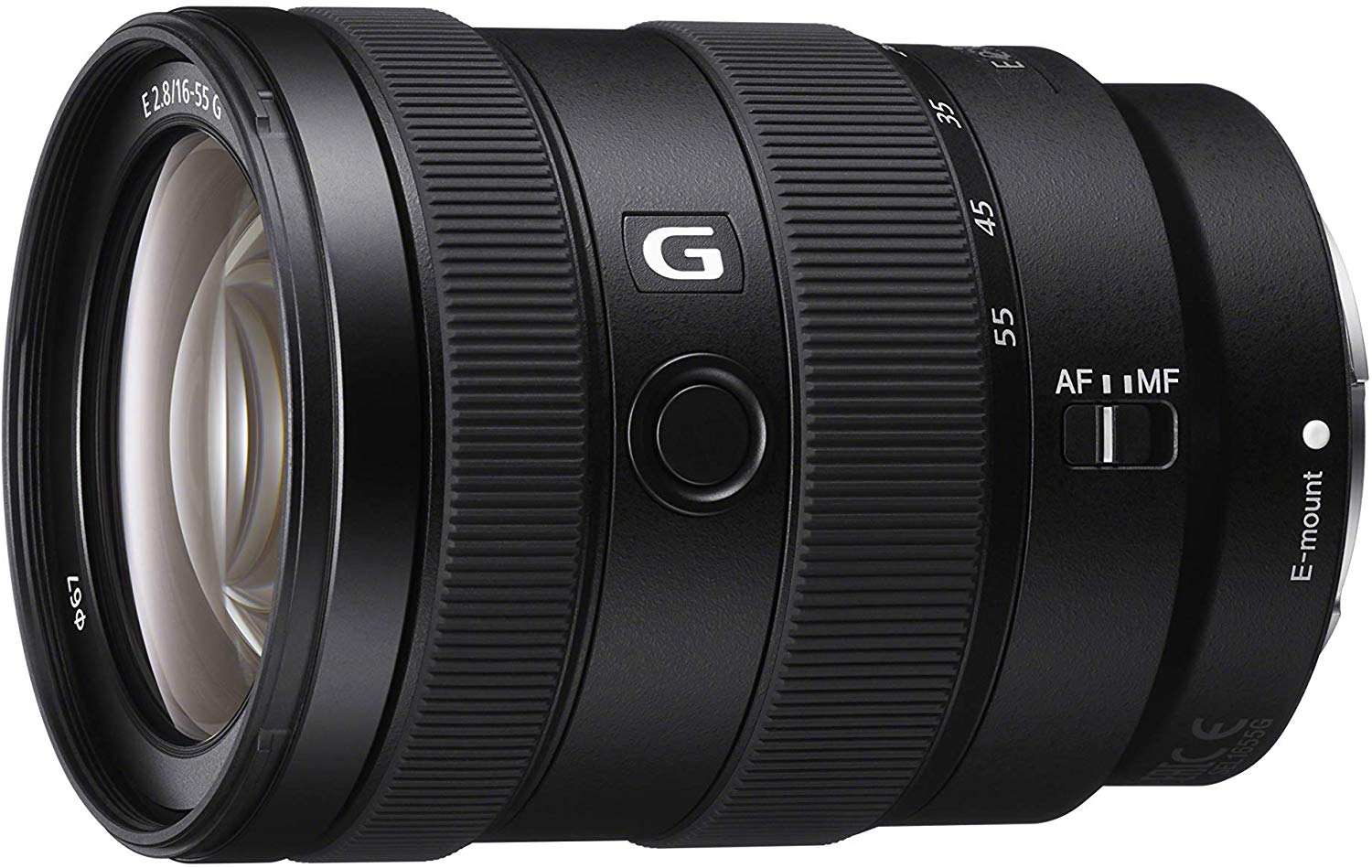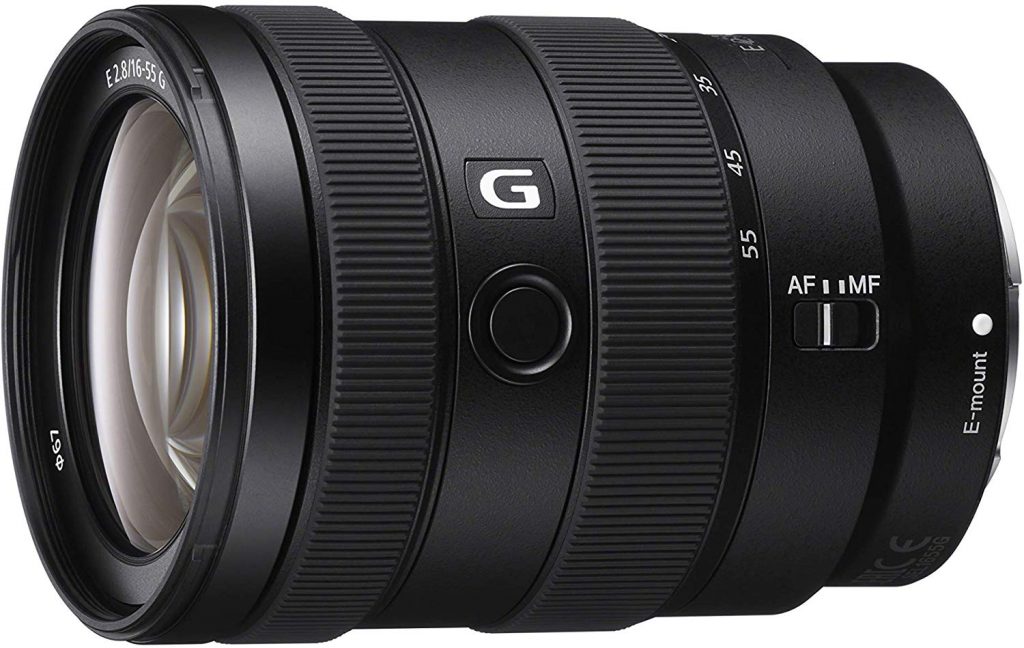 Specifications:
Effective Focal Length: 24 to 82.5mm
Filter thread: 67mm
Dimensions (WxL): 73x100mm
Diaphragm blades: 9 
Minimum focus distance: 0.33m
Weight: 494 gm
ISO: 1250 
| | |
| --- | --- |
| Pros | Cons |
| High-Quality Image Output | Poor Optical Stabilization |
| Speedy Constant Aperture |   |
2. Sony E 18-135 mm F3.5-5.6 OSS
The compact and neat design of these lenses tend to offer a good zoom range. At the same time, the affordable price of these lenses makes it pocket-friendly. The best part about these lenses is that it will hold on to its performance even when it is at its maximum zoom. This is one important feature that makes it stand apart from the list of other long zoom lenses. Although the 16-50mm 'pancake' standard zoom lens that is generally sold with most of the A6000-series cameras is very small and convenient to use, it is not good optically.
The Sony E 18-135 mm F3.5-5.6 OSS lens brings along with it a high level of optical quality. The minimum focusing distance is a mere 0.45m that is 1.48 ft. This makes it preferably easier to shoot close up shots like that of flowers or sweets or even wildlife since these merge the sharp in-focus objects along with the beautiful background bokeh. The quality of the bokeh is further improved by a circular aperture design. There is even a precision linear motor provided that powers the lens's AF system. It helps in enabling the lens function fastly, precisely, and works on quiet operations such as that in movies.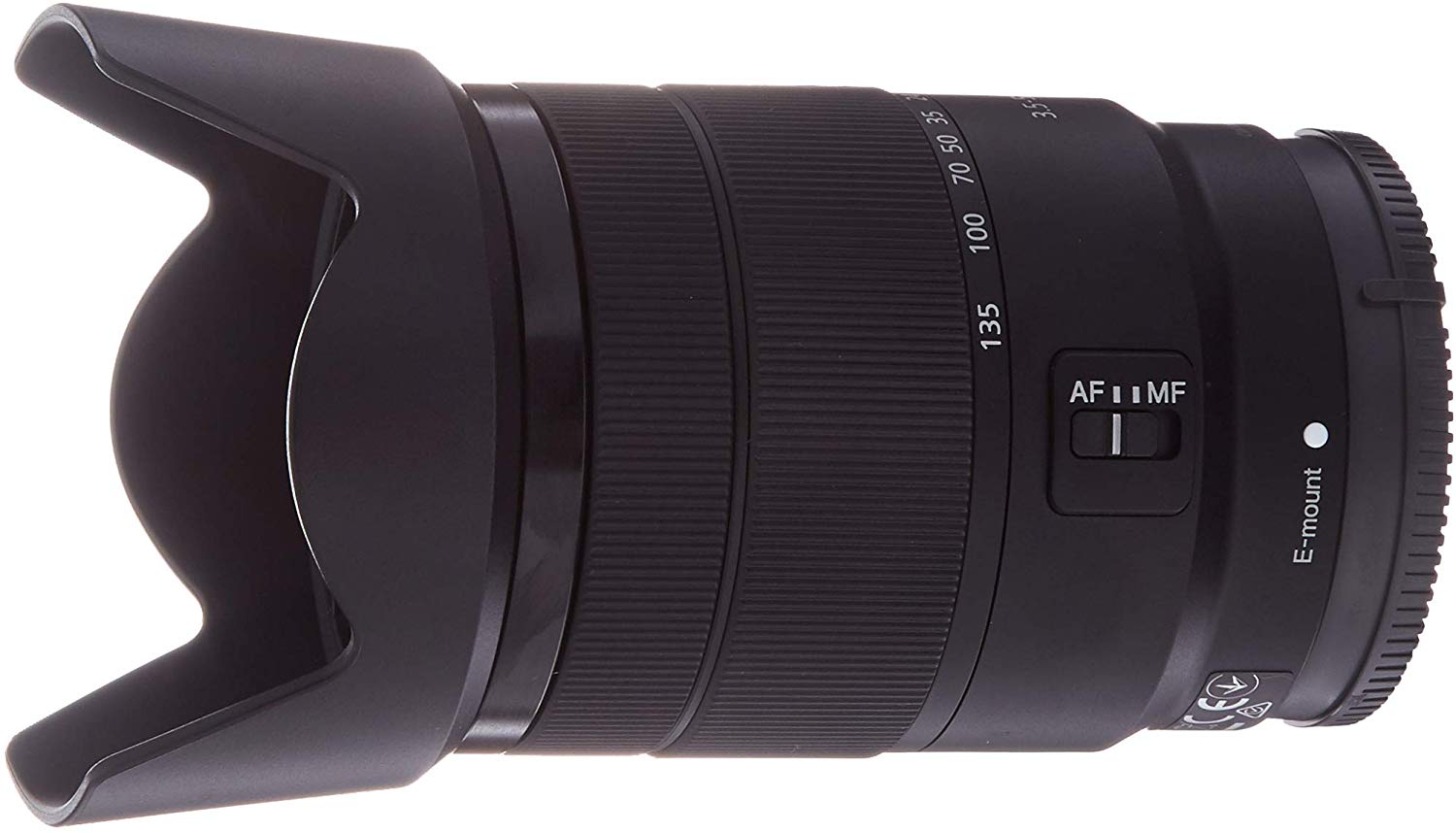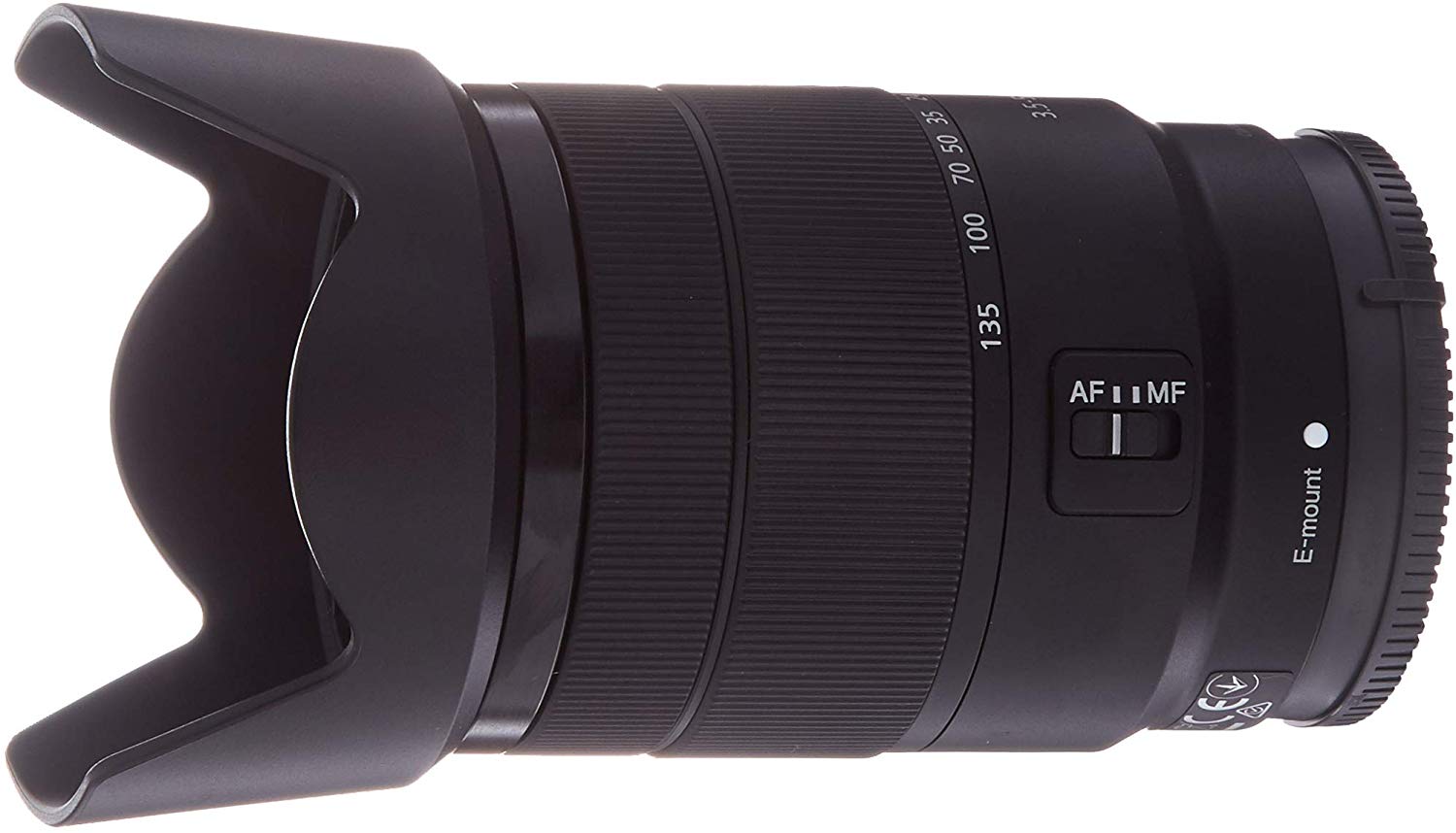 Specification:
Diaphragm blades: 7
Minimum focus distance: 0.45m
Maximum magnification: 0.29x
Dimensions (WxL): 67.2x88mm
Weight: 325g
| | |
| --- | --- |
| Pros | Cons |
| Gives a zoom range of 27-202mm | Huge dependence on digital corrections |
| Provides an optical Steady Shot |   |
| The body is compact and lightweight |   |

Wide-Angle Zoom in Sony a6000 Lenses
In layman terms, a wide-angle lens is that lens whose focal length for any given film plane is considerably smaller when compared to that of a normal lens. This helps in getting more of the scene to be included in the frame. It is ideally used in the interior, architectural, and landscape photography since, in these scenarios, the photographer cannot move farther away from the object to shoot it. Wide-angle zoom is also used when the user wants to bring out the difference in distance or size among objects in the background and foreground.
The amplification of the relative size is used to make the object in the foreground appear more prominent and eye-striking. Wide-angle lenses are of myriad types. Down below, we have compiled the best wide-angle zoom lens among the list of Best Sony a6000 Lenses.
1. Sony E 10-18 mm f/4 OSS
As soon as you put this lens onto your A6000, it will feel as if you have taken the blinkers off your camera. The shortest range of focal length provided is that of 10 mm, which is similar to using a lens of 15 mm on a full-frame camera, thereby providing a huge viewing angle of 109 degrees. In terms of layout and handling, you will notice that it is very much identical to the Sony Vario-Tessar T* E 16-70mm f/4 ZA OSS. This lens has a constant-aperture f/4 rating and a built-in optical steady shot.
This lens takes over smoothly from the point where the 16-70mm lens leaves off and hence has proved to be the most optimum option when it comes to shooting in cramped interiors or sweeping landscapes. You may use this lens anytime that you feel like exaggerating the effect of perspective with a bit of overlap to play with. The output image quality is superb and also gives a slightly mediocre sharpness to the image when shooting wide-open at f/4.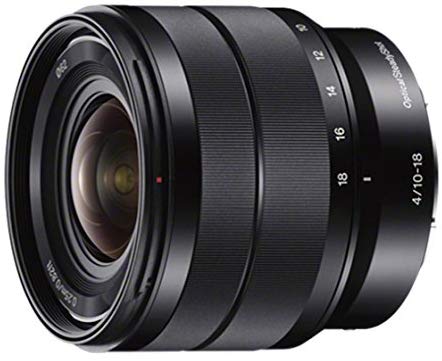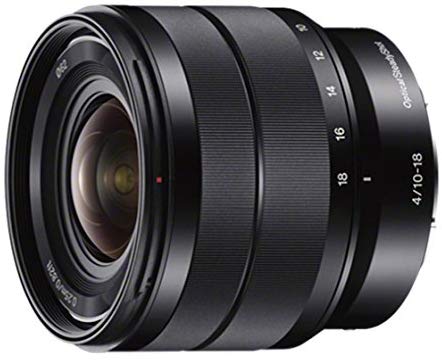 Specification:
Effective focal length: 15-27mm
Dimensions (WxL): 70x64mm
Diaphragm blades: 7
Optical Steady Shot: Yes
Minimum focus distance: 0.25m
Maximum magnification: 0.1x
Weight: 225g
| | |
| --- | --- |
| Pros | Cons |
| It gives an ultra-wide viewing angle | Quite expensive |
| Provides constant aperture | Dull sharpness at f/4 |
| It has a steady shot image stabilizer |   |
TELEPHOTO ZOOMS in Sony a6000 Lenses
The telephoto lens used for a telephoto zoom is a long-focus lens wherein the actual length of the lens at hand is shorter than the focal length. This is done by putting in a unique lens group, which is known as the telephoto group. This basically elongates the path of the light to make a long-focus lens that, too, in a comparatively shorter overall design. Other factors, such as the angle of view and the effect of long-focus lenses remain the same for a telephoto lens of the same specified focal length. The lenses of long focal length are commonly referred to as telephoto lenses. Down below, we have put in the two lenses and their features together that are optimum for telephoto zooms.
1. Sony E 70-350mm f/4.5-6.3 G OSS Lens
Taking into consideration the super broad telephoto zoom range that this lens provides, the price range determined by the company is fairly reasonable. It is best to be used in a wide range of fast-paced photographic genres such as sports and wildlife. These features together make it an optimum match to the speedy A6000 cameras. The optical design of the lens encapsulates a spherical element and another three extra-low dispersion elements. All of these elements together help it grab high-quality images right through the zoom range. The control functions provided are all customizable, and the optical steady shot tends to expand the usability when in low light.
Usually, the telephoto lens feels really odd in place when it is put up with the A6000 series. This is because the lens has a large built-up while the camera is slim and compact in shape and size. But the Sony E 70-350mm f/4.5-6.3 G OSS Lens feels just right about it since it has a comparatively smaller body for a telephoto lens. It is even lighter in weight, just 625 g. At the same time, it is very solid and dependable. The zoom ring and the "fly by wire" focus ring of the lens operate with minute precision. There is even a zoom lock switch available for the zoom ring. In totality, one can say that it is a superb lens at such a great price.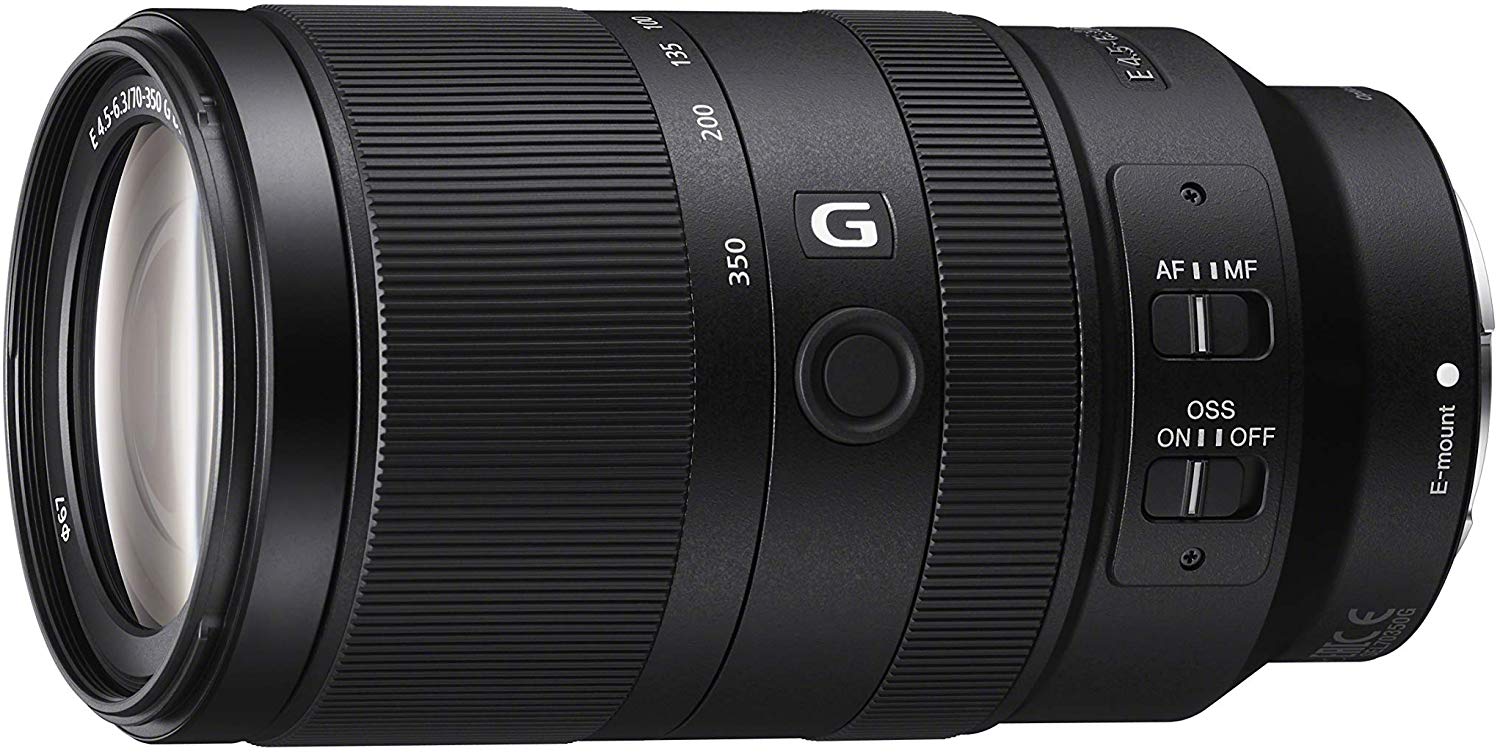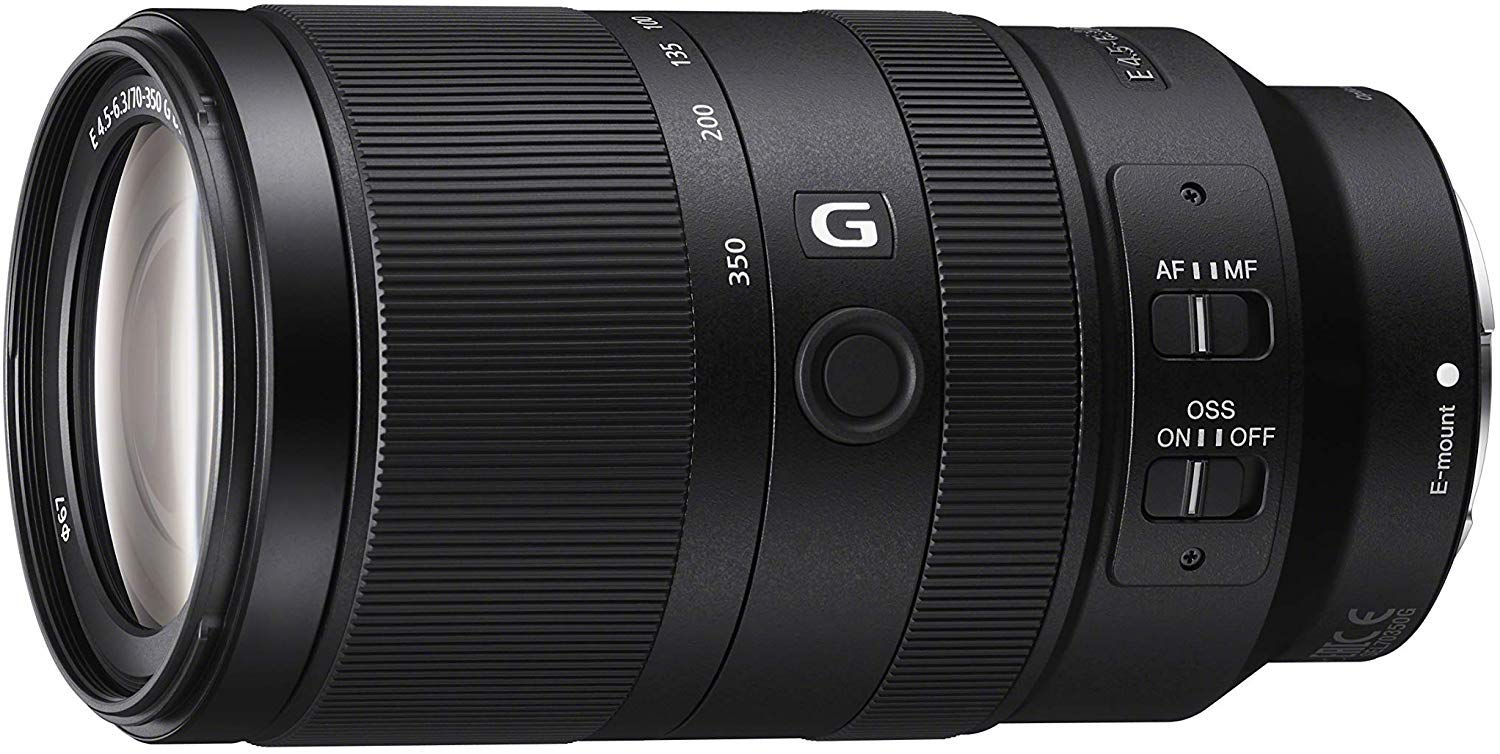 Specifications: 
Effective focal length: 105-525mm
Diaphragm blades: 7
Minimum focus distance: 1.1m
Maximum magnification: 0.75x
Dimensions (WxL): 77×142 mm
Weight: 625g
| | |
| --- | --- |
| Pros | Cons |
| Provides a generous zoom range | Considerably heavy |
| It has optical stabilization | It has a slow maximum aperture |
2. Sony FE 200-600mm F5.6-6.3 G OSS
It is no hidden fact that the fast super-telephoto lenses on full-frame cameras are always costly, hence the price of the Sony FE 200-600mm F5.6-6.3 G OSS also falls in a similar range. Although, when compared with the fast super-telephoto primes, you will notice that it is actually not as costly as you would think. It lies somewhere in between the affordable price ranges of keen amateurs. In reality, this is a full-frame FE lens, but it will work super smooth on an APS-C A6000-series camera as well.
Additionally, it provides a super-effective focal range of 300-900mm. Suppose you want to shoot birds or aircraft or say some other sporting activities, and you are unable to get as close to the object as you would want to; that is where the use of this lens comes in.
This lens will cover the distance deficiency between you and the object. Specifically designed for Sony's full-frame E-mount cameras, this lens takes the journey forward from the Sony FE 100-400mm f/4.5-5.6 G Master OSS by extending the telephoto reach by over 50 percent that too with virtually no compromise in the all-round performance. So you see you get all this and that too at a substantially lower price.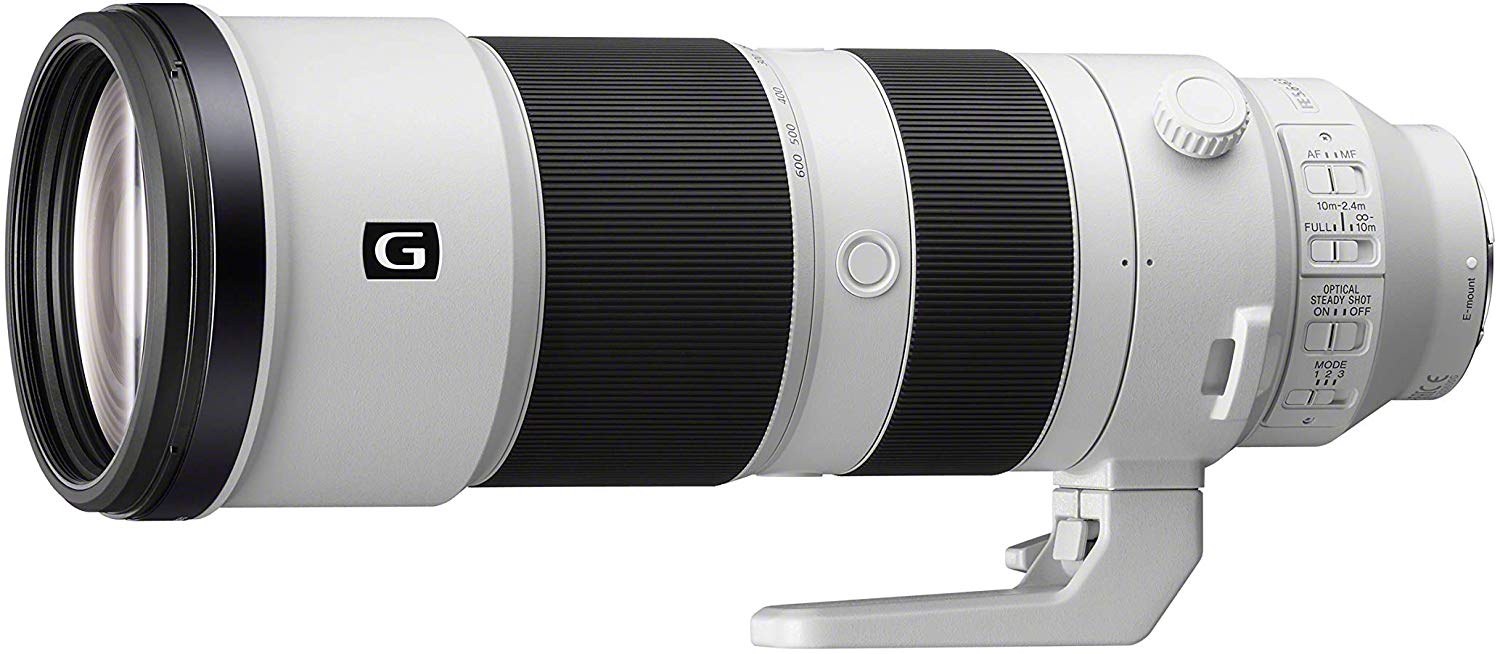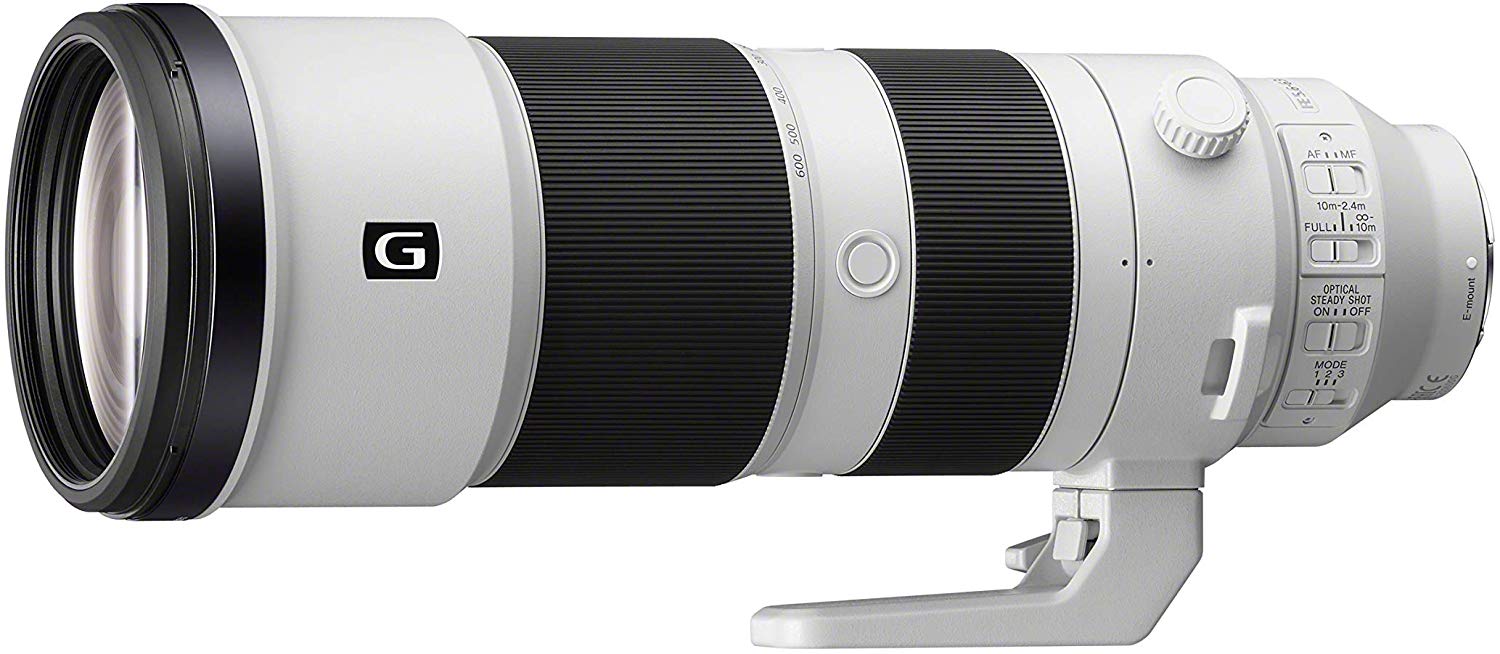 Specification:
Diaphragm blades: 11
Autofocus: DDSSM
Max magnification: 0.2x
Min focus distance: 2.4m
Stabilizer: Yes
Dimensions (WxL): 111.5x318mm
Weight: 2,115g
| | |
| --- | --- |
| Pros | Cons |
| It gives a 3x super-telephoto zoom range | Very pricey for a regular 'G' lens |
| Provides optical stabilization | Considerably heavy |
PRIMES in Sony a6000 Lenses
A prime lens is the one that has only one singular focal length as opposed to a zoom lens that has a larger range of lengths. Commonly used by those who are into sports photography, prime lenses are available in a wide range of focal lengths, right from wide angles to very long telephoto lenses. Prime lenses serve the two most important functions. Number one is the sheer speed (Maximum Aperture) that these lenses offer. Second is the advanced optics and picture quality. These generally involve fewer moving parts, and hence the manufacturers are able to include high-quality glass and mechanics while making them. We bring you the two best lenses for Sony A6000 cameras from the primes section.
Also Read – 10 Best Camera for Travel
1. Sony E 35mm f/1.8 OSS
This lens tends to give a standard viewing angle and a natural perspective on full-frame cameras. When you mix it with the 1.5x crop factor of the Sony A6000's image sensor; you will notice that the lens has an almost similar 52.5mm focal length and a typically fast aperture of f/1.8. The design of the lens has been dexterously framed. Various points have been taken into account when designing these framesets; such as the lens would need to be considerably bigger in size and heavy in weight if it had an f/1.4 aperture rating.
Well balanced as the Best Lenses for Sony A6000 Cameras
Owing to the high-quality glass provided, the sharpness and contrast of the lens are excellent. The glass of the lens includes two aspherical elements and an ED (Extra-low Dispersion) element. For those of you who want to prefer handheld shooting that too under dull lighting; the optical steady shot provided with the lens is another bonus point. This lens will help you get better at composition; and by eliminating out the variable of multiple focal lengths; it will further simplify the picture clicking process involved.
Since the A6000 is a small and mirrorless camera, it would feel really weird to have huge lenses put on it. But with the Sony E 35mm f/1.8 OSS lens, it will give you the pleasure of getting great shots; and at the same time, will easily fit into your pockets. This lens will provide a 50mm field of view that is best for a whole segment of subjects. As it provides an undistorted view of the world, 50mm is a very popular focal length. It is best used for portraits.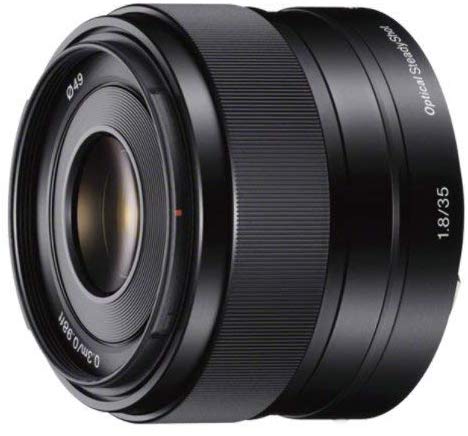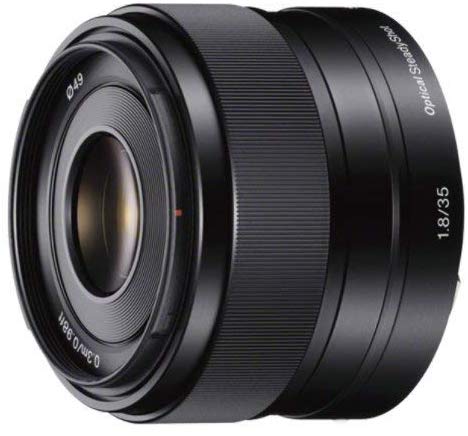 Specification:
Effective focal length: 52.5mm
Diaphragm blades: 7
Optical Steady Shot: Yes
Minimum focus distance: 0.3m
Maximum magnification: 0.15x
Filter thread: 49mm
Dimensions (WxL): 63x45mm
Weight: 154g
| | |
| --- | --- |
| Pros | Cons |
| It has a fast aperture rating | A little pricey |
| Gives superb image quality |   |
2. Sony E 50mm f/1.8 OSS
This lens is best suited for portraiture because of its fast f/1.8 aperture. Further on, it also has an effective focal length of 75mm. This implies that the photographer will be able to take snaps of head and shoulders and half-length portraits even from an ideal distance. It will help in avoiding the overcrowding of your sitter while at the same time, it will be close enough to engage with them. The f/1.8 aperture of the lens provides a tight depth of field; thereby enabling you to throw the background out of focus and make the object really stand out in the output image.
Although the corner-sharpness provided is a little poor at apertures wider than f/5.6; but that is less of an issue when you are into portraiture. The aperture of the lens remains quite well-rounded when stopping down a little from f/1.8. Although if it would have had seven diaphragm blades instead of nine, it could have been better.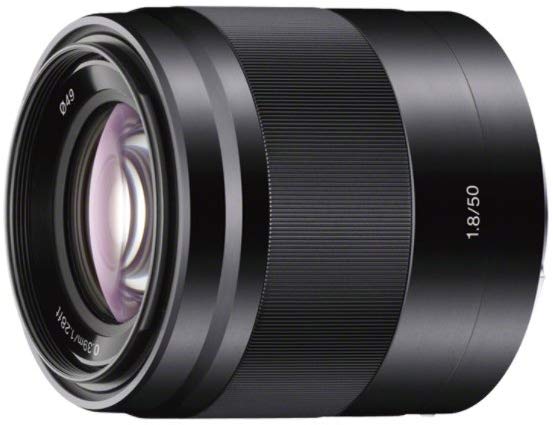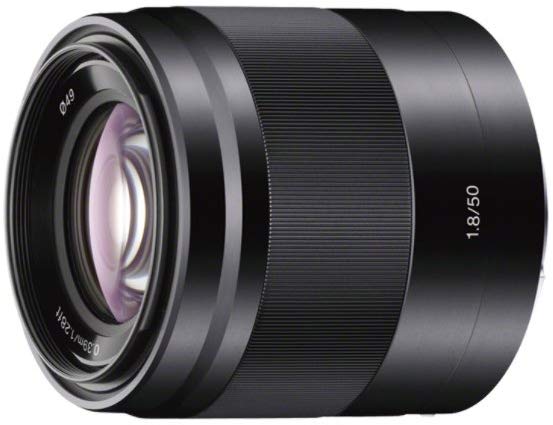 Specification:
Effective focal length: 75mm
Optical Steady Shot: Yes
Minimum focus distance: 0.39m
Maximum magnification: 0.16x
Filter thread: 49mm
Dimensions (WxL): 62x62mm
Weight: 202g
| | |
| --- | --- |
| Pros | Cons |
| It is an ideal choice for portraiture | Dull corner-sharpness |
| It provides a fast aperture and Optical Steady Shot | The aperture could have been better rounded |
Frequently Asked Questions
Q. What types of lenses work fine with Sony A6000?
A. The Sony A6000 uses standard E-mount lenses, which are designed for its APS-C sensor. One can also use FE-mount lenses that are designed for full-frame Sony mirrorless cameras.
Q. What's the best lens for Sony A6000?
A. The best lens for the Sony A6000 will depend on the requirements of the photographer. Ideally, the best pick would be the Sony E 35mm f/1.8 OSS since it is an affordable, lightweight, compact, and fun e-mount lens that allows the photographer to blur the background 'on the cheap.'
Q. Can a photographer use FE lenses on A6000?
A. Yes, they can use it. All Sony FE-mount lenses are compatible with the Sony A6000 camera. They very often provide much better image quality than standard E-mount lenses, although at a much higher cost.
Q. Can Sony A6000 use a mounted lens?
A. No, it cannot, unless the photographer uses an adapter. It must be noted here that it isn't recommended. There are so many good lenses designed for the Sony e-mount that it is unnecessary to try and use a-mount lens on a Sony A6000.
Final Words 
So there you go, in this article of the best Sony A6000 lenses, we have kept our focus on those lenses that pretty well reflect the price of the A6000 itself. It does not make much sense if you have a camera that is already expensive, and then you invest double the amount to buy the required lenses for it. We have also tried to stick to only those lenses that will not make you look or feel silly as you mount it on the small-bodied Sony a6000. Sony specifically created the E-mount lens line-up for its mirrorless camera devices. While doing so, the company created lenses that function very smoothly on cameras like the Sony a6000. If one were to take a glance at the reviews of any of the Sony E-mount lenses, they would find mostly 4 or 5 stars from thousands of happy users all across the globe. It was tough to choose these best Sony a6000 lenses from such an impressive range provided by the company, but we believe that the ones reviewed above will prove to be worthy of the name.