We are long past the time when DSLRs first surfaced, and as they say in the social media parlance; "every monkey with a DSLR" became a photographer with their own photography page. While mobile phones have been working on improving their own cameras and hence the users' photography experience; yet the domain of cameras remains untouched. Yet, we strive to get the Best Camera Under 500 USD. Let's dive how to make this dream come to life!
While the budget users have now shifted to buying better-upgraded phones to replace a camera; yet those who are looking for genuine photography experience are tied to cameras still. Well, no surprises there, given how the cameras have advanced over time too. The range is simply immense. Starting from simple point and shoot ones to the ones coming with manual focus adjustments; cameras come in all varieties depending upon which stage of photography you are at.
Why Should You Trust Us
In our research for the best products, Team Agatton firstly explores each and every product in extreme detail, next we read 100+ reviews and finally reach out to some of the top professional reviewers working today for their personal opinions over the product in concern. We also interact with professionals who use the reviewed product in their daily lives.
Combining our many years of experience in research & testing tech hardware and software… you can be sure that if our team likes something, it's pretty damn fantastic and you ought to give it a shot!
How To Choose the Best Camera Under 500 $? 
While we are excited about telling a lot of stuff in a lot of details, here are the major things which you need to take care of or rather have a ready answer to before you make your purchase. Have a look:
What all do you plan to capture: Whether it is simple landscape photography that you plan to do, take pictures of flowers, leaves or other such elements in details, take the usual family pictures, looking at night or low light usage or want to take wide-angle shots- all of these will go a great length in defining the kind of camera you should go for.
What is your level of photography skills: Basis whether you are just starting over, are at an intermediate level or are pro- you can take a pick of the camera accordingly.
Are you looking at constantly sharing your images?: Essentially the file size is being discussed here because it would greatly determine how easily you would be able to transfer your pictures across.
What hand size are we looking at?: Lenses and cameras can be heavy, and a lot of the image quality will depend on how stable your hand is while taking the picture. A lot of the high-end cameras do not necessarily come with auto image stabilization and autofocus, and hence you will have to be sure about the ease of handling too.
How soon are you looking at upgrading your camera: If it is frequent, our suggestion would be to take basic ones which come with changeable lenses.
Are you looking at processing your images later: Because if you are not, you will need more image control in the camera itself! If you are looking at processing the images, though- well, the world is your canvas!
Are you going to be impacted by what your friends or family have: This often happens later when you start comparing so think about it before you make the purchase.
Finally, what is your budget: Do we even need to say anything here?
Editor's Best Picks
[amazon table="11542″]
Best Camera Under 500 $ For Beginners
This section first because most of the people reading this blog are likely to be the ones who are going to make their first major camera purchase. So, here we are:
1. Nikon D3500
The Closing Line: Nikon has worked thoroughly and produced a refreshed and rejuvenated version of its classic designs, which would appeal to all the first-time DSLR buyers. Plus, the prices are continuously falling, so it might well be in your budget soon. True to the characteristics of a beginner camera, Nikon 3500D is straightforward, easy to handle, affordable; and offers really great quality images. The controls are simplified, and the camera comes with a built-in Guide Mode to help easy usage and handling of all the functions. Its lenses can be changed, and the camera is compatible with a wide range of lenses; both from Nikon as well as other third-party lens makers. The specifications are way more than what a camera in this range offers; and it is for this reason that this camera features first in our "cameras for beginners" list. Believe us; you will not be disappointed.
| | |
| --- | --- |
| Pros | Cons |
| Complete Value for money | Fixed rear screen, creates viewing hassles while taking over-head shots |
| Superior image quality | No 4K video |
| 100% Beginner friendly | Relatively slow live view AF |
| A sensitive and responsive autofocus |   |
| 5fps continuous shooting |   |
Specifications
Aperture: vf/3.5 – 22 (W), f/5.6 – 38 (T); 7 Aperture
Minimum Focus Distance: 25 cm to Infinity
Maximum Magnification: 3.0x
Dimensions: 4.9 x 3.8 x 2.7 in.
Weight: 615g
2. Sony RX100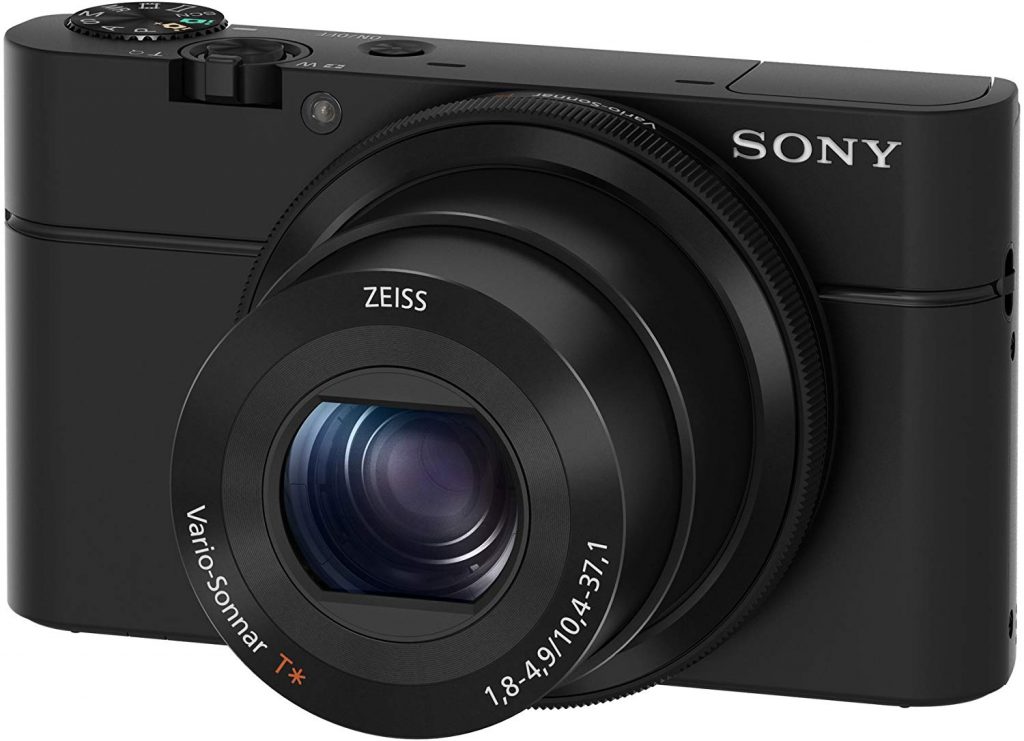 The Closing Line: If we look at just the specifications, then well RX100 is amazing. With a 24-200mm Lens and high-speed shooting and also the latest-gen AF system; it beats almost everything in its price range and also the experience. However, all the features given, the ease of usage of this camera literally topples it down from the crown. The controls are small and cramped, and the sensor is average. But, if you have mastered the art of stabilizing your hand and focusing patiently, this camera is a wonder.
If you are looking at just clicking pictures, we would suggest that you should go for other cameras on the list. But, if you are looking at ultra-high speed shoots, a heavy zoom range, 4K videos, advanced AF system; and the ease to carry- well, this camera is the option for you. The thing is that Sony RX100 is actually the jack of all trades, but the mastery is where it sort of lacks.
| | |
| --- | --- |
| Pros | Cons |
| Ultra-high-speed shooting | Fiddly EVF |
| Fast, pretty high-tech AF | Slippery finish |
| Great 4K video | Small controls |
Specifications
Aperture: f/2.8 (wide) / f/4.5 (tele) – f/11 with 7 blade aperture
Minimum Focus Distance: 9 – 72mm
Maximum Magnification: 8 cm to Infinity
Dimensions: 102 x 58 x 43 mm
Weight: 302g
3. Canon EOS Rebel T7 / EOS 2000D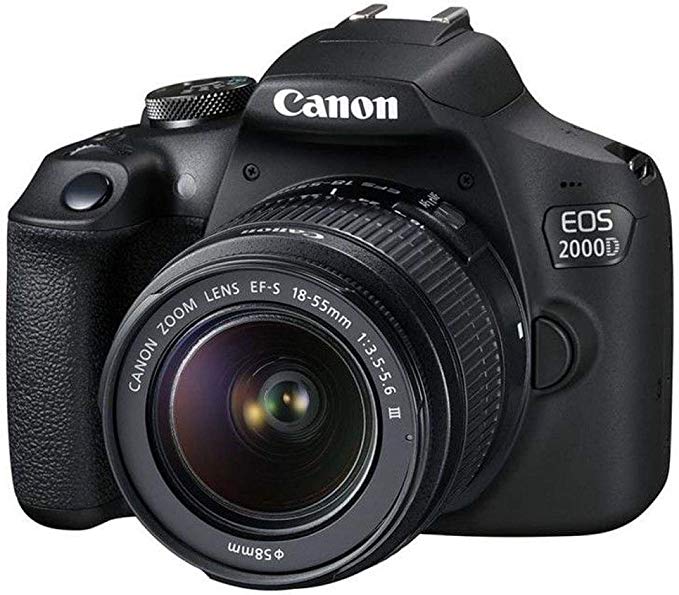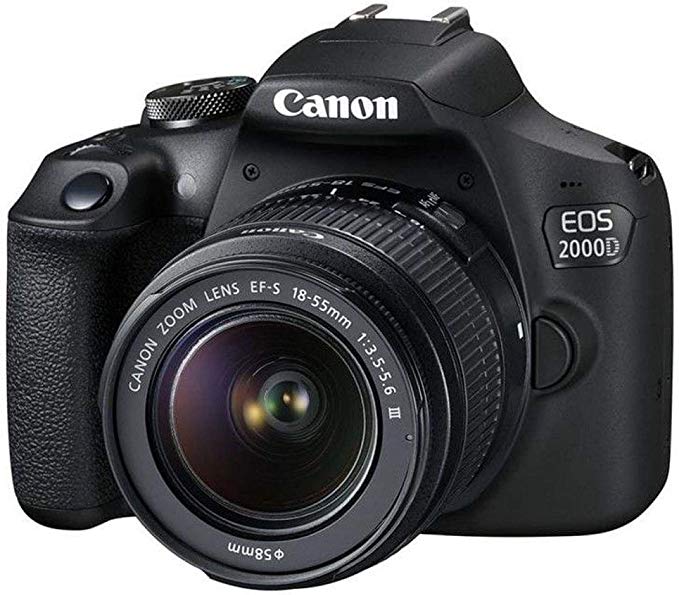 The Closing Line: The upgrade that 2000D has over 1300D is the sensor up-gradation from 18MP to 24.1MP. While this definitely gives an edge on the quality of photos thus obtained but considering you are a beginner, 1300D would be equally good. The team is now working on its AF system using the Dual Pixel CMOS AF and touchscreen control to provide a beginner-friendly graphic interface. So, you can wait for the update and buy a few months down the line. The camera display, just like typical Canon; isn't so great, so to know how well you clicked, either you will have to trust your own eyes while taking the picture; or wait till you offload them to a system.
If you are looking at post-processing, though, this camera can really help you with the hues given the sharpness of the images it clicks. Of course, being the Classic Canon, in order to make it cost-effective, some features have been dropped; but given that you are a beginner, we do not think you would miss auto-focusing and manual setting, so much! The basic manual settings, however, are still available.
The default lens in the kit is good enough for taking closeup as well as wide-angle shots. Add in a few accessories like lens ball, photo plates, etc. and this camera will work wonders for you.
| | |
| --- | --- |
| Pros | Cons |
| Ease of Usage | Dated 9-point AF |
| Well laid out larger controls | 3fps burst shooting |
| Good battery life | No touchscreen |
|   | Sluggish Live View focusing |
|   | Only 1080p video |
Specifications
Aperture: f/3.5 – 22 (wide) / f/5.6 – 38 (tele)
Minimum Focus Distance: 29 – 88mm
Maximum Magnification: 3.06x
Dimensions: 129 x 101 x 78 mm
Weight: 675g
4. Sony A68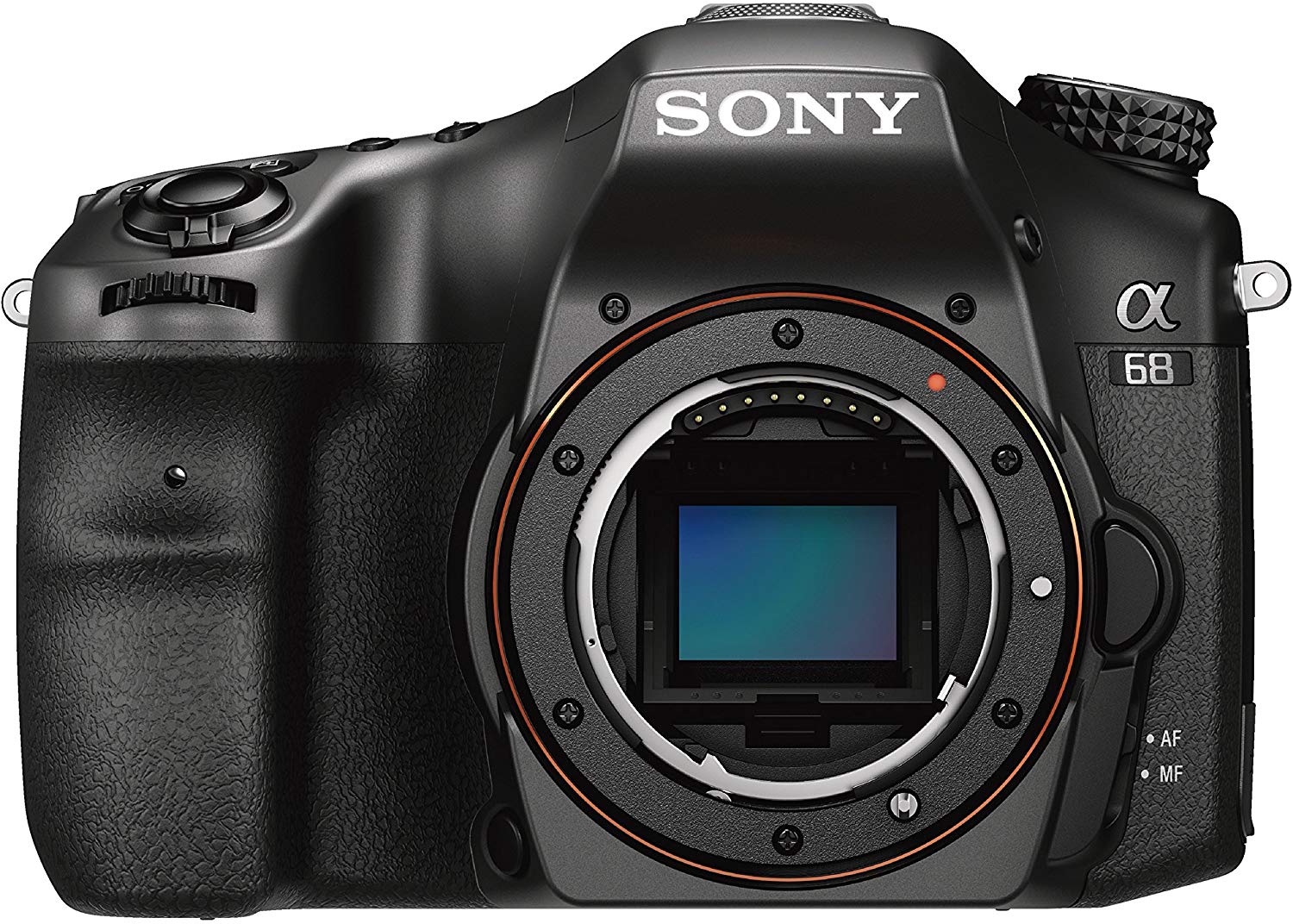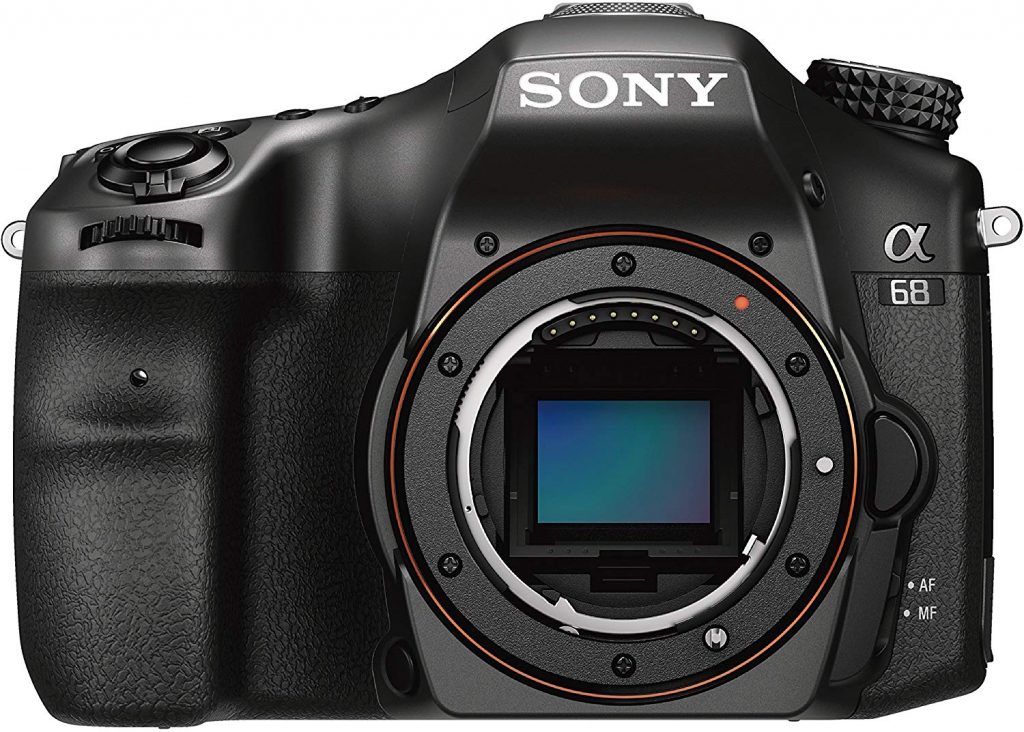 The Closing Line: This one really packs a punch when it comes to the overall performance vs. the cost-effectiveness. And not just relative, even in absolute terms, the performance, as well as the cost, are the best at the offer. Of course, it is a bit more expensive than the rest in the list; but given the utility and durability of this camera, you will be covered for years to come. The price is definitely a bit ambitious for the beginners, but then like we said, it is going to last longer than most.
The camera is specifically good for capturing moving objects, thanks to its multiple focusing points and camera sensitivity. Plus, it has really advanced AF algorithms, full-time autofocus; which is present even during the video recording, thanks to the Translucent Mirror Technology being used. It even has features that some of the high-end Sony or Canon models boast of an hence; this camera is your ticket from beginner to the completion of intermediate photography levels.
| | |
| --- | --- |
| Pros | Cons |
| Value for money | Poor quality LCD screen |
| Fast and smart autofocus | Over-sensitive shutter-release |
| High-quality electronic viewfinder | Not so good build quality |
Specifications
Aperture: f/3.5 – 22 (W), f/5.6 – 36 (T)
Minimum Focus Distance: 27 – 83mm
Maximum Magnification: 3.06x
Dimensions: 143 x 104 x 81 mm
Weight: 912g
5. Nikon Coolpix B500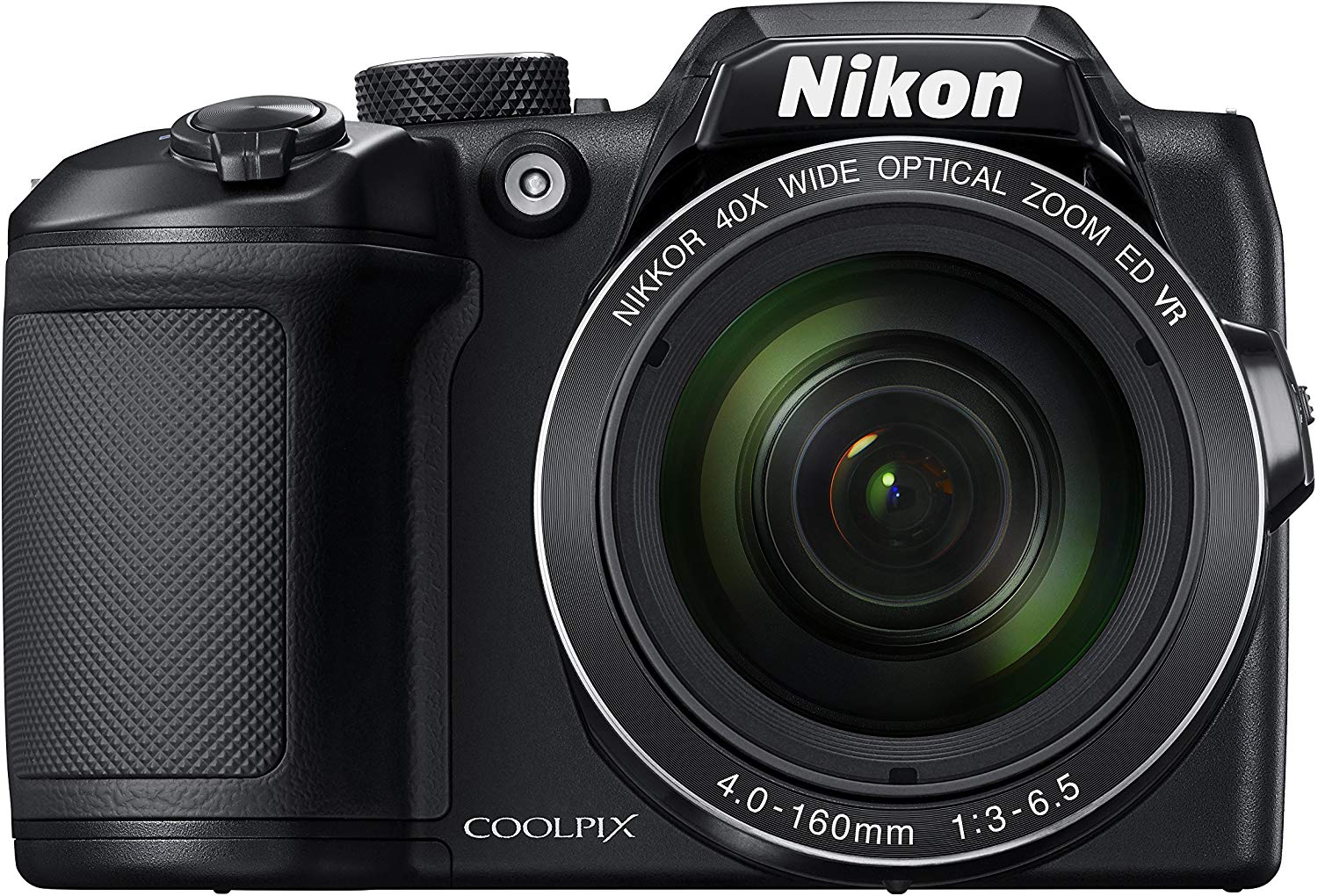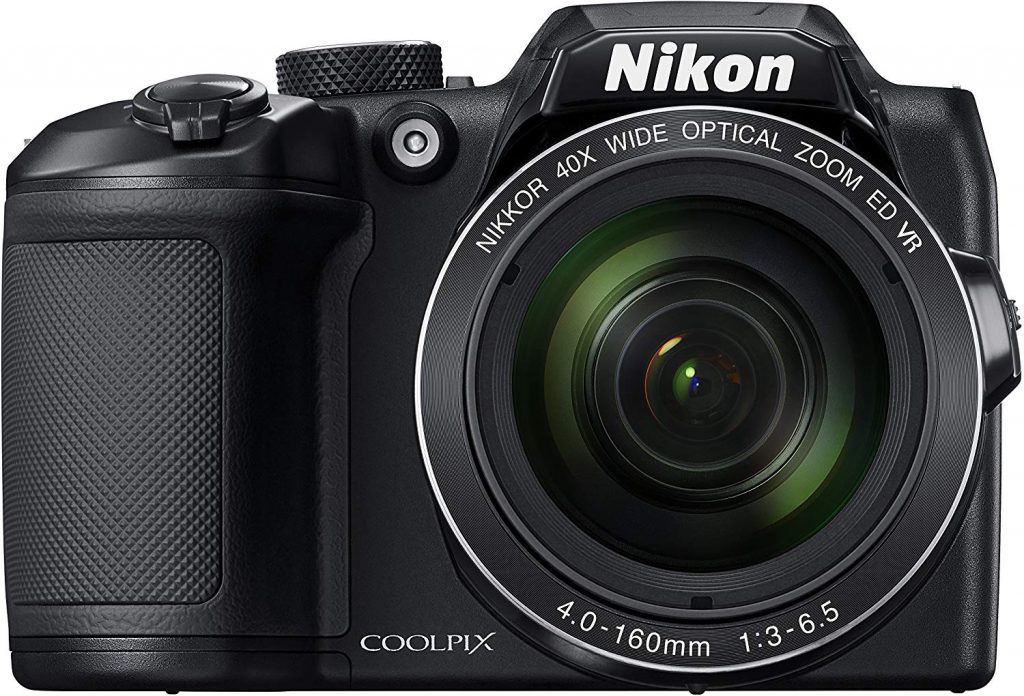 The Closing Line: One of the best cameras in the range of 250$ – 350$. The design is compact and pretty light too. It comes with a default 40x optical zoom lens and 80x dynamic zoom along with a tilting LCD display. Coolpix B500 doesn't have a viewfinder, though, but the tilt display will make up for it given it can bend and turn at some really interesting angles. It comes with NFC technology, Wi-Fi, and Bluetooth as well; which can help you transfer photos directly and easily to your PC or smartphone. This is the camera for all those who want a hassle-free photographic experience.
| | |
| --- | --- |
| Pros | Cons |
| Fantastic photo quality | The absence of a viewfinder |
| Long battery life | AA batteries |
| Huge zoom |   |
Specifications
Aperture: f/3, to6.5
Minimum Focus Distance: 4.0 – 160mm
Maximum Magnification: Up to 4x
Dimensions: Approx.113.5 x 78.3 x 94.9mm
Weight: Approx.542g
Best Mirror-less Camera Under 500 $
While our topic says that the cameras would be under 500$, we would like to take the liberty here and say that it wouldn't be necessarily so in this section. This is because mirrorless cameras are specifically meant for professional photography. The features thus available are amongst the most superior in the market; and needless to say, the price tag is on the higher end too.
6. Panasonic Lumix GX80 / 85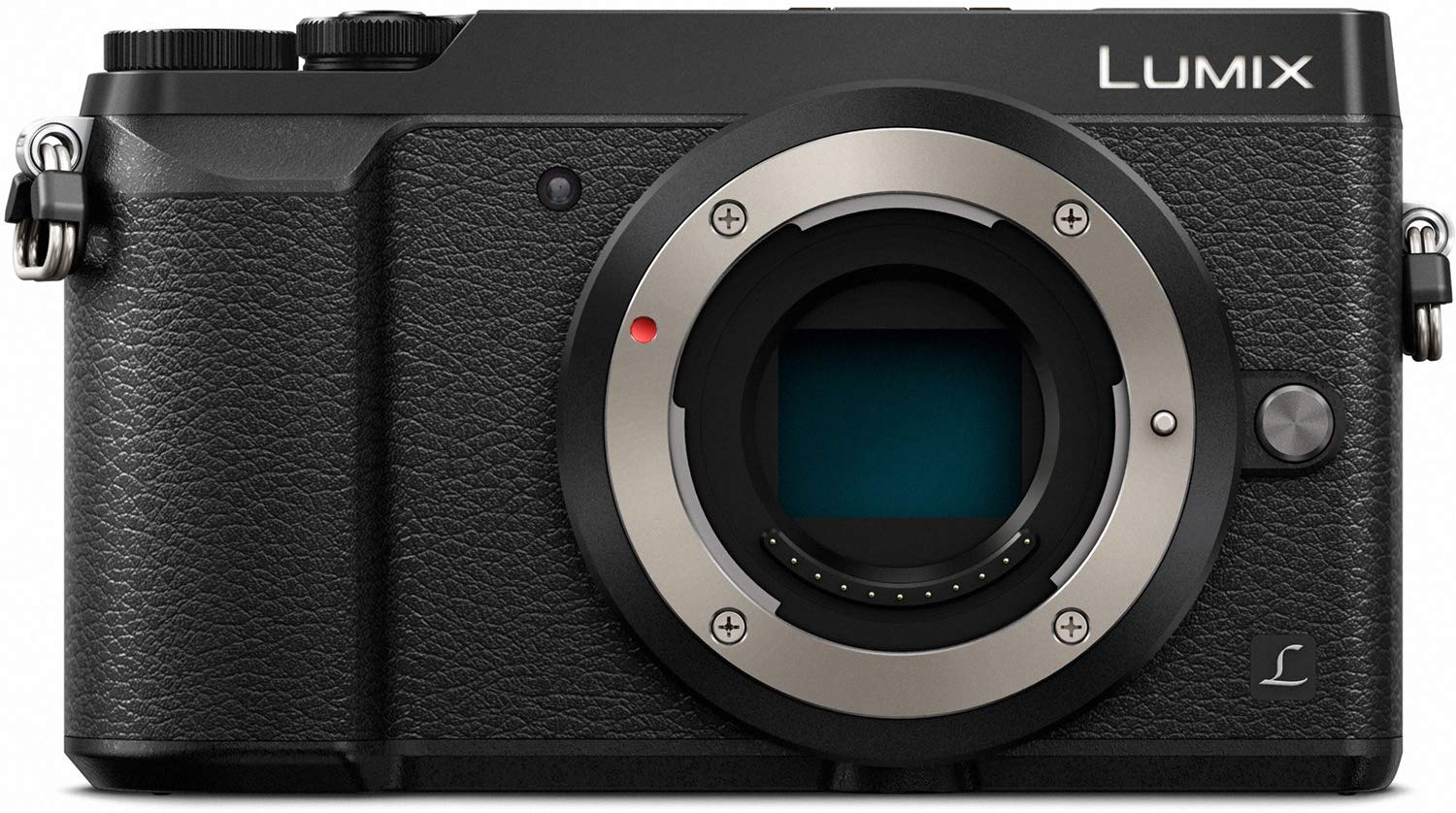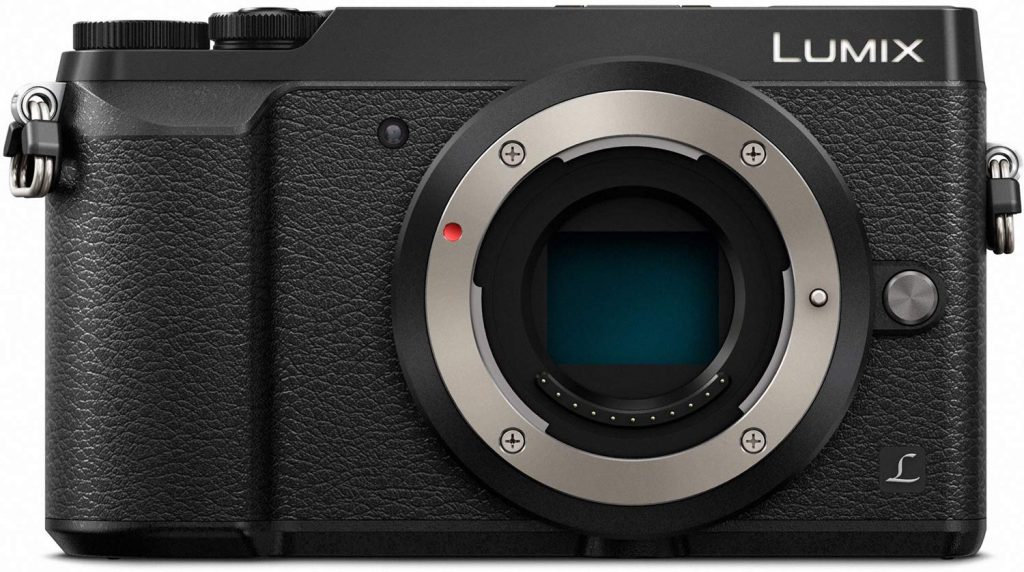 The Closing Line: This camera is a true value for money one with or even without its smart little 12-32mm zoom kit lens. The camera comes with some of the best high-tech features, all wrapped up into its light-weight compact built. The main features are 5-axis image stabilization, Light speed AF, Post Focus, and 4K ultra high definition for video as well as rapid-fire stills. It indeed gets featured amongst the best of the cameras which Panasonic has to offer. The camera also boasts of a high-resolution viewfinder; which is built into its back along with a tilting touchscreen for higher angle shots. The camera is simply supremely high on features, and despite its higher price tag; it offers the best value for money at the offer (accessory costs included).
| | |
| --- | --- |
| Pros | Cons |
| Very compact body | MFT sensor only 16MP |
| Built-in electronic viewfinder |   |
Specifications
Aperture: f/3.5 (wide) / f/5.6 (tele) – f/22; 7 diaphragm blades (circular)
Minimum Focus Distance: 24 – 64mm
Maximum Magnification: 2.67x
Dimensions: 122 x 71 x 44 mm
Weight: 498g
7. Sony A6000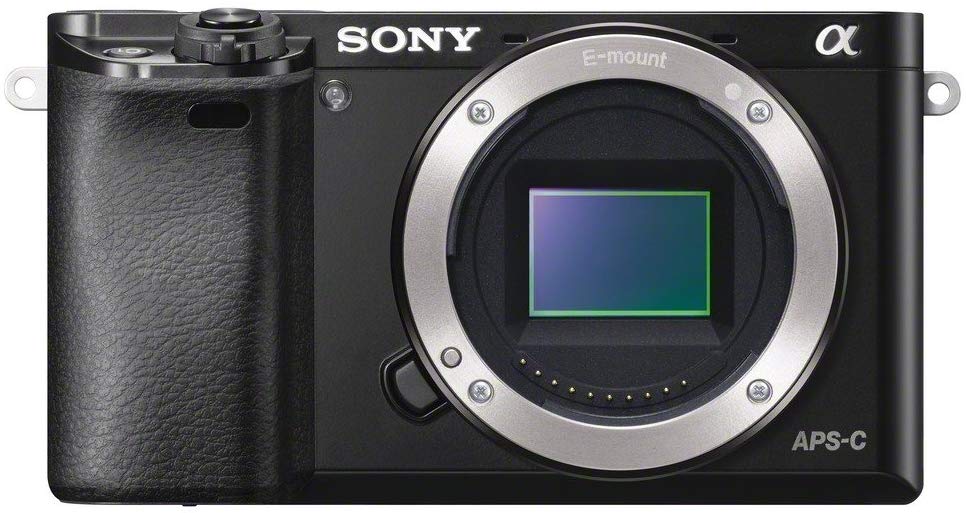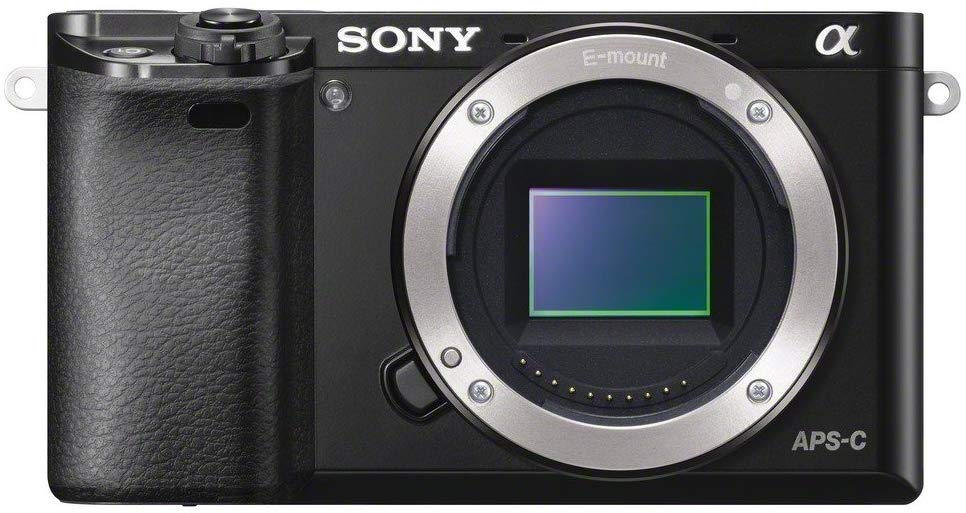 The Closing Line: This model competes with the A6300 and A6500 in performance even when it is coming at a budget close to half of the former. It is, in fact, Sony's best-selling mirrorless camera till date. Given its price range, it comes packed with several features that are usually hard to find in the competing DSLRs of the same range. Some of its major compelling features include a mammoth 179 phase-detect AF points, which enable an effective subject tracking along with an 11fps burst shooting. This very combination sets the camera in a league of its own and makes it the preferred choice for sports and action shooters. The tilting LCD screen, 2.36 million-dot OLED viewfinder, the built-in Wi-Fi and NFC sensor further add to the excellent appeal that this camera holds for a user.
Also Read – Best Lenses for Sony A6000 Cameras
| | |
| --- | --- |
| Pros | Cons |
| Great image quality | Display isn't touch sensitive |
| Excellent EVF | Setting AF point somewhat unusually placed |
Specifications
Aperture: f/3.5 – f/22 (W) / f/5.6 – f/36 (T); 7-blade circular aperture
Minimum Focus Distance: 24 – 75mm
Maximum Magnification: 3.13x
Dimensions: 120 x 67 x 45 mm
Weight: 468g
8. Olympus OM-D E-M10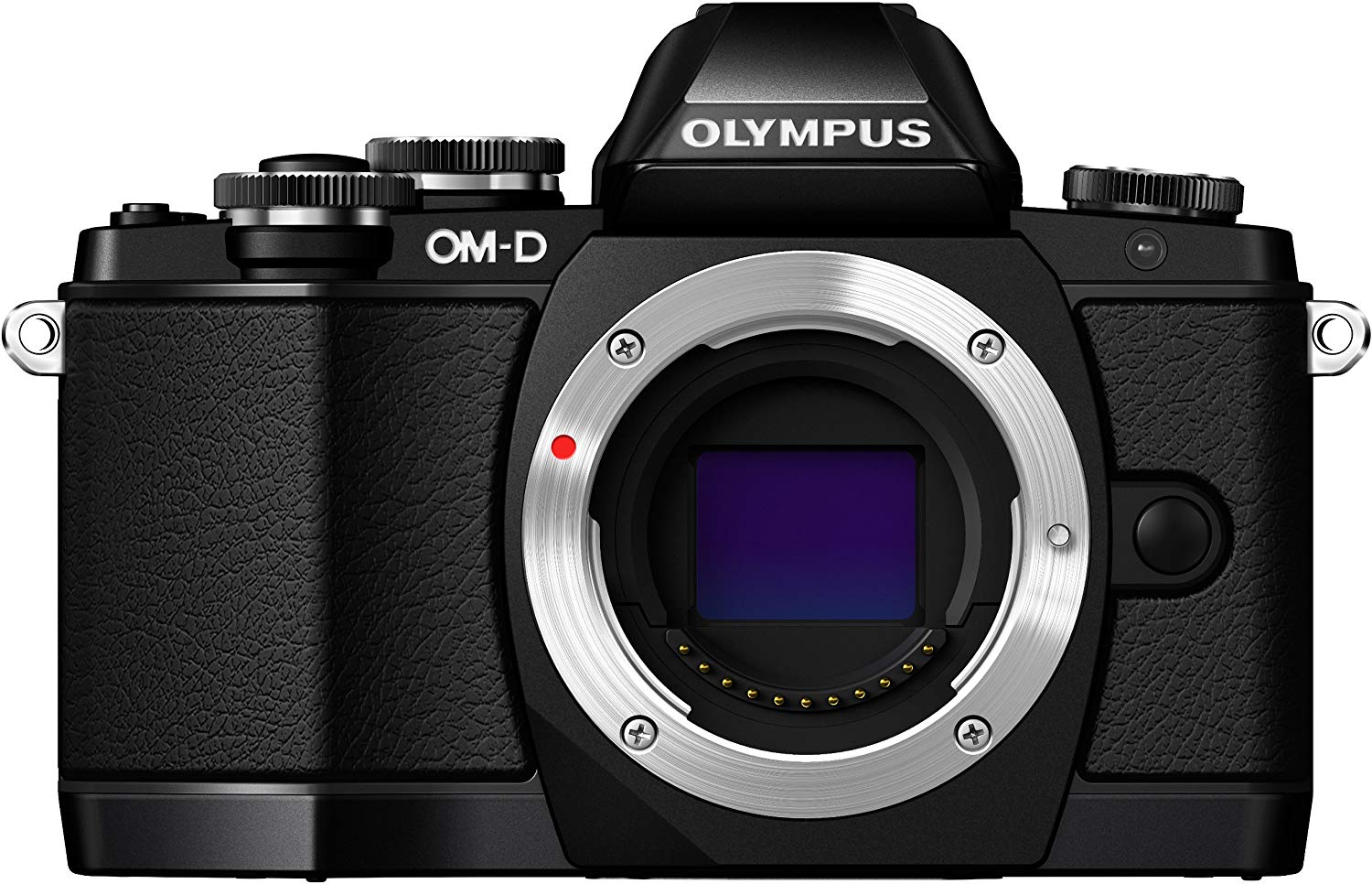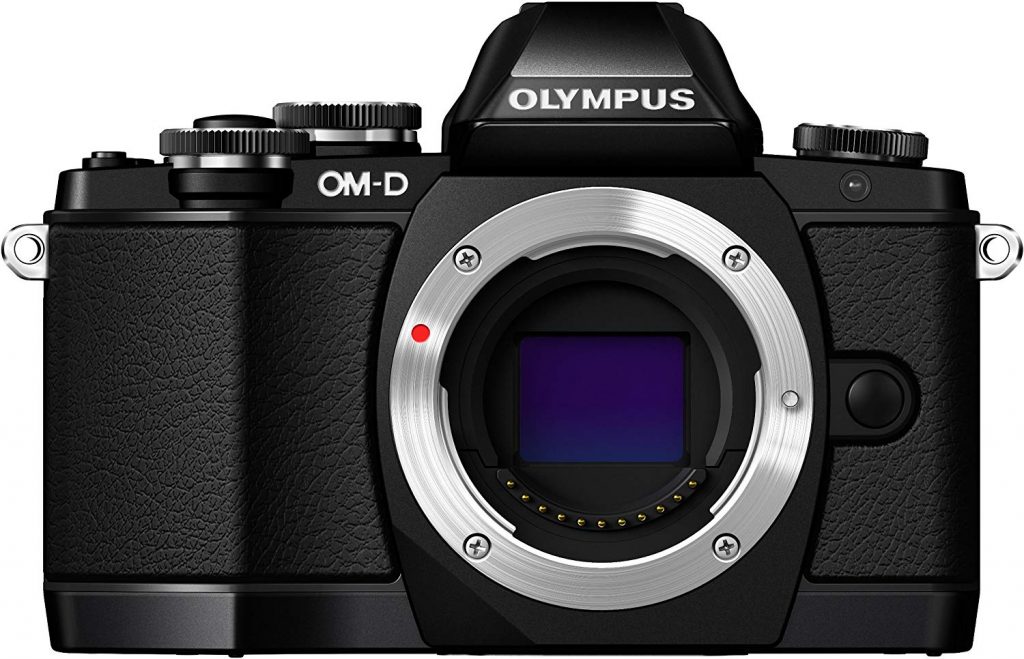 The Closing Line: Olympus' digital revival of its analog OM line has been hugely popular among enthusiast photographers, and with the OM-D E-M10 II, the company has provided those on a tighter budget with a solid entry point to the series. What's surprising is just how much the model has in common with the more senior OM-D E-M5 II. Both, for example, sport 16MP sensors, TruePic VII processors, 2.36million-dot electronic viewfinders, and five-axis image stabilization systems. Sure, not everything is equal, but when you consider the huge price difference between the two, the OM-D E-M10 II ends up being the better-value model by some margin – especially now that its successor, the OM-D E-M10 III has been released, driving its price down still further.
| | |
| --- | --- |
| Pros | Cons |
| Excellent EVF | Screen not vari-angle |
| Very good image stabilization  | Limiting custom options |
Specifications
Aperture: f/3.5 (wide) / f/5.6 (tele) – f/22; 5 diaphragm blades (circular)
Minimum Focus Distance: 25 cm to Infinity
Maximum Magnification: 3x
Dimensions: 122 x 84 x 50 mm
Weight: 503g
9. Canon EOS M100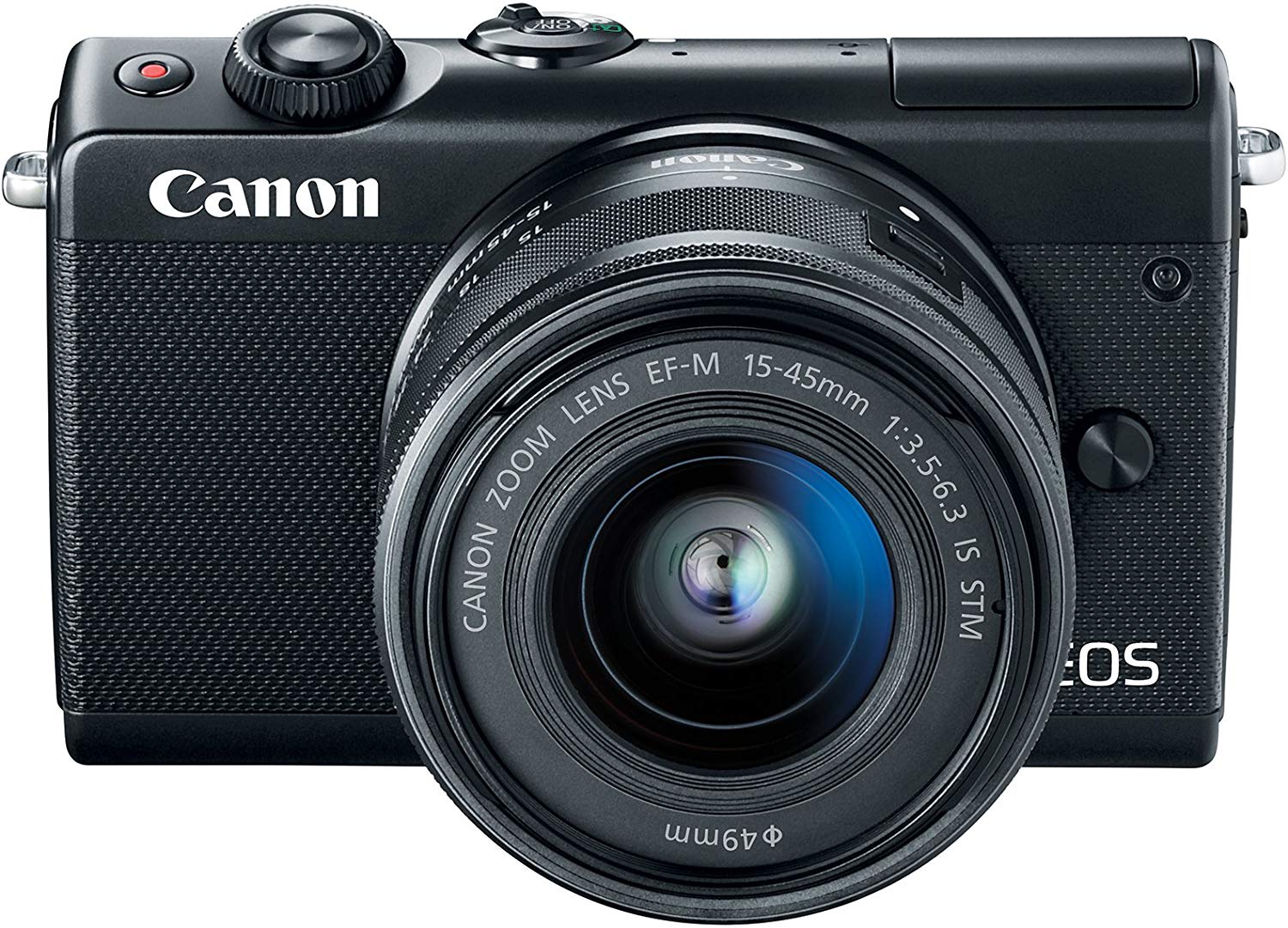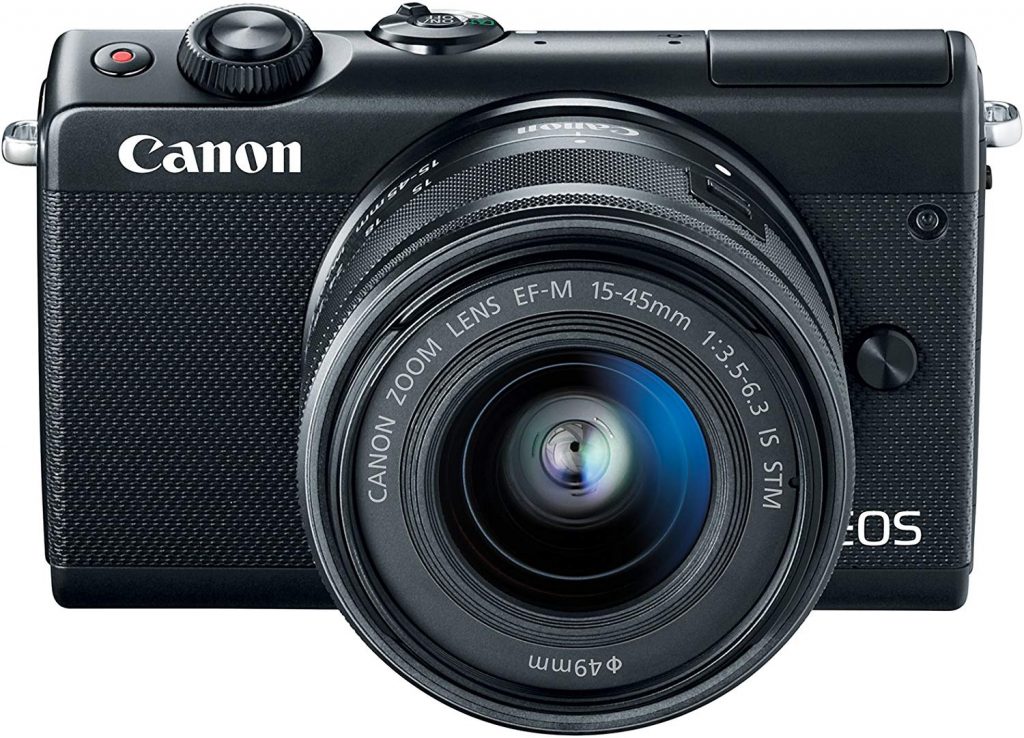 The Closing Line: This camera is a single-lens non-reflex AF/AE camera modernized with a 24MP APS-C sensor and dual pixel autofocus system. The dial pixel autofocus and 180-degree tilting touch screen are amongst the biggest benefits that this camera has at offer. It allows for rack focussing through the mode of dragging the finger across the touchscreen for video recording. With its multiple features borrowed from higher-end Canon DSLRs, this one camera is an absolute value for money.
| | |
| --- | --- |
| Pros | Cons |
| Portable | No EVF or mic input |
| Quick autofocus | Limited number of original lenses |
| Movable touch screen | Confusing Touch interface |
| Integrated flash |   |
| In-built Wi-Fi |   |
| Bluetooth modules |   |
Specifications
Aperture: f/3.5 – f/22 (W) / f/6.3 – f/40 (T)
Minimum Focus Distance: 15 – 45mm
Maximum Magnification: 3.0x
Dimensions: 108 x 67 x 35 mm
Weight: 432g
10. Panasonic Lumix G7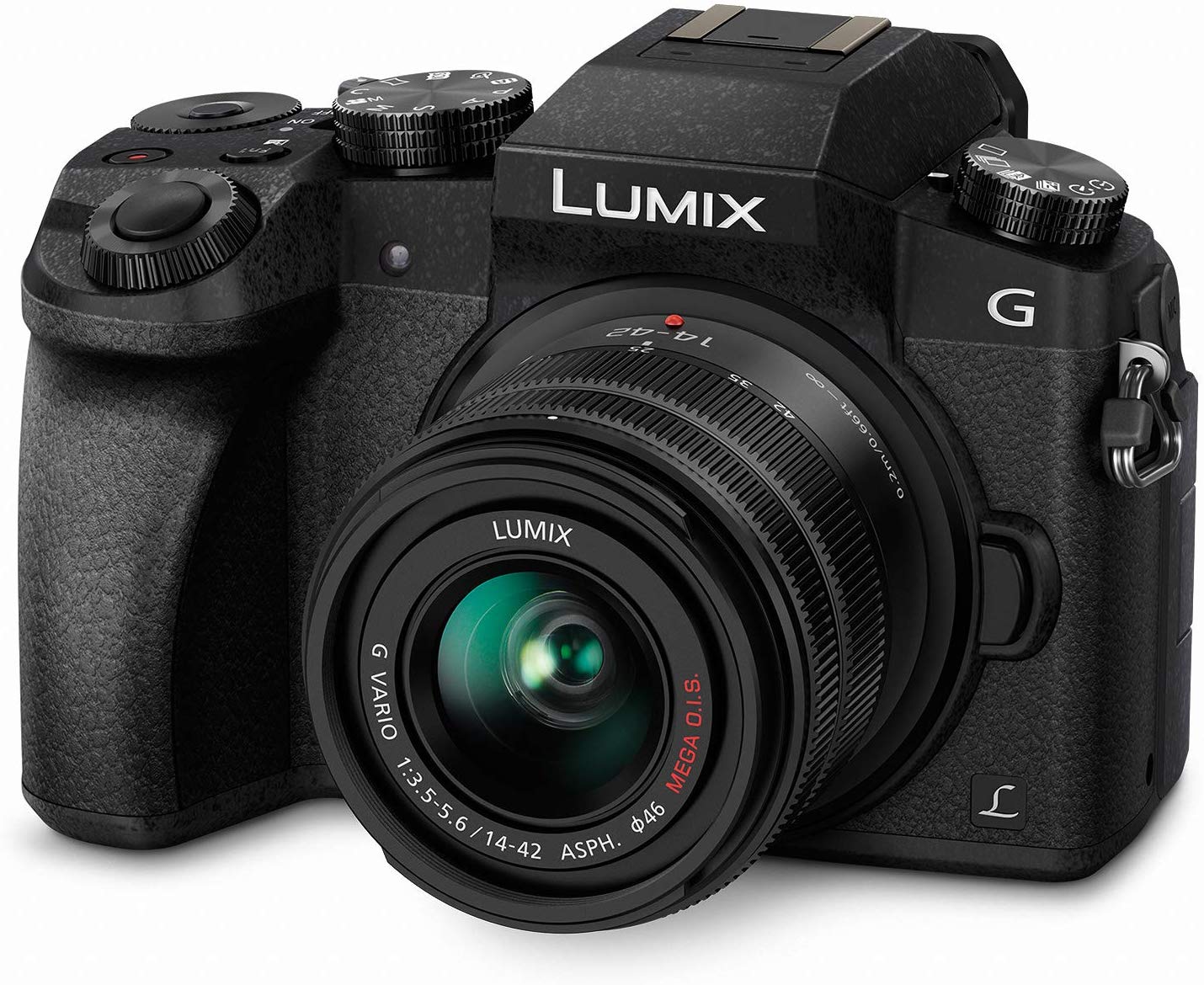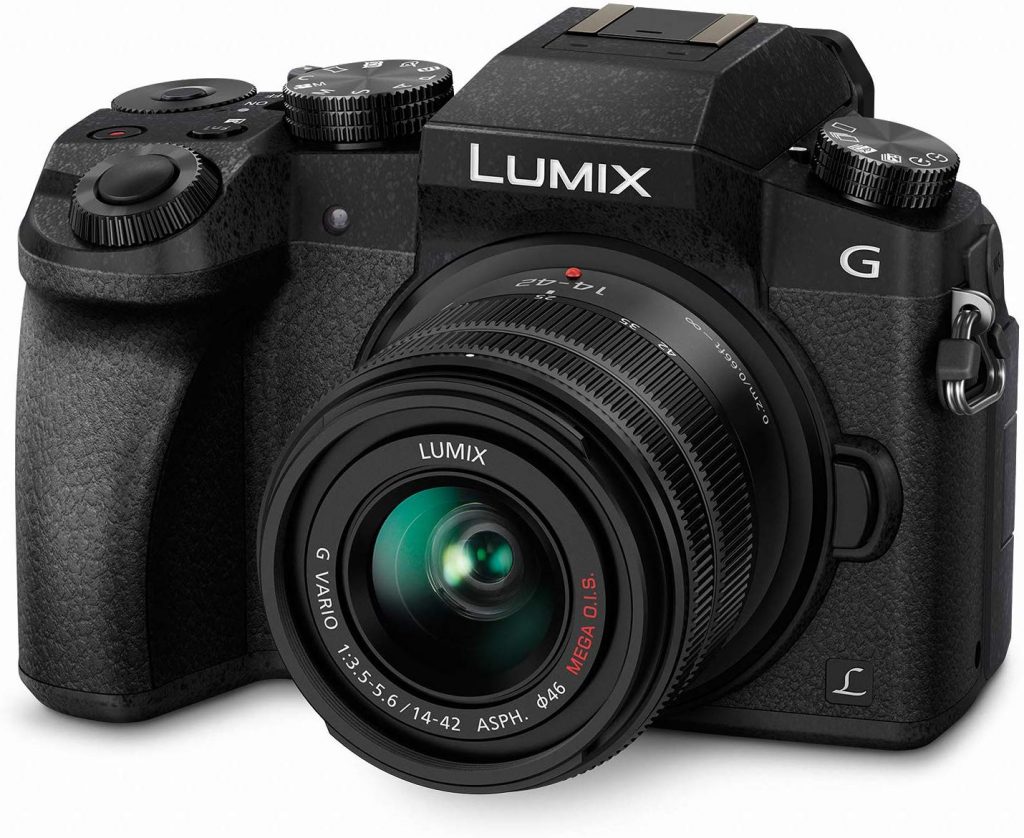 The Closing Line: The camera boasts of a vari-angle touchscreen, a high-resolution electronic view viewfinder, a 16-megapixel Micro Four Third sensors, and a lot more packed in a compact handsy design. The model is literally the best 4K camera in its range and competes with even the higher-end models. It comes with a touchscreen, which is good, and the viewfinder is pretty handsy too. In one line, this camera is the best you can get in price ranges even higher. So, do not think twice at all.
| | |
| --- | --- |
| Pros | Cons |
| Great low-light performance | The built is plastic and not very aesthetically pleasing |
| 3.5mm microphone input jack |   |
| Brilliant video performance |   |
| Swivel LCD monitor |   |
Specifications
Aperture: f/3.5 (wide) / f/5.6 (tele) – f/22; 7 diaphragm blades (circular)
Minimum Focus Distance: 14 – 42mm
Maximum Magnification: 3.0x
Dimensions: 125 x 86 x 77 mm
Weight: 542g
Best Camera Under 500 $ For Video
11. Panasonic Lumix FZ300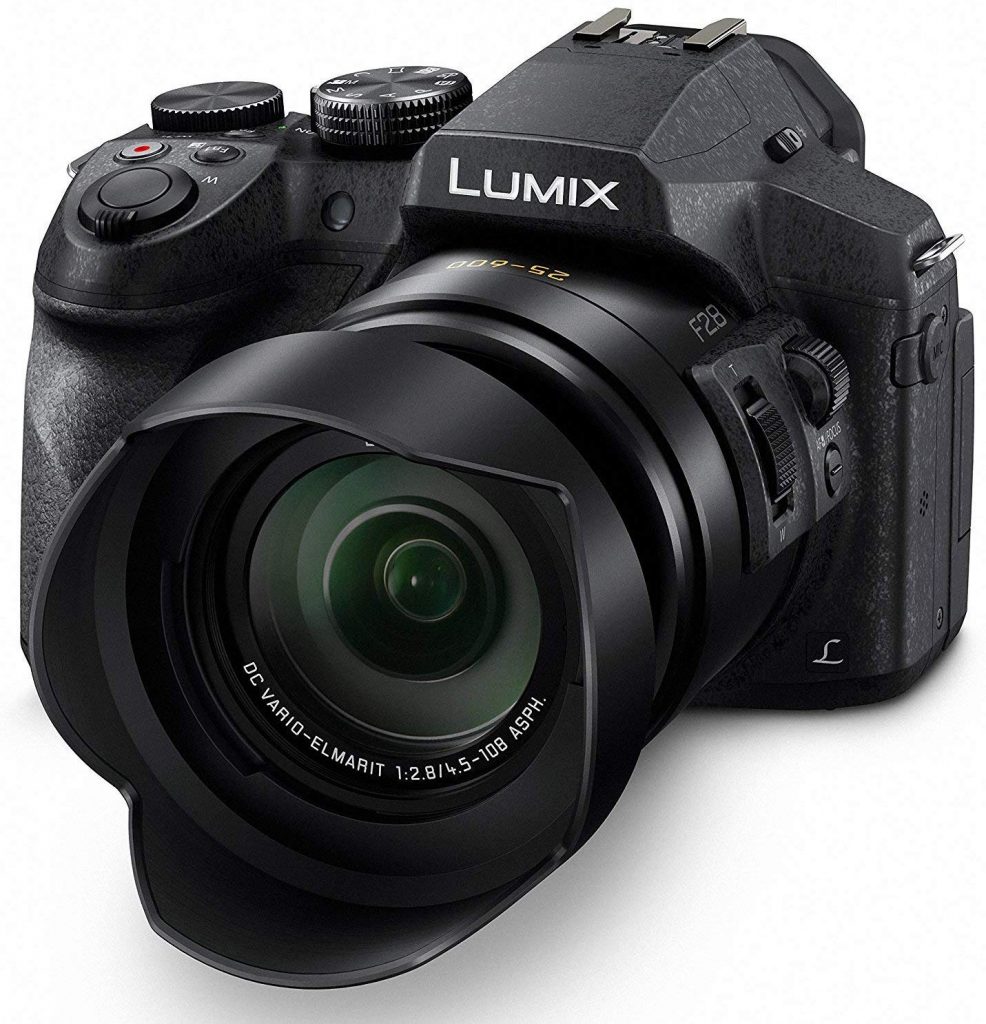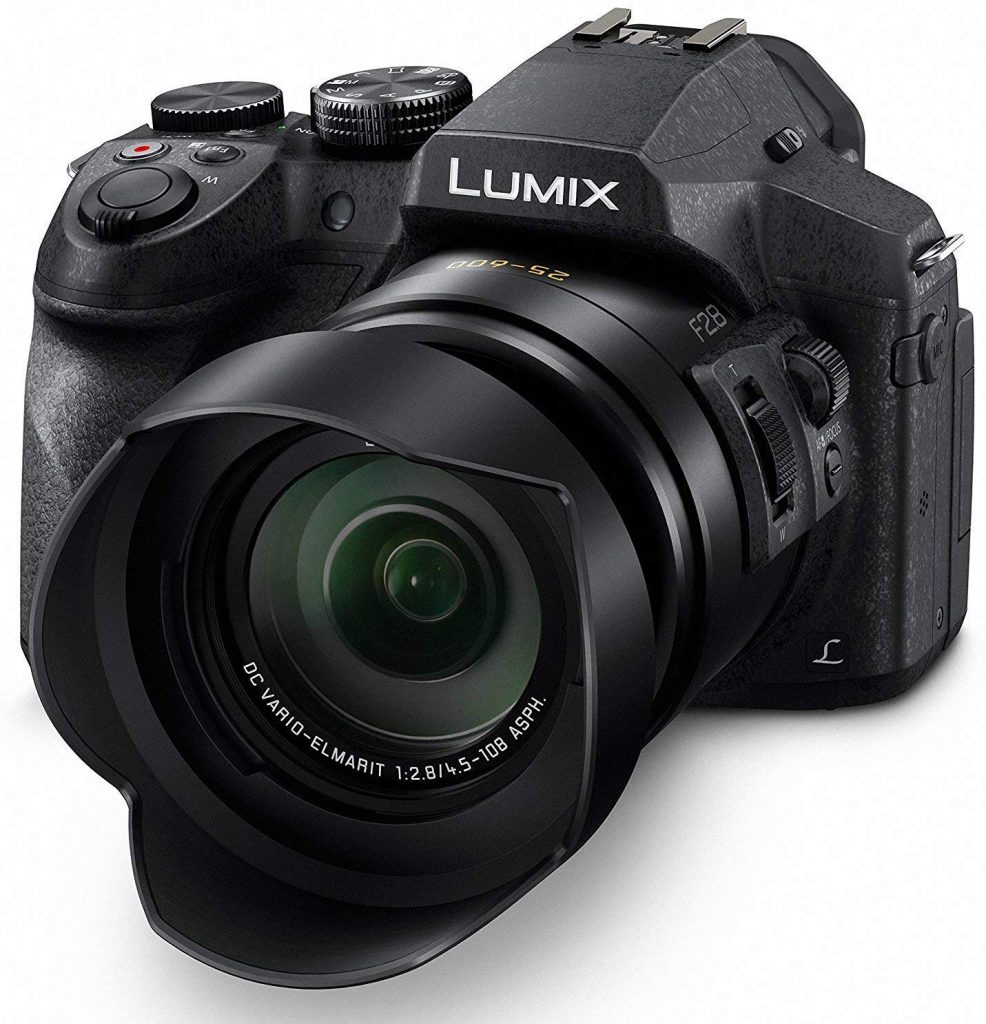 The Closing Line: Be ready to be blown over by the autofocus of this camera and the bright and sharp pictures it would take. One of the best cameras in this price range comes with a 2.8 aperture across all areas of the spectrum esp when shooting indoors. The Leica lens is great, but it is fixed, which sort of becomes negative for this camera. The camera is weather-resistant and a great choice for travel photography. It has an integrated Wi-Fi module, which allows one to control the camera even remotely with a mobile phone.
The point and shoot features are considerably great and convenient, and the image quality is at par with some even more expensive camera models. The device is stylish and classy. For Instagram influencers- this is the camera of choice!
| | |
| --- | --- |
| Pros | Cons |
| Great grip and handling | Small sensor |
| Awesome zoom range | Restricted angles due to a fixed lens |
| Touchscreen LCD |   |
| 4K video format |   |
| Wi-Fi module |   |
Specifications
Aperture: f/2.8 (wide/tele) – f/8.0; Multistage Iris Diaphragm
Minimum Focus Distance: 4.5 – 108mm
Maximum Magnification: 24.0x
Dimensions: 132 x 92 x 117 mm
Weight: 724g
12. Canon EOS Rebel T6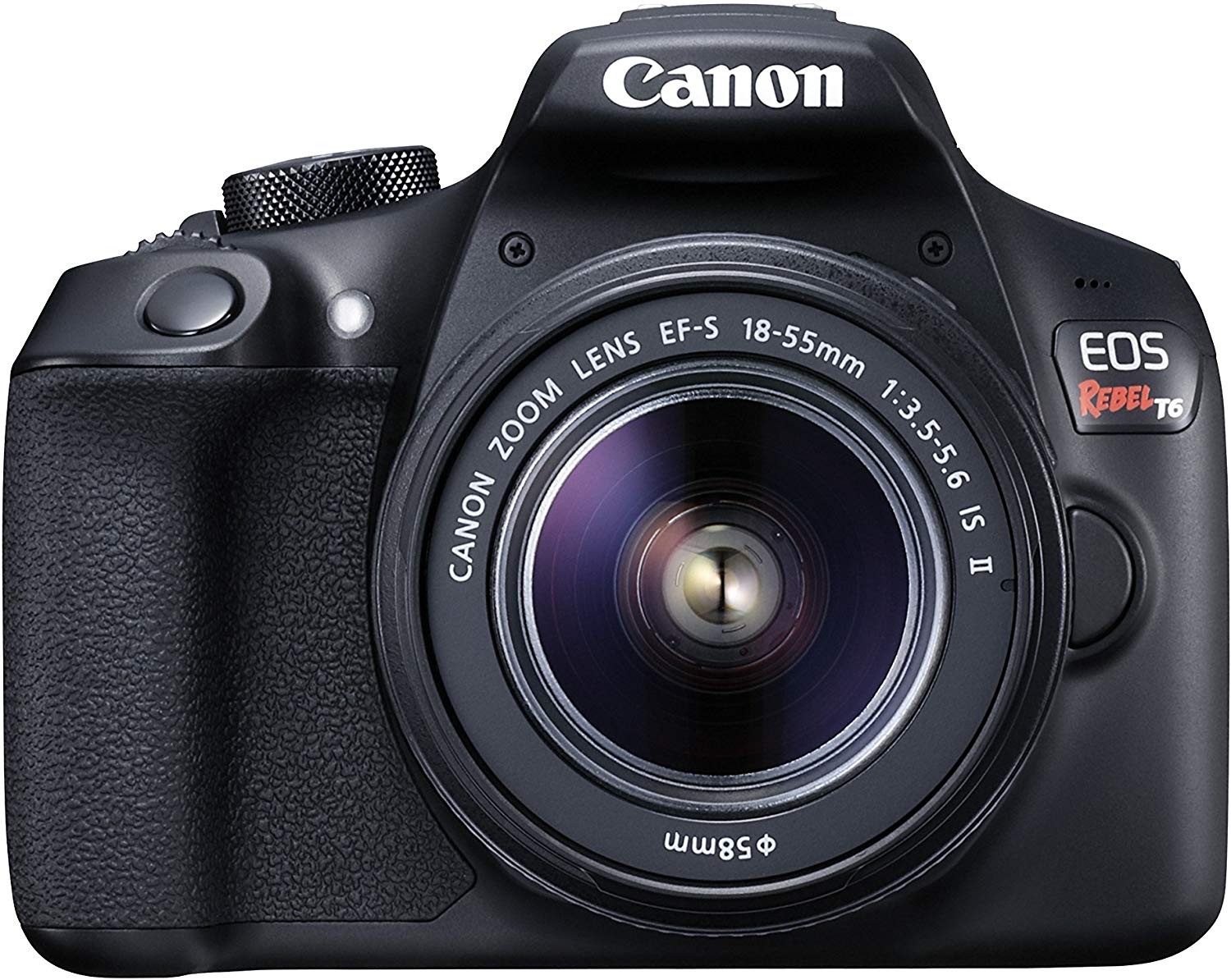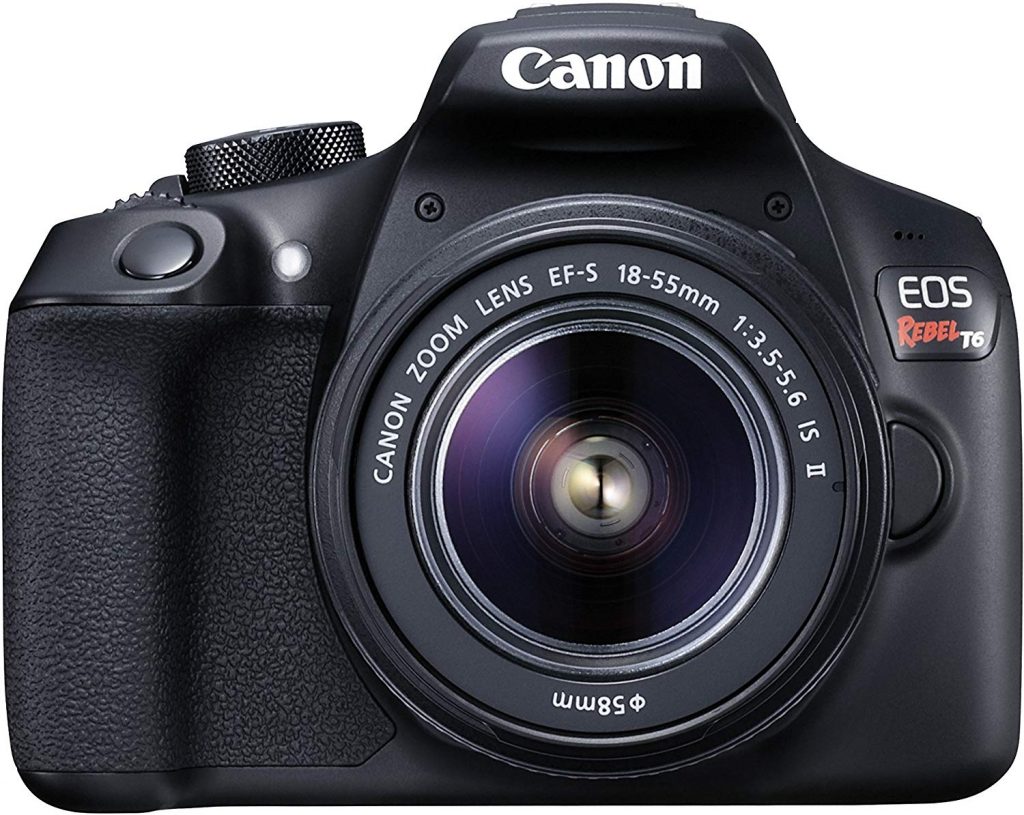 The Closing Line: The camera comes with an 18.0 megapixel CMOS image sensor and a DIGIC 4+ image processor making it one of the most sought after in this list. It records really high-quality videos and takes clear pictures in really dark environments too. Plus, the integrated NFC and Wi-Fi module help you to share the images instantly with your system. The camera comes with a Scene Intelligent Auto mode, which helps to adjust the gadget to the specific requirements.
| | |
| --- | --- |
| Pros | Cons |
| Good image quality | Short battery life |
| Wi-Fi/NFC modules | Fixed screen |
| Quick autofocus |   |
| RAW support |   |
Specifications
Aperture: f/3.5 – 22 (wide) / f/5.6 – 38 (tele)
Minimum Focus Distance: 18 – 55mm
Maximum Magnification: 3.06x
Dimensions: 129 x 101 x 78 mm
Weight: 697g
13. Canon PowerShot G9 X Mark II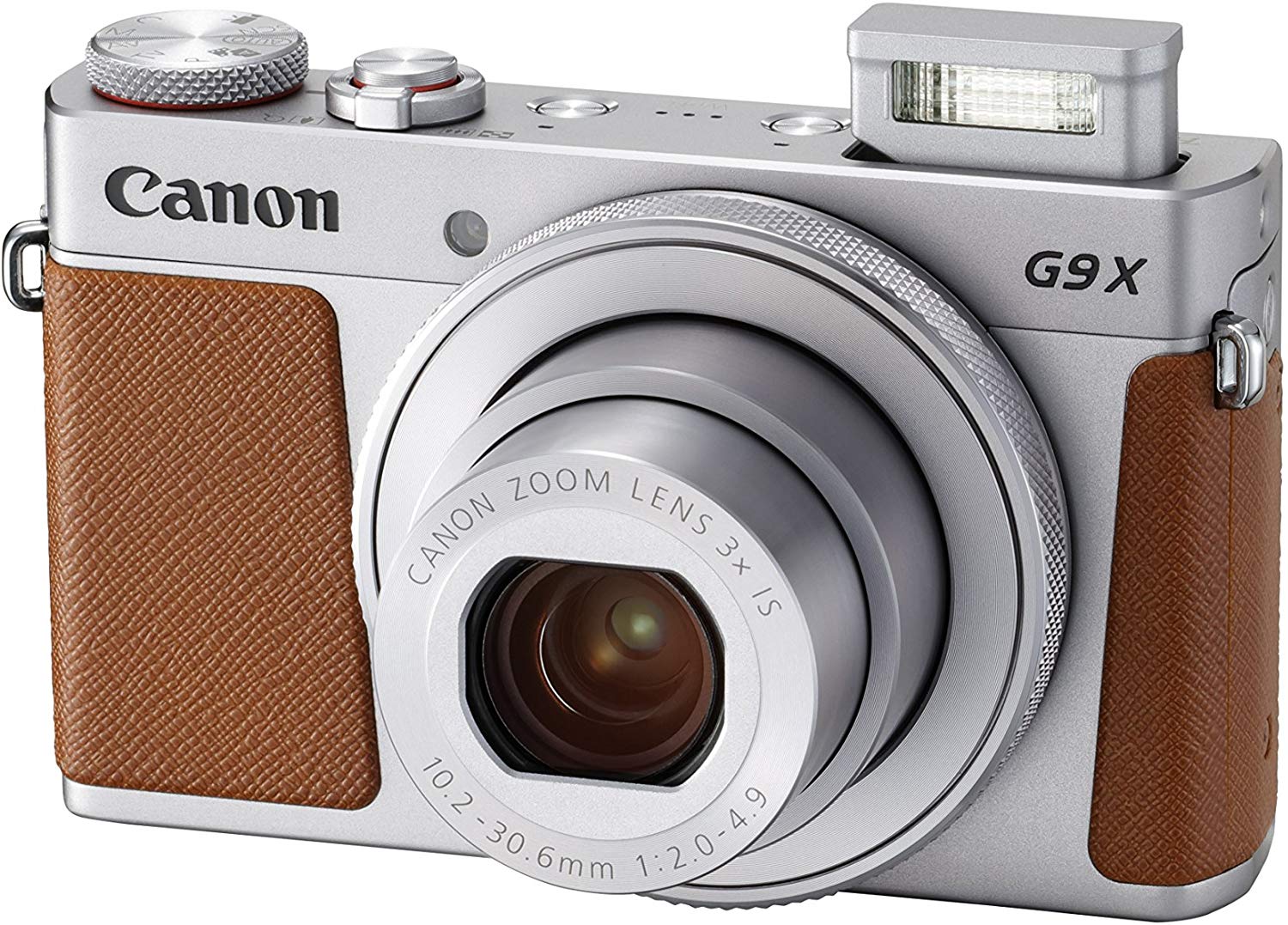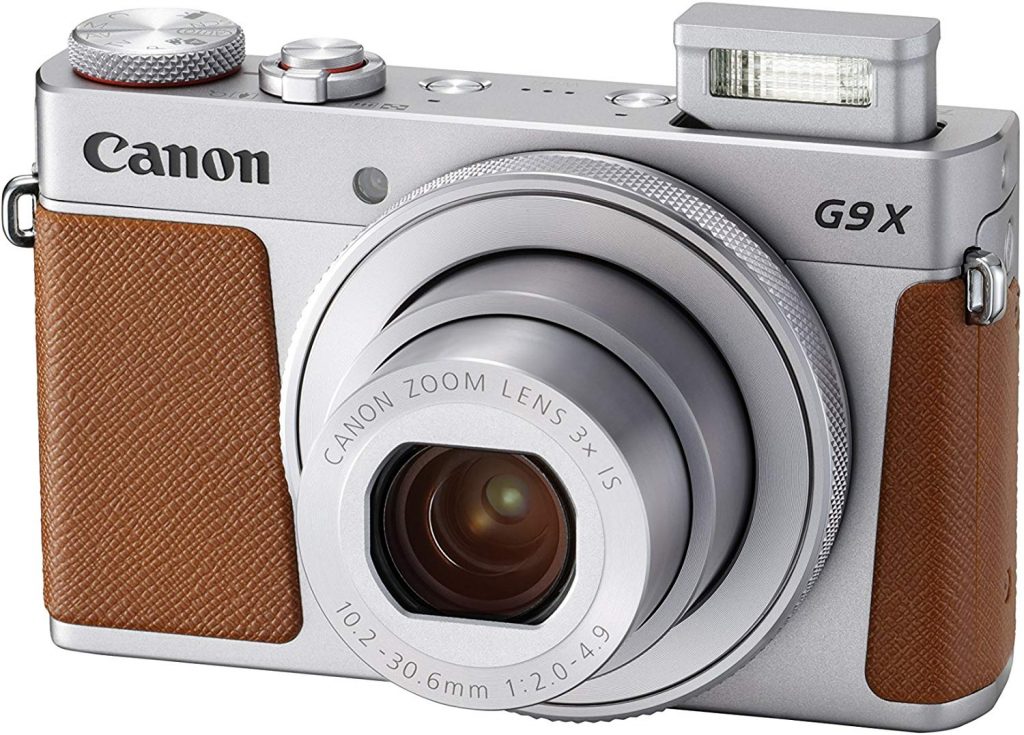 The Closing Line: The Mark II is an entry-level version of the Canon G9 X. It is a premium camera with CMOS matrix and 20.1 million MP and can take photographs with 5472*3648 resolution. The entire build is compact and can easily fit inside the pocket. It has a 3-inch touchscreen and is pretty good for daytime shooting even when the light is seemingly harsh. The screen is decently intuitive. Thanks to the built-in Wi-Fi modules, one can directly synchronize the camera with a smartphone, tablet, or pc and can work it remotely too. Plus, the Wi-Fi again helps in hassle-free content sharing over the internet.
| | |
| --- | --- |
| Pros | Cons |
| High-quality lens enabling sharper and clearer photos | Poor battery life |
| Optical stabilizer | Smaller buttons which are pretty inconvenient |
| Big matrix |   |
| Multiple manual settings |   |
| Built-in NFC and Wi-Fi modules |   |
Specifications
Aperture: f/2.0 (W) / f4.9 (T) – f/11, built-in 3-stop ND filter
Minimum Focus Distance: 10.2 – 30.6mm
Maximum Magnification: 3.0x
Dimensions: 98 x 58 x 31 mm
Weight: 206g
14. GoPro Hero 7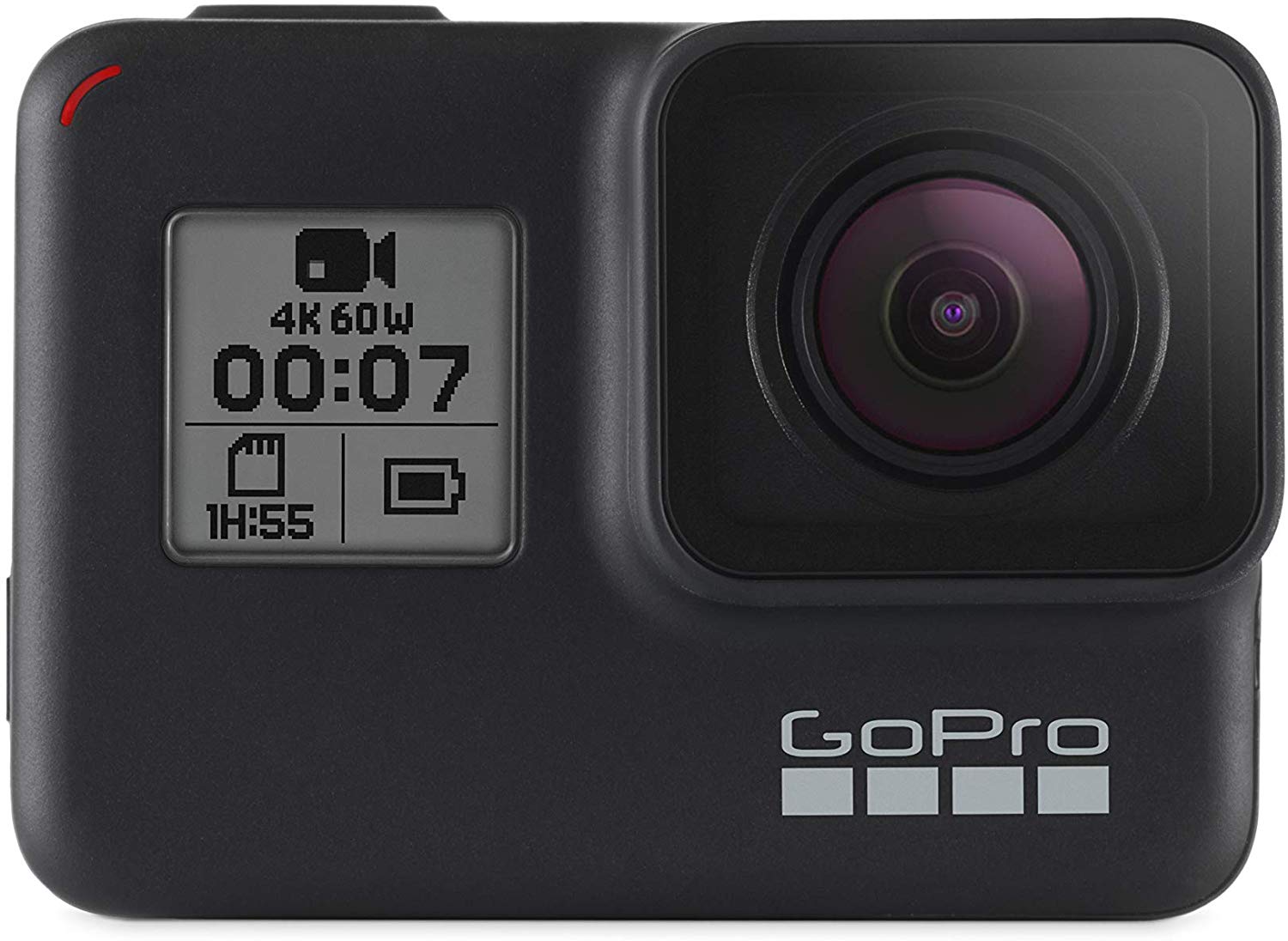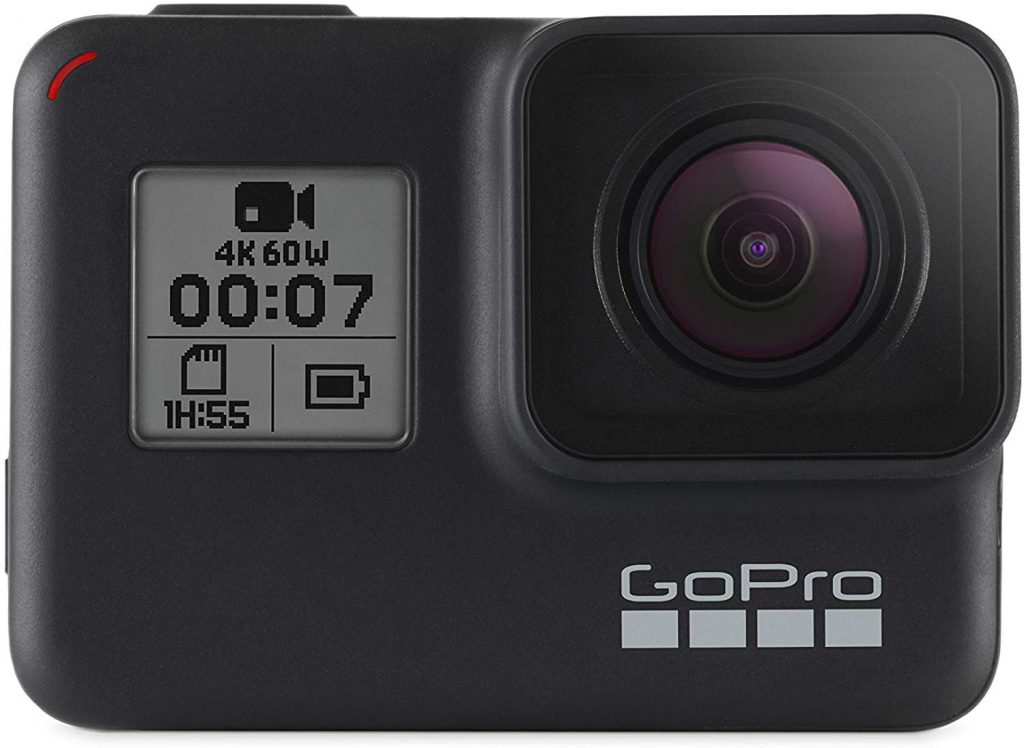 The Closing Line: This is the camera for underwater adventure lovers quite literally. Its features allow for a record clear underwater videos as well as any other kind of adventure sports high activity photos. It has a hyper smooth video stabilizer and can record 8x slow-motion and time warp videos. It comes with the option to live stream, the one reason which makes it so famous with YouTube bloggers. It is, understandably, water-resistant up to the depths of 33 feet i.e., 10 meters.
It has a touch screen and allows for voice control, which again is of great value to people who love extreme sports. The menu is intuitive and controls easy, making it really easy to use.
| | |
| --- | --- |
| Pros | Cons |
| 4K video format | Runs hot when recording 4K video |
| Timewarp videos | Short battery life |
| Live streaming |   |
| Video stabilization |   |
| Water-resistant body |   |
Specifications
Key Specs:

HyperSmooth Video Stabilization, Rugged + Waterproof to 33ft (10m), 8x Slo-Mo, Removable Battery (1220mAH lithium-ion)

Dimensions: 62.3 x 44.9 x 33 mm
Weight: 116g
15. Panasonic Lumix FZ80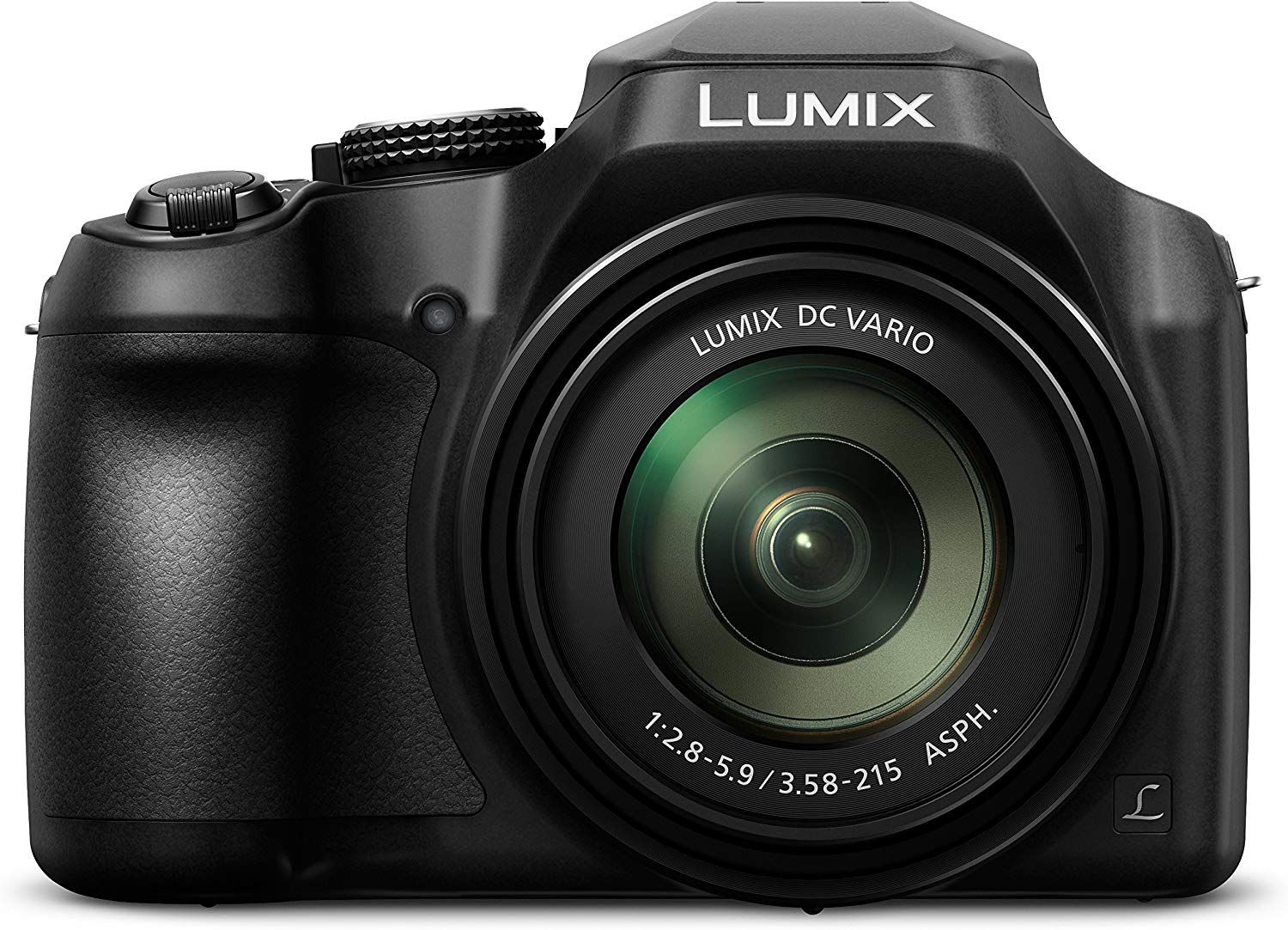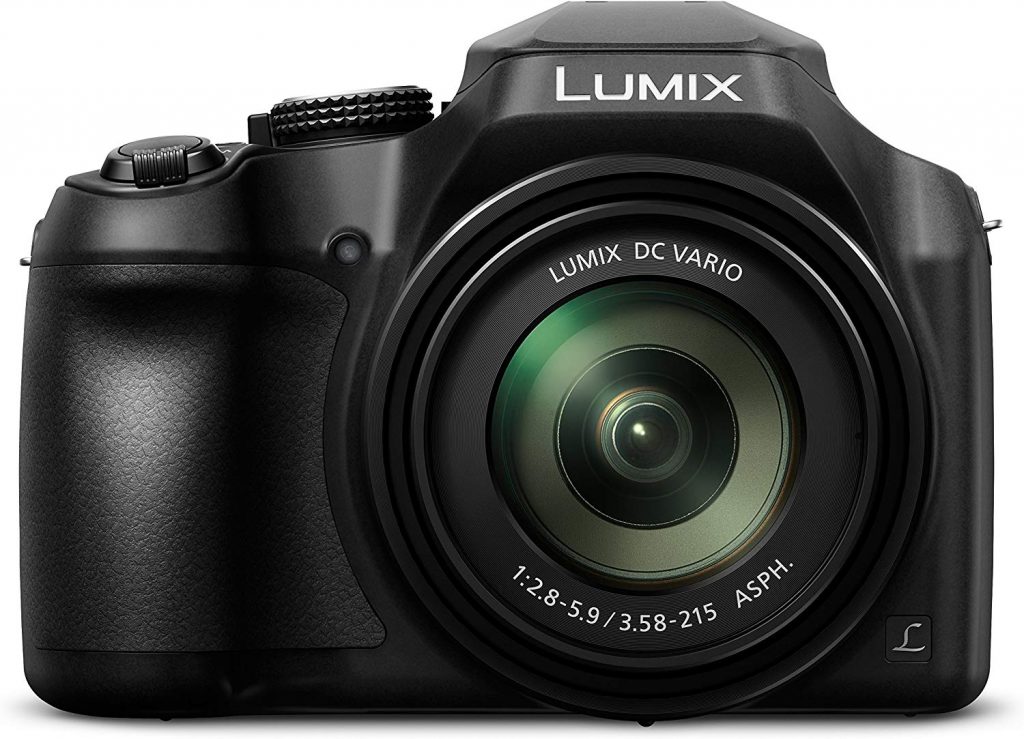 The Closing Line: A good choice for beginners to intermediate level photographers. This bridge camera comes with a powerful lens that covers a focal length range of 20-1200 mm, roughly equivalent to 35mm. The optical zoom is amazing, and you can manually control the shooting modes both for photography as well as videos. The sensitivity is 18.1MP, which is pretty sensitive, and with the MOS sensor, the camera delivers good results in low-light conditions as well. This camera is perfect for those who want to indulge in some travel photography. With the features available, the camera is enough on its own and wouldn't require any additional optics for focal length adjustments.
| | |
| --- | --- |
| Pros | Cons |
| Good color rendering and photo quality | Small matrix size |
| 60x zoom |   |
| Excellent optical stabilizer |   |
| Good battery capacity |   |
Specifications
Aperture: F2.8 – 5.9 / Multistage Iris Diaphragm (F2.8 – 8.0 (W), F5.9 – 8.0 (T))
Minimum Focus Distance: 3.58 – 215mm
Maximum Magnification: 60x
Dimensions: 130.2 x 94.3 x 119.2 mm
Weight: 616g
How to decide what to buy?
Though canon has been sort of an undisputed winner in the race of better cameras yet, it more often ends up being exorbitantly priced. Technically it wasn't so much till Nikon came out with its own specialized camera series; and the world realized those good cameras need not be expensive always.
A lot of other options from Sony, Olympus, Panasonic, and others are in the market too and honestly, are competing well enough with the original giants. All that being said, a very important point to note here is that no single camera serves all the purposes. While some are good for taking images, others are good for video. Again, the point and shoot ones are for those who just want to take better pictures without any adjustment related hassles. Also, a single lens isn't always enough for all your photographic needs; and not all the cameras allow for a lens change.
Basically, there are n number of factors to consider before you finally purchase a good camera to suit your requirements. Hence, to make life easier for you- we did all the research; and compiled a list of cameras you could look at depending upon your stage of photographic advancement and, of course, the usage. All the cameras mentioned are under the range of 500$.
Final Words 
However, buying the best camera under 500 $ is also not a small investment. Even if we do not talk about the size of it, it is, qualitatively speaking, an important investment to make because it is going to define the quality of the memories captured. Not quite literally, but through the images for sure. Also, choosing the wrong camera can severely kill your entire holidaying experience. It is thus important that you are doubly sure before making the purchase.
While honestly, we feel that this comprehensive guide should be enough to help you sail through informed decision making, yet if you ever feel the need to discuss, you know how to reach us! It is all in the top right corner, after all!
Also Read – Best GoPro Alternative Camera Devices