Best External Hard Drives For Xbox One
With an increase in graphics quality of games, there is an increase in their size also, it would be better to say that games are getting bigger and better.  Similarly, when we talk about  Xbox One games they may take space up to 100Gb, and if you are into playing a lot of them 1Tb might not be enough for you, additionally, it can be annoying to keep deleting and re-installing games again and again. And if you are using the standard 500Gb console experience may be worst, so the easiest and most cost-efficient solution to this is to add some external hard drive which can make your gaming experience better and pocket-friendly. So, if you are interested in buying Xbox One external hard drives this article may help you to take the right decision.
What To Consider While Buying External Drive?
There are several factors to which you have to consider while choosing your external hard drive, but first make sure to buy USB 3.0 if you an Xbox One user, as The Xbox One won't be able to recognize any Hard drive that is USB 2.0 or below. Additionally, make sure that the Hard drive is at least 256Gb as a minimum to this will not work on Xbox One.
Choose According To Xbox Versions
If you are an older version user of Xbox like Xbox 360 that can support maximum external storage of 2TB and If you buy new USB 3.0 external hard drive that is not backward compatible with USB 2.0, you won't be able to use it with Xbox 360 you can even use a flash drive, so make sure you buy a USB 3.0 which is backward compatible with USB 2.0 and investing is a newer version of USB is not a bad idea and it's external though you can use it for a different purpose.
Secondly, consider portability, some of the people aren't aware that there are different type of hard drive depending on portability factor classified as Traditional external hard drive or Portable hard drive, the Traditional external hard drive are bulky and require power supply of its own, which means you need an extra power outlet for your external hard drive while Portable hard drive is plug and play type, you don't need any extra power supply for portable type. Although a Traditional hard drive is cheaper than portable ones, there is no other reason to buy these, and portability is the quality that matters when it comes to external hard drive.
Further, we ideally recommend you to go for a 4TB for Xbox One and 2TB external hard drive for older version like Xbox 360 to ensure you never run out of space as having more than one external hard drive is not suitable as you have to remember which hard drive have which game, so keep it simple and just focus on gaming. Additionally, choose HDD rather going for SDD because you will get a slight increase in speed spending lot amount of money which will only affect your pocket, not gaming experience.
Also Read: 10 Best Gaming Laptops for Gamers in 2018
Benefits Of External Hard Drive
Till now you must have gained some idea why to go for an external hard drive but here are some benefits that are necessary to be highlighted,
An external hard drive may have better specs as Xbox HDD is mediocre
If using USB 3.0 on Xbox One, it will provide a faster connection than the SATA II used by the internal drive.
Unlike internal drive, external device does not handle any system functionalities like running multiple application or other Xbox features, this enhances the performance of the system without any overhead.
Here are Top 10 External Drives To consider
1. Seagate Game Drive for Xbox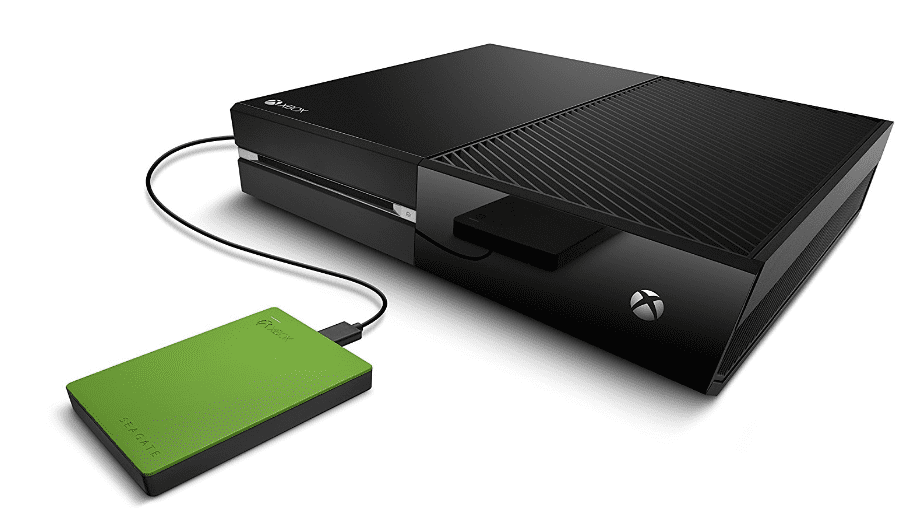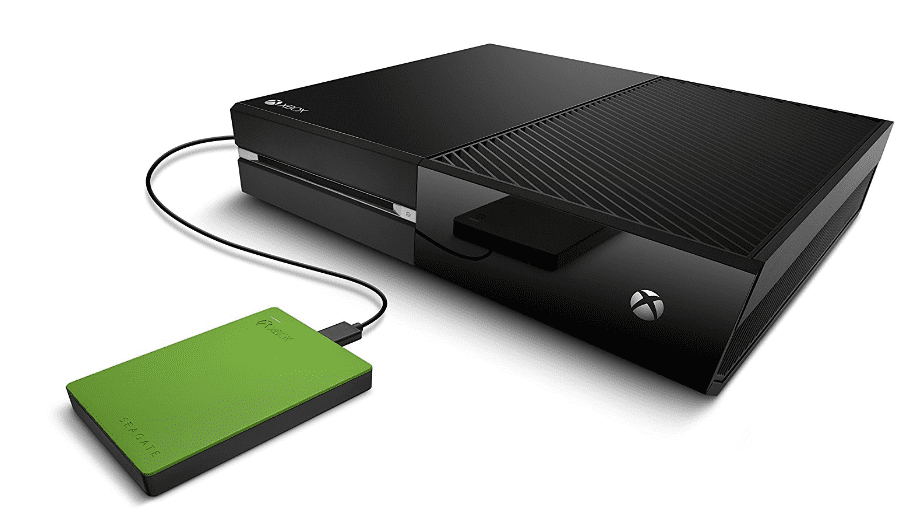 First on the list is Seagate Game Drive, is an awesome storage device for those who can spend some extra money to get a premium external device designed exclusively for Xbox. The device comes in the version of 2TB, 4TB and 8TB which way more than original build in storage, So if you are Xbox One user then pick a 4TB version and if you are a user of Xbox 360 then you have no option other than 2TB. Hardware interface of the device is USB 3.0 and weighs around 168 grams. Additionally, the device comes with a warranty of 2 years
Pros
Simple to set up.
Fast USB 3.0 interface.
Backwards Compatible
Cons
Slightly more expensive than a seemingly identical Seagate USB 3.0 and another brand hard drive.
Cannot be used for game and media storage at the same time. Make sure when you plug this into an Xbox One that you select "Use as an External storage device " not media storage for gaming if you don't see any prompt then got on Settings -> Storage.
Buy 4TB version for ₹ 13,610.00 @ Amazon(IN)
Buy 4TB version for $115.99 @ Amazon(US)
2. WD My Passport Portable
Next on the list is Western Digital's Passport Portable hard drive, gives you space with affordability. In terms of features, this drive comes with USB 3.0 which is backwards compatible with USB 2.0 offers password protection with 256-AES encryption to your data. The device also features auto backup included with WD backup software. Hardware interface of the drive is USB 2.0/3.0 and gives data transfer rate of 100MB/sec, additionally, the device comes with a warranty of 3 years.
Pros
Compact. Large storage capacity.
Automatic backup software included.
Supports 256-bit AES hardware encryption.
Password protection.
Cons
Design of the device may not appeal to everyone.
Needs to be formatted if using for the first time.
Buy 4TB version for ₹8,999 @ Amazon(IN)
Buy 4TB version for $99.99 @ Amazon(US)
3.
Seagate Backup Plus Slim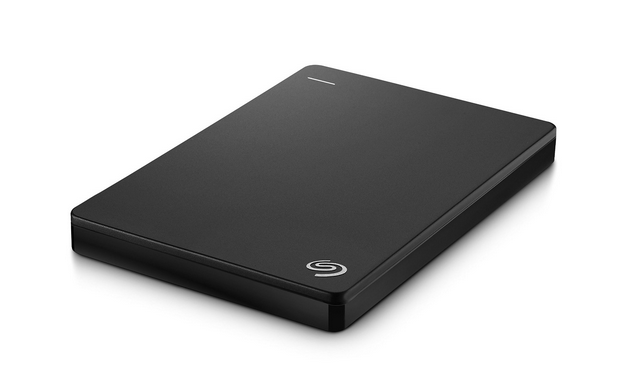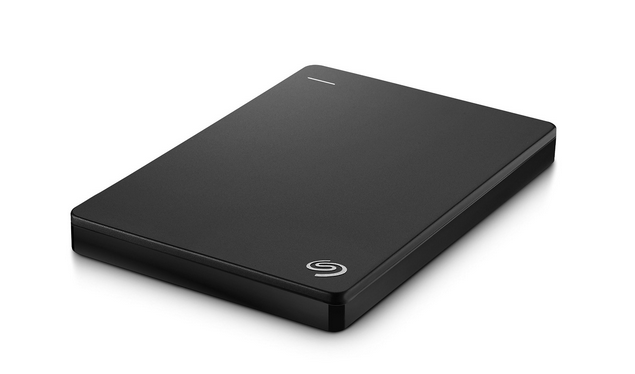 Seagate Backup Plus Slim is a fast and affordable external device which do not need any reformatting when using interchangeably on PC and Mac and provide quick file transfer with USB 3.0 connectivity which is backwards compatible also. The drive weighs around 141g using SATA 3.0 as hardware interface giving maximum file transfer rate of 625MB/sec, additionally the drive includes helpful backup software and a free two-year 200GB subscription to Microsoft OneDrive online storage.
Pros
No need for formatting
Backup Software included
Fast and affordable
Free two-year OneDrive subscription
Cons
No password protection against unauthorized access.
No encryption of data
Buy 2TB version for ₹5,899 @ Amazon(IN)
Buy 2TB version for $64.99 @ Amazon(US)
4. Silicon Power Rugged Armor A80

Silicon Power's Rugged Armor A80 is durable fast and affordable hard drive which is shock and water resistant. The drive comes preformatted as FAT32 which is compatible across the platforms that is you only need to plug into your Windows, Mac or Linux system, but note that FAT32 can store file up to 4GB, If you want to store larger files, you will need to format the drive into NTFS (Windows), HFS+ (Mac), or Ext3 (Linux), to use with each of the platforms exclusively, so if you want to connect it to your Xbox then you need to reformat it to suitable format.
Pros
USB 3.0 connectivity with backwards compatibility with USB 2.0
High transferring rate up to 5Gb/s
Meet the water resistant standard "IEC 529 IPX7" i.e submersion in water for up to 30 minutes at a depth of about 3 feet.
Meet the U.S. military drop-test standards "MIL-STD-810F 516.5" i.e survive being dropped from a height of about 4 feet during transit.
Anti-pressure and anti-dust function
Cable carry design.
Easy Plug and Play operation – no drives required.
USB powered – no external adapter necessary.
Cons
It uses A-male-to-A-male USB cable, which is harder to run across than regular A-male-to-B-male USB cable. To make up for this drive come with two cables which are just enough tuck inside the two end devices.
Formatting required.
No 4TB version available.
Buy 2TB version for ₹7,999 @ Amazon(IN)
Buy 2TB version for $105.87 @ Amazon(US)
5. Seagate Expansion Portable Hard Drive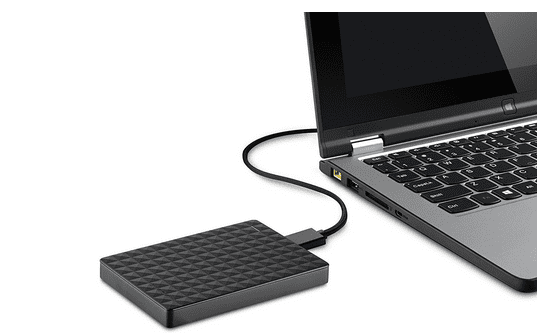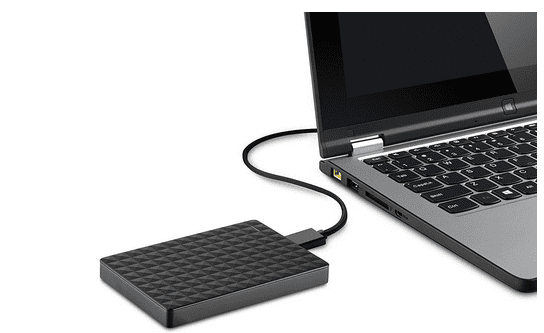 Seagate Expansion Portable Hard Drive is an affordable and well-performing drive which gives ample storage space for all your Xbox games. The external drive is USB 3.0 compatible that need no external power supply as it draws power from the console itself, the drive is available in 1TB, 2TB,3TB and 4TB version, but only comes in black colour.
Pros
Backwards compatible with USB 2.0.
Light and compact.
Plug and play.
Decent read/write speed.
Budget-friendly.
Inbuilt power management system helps in saving energy.
Cons
The drive doesn't come with backup software.
So if the drive fails or there is a data corruption by any means, you will have to shell out money to recover data.
Short Warranty.
No password protection or encryption
Needs to be reformatted and reformatting erases all data stored previously on the drive.
Buy 4TB version for ₹10,296 @ Amazon(IN)
Buy 4TB version for $99.99 @ Amazon(US)
6. Samsung T3 SSD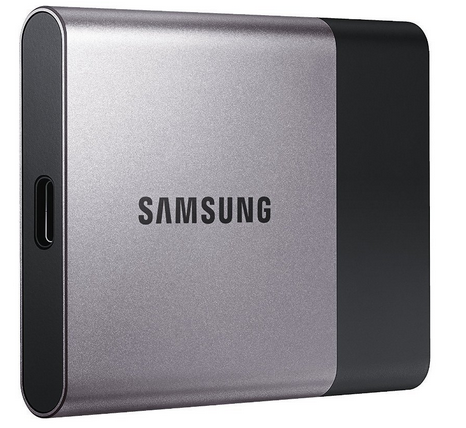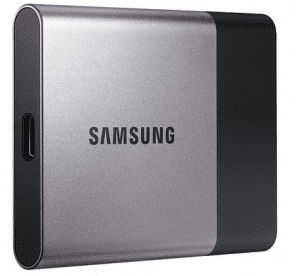 If you are looking for a tiny yet tough, secure and capacious portable storage device, Samsung T3 SSD is an excellent choice. It is a mSATA based portable device having USB 3.0 connectivity with USB-C port and also compatible with USB 2.0. Weighing only 51g it is the lightest yet strongest due to aluminum material and comes with a warranty of 3 years.
Pros
Supports 256-bit AES hardware encryption.
The transfer speed of 450Mb/sec.
Comes with optional password setting
Compatible with USB 3.1(Gen1, 5Gbps), 3.0 ,2.0
Cons
Buy for ₹79,990 @ Amazon(IN)
Buy for $819.99 @ Amazon(US)
7. Toshiba Canvio Connect II
If you are looking for pocket size and cost-efficient portable hard drive which is more than just a basic storage device Toshiba Canvio Connect II is a great option. The drive comes with personal cloud software, Windows backup software and weighing around 251g, additionally, it is available in 1TB, 2TB and 3TB version with five different colours. The drive is NTFS formatted, so you have to reformat it while using on different platforms.
Pros
Cost efficient.
Personal cloud software.
USB 3.0 connectivity, backwards compatibility with USB 2.0
Average file transfer rate of 112MB/sec.
Fully-customisable and automatic backup compatibility.
Cons
Permit only 10GB of online cloud storage
No 4TB option available
Buy 2TB version for ₹10,107 @ Amazon(IN)
Buy 3TB version for $97.88 @ Amazon(US)
8. Seagate Backup Plus Ultra Slim
Seagate Backup Plus Ultra Slim is a .39 inch thick and 15-inch long drive. The drive provides storage at a reasonable price including USB 3.0 with a standard type-A connector on one side and type-B micro connector on the other giving average transfer rate at 120MB/sec. You also get 200GB of online storage with Microsoft Onedrive for two years and also offers a backup program offered for Windows users.
Pros
Customizable backup plan.
Quick file transfer with USB 3.0 connectivity.

Works interchangeably on PC and Mac computers without needing to reformat.

Comes with 3-year warranty.
Have a capacity of 1TB and 2TB.
Cons
No USB type-C, therefore drive is not future ready
Write performance is middling
Buy for ₹ 6,299 @ Amazon(IN)
Buy for $79.99 @ Amazon(US)
9. Seagate Game Drive Hub For Xbox One
If you are looking for a traditional hard drive Seagate Game Drive Hub for Xbox is the ideal option to consider. Although it's much less portable the Hub comes with 4TB and 8TB capacity, enough for any gamer's needs. However, its most notable feature is the two front-facing USB ports that can help you attach more gadgets to your Xbox One or Xbox One S, like steering wheels, keyboard, more hard drives, or just more controllers.
Pros
Dual front-facing USB 3.0 port.

Plug and play setup.
Average file transfer rate is 160MB/sec.
Cons
The plug might be a little large for some.
Weight at 1.1kg, so take care and not to slide it when the different device connected with it.
Buy 4TB version for ₹8,999 @ Amazon(IN)
Buy 4TB version for $95.99 @ Amazon(US)
10. WD Elements Portable Hard Drive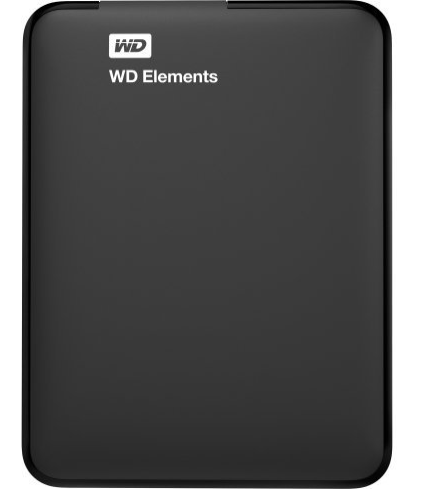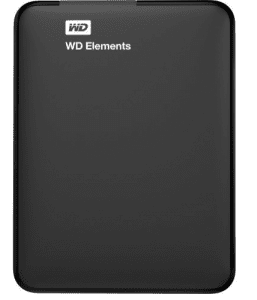 Last but not least is WD's Element portable hard drive, the drive is really reliable and durable which ensures excellent data transfer. The hard drive comes with a capacity of 4TB, 3TB, 2TB and 1TB  and With this single drive, you get compatibility with the latest USB 3.0 devices and backward compatibility with USB 2.0 devices as well. The device will be initially formatted in NTFS file format, therefore you need to reformat it while using on other file system compatible devices.
Pros
Ultra-fast USB 3.0 data transfers

Free trial of WD SmartWare Pro

to protect your data and backup your data safely on DropBox
USB 3.0 with backwards compatibility
Up-to 5Gbps data transfer rate.
Cons
No encryption to data
Require reformatting while using on different devices.
You have to pay extra to use its included backup software after the introductory 30-day trial.
Short warranty of just 1 year.
Buy 4TB version for ₹8,999 @ Amazon(IN)
Buy 4TB version for $99.99 @ Amazon(US)
The world of the external hard drive is largely dominated by WD and Seagate, this is due to their reliable and user-friendly products. But, we have tried to list all that we thought are the best for the purpose of Xbox One gaming experience. To explore more about their price and details visit the hyperlinks an make your choice.
                                Also Read: 16 Best XBox One Headset in 2018