Starting a business in India seems easy, but in reality, it is very difficult, owing to the loads of paperwork that is needed to be filled and filed before one starts the business. It may take up to 15-30 working days before anyone can legally start a business. However, what if the same thing is done in a much lesser time without the hassle of those tonnes of paperwork? Vakilsearch helps budding entrepreneurs & enterprises establish their business without any hassles in simple & easy steps!
Let's discuss Services Offered by Vakilsearch
Vakilsearch is an online technology-driven platform; established in 2012 offering PAN-INDIA services, aimed at providing all types of legal services associated with business registrations such as incorporation, government registrations, documentation, annual filing, etc. They offer advice and products based services on legal requirements.
Let's see the various services offered by Vakilsearch to its customers which is helping and simplifying the life of entrepreneurs all over India.
Starting a business?
Vakilsearch helps budding entrepreneurs and businessmen to start off their business in minimal time possible without the hassles of massive paperwork. The registration process for a business involves a lot of legal paperwork, which requires help from good lawyers.
Finding good lawyers is another hectic process which further delays the registration process!
Vakilserach has access to over 4000 reliable and affordable lawyers who help the entrepreneurs carry out their legal work at ease. Further, it helps them complete all their legal work right from their home through their online legal portal service.
Some of the types of business registration offered by Vakilsearch are
Vakilsearch also helps the businessmen and the entrepreneurs with their business fundings; helping them to expand their business infrastructure.
Vakilsearch also helps entrepreneurs chalking out their business plan. With the support of 50 plus reliable vendors and over 160 teams of advisors; Vakilsearch analyzes the business type as a whole and the potential competitors associated with it. After proper analysis, Vakilsearch prepares the business plan; based on the requirements of the business along with the territories the entrepreneurs want their business to cover.
Helping the entrepreneurs with their tax registrations
Tax registrations are very hectic and time-consuming and are often delayed due to unreliable sources. Vakilsearch helps entrepreneurs with their tax registrations without any extra hassle.
The different types of tax registrations offered by Vakilsearch are –
Goods and Service Tax

Profession Tax Registration

Importer-Exporter Code

Shops and Establishment License

SSI/MSME Registration

PF Registration

ESI Registration

Trust Registration
VakilSerach also helps entrepreneurs with their
ISO Certification

Trade License

PSARA License
Trademark registration and Copyright
Along with their primary services to help entrepreneurs start their business, Vakilsearch also offers other gateway services such as Trademark, Copyright, and Patent issues, all of which helps brands secure their intellectual property such as the brand logo, designs etc..which also protects some of the sensitive information of a company from its rivals.
Vakilsearch helps the entrepreneurs to trademark their brand name, slogan, tagline etc.
Some of the services offered by Vakilsearch under Trademark category includes-
Registration

Objection

Renewal

Assignment

Watch

Trademark in the USA
Vakilserach helps the entrepreneurs and businessmen to claim their copyright issues to prevent rival companies from copying their work.
The services offered by Vakilsearch under copyright and patent includes-
Copyright Registration

Patent Search

Permanent Patent

Provisional Patent
Property Matters
Vakilsearch offers its help to entrepreneurs with property matters like property registration. The entrepreneurs and the potential clients can connect to reliable property lawyers who help in the documentation and legalizing the property related documents.
All the potential clients can opt for advice from Vakilsearch's team of advisors, with just one call. The legal team analyzes all the related data and then offer valuable advice to its clients.
The services offered by Vakilsearch under this category include-
Property Registration

Property Verification

Succession Certificate

Legal Heir Certificate

Gift Deed

Sale Deed

Residential Rental Agreement

Relinquishment Deed
These matters usually consume a lot of time and are very hectic due to multiple numbers of processes involved. Vakilsearch performs all those multiple steps to ensure that the task is completed in the minimal possible time without compromising on the quality.
Helping in Legal Documentation
Creating legal contracts for hiring or for different types of agreements like freelancer agreements; consultancy agreement etc. require help from reliable lawyers; who are generally costly to hire for new entrepreneurs and small businessmen. Vakilsearch helps entrepreneurs with all those legal contracts by providing reliable and affordable lawyers.
The different services offered by Vakilsearch under this category include-
Legal Notice

Founder's Agreement

Term Sheet

Shareholder's Agreement

Share Purchase Agreement

Memorandum of Understanding

Employment Agreement

Consultancy Agreement

Freelancer Agreement

Franchise Agreement

Joint Venture Agreement

Non-Disclosure Agreement

Gift Deed

Sale Deed

Rental Agreement

Making a Will

Service Level Agreement

Master-Service Agreement

Vendor Agreement

Terms of Service and Privacy Policy

Disclaimer
The legal team ensures that every document is up to the customer's satisfaction.
Naming the Company
Vakilsearch helps entrepreneurs and businessmen in selecting a name for their company/business by making sure that every name is unique and not taken up already by any other company.
Accounts Management
Managing accounts and huge payrolls is a tedious task and requires a lot of accuracy and concentration. Different teams are appointed for maintaining different accounts and payroll services, which in turn adds up to the total cost of business.
Vakilserach helps entrepreneurs and businessmen to manage all their accounts and payroll services at an affordable rate; without the necessity of hiring separate teams for the same. This helps in reducing the overall cost of management for the entrepreneurs and businessmen.
Why No Competition?
Vakilsearch is India's biggest legal tech company ruling the legal space with its unique services registering close to 10% of India's businesses, delivering top-notch quality at very reasonable rates.
Vakilsearch offers a wide range of legal services at a very nominal rate; which places it much ahead in its category. Without superior legal team members comprising of reliable lawyers, advisers, vendors etc; Vakilsearch offers efficient legal support to the entrepreneurs and the businessmen.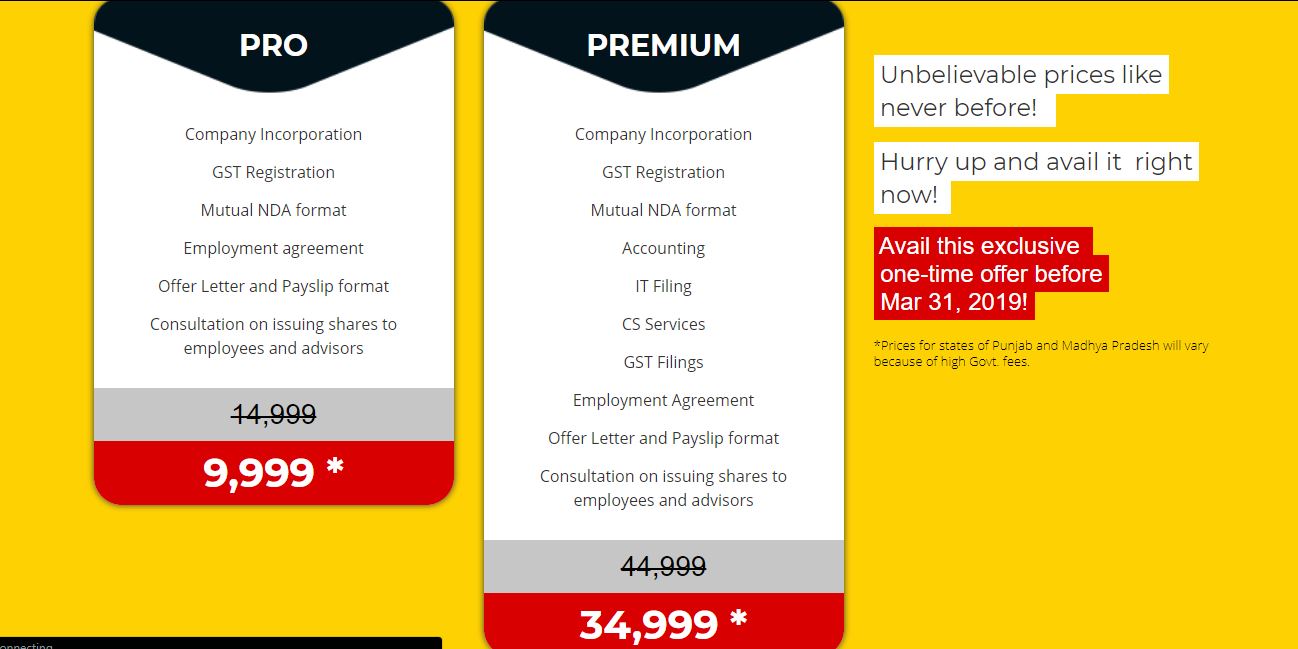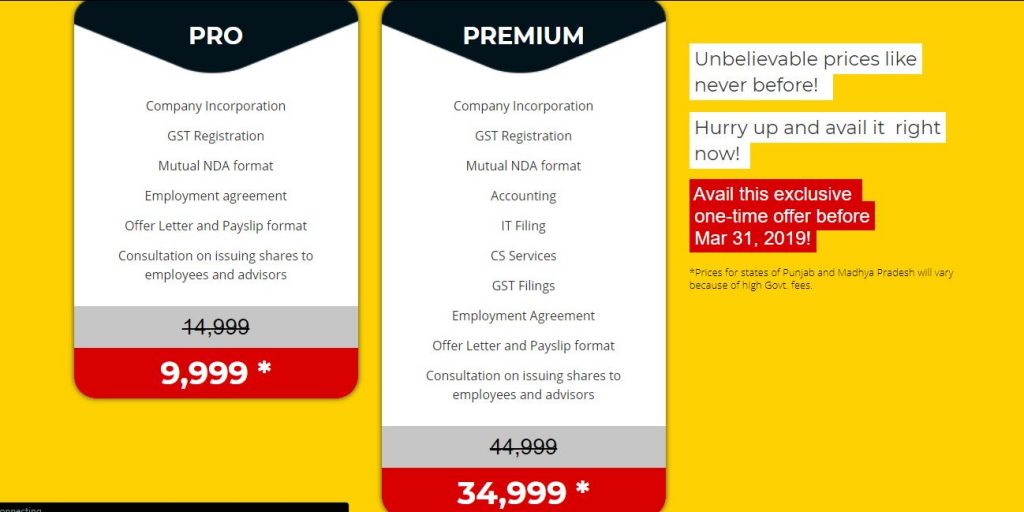 The firm helps entrepreneurs with their huge paperwork making Vakilsearch a one-stop destination for all entrepreneurs and business persons; helping them establish and increase their business ventures at nominal rates. 
Vakilsearch is India's pioneering legal tech company helping entrepreneurs and potential business people to start their business ventures at pocket-friendly rates. They offer all types of legal support and advice through their reliable team comprising of reliable lawyers and advisers; to ensure maximum customer satisfaction.
Also Read – Laptops For Graphic Designers