We are living in an era of the cyber world, where we are witnessing advancements on a daily basis. One such massive development that revolutionized our way of living is the Internet. In the present scenario, we rely on the Internet for almost all our daily tasks; and cannot imagine a life without the internet. We are always in search of the perfect network provider; which will ensure a faster and more reliable connectivity at a pocket-friendly rate. Well, your search ends here, as we present to you Google Fi (previously known as Project Fi), the ultimate solution for your cellular connectivity.
What is Google's Project Fi?
Google Fi, which was previously known as Project Fi; is basically an MVNO telecommunications service developed by team Google. It features telephonic calls, SMS, mobile broadbands, etc. with the help of surrounding cellular networks and Wireless Fidelity (Wi-Fi). The user can conveniently switch (automatically)between these networks based on their signal strength & speed and also use Wi-Fi for making calls and SMS.
Project Fi was initially released for Nexus 6, on 22nd April 2015. But later made open to public use from 7th March 2016. On 28th November 2018, Project Fi was renamed as Google Fi and additional support for a wide range of phones; including iPhones was added to it.
Must Read – Google Photos vs Amazon Prime Photos
Google Fi Working Principle
Google Fi can be accessed on your phone using a special Google-Fi sim card and their official application; which ensures the authentication of the user's device with Sprint, U.S Cellular, T-Mobile and Three networks; and also ensures easy switching among the mentioned network operators. In the Google Devices like Pixel 3, 3XL, 2, 2XL, Google Fi can be accessed through an exam; and the user can use the actual sim slot for inserting a sim of a different operator.
Apart from this, Google-Fi uses the Wi-Fi assistant present and analyze for surrounding Wi-Fi networks; and connects to them automatically (open hotspots) while encrypting the data using an efficient online VPN. Google-Fi automatically switches between Wi-Fi and cellular network based upon their strengths.
Apart from these, Google-Fi implements some of the features of Google Voice; using which the user can forward calls from their Fi number to a different number, make phone calls, checking out voicemails, spam filtering, call switching, recording calls, international calling, etc.
Monthly Plans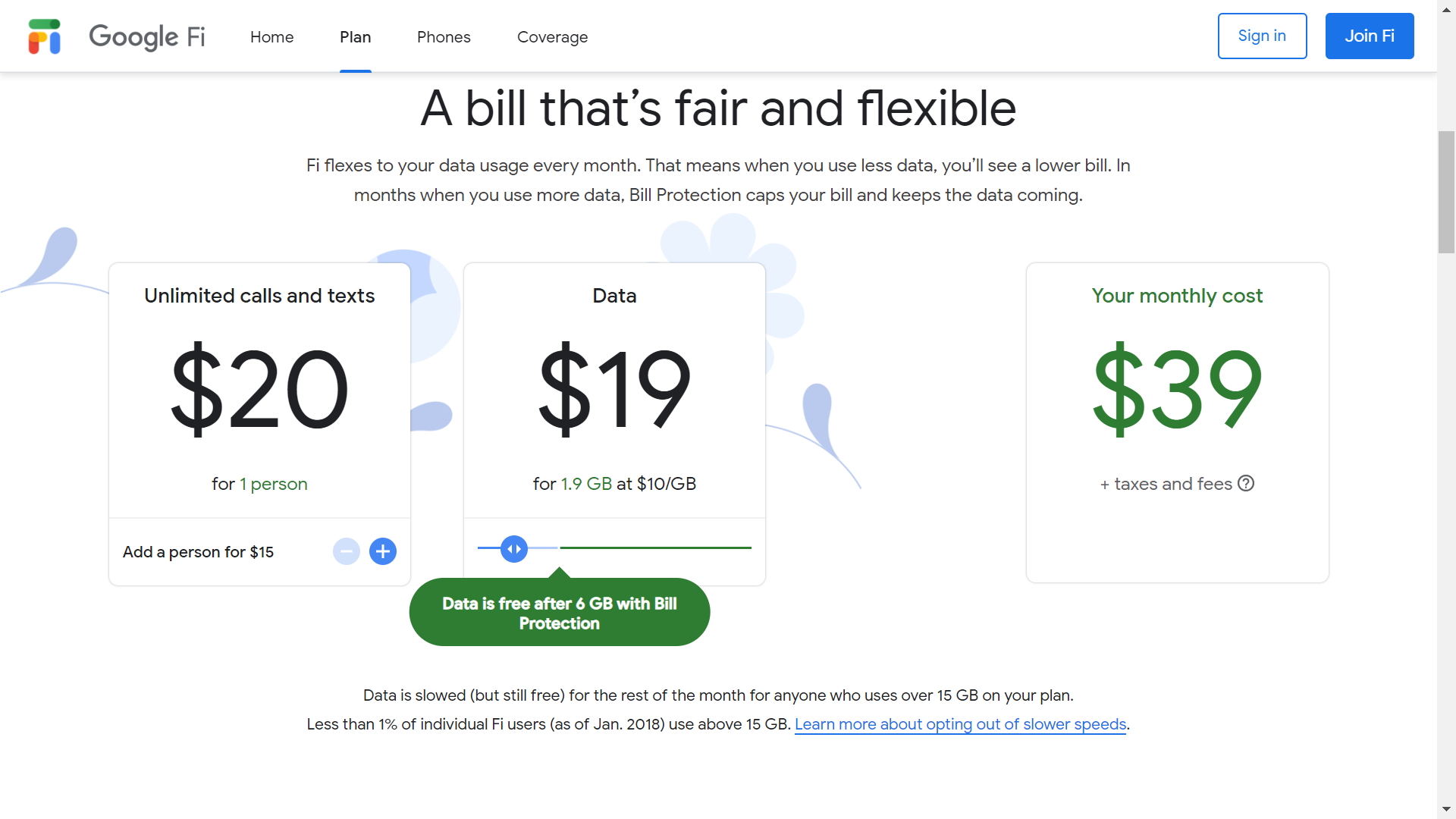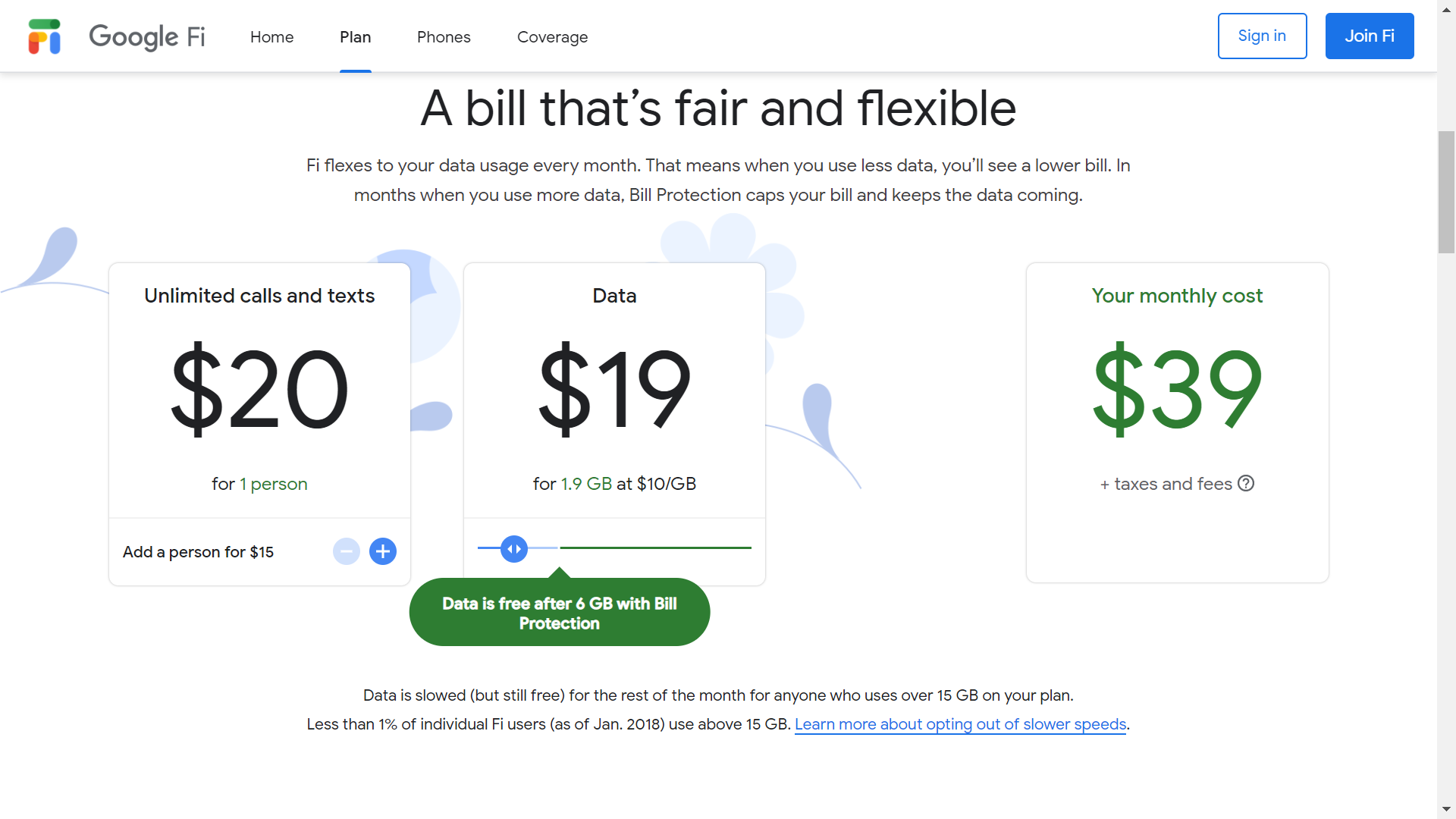 Google-Fi has simple billing scheme starting at a base price of $20/month for uninterrupted calling and messaging and; added $10 for each gigabyte of data used after finishing the base plan. Once the user uses 6GB of data which is $60 worth, then the Bill Protection level is reached. On reaching this level, the user has to pay $60 for the remaining month for unlimited data. On using up 15 GB of data in a month, the internet speed slows down to 256kbps; or the user can pay $10 for each gigabyte of data used to enable high-speed internet data. Now, the user does not have to pay this amount every month for an unlimited plan; only when they exceed the 6GB limit, they will be charged extra.
Another interesting billing plan from Google-Fi is the "Group Plan", which allows sharing of the Google-Fi plan among 6 individuals.  All the features of the base plan can be accessed in this group plan as well. The central owner takes care of the billing and also sets data limitations for individual users. The Bill Protection limit is also handled on a per-person basis. When the Group Plan is selected, individual persons save $5 on the normal base plan.
Using Google-Fi for International Usage
Google-Fi can be used for hassle-free International calling as it covers more than 170 countries around the globe without any additional charges on data usage and texting, and this feature separates Google-Fi from the remaining carriers available in the market. On the foreign network; the user can call to any number, charges $0.20/min; and also use WI-Fi network for the same at even much lower rates like $0.10/minute. Data charges on foreign grounds are the same as the base plan, with same 6GB Bill Protection scheme.
Must Read – Manually Flash Nexus or Pixel Firmware | Install Pixel Experience ROM on Any Device
Supported Phones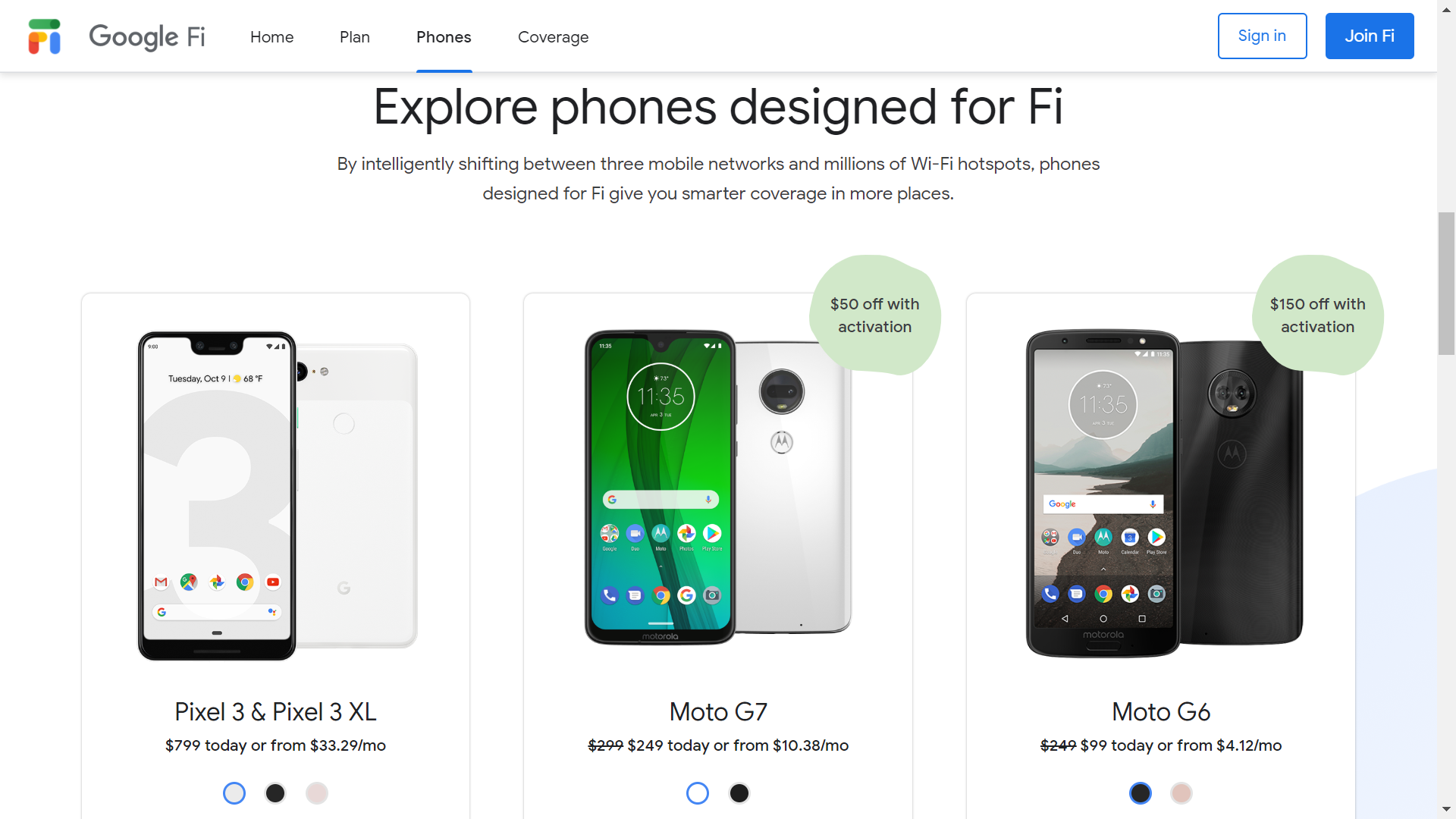 Initially, Project Fi was released for a particular phone-Nexus 6. But later Project Fi was renamed as Google Fi and it was enabled in a wide array of phones. The best experience of Google-Fi can be achieved on Google devices like Pixel 3, 3XL, 2, 2XL, etc. where the user can access Google Fi using an E-sim and the Google-Fi application. Several other devices like Moto X4, Moto G6, Moto G7, LG G7, etc. use a physical Google-Fi sim for seamless switching between the supported networks on Google-Fi as well as access the surrounding open Wi-Fi hotspots with automatic VPN for data encryption.
By the end of  2018, Google-Fi became enabled on any unlocked device but with certain restrictions. The unlocked devices will not be able to perform the seamless switching between the various networks; the phone will primarily be using the T-mobile network. Moreover, such devices will be lacking the always-on VPN feature of Google-Fi. Apart from these restrictions, the remaining features will be available on the unlocked devices; including iDevices and various apps like iMessage.
For more details on Google-Fi supported devices, refer to the link.
The incarnation of Google Voice
Google Project Fi provides users with a reliable Google Voice experience. The user can forward calls using Google-Fi, spam filtering, call switching, recording calls, international calling, conference calling on-the-fly: forwarding calls from Google-Fi to Obihai home phones, etc.
However, there's a downside to this as well. Many of the hardcore features of Google Voice are absent in Google-Fi like inability to make phone calls, texts, access to voicemail, etc. To access these functions, the users need to have a Hangouts account. The incorporation of Google-Fi with Hangouts allows the user to perform a wide range of tasks like VOIP calling, sending and receiving SMS, accessing Voicemails, read and send MMS, etc.
Conclusion | Is Google-Fi worth switching to?
If you're ok with porting your number and have no issues with the frequent switching between the career networks, then Google-Fi is an excellent option for you.
Google-Fi is equipped with a lot of exciting features like simplified monthly billing; Bill Protection to limit data usage to ensure extra charges. Moreover, due to the seamless switching between the various network carriers, wider coverage, international calling has become hassle-free. The Group Plan allows easy sharing of the base plan, which in turn reduces the overall price for each individual.
However, it is true that the billing pattern of Google Fi is not the most pocket-friendly plan in its class; but combined with all the different features and services that is providing, it is a pretty noteworthy deal.
You can visit the official Google-Fi website and fill up the online form for a new Google-Fi connection. You can buy a new smartphone which supports Google-Fi simultaneously; for which you can avail many exciting incentives and discounts. If you already have a Google device like the Pixel; then you can easily opt for the E-Sim and start enjoying all the benefits and services offered by team Google.