The internet has changed the way we research many things, and that includes finding healthcare providers. While healthcare is considered private for most of us, we still like to shop around before choosing a doctor and healthcare facility. Healthcare laws like HIPAA restrict what information can be published in a public forum, but there are still numerous resources online that give you insight about providers, what insurance they take, their area of specialty, and the hospital system they are affiliated with.
Searching online for health care has become increasingly popular for patients of all ages. In fact, "In the U.S., 75 percent of adults over 65 years of age said they use the internet." And a recent survey found that three out of four patients use online reviews as the first deciding factor when researching a potential doctor or medical facility.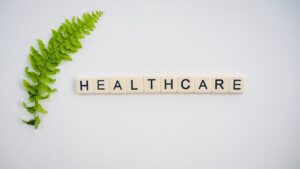 What this means for medical practices, hospital systems, and nursing homes is that you need to have an informative website, and use digital marketing for health industry strategies to provide the answers to common questions people ask when searching for health care online.
What is Digital Marketing for the Healthcare Industry?
Digital marketing is a term that encompasses a range of marketing channels that you can use to reach potential patients, such as email marketing, an interactive website, social media marketing, and user-generated content.
The healthcare system has been hammered due to the pandemic over the last two years, but even so, people have been going to doctor and dentist appointments for regular routine care and other health emergencies.
You might not be aware of how many people search online for a healthcare professional before they even think of making the phone call to schedule an appointment. And healthcare systems are slowly moving towards scheduling appointments online.
How Does Digital Marketing Help My Medical Practice?
In a nutshell, digital marketing connects people searching for health care with doctors and other medical personnel that match their query. For instance, if someone is looking for an orthodontist "near me" on Google, the search engine looks for any orthodontist within a nearby geographical area. Then the searcher can narrow the list down by geographical location, size of practice, experience, reviews, and other factors. The goal of digital marketing is to drive traffic to your website and your brick-and-mortar office.
In the last two years, we've seen a rise in telehealth visits, which are healthcare visits with practitioners over the phone or Zoom. Telehealth has changed how patients determine the severity of their health issues, and whether they need to leave their homes to get treated.
Virtual doctor visits open up a new way physicians and other practitioners can find new patients. It's likely that a new patient that schedules a virtual appointment with you for a minor health issue has already done comparison research online long before they make the appointment.
It Starts with a Website
Your doctor's office needs an online point of reference so people can find you. Your website is like an expanded version of a business card that tells searchers the basics, for instance, name, healthcare affiliation, experience, area of specialty, location. This information is picked up by Google and displayed in your listing. The more in-depth your website content is, the more links Google will display for it.
Along with your website, if you have a private practice, you can claim your business on Google which will add credibility to your online listing. If you are part of a large hospital system or group practice, your marketing team will take care of the basics for you.
Other useful information to add to a website includes frequently asked questions (FAQ) with answers linked to more information, brief history and bio about your personnel, and additional pages that describe your services and fees if possible. Once established, each of these pages will be listed by Google and linked back to your site.
Keyword Research
Keyword research is fairly straightforward for the medical industry because people search for terms (words and phrases) that are commonly used. A best practice is for each webpage to have at least one keyword it focuses on.
Keyword research is best done in conjunction with a digital marketing expert who is experienced in working with the healthcare industry.
Content Marketing
Content marketing encompasses all your website and online content. For your website, in-depth web pages are a good place to start. The information you provide helps patients understand the services and procedures before they come in, lowering apprehension.
You can also create content using images and videos, but that is limited by HIPAA and other laws.
Email Marketing
A permission-based email list is a good way to stay in touch with existing patients, reminding them to schedule routine appointments, and of upcoming appointments. You can also send out general information about changes in your office, and seasonal greetings.
SMS Text Messaging
Text messaging has grown in usage primarily for appointment reminders on the day before and the day of your appointments. Some offices ask you to confirm your appointment via text. While this system might seem simple, it has proven effective at reducing appointment no-shows.
Private Network
Major hospital systems have been introducing private network access for patients to the entire system. They are private because only people in the system can use them, but offer a way to remind people of upcoming appointments, confirm COVID status, contact their provider about questions, and schedule yearly routine appointments, such as a physical, dental screening, mammogram, etc.
User-Generated Content – Reviews
Whether you like them or not, user-generated reviews are influential in how people choose their physicians, dentists, nurse practitioners, and office locations. Reviews do offer you a chance to find out about what patients appreciate and if you and your staff can do better in some areas. It's also helpful to respond to reviews to resolve any problems.
A study published in the Journal of General Internal Medicine found that physicians prefer hospital-sponsored patient reviews while patients prefer third-party reviews such as Yelp, or Angi.
Digital Marketing for Health Care Providers
Marketing experts agree that healthcare providers, including private doctor's offices, find that digital marketing for the healthcare industry generates new patients on a regular basis, and helps patients make informed decisions when they choose a provider.
With streaming and media networks moving away from traditional radio and television, digital marketing is becoming the primary way to market and the best way to personalize your marketing for the patients who most need your services.