Data is the main aspect of any device. Our phone contains lots of important data which includes pictures of valuable events, favorite songs, essential files and many such. What happens if the device suddenly crashes or the hard drive fails? We may lose several data which is collected over a long period. To prevent such mishaps, we need to back-up our data regularly. If we back-up our data we can protect and restore our data in case of such failures and still end up in nowhere. We should always keep an additional back-up of our data in case of data corruption or hard drive failure. The best way we can back-up our data is via cloud storage or off-site storage. iPhone users took the help of iTunes to sync iPhone data to MacBook air/pro, iMac. But iTunes is not the perfect tool for this purpose as it has lots of negative issues or otherwise termed as drawbacks. We all are in need of an amazing iTunes alternative which I will just introduce you shortly…
Few of the disadvantages of iTunes are listed below:
iTunes is a storehouse of negative points and there's minimal chance of smoothness.
Most of the times iTunes fails to recognize the user's iPhone and due to this proper syncing does not take This can result in corruption of data while transferring.
Many times certain iPhone/iPad files go missing after syncing by using iTunes.
The interface of iTunes is quite confusing and hence, not at all user-friendly.
The app is overloaded with unnecessary features which further increases its confusing nature.
Now, these are only the speck of problems from the huge heap. Therefore the users need something as an iTunes alternative which will make their task easier and tangle free. So the user- friendly solution to this problem is MacX MediaTrans which due to its flawless environment and user compatible nature can remove and satisfy all the user's requirements that were lacking in iTunes (for almost 17 years now).
Now there are several reasons why  MacX MediaTrans is a much better way to back-up the data.
Why MacX MediaTrans is the coolest iTunes alternative?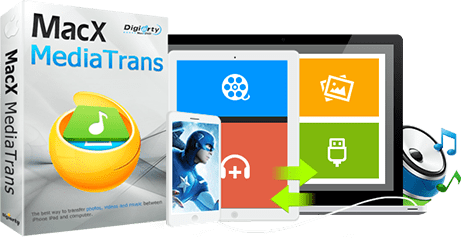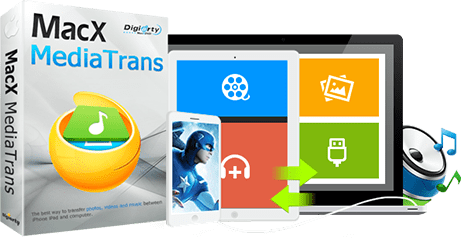 Say ADIOS! To confusing interface: The complicated design of iTunes is very well replaced by the user-friendly interface of MacX MediaTrans. The interface of MacX MediaTrans is self-explanatory, and so the user can manage all transfer and backing-up processes without watching any tutorials regardless of what technical skills they possess. The user will be directed into a specific window, where they are allowed to synchronize their iPhone music to Mac, edit music info, delete iPhone photos and export videos with clear words and vivid icons.
Fast response of Macx MediaTrans: MacX MediaTrans stands as the life savior at times when the message "iTunes not recognizing iPhone" is displayed on the user's screen. This innovative application does not require any update, and the advanced iDevice detection algorithm of MacX will detect the user's iDevice instantly and the chances of the "iPhone not recognized" becomes nil.  MacX saves all the time which was otherwise lost using iTunes for backing-up data.
No more Uni-directional syncing, get Bi-directional: The syncing with iTunes is a hectic part of backing-up because of the several errors which arise due to the weak interface of iTunes.
The errors of iTunes mainly are:
The occurrence of unknown errors (-54) while syncing of iDevice using iTunes
iTunes is not versatile. If an iPhone is already synced with an iTunes library, then no other iPhone can be synced with that same iTunes library on that particular library. Then in such cases, deletion of the already synced iPhone is the only solution to remove the error message.
Using iTunes transfer from a Mac to an iPhone device is possible but not the reverse.
iTunes can be used only to back-up apple pics and videos. Non-Apple pics and videos cannot be synced using iTunes.
Lack of "Compress" feature in iTunes as a result of which one cannot compress any video from iTunes to any other iDevice.
iTunes have too many weak spots. These weak spots are well-taken care in MacX MediaTrans; which is why it is the true iTunes alternative you have been wanting since long.
Also Read: Best Dreamcast Emulators | Best PS2 Games
MacX MediaTrans is a combination of –
Easy syncing of files of all types including encrypted files between any iDevice and macOS with just three simple clicks which also supports jailbroken iPhones.
Bi-Directional syncing is possible using MacX MediaTrans:- Flawless transfer of any data be it music, pics, videos, TV shows, iBooks, podcast, iTunes U, etc. from Mac to iPhone and vice versa.
No adverse effect on the already present data on an iPhone while transferring using any computer.
Inbuilt Conversion features (Video and Audio Files) which automatically converts FLAC, MKV, WMV, WMA, AVI, VOB formats to iPhone compatible formats. To feature a hassle-free syncing of even non-Apple files to iDevice without any format incompatibility issues.
Auto- Compression of video files while syncing, without affecting the original quality when files are heavy.
Boosted by the advanced Syncany, Unison and other file back-up algorithms, MacX MediaTrans enables flawless file transfers to macOS and Windows.
User-friendly interface and supreme flexibility which allows the user to select the files they want to back-up freely.
When it comes to backup data with speed, then MacX MediaTrans is the Usain Bolt in its category. It can backup files 5X times faster than iTunes because of its cutting-edge Intel QSV/NVIDIA (NVENC/NVDEC)/AMD APP GPU, which provides the necessary hardware acceleration.
So MacX does the work in the blink of an eye.
The freedom from the hectic iTune File Management issues: iTunes performance does not prove the fact that it is the best way to transfer a file from an iPhone owing to the below reasons:
Improper info about music genres on iTunes Match on iOS.
Mismatch of artist name between iPhone and iTunes.
Inability to delete and edit music info using iTunes.
Inability to delete Synced photos from iTunes library.
MacX MediaTrans is the one-stop destination to manage all  Music files.  It is the all in one manager and truly the best iTunes alternative. MacX MediaTrans lets its users:
To edit and manage iPhone songs without any fuss. It allows the user to modify artist/album/composer/year/batch edit songs information, delete unwanted music files, categorize music flies according to genres or artist. It also converts music flies into iPhone ringtones, converts MP4 to MP3.
MacX is the ultimate Video and photo organizer and helps to group up iPhone pics according to date taken/Month/Year, enables bulk deletion of photos/albums/videos and also encrypts the files with strong passwords.
It is the best iTunes alternative to free up space to update to iOS 12 without the need to buy iCloud storage.
With the onset of Christmas season, happiness starts to flow!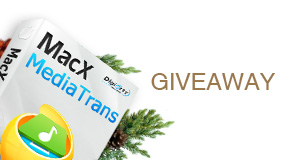 Most of us try to keep a replica of such moments trapped inside a picture. Over the time several thousands of pics get stored in our device memory and; some of those moments are once in a lifetime so we can't afford to lose them and so we need to keep a backup. If you too don't want to lose those memories to get deleted in times of rush; then you need a backup too. The best app to perform this action is undoubtedly MacX MediaTrans. If you want your preciously captured moments to stay with you forever then; without further ado backup those priceless moments in your iCloud using MacX MediaTrans. Now get excited cause we are providing you once in a lifetime opportunity to try out this fantastic app for free during our Christmas Giveaway session to keep your precious memories always protected. So snag out this time-limited chances to get a license key to MacX MediaTrans absolutely free.
MacX MediaTrans is undoubtedly the best iTunes alternative when it comes to a hassle-free backup.
With MacX
Backing up bulky 4K videos, live photos to Mac to free up iPhone space is easy-peasy
MacX can transfer one hundred 4K photos to Mac under 8 seconds, standing out as the fastest app in its category.
MacX allows deletion of the desired photos from the camera roll as well as the photo library.
Easy import and export of 4K/HD/Sd iPhone videos at a fast pace with MacX
Enables addition of downloaded videos from Mac to iPhone for offline use and deletion of unwanted videos on Mac.
Inbuilt auto-converter to convert MKV, AVI videos for playback on iPhone with auto-rotate slideways feature.
MacX allows compression of bulky videos by up to 50% of its original size, without compromising the video quality.
Easy two-way sync to transfer both purchased as well as non-purchased iPhone music with tremendous speed.
With MacX keep track of your music activity.
Backup eBooks, iTunes U, voice memos and podcast in iPhone on Mac without any fuzz by switching over to MacX.
MacX secures your precious data without any
Switch over to MacX for a hassle-free backup experience; because everything that matters in today's generation is speed. Attain that speed with new MacX MediaTrans – Your backup companion.
To know more about MacX MediaTrans in details check out the official MacX video below:
Also Read: Games like Terraria | Best Free Movie Download App for Android