In the rising world of technology and gadgets, most of the smartphones are launched with mighty megapixel specs. Today we have few companies in the market whose camera quality becomes so significant; that the company itself is denoted as a camera phone company. iPhones especially have very nice camera's inbuilt. If you look at the past 3-5 tele-advertisements of iPhones all are focused on the camera quality and shooting ability of the mobile. And people who carry fancy iPhones love to shoot slo-mo videos, 4k videos, etc. Even if you shoot a 4k video, and the video processing is not there; the output becomes less attractive overall.
"Videography is the story, we fail to put in words."
This happens because even high-quality camera phones don't have appropriate inbuilt video processing software. Not to worry, this issue of high-quality video processing is no longer a problem. Great thanks to VideoProc! We'll discuss the cool features of VideoProc and the amazing offers it has for us here. But first we need to understand;
Why we even need video processing?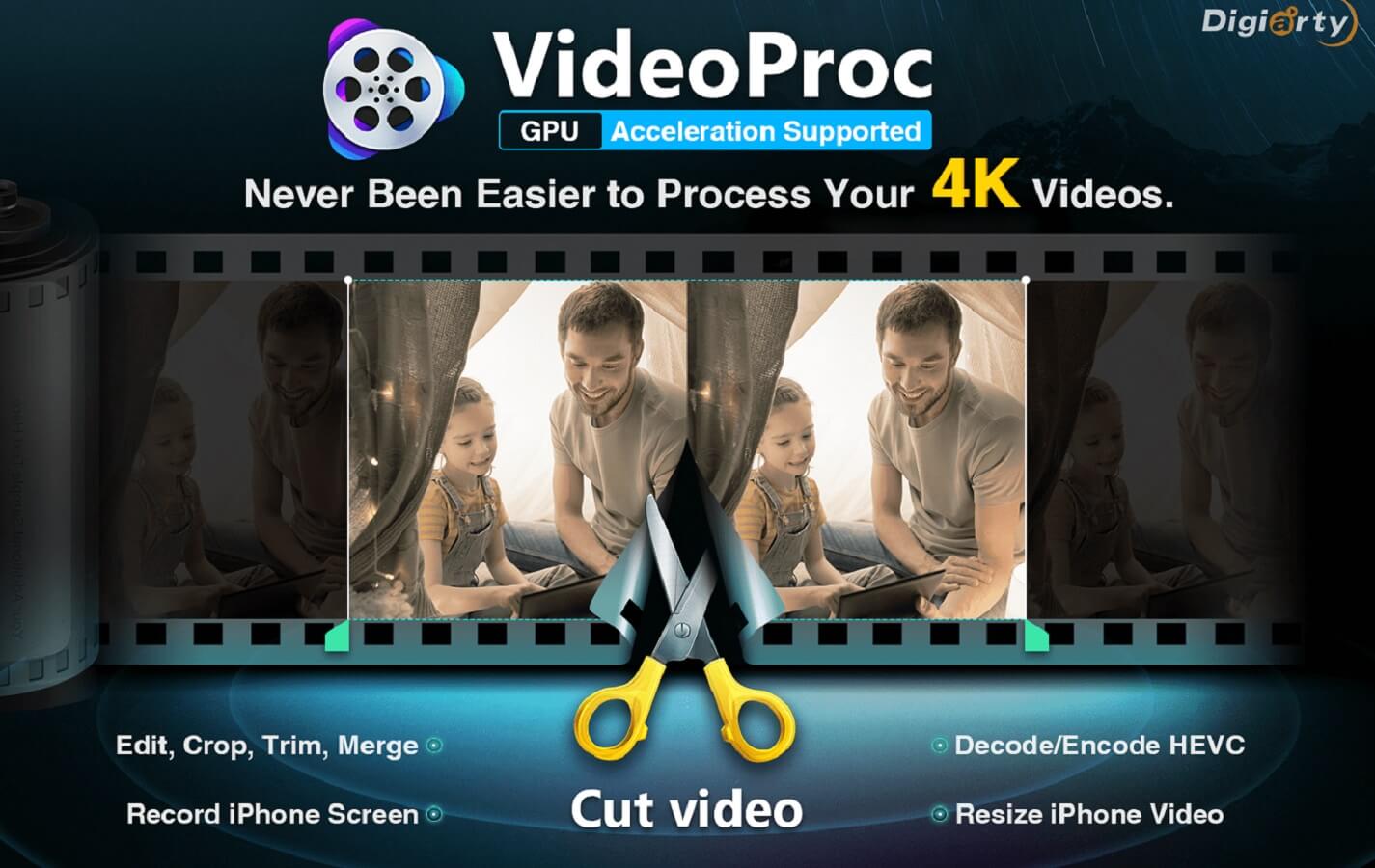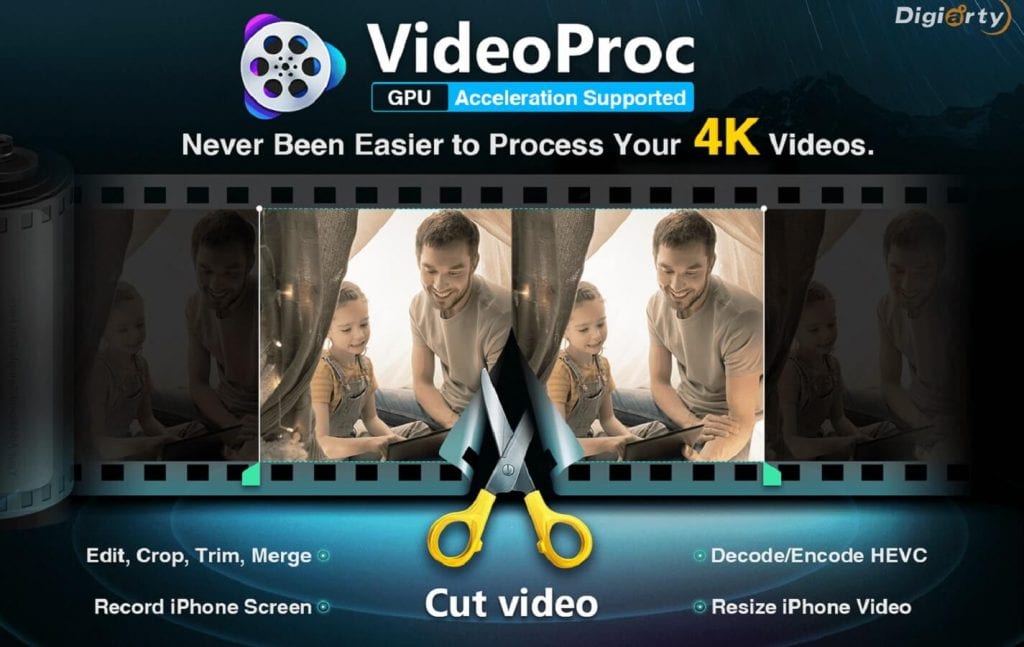 You might be using some video conversion apps till date, which simply takes your video and convert it from one format to other. Often this conversion is helpful but, the video isn't processed fully here. There is a whole lot of steps that needs to be compiled in order to thoroughly process a 4k video. Namely, editing, resizing, adjusting, backend video encoding/decoding, after performing all these steps your just shot 4k video will look way cooler than before.
Moreover, the software in conversation here VideoProc (Video+Pprocessing) is the very first video processing tool for 4K & HD videos. Now you would be wondering that to process a 4k video with so long procedure, you must have a phone with high CPU limit. Not really! VideoProc uses Level-3 hardware acceleration and due to that, it's able to provide video processing at very low CPU usage and 47x faster speed.
Do we need to be skilled in video editing to create Pro like 4k videos?
A big NO to that. You needn't be an expert in video editing while using VideoProc. The app provides exceptional ease and handiness in video processing. You can effortlessly process video films that are derivative of iPhones, digital camera, GoPro, baby monitor, Drone, etc.; and video shots downloaded from any social media platform or UGC sites with authorized copyrights.
There are many troubles that an iPhone user faces in terms of videos. The major ones are written below along with how VideProc helps iPhone users to get rid of them.
1. Format Issues
Dejectedly iPhone users can't play mkv, flv, and avi video files directly in their mobile phones. Moreover, if you want to send your nicely shot 4k HEVC iPhone videos to your Android friends, they won't be able to play it. Also, you can't import iPhone HEVC, VBR videos to Premiere.
There isn't any video format issue after you process the videos via VideoProc once. You can play your HEVC to H.264 iPhone videos on any other device like Android, PC/Mac, TV, etc. Additionally, VideoProc has 370 input codecs and 420+ output formats for videos. So, you can easily transcode videos to/from iPhone.
2. Video Specs Issues
The file size of unprocessed 4k and HD videos is too large to be uploaded quickly to YouTube. Most of the times, these big video files exceed the length limit of most social media/video sharing platforms. Usually, video images are cropped out when uploaded to Instagram.
VideoProc is the best pal for resizing/adjusting iPhone videos. Wanna change frame rate, adjust audio settings, or change video codec? VideoProc handles all with ease.
3. Video Editing Issues
Most of the iPhones had very small screens until recent years; it hence makes video editing hard on these trivial screens. Moreover, iPhone's editing operations aren't user-friendly. And if by all means, you have successfully edited a 4k 60 fps video in your iPhone, sadly you can't export it! And few models of iPhones turn very slow or eventually hang while editing/saving large video files.
With the help of VideoProc, you can so easily slender, cut, crop, merge, rotate and/or flip video clips. Also changing aspect ratio, applying effects to your videos has been easier than ever before. And if you are inclined to go maven; then with the Pro edit of VideoProc you can get advanced toolbox too! With which you can stabilize shaky video, remove background noise, make GIF, correct fisheye distortion, force A/V sync, add watermark, etc.
4. Video Quality Issues
When someone uploads an HD video to YouTube without processing, its quality gets disrupted badly. Some iPhones also put an irresistible red bar over the screen recorder videos. A very irksome factor is that videos turn blurry or dim when shot in night vision, in such cases video processing becomes an essential need of the iPhone user.
Watch the official video for more insight!
By now you must have understood why you should be using VideoProc for video processing. Even then let me tell you some startling add-ons of using VideoProc.
In the event of the launch of this amazing video processing software, you can download the giveaway version of VideoProc and enjoy all the aforementioned features without paying a penny.
There are surprising sweepstake offers and prizes too with the giveaway version!
This version works absolutely same as the full version; Except that, you can't upgrade to future versions of the software for free.
Yeah, you can win iPhone XS (999$), AirPods (159$) and iPhone charger cables (12.99$) in the free giveaway offer of VideoProc. Also, VideoProc is distributing 2000 authorized license copies (78.90$) daily.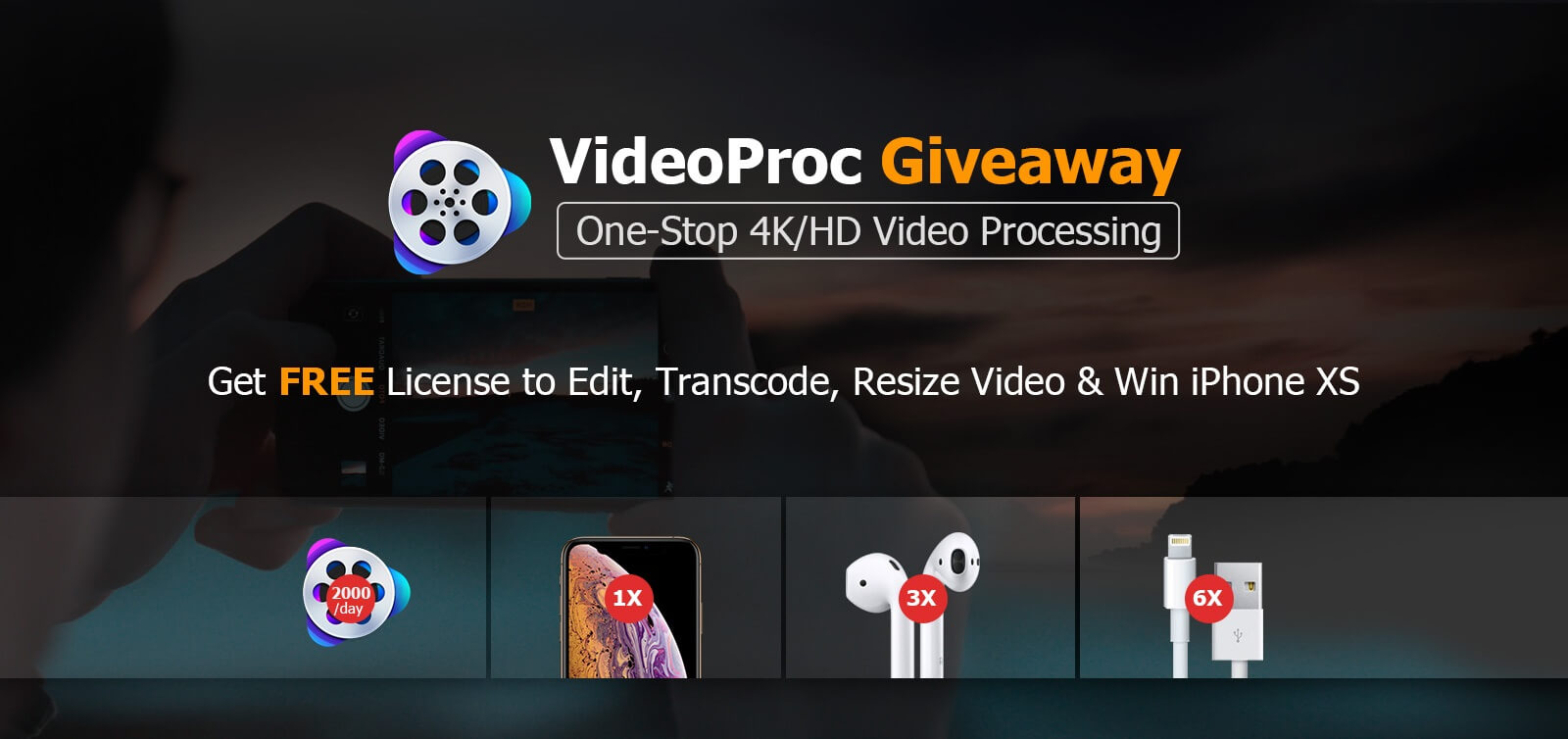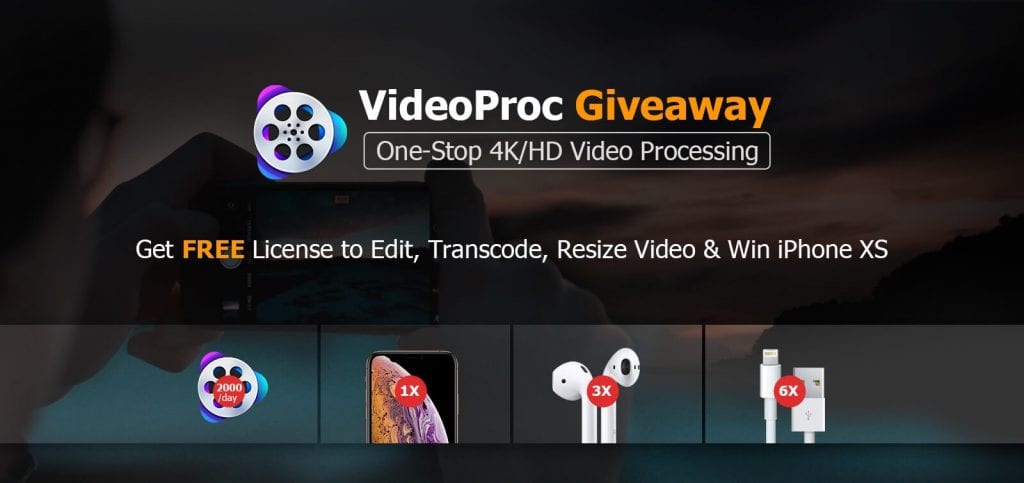 So, try the free version now.
P.S. Hurry as the offer ends on 30th November.
TLDR: –
With VideoProc you can; Upload iPhone videos to YouTube, Fb, Insta, Twitter, etc.; share them via email, text, WhatsApp, etc.; watch on whichever media you prefer; backup iphone via computer, cloud, HD, USB, etc. So, VideoProc is the one-stop video processing tool for any videography lover, especially those using iPhones!
Also Read: 5 Best backup software for windows