Oh, how we love our photos, and it can be a gut-wrenching experience when we lose them. Accidental loss of these cherished images can oftentimes be countered by using a quality data recovery program.
If you are searching for a proper data recovery solution, then EaseUS Data Recovery Wizard is as far as you need to look. EaseUS Data Recovery Wizard offers an easy-to-use interface with user-friendly features, including the ability to recover images from memory cards and digital devices (we used to call them "cameras").
EaseUS offers a free version, which will recover up to 2GB of data, and Pro versions with no limitations.
Installation, Interface, Features
Let me take you through some of the ways that EaseUS Data Recovery Wizard can recover your lost data, images, and other files which may have been accidentally deleted, lost, or corrupted.
Installation
Installing the data recovery software is as simple as you would expect from a quality program developer such as EaseUS. There are no forms of bloatware or any extra, possibly unwanted software to worry about. Simply download the program, install it, and run it– it's that easy.
EaseUS Data Recovery Wizard will run on any modern version of Windows, plus there is a Mac version, too.
Interface
The user interface is intuitive and a quick 3-step process will have your lost data back in no time. First, let EaseUS Data Recovery Wizard scan your system, or a specific location. This involves running two scans which are automatically processed when you click the Scan button: a Quick Scan, then a Deep Scan.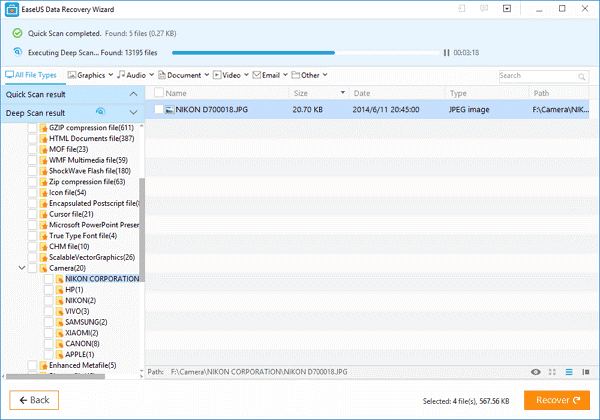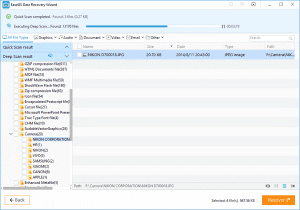 The next step is to choose which files you would like recovered. EaseUS Data Recovery Wizard can recover many different types of files including documents, photos, eMail, audio, video, and just about any file that can be stored on your drives. From the scan results, choose which files you would like to recover.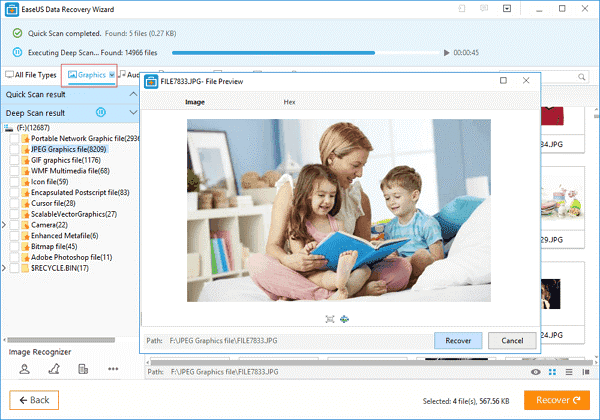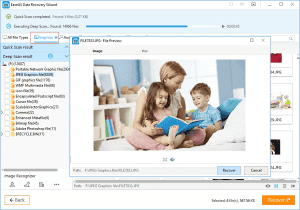 The last step is to save the recovered files to a safe location (i.e., somewhere other than the original files' locations). You wouldn't want to accidentally overwrite the very files you are trying to recover!
Features
EaseUS Data Recovery Wizard offers all the features one would expect from quality recovery software. Some of these include:
eMail recovery is possible from any desktop client
Easily perform hard drive recovery on desktops, laptops, external hard drives, external storage devices, RAID, media servers
Ability to recover deleted, lost, and hidden data from hard drive partitions
Deep level scanning of hard drives to recover long-lost data
Import/export scan results for future reference
PC Data recovery
Memory card data recovery
USB drive data recovery, such as thumb drives and external drives
Digital device data recovery, such as cameras (get those lost photos back)
You can recover lost files due to accidental deletion, formatting, drive failure, virus attacks, system crashes, partition loss, and a RAW partition. This includes servers, too! Basically, if your computer can connect to a device, then EaseUS Data Recovery Wizard can scan that device for the above-mentioned lost files.
Even if the system does not boot, you can perform hard drive recovery using this software by running it from a boot-enabled thumb drive or CD/DVD.
System Requirements
EaseUS Data Recovery Wizard will run on all modern versions of Windows beginning with Windows XP and newer.  EaseUS recommends 128MB of RAM and 32MB of disk space for installation.
As you can see, the system requirements are minimal and even older computers will be able to run this program without any problem whatsoever.
Customer Support
EaseUS provides full customer support for their products. This includes the free version which is practically unheard of these days. They offer three contact methods including, eMail, phone, and live 24/7 chat support.
There are also hundreds of "how-to" articles on the EaseUS web site provided in the User Guide section.
You can't ask for more than that!
Closing Thoughts
EaseUS Data Recovery Wizard is a great product, pure and simple to recover deleted files. It is easy to use and having great customer support is an important point to consider when trying out new software. Its ability to find data that has been "gone" for a long time due to its Deep Scan technology is a huge benefit not found in any but the best data recovery programs.
I can heartily recommend EaseUS Data Recovery Wizard to anyone who needs a quick, easy-to-use,  and reliable data recovery solution.
You can download EaseUS Data Recovery Wizard and give it a run today. You won't be disappointed.
Author of this article – Richard Pedersen