When it comes to naming our feline friends, why settle for the usual when you can get witty and whimsical? If you adored our previous collection on Cat Puns, you're bound to fall in love with this extended fur-amily of Cat Pun Names. From pop culture to history, we've whiskered away the mundane to present a list that's nothing short of purr-fection!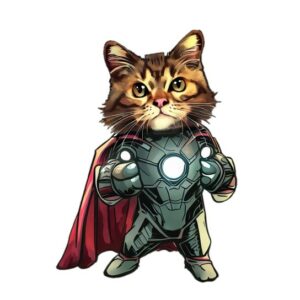 History Inspired Cat Pun Names
Cleo-CAT-ra (Cleopatra)
Napawleon Bonaparte (Napoleon Bonaparte)
Abra-HISS Lincoln (Abraham Lincoln)
Meowximilian Robespierre (Maximilian Robespierre)
Cat-sar Augustus (Caesar Augustus)
Joan of Arc-hiss (Joan of Arc)
Julius Cat-sar (Julius Caesar)
Meowhatma Gandhi (Mahatma Gandhi)
Sir Pounce-a-lot (Reference to medieval knights)
Furrguson the Great (Ferguson the Great)
Catrick Henry (Patrick Henry)
Catherine the Grrr-eat (Catherine the Great)
Kitty Roosevelt (Teddy Roosevelt)
Whisker-lai Khan (Kublai Khan)
Alexander the Paws (Alexander the Great)
Male Cat Pun Names
Catrick (Patrick)
Cat-thew (Matthew)
Paws-ton (Preston)
Meowrk (Mark)
Hiss-topher (Christopher)
Catrick Swayze (Patrick Swayze)
Cat-tin Timberlake (Justin Timberlake)
Purr-ed Sheeran (Ed Sheeran)
Leonardo DiCat-prio (Leonardo DiCaprio)
Furrdinand (Ferdinand)
Clawrence (Lawrence)
Paw-l (Paul)
Hiss-chael (Michael)
Tom Pawyer (Tom Sawyer)
Catrick Dempsey (Patrick Dempsey)
Female Cat Pun Names
Cat-herine (Catherine)
Cat-tina (Christina)
Purr-lotte (Charlotte)
Jessicat (Jessica)
Meow-linda (Melinda)
Kat-niss Everclean (Katniss Everdeen)
Purr-icia (Patricia)
Eliza-purr-th (Elizabeth)
Jen-furr Aniston (Jennifer Aniston)
Kat-e Upton (Kate Upton)
Pawndra Bullock (Sandra Bullock)
Cat-lie Minogue (Kylie Minogue)
Clawdia Schiffer (Claudia Schiffer)
Clawrissa McCarthy (Melissa McCarthy)
Kittina Fey (Tina Fey)
Celebrity Inspired Cat Pun Names
Kitty Holmes (Katie Holmes)
Furgie (Fergie)
Clawde Monet (Claude Monet)
Cat Winslet (Kate Winslet)
Meowzart (Mozart)
Brad Kitt (Brad Pitt)
Judd Claw (Jude Law)
Catrick Stewart (Patrick Stewart)
Cat Middleton (Kate Middleton)
Rihmeownna (Rihanna)
Purry Styles (Harry Styles)
Caty Perry (Katy Perry)
Meownardo da Vinci (Leonardo da Vinci)
Robert Downey Meow-nior (Robert Downey Junior)
Clawnny Depp (Johnny Depp)
Food and Drink Inspired Cat Pun Names
Meowtini (Martini)
Catpuccino (Cappuccino)
Avocatto (Avocado)
Purrito (Burrito)
Marsh-meow-low (Marshmallow)
Tempurra (Tempura)
Focattia (Focaccia)
Catlifornia Roll (California Roll)
Meowcroon (Macaroon)
Purrmigiana (Parmigiana)
Pawpcorn (Popcorn)
Cat-bernet Sauvignon (Cabernet Sauvignon)
Pawsta (Pasta)
Pawberry Pie (Strawberry Pie)
Choco-latte Meowcha (Chocolate Mocha)
Classic Cartoon Inspired Cat Pun Names
Tom and Meowry (Tom and Jerry)
Catfield (Garfield)
Sylvester the Pouncer (Sylvester the Cat)
Kitty Smurf (Smurfette from Smurfs)
Purr-ppy (Popeye)
Scratching Cat (Foghorn Leghorn)
Meowtley (Motley from Beany and Cecil)
Felix the Purr-t (Felix the Cat)
Top Cat-nip (Top Cat)
Claw-rage the Cowardly Dog (Courage the Cowardly Dog)
Catman (Batman from Batman: The Animated Series)
Yogi Purr (Yogi Bear)
Kitty Kangaroo (Rocky and Bullwinkle)
Meow-gilla Gorilla (Magilla Gorilla)
Catos Modern Life (Rocko's Modern Life)
Video Game Inspired Cat Pun Names
Meow-rio (Mario)
Lu-purr-gi (Luigi)
Paws of War (Gears of War)
Claw-mbat Evolved (Halo: Combat Evolved)
Catnite (Fortnite)
Meow-troid (Metroid)
Purrsident Evil (Resident Evil)
Grand Theft Whisker (Grand Theft Auto)
The Purr-witcher (The Witcher)
Clawl of Duty (Call of Duty)
Final Purr-tasy (Final Fantasy)
Meow-ga Man (Mega Man)
Catlevania (Castlevania)
Purr-tal (Portal)
Silent Purr (Silent Hill)
Nature Inspired Cat Pun Names
Meow-tain (Mountain)
Purr-cipitation (Precipitation)
Claw-d (Cloud)
Paws-toral Meadow (Pastoral)
Whisk-er Breeze (Whisper)
Furrest (Forest)
Meow-nsoon (Monsoon)
Purr-gatory (Purgatory)
River Claw (River Flow)
Sun-purr-t (Sunspot)
Paw-dic (Arctic)
Cat-taract Falls (Cataract)
Fur-mament (Firmament)
Cat-mosphere (Atmosphere)
Paws-mic Ray (Cosmic Ray)
Music Inspired Cat Pun Names
Purr-ton John (Elton John)
Kitty Perry (Katy Perry)
Meow-zart (Mozart)
Cat Stevens (Cat Stevens, the singer)
Paws McCartney (Paul McCartney)
Claw-dio Monteverdi (Claudio Monteverdi)
Freddie Purr-cury (Freddie Mercury)
Claw-vin Harris (Calvin Harris)
Purr-ince (Prince)
The Rolling Stones and Claws (The Rolling Stones)
Meow-donna (Madonna)
Whisker Khalifa (Wiz Khalifa)
Tail-or Swift (Taylor Swift)
DJ Meow Mix (A playful nod to DJs in general)
Cat-yonce (Beyonce)
Tech Inspired Cat Pun Names
iCat (iPhone)
Kitty-byte (Kilobyte)
Cat-ching Wi-Fi (Catching)
Purr-ojection Screen (Projection)
Meow-crochip (Microchip)
Claw-gle Search (Google Search)
App-purr Store (App Store)
Paws-word Protected (Password)
Virtual Fur-ality (Virtual Reality)
Fur-mware (Firmware)
Softpaw-re (Software)
Claw-d Storage (Cloud Storage)
USB Purr-t (USB Port)
Meow-therboard (Motherboard)
Kitty Cache (Cache Memory)
Marvel Universe Inspired Cat Pun Names
Iron Meown (Iron Man)
Purr-fessor X (Professor X)
Cat-tain America (Captain America)
Black Panth-purr (Black Panther)
Claw-key (Loki)
Furr-y (Fury, as in Nick Fury)
Meow-velous (Marvelous)
Paws-neto (Magneto)
Whiskerine (Wolverine)
Cat-tain Marvel (Captain Marvel)
Spider-Meow (Spider-Man)
Meow-tant (Mutant)
Black Meow-dow (Black Widow)
Thor but with Meowjolnir (Thor and his hammer Mjölnir)
Ant-Meow (Ant-Man)
Disney Inspired Cat Pun Names
Mufasa's Meow (Mufasa)
Claw-rella (Cinderella)
Meow-lan (Mulan)
Purr-cules (Hercules)
Ariel, the Little Purrmaid (Ariel, The Little Mermaid)
Sim-paw (Simba)
Paws-chahontas (Pocahontas)
Fur-rolo (Frollo)
Al-CAT-din (Aladdin)
Purr-ella DeVille (Cruella DeVille)
Kitty and the Beast (Beauty and the Beast)
Meow-ana (Moana)
Meowrora (Aurora)
Claw-jahontas (Pocahontas)
Rapaw-nzel (Rapunzel)
Harry Potter Inspired Cat Pun Names
Hairy Purr-ter (Harry Potter)
Hermew-nie (Hermione)
Meow-lfoy (Malfoy)
Purr-cius (Percy)
Sir-paws (Sirius)
Purr-mione (Hermione)
Meow-gonagall (McGonagall)
Al-bus Purr-dumble (Albus Dumbledore)
Meow-lo Moody (Mad-eye Moody)
Purr-tunia Dursley (Petunia Dursley)
Lord Voldemewt (Lord Voldemort)
Severus Snap (Severus Snape)
Hiss-drid (Hagrid)
Purr-cy Weasley (Percy Weasley)
Catrick CatCaw (Patrick Delaney-Podmore)
Star Wars Inspired Cat Pun Names
Meow-bi Wan Catnobi (Obi Wan Kenobi)
Cat Vader (Darth Vader)
Luke Skywhisker (Luke Skywalker)
Purrincess Leia (Princess Leia)
Chewbacca- Meow (Chewbacca)
Boba Fett-eline (Boba Fett)
Yod-aww (Yoda)
Cat-lo Ren (Kylo Ren)
Lando Catrissian (Lando Calrissian)
Paws-ma (Phasma)
Admiral Meowbar (Admiral Ackbar)
Meowthmaul (Darth Maul)
R2-D-mew (R2-D2)
Cat-3PO (C-3PO)
Lando Cal-purr-ssian (Lando Calrissian)
Game of Thrones Inspired Cat Pun Names
Purr-sei Lannister (Cersei Lannister)
Arya Stalk (Arya Stark)
Meow-lisandre (Melisandre)
Claw-ed Stark (Ned Stark)
Kit-tan Stark (Catelyn Stark)
Sir-meow-relle (Mirelle)
Purr-ion Lannister (Tyrion Lannister)
Sans-paw Stark (Sansa Stark)
Bael-fur (Baelish)
Jamie Lann-purrster (Jamie Lannister)
Bran Stalk (Bran Stark)
Theon Grey-paw (Theon Greyjoy)
Meow-my Lannister (Tommy Lannister)
Ser Jorah Meow-mont (Ser Jorah Mormont)
Daen-mew-ris (Daenerys)
Friends TV Show Inspired Cat Pun Names
Meow-nica Geller (Monica Geller)
Claw-dler Bing (Chandler Bing)
Ross Gella-purr (Ross Geller)
Phoe-paw Buffay (Phoebe Buffay)
Joey Tri-paw-tiani (Joey Tribbiani)
Rachel Green-whiskers (Rachel Green)
Gunther of Central Purr-k (Gunther of Central Perk)
Mike Cat-nigan (Mike Hannigan)
Emily Whisker-tin (Emily Waltham)
Janice Lit-paw-nik (Janice Litman)
Dr. Richard Purrke (Dr. Richard Burke)
Claw-rolyn (Carolyn)
Purr-l (Paul)
Claws (Ross and Monica's dog)
Ben Cat-win (Ben Geller-Willick)
The Simpsons Inspired Cat Pun Names
Marge Scratch-son (Marge Simpson)
Purr-t (Bart Simpson)
Meowsa Simpson (Lisa Simpson)
Claws Flanders (Ned Flanders)
Mew-d Flanders (Maude Flanders)
Meow-ggie Simpson (Maggie Simpson)
Catt Groening (Matt Groening)
Meow-ey Quimby (Mayor Quimby)
Selma Bouvier-Cat (Selma Bouvier)
Clawsome Wiggum (Chief Wiggum)
Scratchy Cat-zaria (Apu Nahasapeemapetilon)
Kent Claw-kman (Kent Brockman)
Cat-len Lovejoy (Helen Lovejoy)
Otto-paws Mann (Otto Mann)
Reverend Meow-joy (Reverend Lovejoy)
Stranger Things Inspired Cat Pun Names
Purr-per Byers (Will Byers)
Eleven-mews (Eleven)
Cat Hawkins (Mike Hawkins)
Whisker Wheeler (Lucas Wheeler)
Mews-tin Henderson (Dustin Henderson)
Meow-x Mayfield (Max Mayfield)
Sheriff Hiss-per (Sheriff Hopper)
Joyce Meow-ers (Joyce Byers)
Cat-thony (Jonathan Byers)
Steve Hair-ington (Steve Harrington)
Barb-claw (Barbara Holland)
Demo-claw-gon (Demogorgon)
Meow-y Ives (Terry Ives)
Cat-Kali (Kali Prasad)
Meow-ling (Mulling)
The Office Inspired Cat Pun Names
Claw-l Scott (Michael Scott)
Cat-mantha Beesly (Pam Beesly)
Purr-lene Flax (Helene Beesly)
Claws Halpert (Jim Halpert)
Meow-s Schrute (Dwight Schrute)
Cat-ela Wallace (Jan Levinson)
Andy Purr-nard (Andy Bernard)
Meow-lly Flax (Holly Flax)
Scratching Stanley (Stanley Hudson)
Feline Vance (Phyllis Vance)
Cat-oby Flenderson (Toby Flenderson)
Paws-ica Kapoor (Kelly Kapoor)
D-meow-lo Philbin (Darryl Philbin)
Erin Meow-nan (Erin Hannon)
Cat-evin Malone (Kevin Malone)
Lord of the Rings Inspired Cat Pun Names
Fro-paw Baggins (Frodo Baggins)
Meow-ndalf the Grey (Gandalf the Grey)
Claw-golas (Legolas)
Purr-amir (Boromir)
Feline-dil (Elrond)
Ar-claw-n (Aragorn)
Gollu-meow (Gollum)
Meow-mli (Gimli)
Scratch-witch King (Witch-king of Angmar)
Meow-ros (Eros)
Saru-claws (Saruman)
Claw-den Shieldmaiden (Éowyn)
Claw-driel (Galadriel)
Paw-den Took (Pippin Took)
Meow-rin Oakenshield (Thorin Oakenshield)
Final Thoughts
Well, there you have it! A feline feast of funny cat names that's purr-fectly tailored for every whiskered whim. Whether you're hunting for laughs or a unique title for your new kitty, these punny cat names are a meowsterpiece. Remember, cats have nine lives, but they only need one hilarious name!
Also Read:
– Funny Penguin Puns
– Best Cake Puns
– Funny Vampire Jokes
– Best Water Bottle Puns
– Funny Watermelon Puns