Streaming Music online is very cool as it helps you search for your favorite music anytime anywhere. But it has some limitations too. You cannot rely on your Internet connection all the time and it also consumes lots of data. So the solution to this is Offline Music Apps. These Offline Music streaming apps allows you to listen to your favorite music without an active Internet connection. You can browse your favorite music library, discover new artists, and also find radio stations near you. In this post, we have listed down some of the Best Offline Music Apps for Android and iOS that every ultimate Music lover should give a try. The best part is that all these apps are free and you can legally listen to your favorite piece of music without worrying about the Internet connection.
1. Google Play Music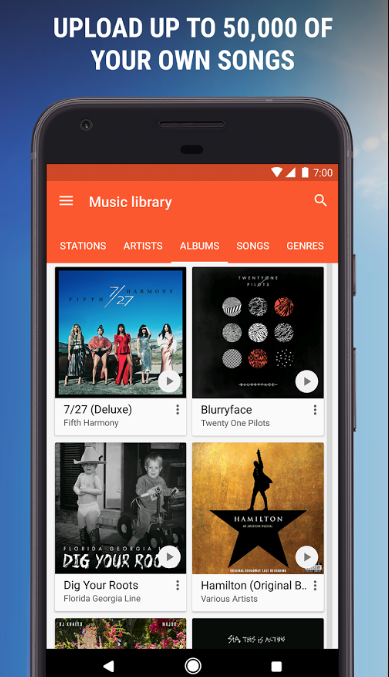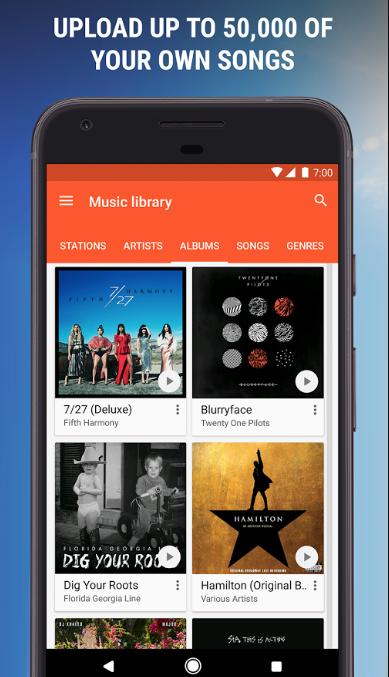 Play Music is a popular music and podcast streaming service powered by Google, thus comes on our list of Best Offline Music Apps. It gives you an option to browse all your favorite music and download it for listening offline. You can even listen to your local Radio stations within the app. Users can browse their favorite playlists from a collection of million songs. However, with standard account users can only save and listen to 50,000 songs (each song can be up to 300MB) from their personal library at no cost. Play Music app comes preinstalled on all the Android devices. Users with other platforms can download the app from respective app stores. After using the app for a while, you can click on "I'm feeling lucky mix" to play music from your Most Played list or can play random playlist by shuffling all the songs.
Available for: Android, iOS.
Cost: Free up to 50,000 songs for a standard user account.
2. Pandora Radio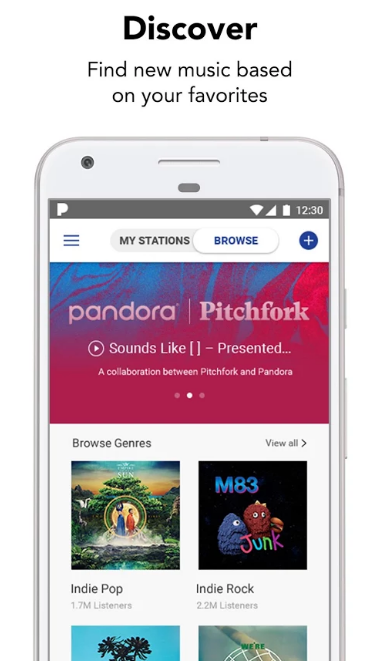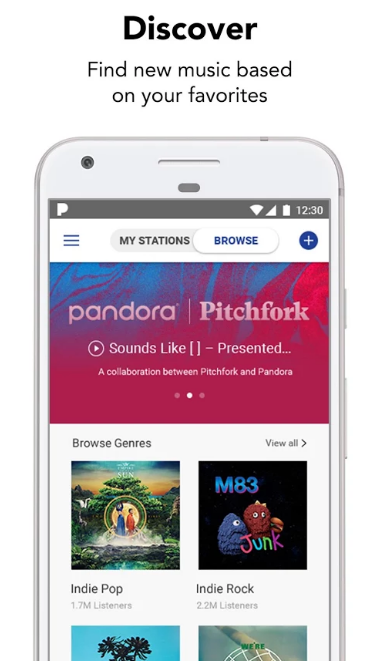 Pandora Radio is one of the most popular and most downloaded music apps for offline Music Streaming. This app has a simple and easy User Interface which attracted most of the users to download and use this app over others on the list. It uses Radio style approach where users can enter and search for their favorite songs, artists and create a playlist of their own. You can rate the song by giving it a thumbs up or thumbs down and Pandora will display recommendations based on your interest. You just need to register your account to access Pandora Radio services free of cost. This app is currently available only in the United States but soon will be launched in other countries.
Available for: Android, iOS, Blackberry, Kindle Fire, Windows Phone
Cost: Free
3. Shazam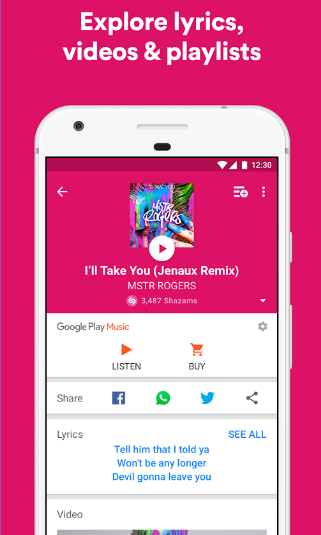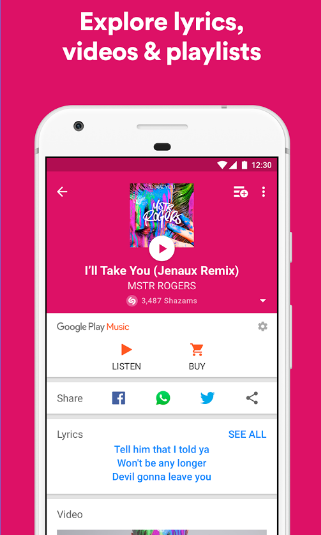 Shazam is a cool free music app which can listen to a song and tell you all the details of the song including Song Title, artists, Launch year, Genre etc. Its song identification feature makes it different from the rest Best Offline Music Apps. After discovering the song, you get an option to listen to the song within the app, sharing it with your friends or watch the video of it on YouTube. You can also play the songs on Spotify, read album reviews and create a new Pandora station based on your Interest. Each song identified by Shazam is saved as a tag and you can browse it whenever required. You can also share tags and view your friends' discoveries as well. Depending on the song, Shazam also shows songs Lyrics if available in their library.
Available for: Android, iOS
Cost: Free
4. Spotify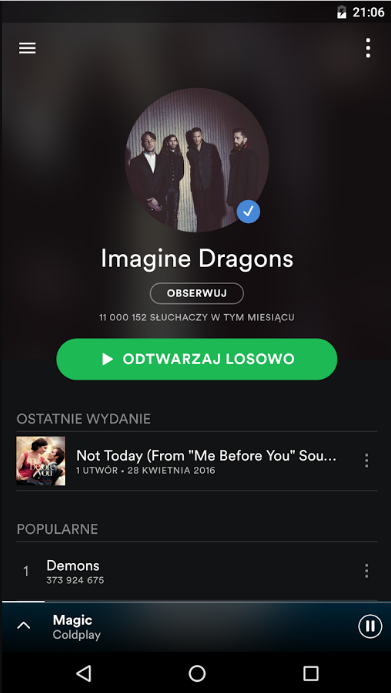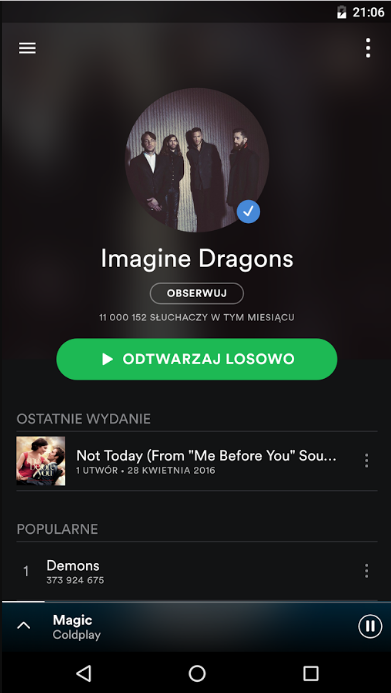 With over 70 million subscribers, Spotify is one of the most popular Music streaming apps in the Google play store. Spotify gives you instant access to the world of music. With over millions of song, from old to news releases, you just need to hit the play button to stream anything you like. Spotify works across all platforms including Computer, Mobiles, tablets, and Televisions offering you unlimited ad-free music streaming experience. This music app allows a user to add more than 3000 songs to their playlists and listen to them on 3 different devices.
Available for: Android, iOS, Windows
Cost: Free
Also Read: Best Wireless Earbuds | Best XBox One Headset
5. Amazon Music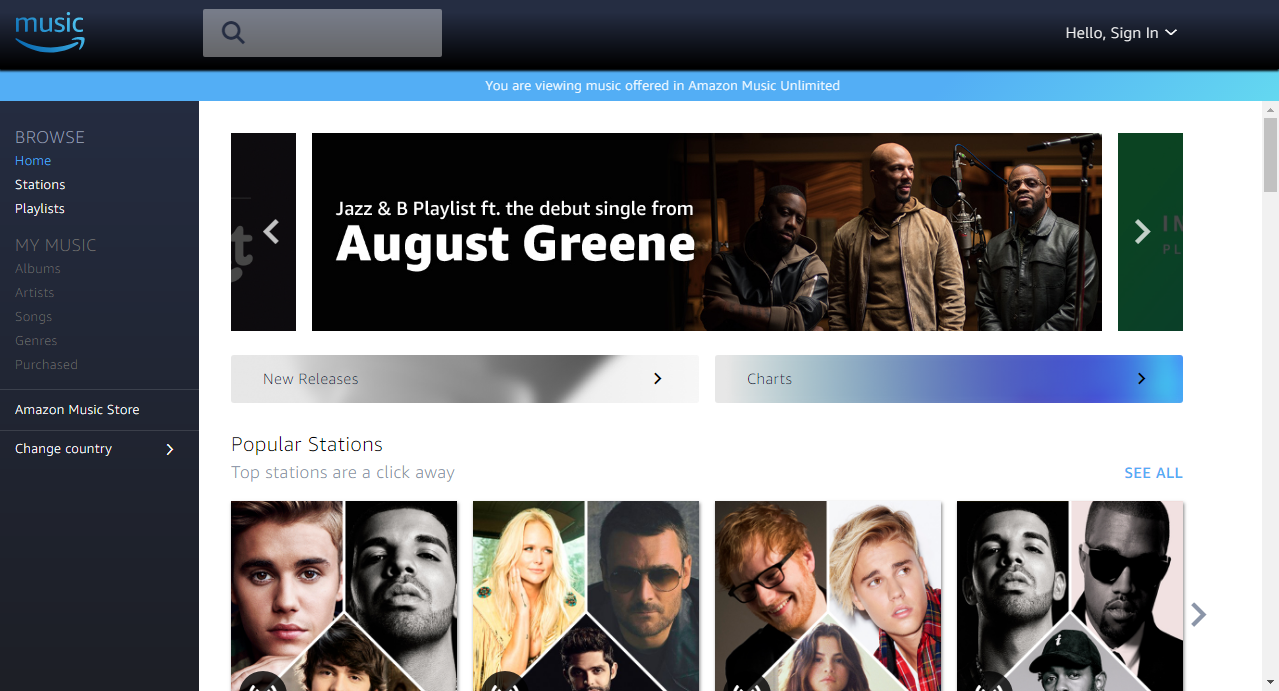 Amazon Music is almost similar to Google Play Music where you can upload a maximum of 250 songs and play it across all your devices. You can also browse the songs from the Music Library and download to stream offline without an Internet Connection. Amazon Prime members get free ad-free experience to Amazon Music along with Prime Video and other Amazon Prime Benefits. Amazon Music allow you to organize your Music into different playlists, play local songs from the device and also supports adding music from Desktop.
Available for: Android, iOS, Kindle Devices
Cost: Free for Amazon Prime Customers
6. Saavn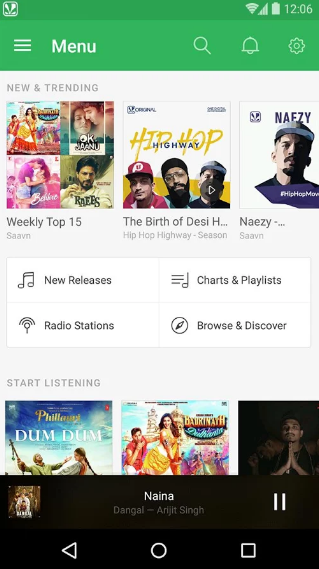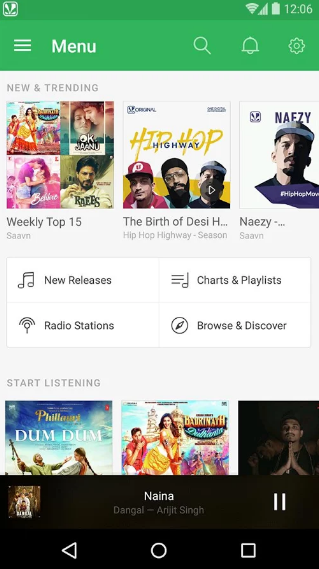 Saavn is an American distributor of English, Bollywood and other regional music and is available in more than 200 countries. It was launched in the year 2007 and has a collection of more than 30 million music tracks. Saavn's user interface is quite impressive but it takes time to search for your favorite songs (maybe because of its huge library collection). Saavn has 2 premium plans Saavn Pro and Saavn Pro Lite. Saavn Pro Lite costs Rs 120 per month($2 approx)  for 3GB of music downloads hile Saavn Pro costs Rs 250 per month($3 approx) for unlimited music downloads on up to a maximum of 5 devices.
Available for: Android, iOS, Web
Cost: Rs 120 for Saavn Pro Lite and Rs 250 for Saavn Pro, Free trial for 1 month
7. Wynk Music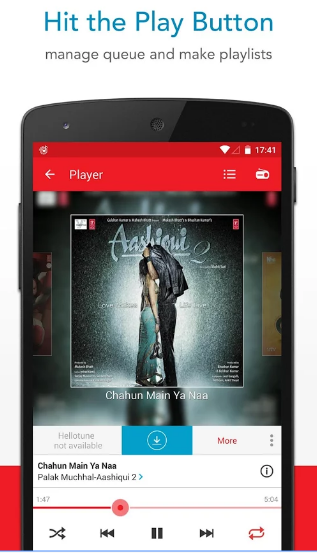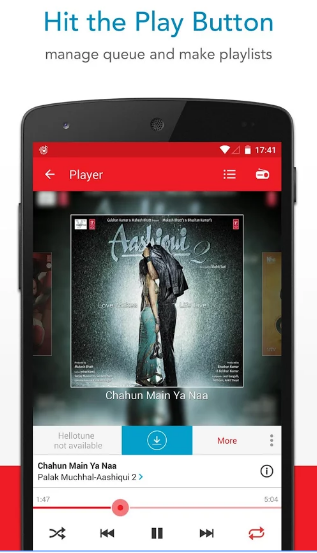 Well curated songs playlists and competitive pricing is what makes Wynk Music different from others on our list of Best Offline Music Apps. Wynk offers music, movies, games and is specially designed for smartphone users. The main strength of Wynk Music is its competitive pricing. The free version of the app allows you to stream up to 100 songs per month. You just need to pay Rs 60($1 approx) per month for unlimited downloads in iOS and Rs 99 ($1.5approx.) per month for Android devices.
Available for: Android, iOS, Windows Phone
Cost: Free streaming up-to 100 songs per month
Also read: Music Lyrics Apps for Android
So this was our list of Best Offline Music Apps that every ultimate music lover must try. If you think we missed out something in the list, do comment down below.