The success of digital marketing relies on the uniqueness and originality of ideas therefore businesses use different strategies to spice up their digital marketing campaigns according to their audiences' interests.
One thing is sure, digital marketing can only bring results if it is set according to customer base and user intent which means a small business marketing agency should always make marketing strategies keeping the audience in mind.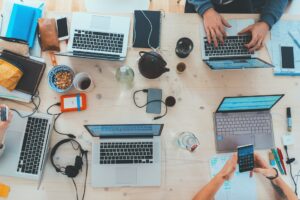 Content plays a huge role in attracting the audience and making brand communication successful.
Unique content is prioritized the most in a successful marketing campaign because it is one such thing that can increase or decrease a brand's customer base, sales, and profit margins.
Stealing other brands' ideas and content to make your marketing campaign is nothing but a waste of resources and time because plagiarized content can negatively influence brands' reputations.
Plagiarism-free content is very essential for successful digital marketing. Many businesses still underestimate the importance of original and plagiarism-free content.
Therefore, in this article, we will discuss a few reasons why plagiarism-free content is essential for digital marketing. Moreover, we will see how to check if any part of our content is plagiarized.
So, without any further delay let's get started!
How to Check Either the Content is Plagiarism free or Not?
Plagiarism-free content is essential for digital marketing, we will give the reasons why! But before going into that you should know how to check for plagiarism in your content. Plagiarism is very common nowadays due to the excessiveness of content on the internet. So, no matter if you have written the whole content on your own, you can still be trapped by plagiarism. Therefore, to ensure plagiarism-free content, you should check it with a plagiarism checker.
A Plagiarism checker can be highly helpful for digital marketers. After the content has been written, it is obligatory to perform a plagiarism check on it. Checking for plagiarism prevents damaging your site's credibility and reputation. A plagiarism checker can detect any sort of copied content within seconds due to the advanced algorithms used in it.
5 Reasons Why Plagiarism-Free Content is Essential for Digital Marketing
Here are a few reasons in support of using plagiarism-free content for digital marketing. So, let's dive deep into them.
1. Plagiarism-Free Content Boost SEO
Unique, high-quality content is what Google values most, therefore to make the content fully search engine optimized it is crucial to write only original content otherwise, all your marketing efforts will go in vain.
Search engine optimization (SEO) refers to making the content more visible to its intended readers that's why content cannot afford to be plagiarized.
Content that makes effective use of keywords and is completely original will always rank higher in search results. If you want higher search engine rankings and more traffic, your material needs to be unique.
If the text includes any instances of plagiarism, the page will immediately drop in ranking because no user wants to waste their time reading, what's already available on the internet.
Plagiarism-free content is one that:
Includes unique title and headings.
Includes unique information in each section (Introduction, main body, and conclusion).
Include proper citations for the copied ideas and words.
If you create digital marketing content for your business site, following these key traits can help you make it SEO-friendly and as a result, your SEO rank boosts.
In short, a site's visibility can only be improved if the content present on that site is visible to a large audience, and to make this possible unique and plagiarism-free content plays a vital part.
2. Plagiarism-Free Content Builds Credibility And Reputation
Plagiarism-free content is essential for digital marketing as it helps businesses establish their brand name and reputation.
Unique content is considered valuable in this digital world. Readers do not waste their time reading boring and copied content and if they find content copied, they can definitely leave bad reviews which will negatively affect your business reputation.
Also, providing readers with original information is crucial to boost the site's traffic, the more organic traffic the more credible site.
If you use plagiarized content your chances of ranking on search engines will decrease because Google has millions of websites to choose from, and it will certainly choose another over yours if it finds duplicated content on your site.
Content is the king in the digital world and is the best way to communicate with customers. This should be kept in mind before you use copied information on your site.
3. Plagiarism-free content Boost Social Presence
Social media is the most used platform to promote businesses and it has now become a part of digital marketing that focuses on utilizing it for a brand's success.
Customers prefer to buy trending and hyped products and there is no better way to create hype than to use social media apps like Instagram and Facebook.
If the brand is successful to engage the audience via the content then there is a high chance that the audience will share the brand's content over social media. This means brands do not have to make any additional effort in establishing their social media presence.
The more shares your content get, the more people will visit, and eventually your sales will grow too.
Readers are the best judges, if they find duplicate content they can detect it within seconds and instead of sharing your content, they will leave your site immediately.
4. Plagiarism-Free Content Prevents Search Engine Penalties
Plagiarized content has many severe consequences and the worst is search engine penalties.
The search engine will give preference to original, high-quality content that provides real value to its users as compared to the content that has been scraped from elsewhere.
It is allowed to borrow ideas from others, but adopting the exact same content to increase readership is not allowed.
If you steal other sources' information, search engines might punish you and you will likely face serious penalties. You can avoid these kinds of problems by sticking to the original content.
Show your audience some loyalty by giving them something they can't get anywhere else, such as original thoughts and opinions that are worth their time and can help them succeed.
Otherwise, search engines may impose penalties that harm the site's reputation.
5. Plagiarism-Free Content Boost Engagement
Last but not least, plagiarism-free and unique content improves the site's engagement and reach.
If the content is unique more and more readers will visit and spend more time on the site which is good for SEO.
Generally, the site's retention rate is what determines the site's success, and to improve the retention rate your content should be plagiarism-free.
Many brands' digital marketing campaigns aim to boost customer engagement which is possible only with unique content.
Final Verdict
Marketers need to come up with something fresh for the readers in order to avoid Google penalties and attract more people to the website.
If you're just entering the market and you start ripping off PRADA's advertising strategies, people might avoid your site out of fear that you're just trying to cash in on their success.
The result is that you will be unable to recover any of your investment. A unique perspective and fresh ideas are essential if you want others to recognize the worth of your efforts.
We hope this article provides sufficient reasons to convince you to focus exclusively on creating and publishing plagiarism-free content.