Online shopping is becoming increasingly popular due to its ability to help shoppers save both time and money. In order to reach their target audience with cutting-edge features, e-commerce stores must have high-quality websites.
Although many hosting companies offer plans that give e-commerce websites a competitive advantage, not all of them are created equal. As a result, before making a purchase, businesses must evaluate these hosting providers, their pros and cons, and the packages they offer.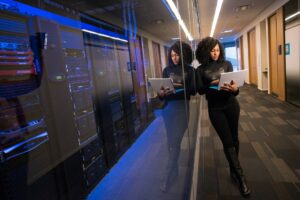 Some of the best e-commerce hosting companies are listed below, along with their services.
1. A2 web hosting
A2 hosting offers a variety of hosting services, including shared hosting, VPN hosting, and dedicated hosting. It is an excellent choice for e-commerce businesses looking to increase their productivity.
The hosting plan includes many noteworthy features, including one-click installation, a Turbo server for faster page loading, free security measures, 24/7 customer support, and excellent site speed solutions.
Furthermore, the hosting provider offers comprehensive security against hacking attempts, distributed denial-of-service (DDoS) attacks, and unauthorized access. E-commerce businesses can choose the best hosting plan for their website at a very low cost. A2 web hosting plans start at just $2.99.
2. Bluehost
Bluehost is a top-tier e-commerce hosting provider, with a variety of exceptional features tailored specifically to e-commerce websites. Among these features are dedicated WooCommerce hosting plans, domain privacy, automatic backups, customizable themes, a free Content Delivery Network (CDN), and more. Bluehost is an excellent choice for amateur website creators that have no previous experience with coding or web design. It offers simple tools for creating your first website.
In addition, Bluehost supports WordPress websites with a simple one-click setup process and offers a free domain for a year. This can help you save money in the first year of your business venture.
3. SiteGround
SiteGround's start-up plan is ideal for small e-commerce stores. This plan includes everything that an online store might need in order to achieve its desired results. If you require more advanced features, SiteGround's e-commerce plan is an excellent choice. This plan includes a free eShop transfer, the installation of free shopping carts, and an optimized server to ensure the smooth operation of your online store.
Another useful feature for e-commerce businesses is SiteGround's proprietary monitoring system. You can use this system to check the status of your server every few seconds, which gives you the opportunity to detect potential issues before they become bigger problems. Overall, SiteGround is an excellent web hosting provider for e-commerce businesses of all sizes.
4. InMotion
InMotion Hosting strives to meet the needs of e-commerce businesses by offering a variety of features such as multiple payment options, PCI compliance, and one-click app installation.
Even the most basic shared plan provides e-commerce stores with unlimited disk space and free domains. To improve security, the company provides hosting services that include free SSL certificates, malware protection, and scheduled automatic backups.
Keep in mind that when compared to other web hosting providers, InMotion's pricing is relatively high. However, they do offer a 90-day money-back guarantee for e-commerce stores which means that you can always get your money back if you are not happy with their service.
5. HostGator
HostGator is a renowned e-commerce hosting provider that offers exceptional plans for online stores. Shopping carts, payment gateways, one-click installation, unlimited bandwidth, unlimited email accounts, a searchable knowledge base, and 24/7 customer support, are some of the features included in their plans.
Furthermore, the company provides excellent security measures for online stores such as a free SSL certificate, DDoS protection, and dedicated IP addresses.
6. DreamHost
DreamHost offers a variety of excellent features starting at $2.59 per month, including domain email hosting, fast SSD storage, and free daily backups.
The built-in security feature of the company detects malware and other issues effectively. Their hosting plans come with a 97-day money-back guarantee, which means that customers can easily get their money back if they are not satisfied with the service.
Conclusion
As online businesses grow, so do the hosting companies which give them access to the internet. For that matter, we gave you a comprehensive list of the best hosting providers for e-commerce and their fundamental features. Now, it is up to you to decide which one best suits your needs!