When you're planning your first dive trip, it can be exciting but also very stressful. When you've never been, you don't know where to go, what you'll need, or what to expect from the whole thing. Here is a short guide to the basics for a first diving trip.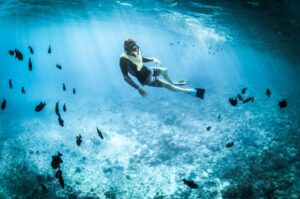 Planning the Location
It can be tempting to jump right into the most extreme diving destination for your first trip, but as with most new skills, it's better to start slow. Heavily consider your skill level and the skill level of your entire party when determining where you want to go. Also consider what type of location and how much diving the group wants to do.
If you're traveling with non-divers, you won't want to be doing four dives a day, eliminating a live-aboard. You may want to choose a resort that has easy access to diving if this is the case.
Gear and Expectation Preparation
Once you know where you are headed, the rest of the trip's details seem to fall into place. Be sure to research the dive sites, temperature of the water, and the skills and equipment you'll need.
Because you'll want to travel light, it may be tempting to rent equipment once you get to the location. If you decide to do this, then you'll need to expect to take what you get in terms of gear. Traveling with your personal gear, however, will ensure that you are using well-maintained, quality gear. Here are some of the basics you'll need for a successful trip:
– Mask
A cheap or poor fitting mask can ruin an entire dive. Ensure the mask fits correctly before you dive. If your mask is new, be sure to remove the silicone film that manufacturing leaves behind on the lends before you go.
– Regulator
Remember to have your regulator serviced and tested before leaving, that way you know it's going to work great and will be, most importantly, clean.
– Computer
A dive computer can be the most crucial piece of equipment that you take with you. You never know what kind of computer a rental department might offer, and sitting on a boat about to dive is not the time to learn how to use it. Arrive with a computer that you have taken time to learn with.
– BCD
If you need to, you can also bring or rent a BCD. Space can be limited in your diving bag, so consider a BCD that is specifically designed for travel to your location.
– Fins
Not all fins fit the same. This is another piece of gear that is better to own personally. When you have the right size and make of fins, they become an extension of you.
– Personal Gear Dive Tip
It's vital to dive with new gear that you bought before heading out. Your dive trip is not the ideal time to discover that your new mask doesn't fit right. Even if it's in a pool, test your gear before you leave.
Don't Leave Anything Behind
Be sure to pack everything you need long before your trip. It's important to make sure you're not leaving anything behind. Have a checklist and go through it more than once.
Have Fun
Things don't and won't always go as planned, but it's important to still have fun. Be flexible and adaptable with any challenges that may come your way. If things don't work out, trust your gut and have the courage to call off the dive.