WhatsApp has been pushing in some serious updates lately. Last year we got to see Voice calling, Video calling, Image Editing (Doodles), GIF support and various other UI changes. It was a big year for WhatsApp as it had crossed 1 Billion active users worldwide. So big updates were inevitable. Amongst these updates, today, we'll be exploring a bit on GIF. WhatsApp has an inbuilt feature to make GIF from videos. And, you can even share the GIF from your Gallery if you have any. You might think that sharing GIFs on WhatsApp is quick enough. But, here, I'd like to share with you the easiest and quickest way to create and send GIFs on WhatsApp. So, let's dig in.
Also Read: 10 Super Cool Notepad Tricks You Need to Know
Quickest Way to Create and Share GIFs on WhatsApp
Without further ado let me show you the quickest way. While chatting, we always have the keyboard on the top of the screen. So, why not switch to a GIF keyboard instead of your usual/normal keyboard app? Right? So, here, we'll be exploring about GIF keyboards and how to make them work with WhatsApp.
There are many Keyboard Apps with GIF support out there. But, not all of them might work with WhatsApp. Let's take the example of the recently updated GBoard(aka. Google Keyboard). Amongst some really interesting features, it also brought in GIF support. But, it doesn't actually support WhatsApp's text field to insert GIFs. I've also tried some other popular GIF keyboard apps like Fleksy. They do support WhatsApp but sometimes the GIFs get distorted and sometimes don't even work. Well, that's because WhatsApp handles GIFs in totally different way.  It presumes that every GIF shared is a video and the user has to convert it to GIF with the tools made available. It's definitely not as simple as Facebook Messenger.
However, I've found a perfect GIF Keyboard app to share GIFs on WhatsApp. And, it works totally fine. The app is called Bobble Keyboard. And, we'll see how to share GIFs on WhatsApp using it.
How to Create and Share GIFs using Bobble Keyboard
Now, first, it's a sticker based Keyboard app. What it means is that it will make an animated version/Sketch of your face and personalize the GIFs based on that sketch. So, if you're okay with that then let's see how to use it.
Step-1: Download and install Bobble Keyboard from Play Store. It requires Android 4.0+ and is totally free without any in-app purchases.
Step-2: Thereafter, the app will ask you to give it some permissions for storage, camera, and contacts. If you're on Lollipop then the permissions will be given by default.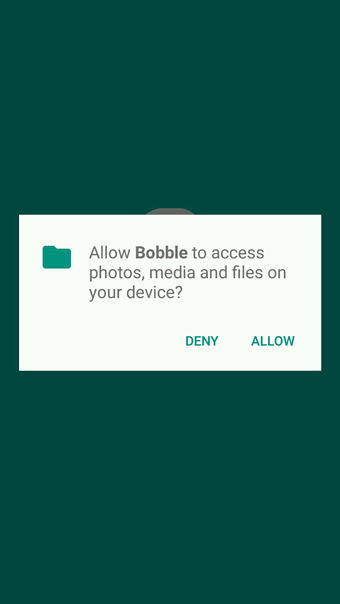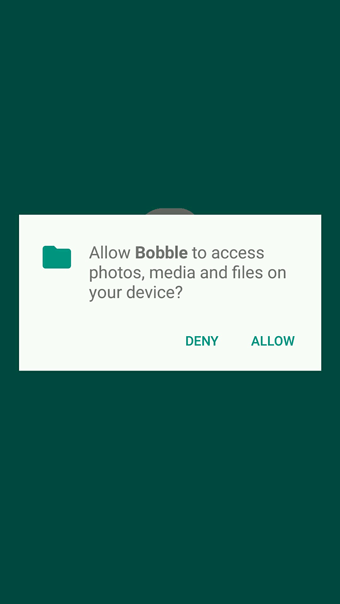 Step-3: Enable the keyboard and select the Bobble Keyboard for usage.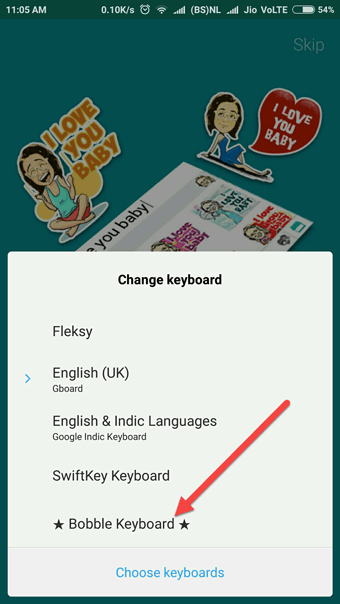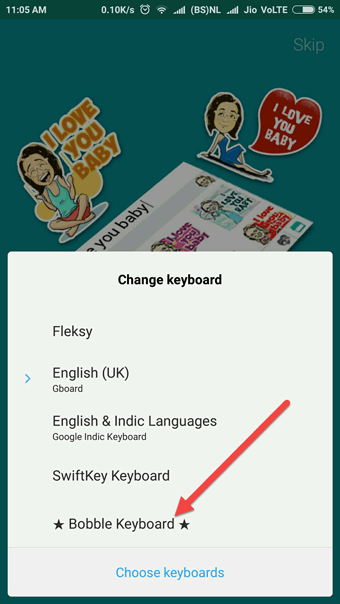 Step-3: Next, the app will take a picture of your face to make a sketch of it. Make sure your face stays at the center of the circle while snapping the picture. You can even choose a picture from your Gallery app.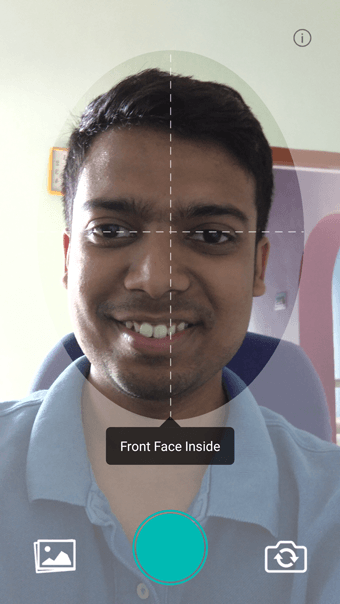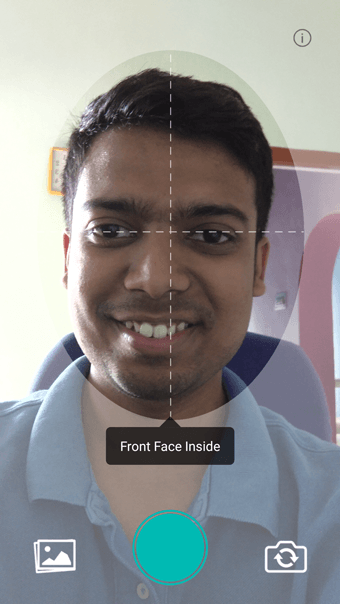 Step-4: The app will then create 3 different sketches of your face among which you got to pick the best one. Then the app will let you edit that sketch. It basically gives 3 tools – Eraser, Face Cleaner, and Hair Color.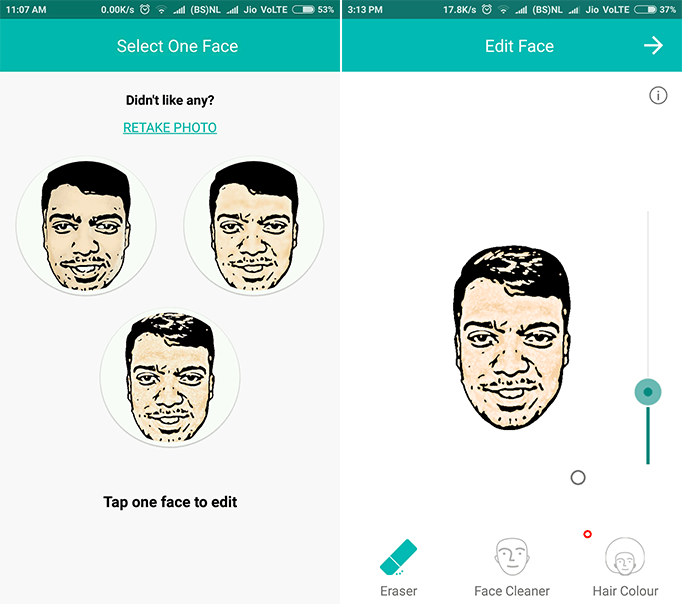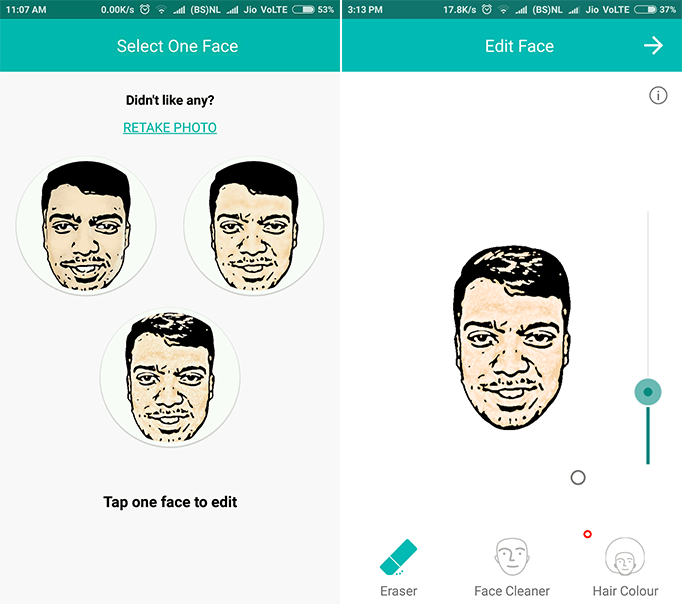 Step-5: After your sketch is created you're all set. Now, just open WhatsApp, select GIF option from the Bobble Keyboard and select the GIF which you'd like to share. You can even enter your custom text to the GIF by typing it in WhatsApp's text field. The GIF with your custom text will be auto generated.  Now, just tap on the desired GIF and WhatsApp will open up its share panel. Select the recipient with whom you'd like to share.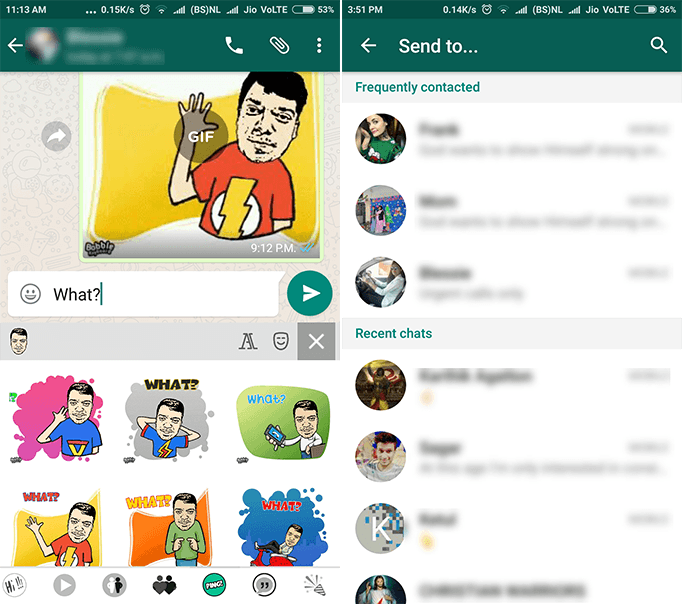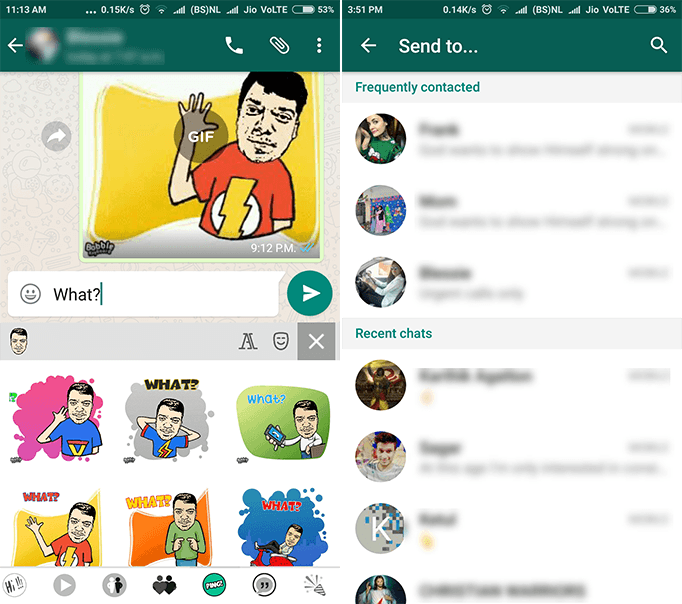 You can even share the GIF from the app itself. There's a wide variety of GIFs and stickers available for you to pick the best one. It also has GIFs for specific festivals and celebrations. So, that's how you can quickly create and share GIFs on WhatsApp using Bobble Keyboard. The GIF will be shared instantly and you will not have to edit the GIF before sharing.
Other Cool Features of Bobble Keyboard
The best thing I liked in Bobble Keyboard is that it has a quick button to switch to other Keyboard (or your regular keyboard). So, quickly switching back and forth from your regular keyboard to Bobble is great.
Well, you also get various themes and customization options. Apart from that, it's got all other features that a modern keyboard app should have.
You can add as many sketches you want. So, that means you can even add sketches of friends too.
For faster typing, it's got macros for text expansion and gesture control to delete and move the cursor while typing.
Why not Fleksy or any other GIF keyboard?
I tried almost all GIF keyboards to see if they work with WhatsApp, but, Fleksy was the only one that gave results. However, the whole process of sharing a GIF on WhatsApp using Fleksy was quite tedious. When you select the GIF that you want to share, it shows up with WhatsApp's video editing tool. So, WhatsApp is actually taking the GIF input as a video. Yes, you can then select the GIF from the top-right corner and share it. But, it's too much of processing to share a GIF.
However, if you're okay with Fleksy then you actually get even more variety of GIFs that will include movies and shows and will let you express your perfect emotion. Well, that's the only advantage I can mention about Fleksy over Bobble keyboard. Bobble is mostly centered around GIFs based on your own sketches.
The Best GIF Keyboard for WhatsApp?
Well, Bobble is probably not the best GIF keyboard for WhatsApp, but, it works great with it. It's the quickest way to share a GIF on WhatsApp. However, if you happen to know any other GIF keyboard or any other way to quickly share GIFs on WhatsApp then do let us know down in the comments. Also, what are your thoughts on Bobble Keyboard?