Are you managing a yoga studio and want to grow your business? Sounds great! To grow your yoga studio business, you need to purchase online software to help you make your booking process easier. It can help you in many ways, such as; scheduling, payment processing, attendance, and keeping the records. 
 Managing your Yoga Studio Business with online software is a great way to expand your business. Members can schedule their classes easily. Also, they like the advanced features of Yoga Scheduling Software to mark the attendance and they can access the information when they want.
Let's have a look at how yoga studio software can help grow our business!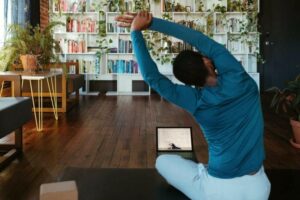 Leading benefits of Yoga Studio software
The best thing about the software is that it allows you to manage the task with high accuracy. Let's uncover the ongoing benefits.
Streamline the Operations
Managing your business with online scheduling software helps you streamline your business operations. You can easily schedule classes, process payments, reports and access the members' activities. In addition, the members can notify the leaves and can share their concerns. The incoming members do not need to fill the forms physically, instead, they can fill their forms online.
Moreover, managing things manually and appointing a person to check the details is frustrating sometimes. Also, this is not one person job and you have to specifically assign the administrative task to at least 2-3 people. Still, they can make mistakes. 
 However, implementing software in your studio business is a great way to run your business smoothly. You cannot be sure whether the staff is handling all the appointments effectively or not. But the software will record even the missed entries and those details will be saved. You can speak to them directly about their concerns.
Therefore, implementing yoga studio software is an ideal way to streamline your multiple processes smoothly!
Helps manage multi-branch businesses
If you are running a small yoga centre, it is possible to manage the operations easily. But as your business grows, it gets difficult for you to handle multiple tasks at the same time.
As you number of members starts increasing, it becomes imperative to utilize Yoga Scheduling Software to handle the tasks. This will help you save time. This time you can invest in some useful activities to expand your business.
Hence, your growing business needs attention and the best thing to invest is your time and resource!
Easily Mark Attendance
With a software solution, yoga studio members can also easily mark their attendance. If you are using an old method of marking the attendance, there can be issues and it is a very time-taking task. However, technological advancements have simplified things. Don't waste your time on anything that's not worth your time.
Purchasing software for your yoga business can help you mark attendance even if they are in thousands.
No Need to Wait for Long Queues
Thanks to the advanced technology! Things have become quite easier to do. Nowadays, people do not need to stand in a queue to wait for their turn. No one has the time to waste in such activities that are not fruitful. People prefer an easy and fast way to get things done. The same is true for online form filling.
Moreover, people prefer to join a studio where the online form filling facility is available. They do not want to stand in the long line to get themselves registered. Instead, they prefer an easy and convenient way. Nowadays, even the cinema halls are selling their cards online to watch the coming movies.
So, getting the software solution in place can help members not to stand in queues.
Finance Management
It gets really hard to manage financial things manually. Sometimes, we miss the entries and it becomes a headache to recall each one. This tension does not let you focus on your daily task – another issue. Any issue that arises must be handled and it should be corrected.
If you feel helpless in managing the finances, you should utilize Yoga Scheduling software to effectively manage the finances. Installing studio software in place will speed up your task and it will create no gaps and issues in the system.
In addition, your clients can pay their bills online and your staff is not responsible for it. Moreover, if someone has not paid his dues till the end date, the software will notify them to pay the charge. The online software will automatically send a notification to the team if any issue occurs.
So, implementing software not only helps you manage your bills but it notifies your clients who are going to pay late.
Summarizing The Key Points
Running a yoga studio software is hard to manage manually. To run your business efficiently, you need to purchase powerful management software for your yoga studio. It will help you grow your business efficiently keeping your members at ease.
Choose Wellyx – online management software for your fitness and wellness business that allows you to choose the customized features to manage your business efficiently.